For a long time now, Saudi women have been wearing abayas — covering their hair and faces — when out in public. However, there is, in fact, no legal code or text requiring them to do so. Hence, the Prince's statement could eventually change this generations-old practice.
Image: Sputnik International
In February, a senior cleric stated that Saudi women should be dressed modestly, but this does not necessitate wearing the "abaya" — a loose-fitting, full-length robe.
Saudi women should not have to wear the loose-fitting abaya robe to shroud their bodies in public, a senior cleric said, in the latest sign of a far-reaching liberalisation drive.
"More than 90% of pious Muslim women in the Muslim world do not wear abayas," said Sheikh Abdullah al-Mutlaq, a member of the council of senior scholars – the kingdom's highest religious body.
Sheikh Abdullah Al-Mutlaq, member of the Board of Senior Ulema and Royal Court Adviser SOURCE: Arab News
"So we should not force people to wear abayas," he told a television programme broadcast on Friday.
Saudi Arabia, which has some of the world's tightest restrictions on women, requires them to wear the garment by law.
The government has not said whether it will change the law, but this is the first such comment from a senior religious figure.
Just recently, the same sentiment was expressed by no less than the 32- year old Crown Prince Mohammad Bin Salman who is playing a more active role in the Kingdom's affairs, major reforms have been taking place — especially in terms of women's rights.
 The crown prince is trying to burnish his reformist credentials ahead of his US trip SOURCE: The Telegraph
During an interview with CBS on television, the Saudi Crown Prince said that women do not need to wear the abaya as long as their attire is "decent and respectful." His latest statement is yet another indication of the major changes happening in the Kingdom today.
 www.alaraby.co.uk:   Saudi women do not have to wear the traditional abaya gown and hijab headscarf, Riyadh's powerful crown prince has claimed, ahead of a three-week US charm offensive.
Mohammed bin Salman said women in Saudi Arabia do not have to wear the traditional abaya gown and hijab headscarf, during an interview with US broadcaster CBS  published Monday.
Islamic clothing in Saudi Arabia is compulsory, but the crown prince has claimed this does not have to the case so long as women maintain a modest appearance in public.
Saudi Arabia requires women to wear the black robe and hijab by law.
"The laws are very clear and stipulated in the laws of Sharia: that women wear decent, respectful clothing, like men," Prince Mohammed said in his first US television interview.
"This, however, does not particularly specify a black abaya or a black head cover. The decision is entirely left for women to decide what type of decent and respectful attire she chooses to wear," he said.
*****
WOMEN'S RIGHT UNDER CROWN PRINCE MOHAMMED BIN  SALMAN 
Crown Prince Mohammed bin Salman has recently introduced a series of reforms in favour of women as the kingdom prepares for a post-oil era.
Prince Mohammed said that authorities were working to come up with regulations to ensure equal pay for men and women.
Saudi Arabia last month allowed women to enter a football stadium for the first time to watch a game.
The move came four months after the kingdom announced an end to a long-standing ban on women driving – a major change to the country's ultra-conservative social order.
They are now free to join the army, attend mixed public sporting events, and engage in other activities.
But women still face a number of restrictions.
Under Saudi Arabia's existing guardianship system, a male family member – normally the father, husband or brother – must grant permission for a woman's study, travel and a host of other activities.
"We have extremists who forbid mixing between the two sexes and are unable to differentiate between a man and a woman alone together and their being together in a workplace. Many of those ideas contradict the way of life during the time of the Prophet," the Prince said.
Sheikh Mutlaq's comment sparked a host of reactions on social media, including from other clerics who backed his statement.
One Saudi Twitter user commented: "Chastity and morality should not be tied to a piece of cloth."
*****
In 2016, a Saudi woman, Malak al-Shehri, received death threats after a picture emerged online of her walking in the streets of the capital Riyadh not wearing the gown.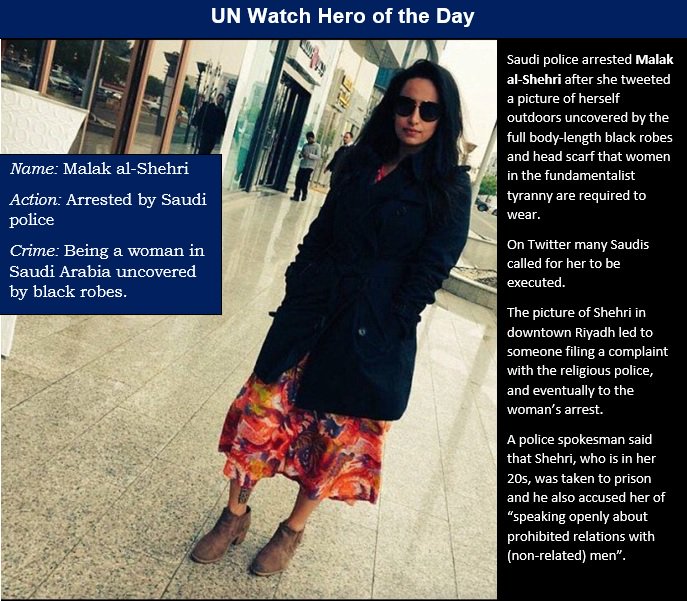 Image: Twitter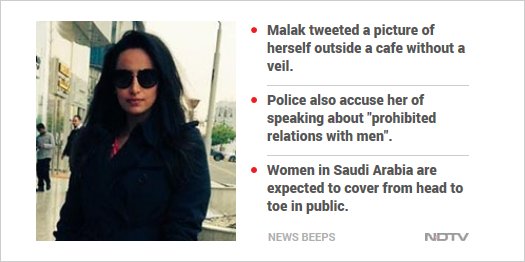 Malak al-Shehri: Saudi Police Arrest Woman For Posting Picture Without Veil On Twitter SOURCE: Twitter
*****
en.dailypakistan.com.pk

: WOMEN OPENLY HARASSED ON THE STREETS OF JEDDAH
by Bushra Nayeem | Published on 
Image: en.dailypakistan.com.pk 
A video went viral in which a Saudi women was harassed in Jeddah's Dorrat Al Arous, sparking widespread outrage.
In the video men are seen running after a group of women who were walking on the street. A woman was grabbed by her Abaya , while some tried saving themselves in a nearby house. After this incident Saudi Twitter and social media had a meltdown.
A lot of people over the internet called out to the men and spoke up against it. People called their actions in the video barbaric and uncivilized.
"Uncivilized human beings, this is something to be ashamed of. It's impossible that there were no security officers anywhere to stop these men."
"They harassed these women and cornered them in a house and no one did anything"
How many more incidents are needed before any laws are passed? 
"Some people are making excuses for abusers saying they were aroused by colored abayas and what not. They forget that harassers also target modest women and even children. If there was a clear, strict anti-harassment law in effect no one would dare abuse a woman or a child in any way."
However authorities took notice of the situation and started an investigation, posting:
"Mekkah's Prince has ordered the governorate's police to investigate the viral footage capturing a violations committed in Dorrat Al Arous, calling on everyone involved to be held accountable over their actions."