"Please understand. This republic will rise. This Republic of the Philippines will continue to be great. Sabi ko, darating ang panahon, hindi na natin sila kailangan lahat.(I said, time will come, we won't need them all). We will survive on our own. We will fight our wars on our own, and we will win as a country."
– Pres. Rody Duterte
The Presidency of Rodrigo Duterte, also known as Rodrigo Duterte Administration, began on June 30, 2016 following his inauguration as the 16th President of the Philippines, succeeding Benigno Aquino III.
Rodrigo Duterte is the first president from Mindanao and the oldest person to be elected president of the Philippines. He is also the first graduate of Lyceum of the Philippines University and San Beda College of Law to become president, the first president who had his marriage annulled, the first motorcycle-riding president, the second Cebuano to become president (the first being Sergio Osmeña), the thirdCebuano-speaking to become president (the first being Osmeña and second was Carlos P. Garcia), the fourth Visayan to become president (the first was Osmeña, second was Manuel Roxas, and the third was Garcia) and the third mayor (of Davao City in his case) to be elected president (the first former-mayor president was Emilio Aguinaldo of Cavite El Viejo, and the second was Joseph Estrada of San Juan, Metro Manila).
The inauguration of Rodrigo Duterte as the sixteenth President of the Philippines took place on June 30, 2016 at the Rizal Ceremonial Hall of the Malacañang Palace in Manila. The oath of office was administered by Bienvenido L. Reyes, Associate Justice of the Supreme Court of the Philippines.
It was the fourth Philippine presidential inauguration to be held in Malacañang, the second since the fourth inauguration of Ferdinand Marcos that was held in the middle of the 1986 People Power Revolution. (wikipedia)
What do you think of Rodrigo Duterte's first 100 days as Philippine president?
On 30 June, Duterte became the president of the Philippines. How do you think he has performed so far?
Filipinos voted for their 16th president, Rodrigo Duterte, on 30 June. Approaching his first 100 days in office we'd like to know what you think of his administration so far.
Over the last three months, he has campaigned to kill those involved in the drug trade with Beijing expressing support in his effort. He has publicly encouraged civilians to take matters into their own hands causing outrage among some human rights groups and foreign governments.
Duterte has appeared controversial for some of the comments he has made since becoming president. Responding to questions on the criticism he has received from world leaders such as Obama, he said: "Masyado kayong bilib sa America, bumilib kayo dito sa atin." [You believe too much in America, believe in us]. He said he will end joint US and Philippine military drills, and more recently appeared to compare himself to Hitler. - theguardian, Sept. 30, 2016
Since Rodrigo Duterte was seated as the 16th President of the Republic of the Philippines, all eyes were on him as he vowed to eradicate the long-standing roots of drug problems that have plagued the country for years.
Duterte said in a speech  Monday, Sept. 22, 2016, that threats to investigate him locally or by international organizations like the United Nations over possible human rights violations would not stop him from proceeding with the drug crackdown.
"I don't care whether there are a thousand hearings everywhere," Duterte said. "I will not stop until the last pushers on the street are fully exterminated."
The Duterte administration just completed the first 100 days and it's undeniably clear that change has come.
For the sake of information, here are the lists of President Rodrigo Duterte achievements for his first 100 days :
1. The indefinite ceasefire between the MNLF, MILF, CPP NDF and the government (held in Norway)
2. The centralized complaint and action hotlines – 911 and 8888
3. The one stop shop for OFW in POEA which is way better than before
4. The opening of the DAR gates which were closed for 18 years
5. The distribution of the long overdue Hacienda Luisita to the farmers
6. The distribution of the agricultural equipmentS that were purchased by the previous government but weren't distributed for some political reasons
7. The immediate repatriation of stranded OFWs in Saudi Arabia (which if I remember it right, one Kuya was crying when he finally touched base simply because he could now be reunited with his loved ones because those who were sent by the previous government only visited them to have some selfies with them.)
8. The laglag bala at the airport has finally stopped right after PRRD took office. I personally experienced that worry free moment and noticed that no more luggages are plastic wrapped.
9. The services in the government agencies are much faster and employees have started to treat the people with some respect and even with a smile. The transactions are much better these days.
10. The legit balikbayan boxes are no longer mishandled.
11. The irrigation projects for the farmers have already started nationwide.
12. The almost 700,000 surrenderees who have promised to change their lives.
13. The removal of processing fee on travel tax exemption
14. The resubmission of the 2,000 pesos SSS pension bill
15. The much empowered servicemen who are now willing to serve the country with pride and higher self esteem
16. The servicemen's one in a million dinner opportunity at Malacanang
17. The rounds in all of the defense camps to see what each station needs so that they can give better service to the country
18. The shutdown/closure of some mining companies that destroy the country's natural resources
19. The removal of the fishing pens in the Laguna Lake to give other small fishermen a fair chance to use it for their livelihood
20. The new buses from the airport to many major hubs in nearby cities
21. The one sack rice added to 4Ps cash assistance to our less fortunate fellowmen
22. The salary increase of the servicemen which is bound to happen any moment soon – and the soon to be state of the art equipped hospital for them.
23. The hastened benefits claiming of the family of our fallen men
24. The increased allowance of our olympics delegates
25. The immediate signing of Freedom of Information
26. The exposes against local executives, police generals, judges and other top officials in government
27.The now better looking cleaner Baclaran, Divisoria and other public places
28. The employment increase and unemployment decrease
29. The exposes against olligarchs who have been evading to pay taxes
30. The lower street crimes because most of the nutters who are more likely to commit the crimes have already surrendered and therefore identified
31. The Mindanao peace process that has resumed again in Malaysia
32. The bilateral talks with China over the WPS dispute
33. The launch of Oplan Tokhang which has more positive results
34. The cooperation and openness of fenced elite subdivisions for Oplan Tokhang as they show support to the war on drugs campaign
35. The billions worth of drugs seized in the operation
36. The closure of so many drug labs all over the country, including the floating shabu laboratories operated by Chinese drug lords
37. The more regulated and SAF manned BUCOR
38. The no VIP treatment for government officials in airports
39. The ongoing improvements of MRT/LRT service and other major thoroughfares
40. The customs installation of CCTVs all over the place to promote transparency
41. The crackdown of Bilibid Drug Trade and the expose' of Lielie de Lima
42. DFA is now faster in processing passports.
43. Fixers are now out of sight
44. End of Contractualization
45. No more age limit requirements to all job seekers.
46. The closure of online gambling. From 4 thousand outlets during the arroyo admin, to 8 thousand outlets during Aquino admin
47. OEC exemption for OFWs returning to same employer! Finally no need to pay and go through the troublesome process of acquiring OEC.
48. The order to extend passport validity to 10 years
49. The curfew hours for minors.
50. The release of Abu Sayyaf hostages
51. The drivers license validity extension up to five years
52. Karaoke ban after 10:00pm. Peace at last!
53. The cleaning up of LTO and LTFRB
54. The deputation of Badjaos as Bantay Dagat (Wow! What an empowerment to the least of our Filipino brothers)
55. The DAR and BFAR's boat distribution program, feeding fishers for life
56. The conversion of the Presidential Plane into an air ambulance
for the military
57. The proposed 1.07 trillion 14 Train Railways Project to help ease the traffic congestion problem
SOURCES:
newsinfolearn.com
Josephine Quino (FB Netizen)
*****
It is very clear that changed begun, however, some Filipinos insist that they can't feel the "CHANGE" that President Duterte promise. For some are so consumed by their hatred towards Duterte and focused for his foul-mouth and expletives and unfounded Extra-Judicial Killings accusations rather than his accomplishments.The foreign media and the foreign dignitaries including US, EU and UN are blind folded by the paid and biased journalists and judged President Duterte without given a proper evaluation. The paid and biased local and foreign media are destroying the reputation of president Duterte that affects the Philippine economy.
INTERNATIONAL REPORTER SUSAN RITZEN, A SWEDISH COME TO PHILIPPINES TO KNOW WHY PRESIDENT DUTERTE IS LOVED BY FILIPINOS
International Reporter Visits Philippines to Find Out Why Filipinos Don't Believe in Biased Media Reportings!
Since Rodrigo Duterte was seated as the 16th President of the Republic of the Philippines, all eyes were on him as he vowed to eradicate the long-standing roots of drug problems that have plagued the country for years.
And in just nearly 3 months, he's made international news and headlines for his aggressive take on the widespread activity of drugs and being a generally devoted president addressing this glaring issue.
His administration along with the aid of the police officers have waged war against drug sin their anti-drug campaign which earned Duterte a reputation in the eyes of many world leaders and international media for his iron fist.
He's also earned praise from many analysts, reporters, and journalists for his straightforward approach on fighting drugs. Along the way, Duterte has also earned some detractors who weren't quite pleased with the way he's handling the issues of the country.
Despite the rather skewed and misleading reports from the media, Duterte has received strong support from many.
This prompted international reporter Susan Ritzen to seek answers as to why the Filipinos are enamored with Duterte and why they don't believe in the biased media reports.
Social media blogger Mocha Uson got the attention of a Swedish news program due to her support with President Rodrigo Duterte.

The Mocha Girls lead singer and self-proclaimed Duterte Die-Hard supporter or more known as DDS was interviewed by Susan Ritzen, the Asia correspondent of Swedish Television.
In the interview, she defended on why she continue supporting the President despite the criticisms that he is always facing.

Uson claims that Duterte is the first president of the country to recognize and focus on the problems of drugs, discarding previous president's effort on eradicating drugs during their period.
She also said that her blog serves as a "central of information" for people who do not want to get information from mainstream media since they think it's all biased.

Moreover, she also boasted that the country is better now under Duterte's hand and the media is the "enemy of change" since they always report Duterte's mishaps from verbal attacks up to his tolerance of extrajudicial killing as a way to fight drugs.

She also asked the international media to stop destabilizing the country and look at the bright side of what's happening here.
Senator Leile de Lima is a longtime fierce critic of Philippines President Rodrigo Duterte
5 REASONS WHY FILIPINOS DIG DUTERTE VS DE LIMA FEUD
Over the past few months, the seemingly endless row between President Rodrigo Duterte and Senator Leila De Lima has caught the interest of Filipinos like a top rating soap opera.
Duterte, who was criticized by the former Human Rights chair and DOJ secretary for the alleged killings in Davao City, accused De Lima of coddling drug lords inside the New Bilibid Prison and receiving money from illegal drugs. Meanwhile, De Lima formerly headed a Senate investigation on extra-judicial killings involving Duterte's war on illegal drugs before being ousted by fellow Senators.
Moreover, the president shocked the whole nation with his allegation that De Lima had an illicit relationship with former driver Ronnie Palisoc Dayan, whom he named as the senator's bagman in New Bilibid Prison.
Their daily tirades and accusations against each other became trending topics on social media, making them the most-talked about political figures in the Philippines. As the plot thickens and the characters of the ongoing feud becoming more intriguing, Filipinos can't seem to get enough of this fight.
In September 29, 2016, The Summit Express give 5 reasons why Filipinos are digging this feud.
1. Duterte and De Lima are equally interesting characters.
Known for his temper and colorful language, Duterte made no-holds barred remarks against De Lima calling her an "immoral" senator. At one point, the country's commander-in-chief even dared De Lima to just hang herself and resign from her post as senator. With such statements coming from the most powerful man in the country, you'd think De Lima would just back down and follow his advice. However, the fearless senator showed no signs of giving up and even dared the Duterte to just arrest her.
2. It has a telenovela effect.
Mind-blowing revelations, intriguing characters, and cliffhangers are essential elements in Pinoy telenovelas. The Duterte vs De Lima feud seem to have all of these three factors making netizens passionately follow their story. A lover, an apparent sex video, secret bank accounts, vigilante killings as well as prison riots- these are what hit telenovelas are made of.
3. Cayetano and Trillanes are good supporting casts.
As if the bad blood between Duterte and De Lima isn't enough to give top ratings, their respective supporters Sen. Alan Peter Cayetano and Sen. Antonio Trillanes IV even made the feud more amusing with their clash during a Senate hearing. While Cayetano was busy interrogating self-confessed Davao Death Squad (DDS) member Edgar Matobato, Trillanes decided to take matters into his own hand and turned off the former's microphone, fuelling a word war. Trillanes later apologized for his behavior.
4. The witnesses' statements will blow you away.
Although Matobato's claims and serious allegations against Duterte didn't seem to convince most Pinoys, the testimonies of high profile inmates including Herbert Colanggo, who claimed he was allowed to sell a box of beer that costs P700 for P10,000, inside the NBP certainly drove everyone crazy.
5. It is a national issue.
Extrajudicial killings and the illegal drug trade proliferation at the NBP, if proven true, will completely change the state of war on illegal drugs in the country. Beyond scandals and intrigues, Filipinos are more concerned in resolving these issues that highly affect the nation's future.
Accomplishments of Pres. Duterte and Sen. De Lima as Secretary of Department of Justice
Pres. Duterte: In just 2 months and 22 days as President, there are 717,487 drug suspects surrendered wherein 664,193 are drug users and 53,294 are pushers.
Sen. De Lima: In her 5 years in office as a Justice Secretary, no pusher or user surrendered, not even one.
WHAT IS THE PURPOSE OF THIS PICTURE?
June 2016 –
The government operations behind this picture happened when Aquino was still president. It didn't only warn Filipinos but the international community as well, because this "news" from AFP was picked up by:

US – Capital Bay
"Philippines gets taste of Duterte anti-crime war"
http://www.capitalbay.news/news/1046933-philippines-gets-taste-of-duterte-anti-crime-war.html
US – NEWSGRIO
"Philippines gets taste of Duterte anti-crime war"
http://www.newsgrio.com/articles/300192-philippines-gets-taste-of-duterte-anti-crime-war.html
UK – Daily Mail
"Philippines gets taste of Duterte anti-crime war"
http://www.dailymail.co.uk/wires/afp/article-3637348/Philippines-gets-taste-Duterte-anti-crime-war.html
MALAYSIA – The Star
"Philippines gets taste of Duterte anti-crime war"http://www.thestar.com.my/news/regional/2016/06/12/philippines-gets-taste-of-duterte-anti-crime-war/
AUSTRALIA – ABC
"Philippines gets taste of Rodrigo Duterte anti-crime war as police detain children, drunks in night-time blitz"
http://www.abc.net.au/news/2016-06-12/philippines-gets-taste-of-duterte-anti-crime-war/7503474
WORLDWIDE – Yahoo News
"Philippines gets taste of Duterte anti-crime war"
https://www.yahoo.com/news/philippines-gets-taste-duterte-anti-crime-war-050905011.html
MIDDLE EAST – Gulf News
"Philippines gets taste of Duterte anti-crime war"
http://gulfnews.com/news/asia/philippines/philippines-gets-taste-of-duterte-anti-crime-war-1.1844129
Now, my dear critics, what exactly is the purpose of blaming Duterte for things happening during the Aquino administration? -Sass Rogando Sasot
DU30 SUPPORTERS BLAMES 'INTERNATIONAL MEDIA' FOR DESTABILIZING THE PHILIPPINES
MANILA, Philippines – The recent Senate hearing on extrajudicial killings, with all its drama, may just be another day in the colorful world of Philippine politics, but the testimony of Edgar Matobato certainly caught the attention of the international community.
Matobato, who claimed to be a former member of the so-called "Davao Death Squad", said during the hearing that they killed about 1,000 people from 1988 to 2013, upon orders of President Rodrigo Duterte himself.
His testimony made it to the headlines of international media outlets such as the BBC, The Guardian, The Washington Post, and The New York Times.
But word on social media is circulating that the Senate hearing was supposedly intended for the international audience as an "organized, well-orchestrated black propaganda" against the Duterte administration.
The black propaganda is allegedly fueled by "oligarchs" who are "threatened by and unhappy with many of the President's pronouncements."
Seemingly intent on countering what it claimed to be propaganda, the social media message now doing the rounds says: "Some groups are resorting to black ops after the government waged a serious war against the players in the multi-billion illegal drug trade which has become a huge threat to the lives, wealth, and power of several narco-politicians and big time drug lords."
The New York Times' latest video on Matobato, it said, was a clear example. It claimed the video was pre-taped before Matobato even faced lawmakers. It also pointed out that the video was "readily available" with English subtitles.
"Other foreign news outlets were also provided with one-sided information and testimony of the incredible witness as he vilified the President. Foreign press were either fed or were only able to pick up one side of the story – and that is, the bad side of the story which some groups want the international community to see and to believe," the message read.
The groups behind the black propaganda allegedly want to incite the international community to protest, and want the United Nations, the United States, and other countries to "interfere."
DUTERTE SUPPORTERS RALLY BEHIND DUTERTE AGAINST INTERNATIONAL MEDIA
The supporters of Philippine Pres. Rodrigo Duterte has went on facebook to expressed their unilateral support for Pres. Duterte with signs and placards that states, "Dear International Media, stop destabilizing the Philippines". More than a thousand supporters has posted their own versions of "Dear International Media".
The message even listed the addresses of several media outlets, including Bloomberg News, Reuters, CNN, ABC News, The New York Times, Associates Press, and The Guardian.
The post even encourages the supporters to write to editors, to visit these websites, to check comments on "malicious and misleading articles about our government" and to rebut those comments "nicely but intelligently," with "reliable statistics whenever possible."
One thing's clear, however: unlike his supporters, the tough-talking President has – so far – opted to remain silent on Matobato's allegations. But his followers are clearly out to win the communications war. – The Maharlikan .Info
NETIZENS JOIN PROTEST AGAINST INT'L MEDIA: "STOP DESTABILIZING THE PHILIPPINES"... The social media campaign was started September 16, by blogger Sass Rogando Sasot. She posted on Facebook a photo of herself clenched fist up high with a sheet of paper on the other, which reads "Dear International Media: Stop Destabilising the Philippines." In the caption, she described the international media's money and influence towards the other countries. But the President's supporters have power to fight over it. She encourages everyone to send their message to the international media and post it to various social media platforms.
Sasot in the caption also name drop international media outlets which she claims sending Duterte to a bad light.
"They have the money to influence the international community, we have the POWER to fight for our country. Let's start a social media campaign to send our message to international media. No Apps. MAKE IT RAW. Apps = Bots. Prove to the world that you are real. MAKE YOUR POSTS PUBLIC."
Sasot then was bashed due to her said "misspelled" post, she wrote "Destabilising." Which Sasot clarifies that the latter is a British-English spelling and is acceptable while the more common "Destabilizing" is an American-English spelling.
"NB: Ang destabiliSing po ay BRITISH English. Ang destabiliZing po ay AMERICAN English. Masasapak ko na kayo kapag may magcomment pa tungkol sa spelling ng putanginang destabilising na iyan." (NB: The word destabilingSing is BRITISH English. DestabiliZing is AMERICAN English. I'll punch you all this time if I saw another comment about the spelling of that f***ing destabilising"
Sasot's post went viral with 13,000+ likes and shared over 7,000+ times. With Filipino netizens especially those outside the country their support.
During the Association of South East Asian Nation (ASEAN) Summit in Vientiane, Laos. President Duterte was put on the spotlight of international media amid his alleged vulgar words towards US President Barack Obama and United Nations Secretary-General Ban Ki-moon.–Mae Tuazon, The Summit Express
 Who paid these bunch of ignorants and idiots? Americans who participated in this shenanigans are misinformed. You got nothing better to do and or getting paid. Money is hard to earn nowadays. You worry about the coming election in your country, not us because we, 16 million Filipinos already voted for  President Duterte and we are now in a much safer place.
What's their business? This is our internal affairs. Mind your own business.  Freedom of speech? Freedom of speech works both way. Are you worried about the criminals? Then what about the lives of the innocent victims of these drug traffickers and drug addicts?   Have you ever been to the Philippines? You know nothing because you don't live here and you don't suffer the difficulties that we endured during the past administrations. You know nothing because you only believe what is fed to you by bias media without seeking the truth.
What mass killing are you talking about?  Our drug prob isn't epidemic but a pandemic. There are  3.8 million Filipino people who are affected by drugs and worst , the source of this drugs came from National Bilibid Prison.To date, there are 700,000 drug pushers and addicts have surrendered to the police and military since Presisdent Rodrigo Duterte took over last June 30, 2016.  Our president has been waging a battle against drug-traffickers and illegal trade for the past few months. It has claimed the lives of up to 3,500 people connected to the narcotics trade. While nearly 1,000 of them were targeted by police and other security forces, the majority of them were dealt by vigilantes and hit squads.
We are struggling to fight for our life hoping and praying that we will not become the victims by drug addicts while they are protected and nurtured by the previous administration. We believe that our President can make a change and hanging on a hope that our country will rise and be glorious again.
NEW YORK CITY PROTESTERS CONDEMN DUTERTE'S "LICENSE TO KILL"
Published August 25, 2016
NEW YORK, New York – Protesters gathered outside the Philippines' consulate in New York City to protest President Rodrigo Duterte's murderous war on drugs on Wednesday.
So far authorities have admitted that at least 1,800 killings have taken place in the past 3 months – many protesters said Duterte has been given a "License to Kill," the new 007′ of the Philippines.
The problem with the 1,800 drug dealers stated in recent hearings in Manila, Philippines  is that now the same police have admitted to killing almost 800 people who are said to have "resisted arrest," and that's just part of the extra-judicial killing issues going on in Southeast Asia.
Protests also simultaneously took place in San Francisco, as well as Washington, D.C. – groups who attended the protest include:
The Treatment Action Group
The Harm Reduction Coalition
New York Harm Reduction Educators
Damayan Migrant Workers Association
Sources said the protests named the victims of summary killings out loud, many holding signs calling Duterte a "Mass Murderer," staging a 'die-in' in front of the consulate.
Officials at the Philippines' consulate stepped outside to speak to the protesters – one speaking in total unison with the group.
The Influence, a New York City based news source, spoke with Linda Oalican, executive director of the Damayan Migrant Workers Association.
Oalican gave a message she said is directed right at Duterte:
"I just want to make an appeal to our president," she said. "I support some of the things that he is doing. He released political prisoners and that's really good. He released activists who fought the dictatorship during the time of Marcos in the 1970s, so for that I am very happy … But on the issue of drug addiction, President Duterte, please think about the poor people who have no jobs and who are really desperate and hopeless and because of their state of mind they have become vulnerable, some of them have turned to drugs."
A Board Member of VOCAL, New York also spoke on behalf of the protesters saying, "We all thought we had it bad with the drug war here in America, with people's rights being violated on a regular basis," –  "We had no idea, now that there is a new approach to drug use in America, that it had gotten so bad where officials were taking the lives of their citizens."
VOCAL, New York ended the day with a "die-in" where members laid in front of the Philippines' consulate while others held signs "Duterte is a Mass Murderer."
No word from VOCAL chapters on when and if there will be continued protests on the mass killings in the ongoing war on drugs in the Philippines.-philippineslifestyle.com
Repost comment of Amanda Paige
SOURCE: http://philippineslifestyle.com/blog/2016/08/25/new-york-city-protesters-condemn-dutertes/
DUTERTE ON NEGATIVE REPORTS IN INTERNATIONAL MEDIA: I DON'T CARE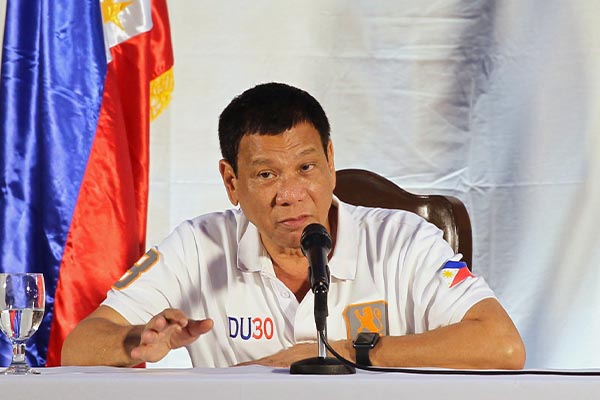 MANILA, Philippines — Under fire for allegedly condoning extralegal killings, President Rodrigo Duterte said August 29 that he does not care if he is being portrayed by international media in a negative light, saying he is just performing his duty.
"They said I am the most unpopular among the international press. I don't care," Duterte told reporters in Catbalogan, Samar.
"I have a problem to solve here in my country," he said.
Malacañang has dared foreign journalists to visit the Philippines so they can see for themselves the extent of the drug menace in the country.
Presidential Communications Secretary Martin Andanar said visiting the country would help the foreign press understand the context of President Duterte's tough pronouncements on narcotics and crime.
"The international media, as I have repeated time and again, should come to the Philippines and experience the life of the barangay (village) people who have so much drug problems," Andanar told reporters on the sidelines of the Japan-ASEAN Media Forum in Mandaluyong.
"It's not fair for just anybody to conclude about extrajudicial killings, that there's so much dead without even qualifying which one is dead because of authorized police operation, which ones were killed because of a gang war or regular murders," he added.
"It's also unfair for the government to receive such reports without the international media coming to the Philippines and really experiencing the life of those affected by drugs."
Asked if he thinks the foreign press' coverage of the anti-drug war was fair, Andanar said he is leaving it to the public to make an assessment.
"If I say that it's unfair, it's self-serving. Every Filipino who is on Facebook, who is on social media, who reads the papers should themselves decide if the international media has been fair in writing stories about the drug-related problems in the country," he added.
Various foreign media outlets including BBC, CNN, The New York Times, Time, Forbes and Washington Post have reported about the recent spate of killings in the country that were attributed to Duterte's crackdown on drugs.
Even some participants of the Japan-ASEAN Media Forum believe that the reports about the killings could put the Philippines in a bad light.
Alongside this development, there have been posts on social media discrediting the press for what some Duterte supporters see as an attempt to discredit the president. Netizens have been calling the media biased and have alleged that media companies are paid to write negative stories about the president and his war on drugs.
One influencer has tagged the media as "presstitutes" for allegedly being paid off.
Andanar: Duterte told voters there would be bloodshed
Andanar, however, maintained that the president is just fulfilling a campaign promise that allowed him to achieve victory in the 2016 polls.
"It is the duty of the president to protect the general welfare of this people. He was elected with that platform. He already warned the electorate that if you vote for me, there will be bloodshed. If you don't want bloodshed, don't vote for me. But he was voted," he said.
"It is important for international journalists to understand the context of the president. If you live in a slum of Manila where about 20 percent of barangays are drug-infested… when you live in society where you can be high for less than a quarter cents of a dollar, the country is in trouble."
Duterte has repeatedly denied condoning extrajudicial killings but has been reminding law enforcers to shoot criminals if their lives are threatened. He has also assured policemen and soldiers that they would be given assistance if they face charges in connection with the anti-drug campaign.
When asked whether Duterte would mellow down on his tough talk, Andanar replied: "You cannot change the president."
"This drug menace is pandemic already. Extraordinary situations call for extraordinary measures. When the system of government is not working for the good of the majority, you go to the courts. The case that should be solved in one year gets solved in 10 years. How do you solve this when the policies of the state no longer work? What do you do?" he added.
Andanar stressed that it is more important to protect the lives of the innocent civilians and victims of illegal drugs than drug lords. The government has drug watch lists although being on a watch list does not mean that one is a criminal, a determination that only a court of law can make.
"Investigate the lives, the human rights of those who have been victimized by crimes due to illegal drugs. There are so many of them. Go back to them. Let's not be one-sided," he added.
Authorities claimed there are about 3.7 million drug dependents in the country. Close to 2,000 suspected drug personalities have been killed, about 700 of them in police operations. In a Senate hearing this month, Philippine National Police Director General Ronald dela Rosa said that some of the deaths that were not because of police operations were considered drug-related because of cardboard signs near the bodies proclaiming the victims as drug pushers.
About 700,000 drug users have surrendered in a police campaign called "Oplan Tokhang", where people on the drugs watch lists are invited to swear before authorities that they will stay away from drugs.
Some of those who surrendered have ended up dead either in police operations or, the government says, by the hands of drug syndicates.- Phil Star
DUTERTE RIDES ON NEAR-PERFECT TRUST RATING — The Center poll
Written by Charlie V. Manalo
Thursday, 15 September 2016 00:00
President Duterte scored a near-perfect trust rating in a non-commissioned survey conducted a week before unleashing his tirades against US President Barack Obama and United Nations Secretary General Ban ki -Moon.
In the Pulso ng Pilipino Survey covering the period from August 29 to September 4 conducted by the Issues and Advocacy Center (The Center), 92 percent of the 1,200 respondents expressed their continued trust on Duterte as compared to the 4 percent who said they do not, giving the President a net trust rating of 92 percent.
According Ed Malay, executive director of the Center, the survey covers the period during which several news-breaking and headline-hugging events were daily fare, including the ongoing Senate hearings on extrajudicial killings chaired by Sen. Leila de Lima who herself is being pinned down for her alleged links to illegal drug syndicates; the landmark decision of Duterte in ordering the Armed Forces of the Philippines and the Philippine National Police to finally put an end to the terrorist activities of the Abu Sayyaf group that was responsible for numerous kidnappings and the beheading of at least two foreign hostages; the tragic blast at the night market in Davao City that killed 14 persons and injured 71 others last September 2; the new reclamation activities conducted by China at the contested Scarborough Shoal at the South China Sea (West Philippine Sea).
"Notwithstanding the issues related to the alleged summary killings of known drug lords and drug pushers, some 96 percent of those polled still place their trust on President Rodrigo Roa Duterte who in his campaign promise vowed to put an end to the unabated sale and distribution of illegal drugs within six months of his administration," said Malay.
"Only 4 percent said they don't trust President Duterte. This gives President Duterte a net positive trust rating of + 92 percent. This is by far the highest trust rating ever recorded by a newly sworn-in President in the history of Philippine politics," he added.
The survey results, Malay said, gives the President an overwhelming mandate to fulfill his campaign promise to establish an orderly society that is free of illegal drugs and get rid of graft and corruption.
The same survey also revealed that 67 percent of the respondents declared they were in favor to bury late President Ferdinand Marcos at the Libingan ng mga Bayani (LNMB) as compared to the 28 percent who opposed. Five percent stated they do not know.
"Upon his assumption to the presidency, one of the things that President Duterte announced was his decision to allow the burial of the remains of the late President Ferdinand Marcos at the Libingan Ng Mga Bayani on the basis of the fact that the deceased President whose remains lie at the family residence in Batac, Ilocos Norte, was a former president and a soldier of the Republic of the Philippines who saw action during World War II," said Malay.
"Understandably, President Duterte's decision was apparently based on the current regulations of the Armed Forces of the Philippines as to who can be buried at the Libingan Ng Mga Bayani," he added.
"The survey shows that 67 percent of those who were asked are 'in favor' of the planned burial of the remains of the late president at the LNMB and 28% said they are 'not in favor' with 5 percent saying they 'don't know,'" he stressed.
"While the controversy lingers and in fact is now the subject of a hearing before theSupreme Court following the pleadings of certain groups opposed to the burial of the late strongman at the LNMB, the fact remains that the President is fully authorized as Commander-In-Chief to order the burial based on the existing regulations being observedby the Armed Forces of the Philippines which is the officially-mandated caretaker of the LNMB," he said.
While here have been numerous protest rallies and demonstrations centered in the Metro Manila by certain groups opposed to the planned burial of the late strongman, Malay said these are by no means reflective of the sentiment prevailing in other parts of the country as seen from the results of the Pulso ng Pilipino survey.
Malay said the survey was based on the traditional multi-stage probability sample of 1,200 respondents and has a confidence level of 98 percent and a margin of error of + – 3 -THE DAILY TRIBUNE NEWS
PRESIDENT DUTERTE IS A MASTER TACTICIAN
September 29, 2016
LET HIM DO HIS JOB
by Jose  Alejandrino ( Former presidential assistant for economic affairs under President Fidel  Ramos and general manager of now-defunct Manila Chronicle)
Jose Alejandrino said that President Rodrigo Duterte is a Master Tactician. He said that the president is not changing positions and he knows what he is doing.
" A lot of people get their knickers up by every declaration the president makes. They rush to quick judgement. They conclude the president changing positions. I don't think so. I think the president exactly knows what he is doing. He has shown in the past he is a few steps ahead of the others," he said.
" He is merely calibrating on his actions and he is the first one to admit if he did any mistakes," Alejandrino added.
Life is too short to get upset over things that are not what they seem. Sometimes you need drama to make it a point in order to shock the people and put them later in awe. The President is a master tactician. Those who see the big picture understand his moves. Better not to enter into details because then the element of surprise is gone. In fighting battles, the elements of surprise is primordial in winning when the odds are stacked against you.
Just stay cool and watch. Don't get your knickers up. Leave it to him who was elected to do a job. After all, the responsibility is his. If you can't be part of a solution, don't be part of the problem. Unless you crave subconsciously for something to happen that you regret that later, in which case you end up hallucinating like senators we know."
Duterte is facing criticisms right now due to his unorthodox and way of war against drugs and his colorful comments against prominent personalities.
YASAY SAYS DUTERTE IMPRESSED LEADERS AT ASEAN SUMMIT
September 9, 2016
For Foreign Affairs Secretary Perfecto Yasay, President Rodrigo Duterte's diplomatic debut was impressive to other Southeast Asian leadears in Laos.
"In fact, in one bilateral (meeting), with the Japanese Prime Minister Shinzo Abe, they were just so impressed," Yasay said during a televised interview on Thursday.
His observation was despite Duterte's gaffe before he departed for the Laotian capital earlier this week when he warned United States President Barack Obama against bringing up the issue of killings in the drug war.
"The Singaporean head of state, Prime Minister (Lee Hsien) Loong was also very much impressed." Yasay added.
The country's top diplomat said that what impressed participants at the Association of Southeast Asian Nations was Duterte's "performance, by what he said and his insight, and his diplomatic decorum."
Participants also noted the president's "ability to understand what was happening around the world in so far as the issues that were raised before him was concerned," Yasay said.
Yasay said the Philippine delegation also took the opportunity to explain the administration's campaign against drugs at the summit.
"We explained to them … the foundation of our efforts in the fight against illegal drugs," he said.
Foreign policy analyst Richard Heydarian said Duterte's "more pragmatic and conciliatory approach" toward China was something ASEAN leaders quietly relished.
This was "opposed to the previous Benigno Aquino administration which constantly pressured its regional peers to rally against Beijing. In this sense, Duterte is seen as a diplomatic dove," Heydarian said.
Duterte, however, showed that the country's relations with the United States, though it remains tight, are no longer "sancrosanct," Heydarian said.
The 10-nation bloc has long tried to balance Chinese interests amid the maritime disputes over the South China Sea which involve the Philippines and other Southeast Asian neighbors. —Phil Star
FOREIGN LEADERS TO PRESIDENT DUTERTE: Despite gaining negative remarks on western countries and have had riffs with the United Nations, Duterte have built a strong positive influence on the southeast Asian countries. He was being lauded by the leaders of these countries for his effective war against illegal drugs which made almost half a million users surrender.
Japanese Prime Minister Shinzo Abe on Tuesday, September 6, expressed delight over meeting President Rodrigo Duterte at the Association of Southeast Asian Nations (ASEAN) Summit.
During a bilateral meeting on the summit's sidelines, Abe also informed Duterte that is he is well-known even in Japan.
"President Duterte, I would like to congratulate you on assuming the Office of President of the Republic of the Philippines. Mr. President is quite a famous figure also in Japan, and I am very excited to see you in person," he said, eliciting laughter from those present.
Malaysia Prime Minister Najib Razak
for one, asked Duterte to
help
him fight illegal drugs in his country. Like
Indonesia
,
Malaysia
has legalized death penalty for drug related crimes but according to Razak, drug
incidents
'keep on increasing daily.' 
Duterte has also accepted the chairmanship of the

Association of South

East

Asian Nations (ASEAN)

recently when he attended the meeting in Lao.This would strengthen the influence of Duterte to the said nations.
President Joko Widodo of Indonesia personally drove the tour cart for his visitor, President Duterte, a rare and unbelievable act was done by the President of Indonesia towards President Duterte. This gained positive feed back from the online community saying that the two are getting along well.
President Duterte had his first official state-visit ever since he assumed his position. He arrived in Jakarta late Thursday, September 8, straight from the Association of Southeast Asian Nations (ASEAN) summit in Laos.
The details of the closed door meeting that happened between the two leaders remain unknown as Pres. Duterte remains silent about it.
HANOI, Vietnam—President Rodrigo Duterte was accorded honors and an official welcome at the State Palace on Thursday, Sept 29 morning.
Arriving at 10:30 a.m., he was welcomed by State President Tran Dai Quang, who trooped the line of soldiers together with Duterte outside the Palace.
Both Vietnam and the Philippines are members of the ASEAN. Two other members, Brunei and Malaysia, also have claims on the South China Sea.
But only the Philippines has won an international case against China and obtained an affirmation of its claims from an international court.
This ruling, which Duterte calls his "ace card" against China, was also discussed in the meeting with Vietnam officials.
HIGH PRAISES FOR DUTERTE FROM ASEAN LEADERS – DFA Chief Yasay
President Rodrigo Duterte may have shocked the world stage for his unconventional and colorful remarks in his debut at the Association of Southeast Asian Nations (ASEAN) Summit, but his very words have also put the spotlight on what the Philippines has to offer under his administration.
Foreign Affairs Secretary Perfecto Yasay Jr in an interview on Saturday evening said Duterte's openness generated a profound positive impact and people started paying close attention to him.
Yasay further highlighted that President Duterte was highly respected and admired as one of the most popular leaders of the international community.
According to Yasay, Duterte was even praised by other world leaders, among them,  Japanese Prime Minister Shinzo Abe, President Joko Widodo of Indonesia, Sultan Hassanal Bolkiah of Brunei, and Thai Prime Minister Prayut Chan-o-Cha.
PRESIDENT DUTERTE TO U.S., RUSSIA AND CHINA
NOT REALLY BREAKING TIES WITH U.S. BUT OPENS ANOTHER ALLIANCES WITH RUSSIA AND CHINA
"I am ready to not really break (U.S.) ties but we will open alliances with China and… Medvedev," Duterte told reporters, adding he would open up the "other side of the ideological barrier".
Philippine President Rodrigo Duterte said on Monday he would visit Russia and China this year to chart an independent foreign policy and "open alliances" with two powers with historic rivalries with the United States.
Duterte said the Philippines was at the "point of no return" in relations with former colonial ruler the United States, so he wanted to strengthen ties with others, and picked two global powers that have been sparring with Washington on the international political stage.
Last week, he last declared he would visit China, with which ties remain frosty over a South China Sea arbitration ruling won by the Philippines in July. He said Russian Prime Minister Dmitry Medvedev was expecting him in Moscow.
China claims most of the South China Sea, through which more than $5 trillion of trade moves annually. Brunei, Malaysia, the Philippines, Taiwan and Vietnam have rival claims.
An arbitration court in The Hague in July invalidated China's claims to the waterway in a case brought by the Philippines, a ruling Beijing refuses to recognize.
He welcomed investment and shrugged off rating agency Standard and Poor's concerns last week about the Philippine economy on his watch.
"Never mind about the ratings," he said. "I will open up the Philippines for them to do business, alliances of trade and commerce."
In Washington, State Department spokesman Mark Toner said the Philippine government had not contacted the United States about the comments made by Duterte.
U.S. cooperation with the Philippine government remains strong and the United States has not seen anything that would indicate a shift by Manila, Toner said at a daily news briefing.
"They're a sovereign nation and we're certainly not going to hold them back from pursuing closer relations with either of those countries. … It's not a zero-sum game,"he said.
Duterte also said he would open up telecoms and airlines, two domestic sectors long controlled by local players and criticized for being uncompetitive. He did not elaborate.
His vitriol against the United States has become a near-daily occurrence, sparking both amusement and concern. On Monday he accused Washington of "hypocrisy" and "lording it over us".
His latest swipe included ruling out participation in any maritime conflict initiated by the United States, despite a 1951 treaty which Duterte said required Manila to back Washington.
"I am about to cross the Rubicon between me and the U.S.," he said," without elaborating. "It's the point of no return."
Toner said he would dispute Duterte's premise that the United States might start a maritime conflict. "The United states has a strong security presence in the Asia-Pacific region, but we're certainly not looking to start a military action against anyone," he said.
It was unclear whether Duterte's outbursts will affect relations between the two countries, whose militaries have scheduled joint exercises in October.
On Monday, the U.S. embassy in Manila announced two-week deployment of a pair of C130 planes and 100 troops at an air base in the central Philippines, the third of its kind this year, as part of a rotational troops agreement.  (Reuters)
RAMON ANG, SMC PRESIDENT AND CEO SUPPORTS PRESIDENT DUTERTE
"Mark my word: This country will fly. This country will be a better place for our children and grandchildren because the drug problem will be eliminated under Duterte,"- Ramon S. Ang, president and CEO of San Miguel Corp. (SMC)
President Digong has found an avid supporter in one of the country's business titans, Ramon S. Ang.
Ang, president and CEO of San Miguel Corp. (SMC), says the giant conglomerate is investing heavily in manufacturing and infrastructure because the country will boom under the Duterte administration.
Because of the expected economic surge, SMC is building more airports, sea ports and railways, and acquiring trains.
Ang said Petron, the leading fuel company, will be expanded; petrochemical and power plants and cement factories will be built by the business conglomerate SMC.
If the President solves the problems of drug, criminality and corruption, he will become the best president the Philippines has ever had, Ang said.
Coming from a business genius, Ang's words about Duterte will surely resonate with other business giants. (newsinfo.inquirer.net)
Spain supports PHL infrastructure, tax reform programs — DOF
The government of Spain fully supports the Duterte administration's 10-point socioeconomic agenda, particularly the tax reform program and the plan to accelerate infrastructure spending, according to the Department of Finance (DOF).
Spanish Ambassador to Manila Luis Antonio Calvo Castaño told Finance Secretary Carlos Dominguez III in a meeting on Tuesday that the Spanish government is "very encouraged by the 10-point socioeconomic agenda of President Rodrigo Duterte," the DOF said a statement on Wednesday.
Castaño supposedly said that Spanish companies are interested in investing in Philippine infrastructure development, particularly in rail projects, noting that Spain has the second largest high-speed railway network in the world next to China.
The Philippines plans to raise infrastructure spending from 3 percent to 5 percent of the gross domestic product (GDP), to be complemented by legislative amendments that would relax the Constitution's economic restrictions.
Higher spending on infrastructure outside the National Capital Region would help the administration reduce the poverty rate to 17 percent by the end of the President's term in 2022, from 26 percent in 2015, Dominguez noted.
The proposed tax reform program is aimed at reducing personal and corporate income taxes, while simplifying and improving tax administration, adjusting fuel excise taxes, imposing a sugar tax as a health measure, and plugging leakages in value-added tax (VAT) exemptions.
Castaño said that DOF's tax plan is "on point, progressive, and would help ease the burden of the middle class and vulnerable sectors."
Dominguez and Castaño also discussed the proposed memorandum of understanding on economic and financial cooperation between the Philippines and Spain.
The agreement aims to explore cooperation in agriculture, industry, energy and services, water infrastructure, climate finance, environmental economics, and disaster risk finance. — Ted Cordero/VDS, GMA News
http://www.gmanetwork.com/news/story/582186/money/economy/spain-supports-phl-infrastructure-tax-reform-programs-dof#sthash.p2IGQvaa.dpuf
Duterte starts to bend with the wind?
Sept. 22, 2016
PRESIDENT Duterte, meanwhile, appears to be shifting to a rebalancing mode, then attempting to repair the damage inflicted on Fil-American relations by his sometimes intemperate statements about the United States and its officials.
Is the President beginning to feel what we said in our Postscript last Sunday as "some gustiness in the political wind blowing from across the Pacific"?
"As the gale intensifies," we asked, "would he bend gently with the wind like the bamboo or resist rigidly and break?"
"In the eye of the brewing storm are ignored expressions of concern for human rights violations, a perceived veering away from treaty alliances, and sheer diplomatic rudeness," we noted.
The President and his foreign secretary, who was in the US days ago on a diplomatic errand, have been explaining that he did not seek the pullout of American forces operating in the Philippines under existing executive agreements.
In a speech days ago before the Army's 10th Infantry Division, the Commander-in-Chief explained: "I said there will be some time in the future that I will ask the US special forces to get out, almost 117 of them, better that you get out so that I can talk peace… and so I can show that you are not there. I never said get out of the Philippines. For after all, we need them in (South) China Sea."
Last Sept. 12, he also clarified that he just wanted GIs in Mindanao out of harm's way as some Moros might target them. He then repeated in Bulacan that he wanted Americans out of Mindanao so the government would have "space" for peace talks with Muslim rebels.
Duterte admitted that the Philippines does not have the materiel to fight a war with China if current territorial disputes would lead to hostilities with the neighbor.
"As far as I am concerned, I am against it, because it will just be a massacre," he said. This could be one of the reasons why he does not want relations with the US, a treaty ally, to deteriorate.
SOURCE:  philstar.com
Duterte: Probe me but follow Philippine laws
MANILA, Philippines – President Duterte is ready to face investigation by the United Nations, the United States and the European Union over alleged summary executions of drug suspects, but only if they promise to follow "the process in my jurisdiction."
"I am willing – any and all questions, I will answer, ipadala mo na iyong mga EU na bright, mga bobo, iyong mga p**g i**g ito, maniwala kayo diyan (send the bright ones from EU. They're stupid, those sons of b**s, believe me)," he said.
"But if they think they are really brighter than us, oh, come here," Duterte said.
"What I want is everybody should be placed under oath. So in the end, if it is proven that you are lying, I can proceed (with) a case against you. If you just listen and take down notes, then get the garbage of De Lima, that's b**t," he said, referring to Sen. Leila de Lima, with whom he has locked horns over human rights issues.
He recalled being probed by UN rapporteur Philip Alston for killings in Davao City when he was still mayor.
"I do not have to remind him again… they know it already," he said.
"What I don't like is that they threaten me. So I was quiet about it. When I was mayor, that's already fine. But now I am President, we are getting embarrassed. I am used to it, but not our people," he said,
Duterte maintained that domestic laws are above international laws, and that he cannot be made accountable on the basis of laws of other countries.
"I will ask them. It's provided in the Constitution. And if they come here, I have the laws, the penal laws and the Constitution. And I would just tell them, find something here that is wrong, where you can be charged. Because if it is not a criminal offense, then any other country cannot turn it or cannot categorize it as a crime," he said.
"I am a citizen of this Republic, the crimes and felonies are in our books," he added.
"Before international law, there is the Constitution which is the bedrock (of Philippine democracy)."
While Filipinos speak many dialects, he said the Philippines is bound by its laws.
"You disregard the flag, the Constitution, there will be trouble," he pointed out.
"Find me a fault there, if there is because you have to begin with the criminal laws of my land."
He also made clear he is unfazed by a warning from Standard and Poor's that the country's credit rating might be affected by the current campaign against drugs.
Spewing out expletives, he said he is not afraid of S&P's and other credit raters. "You want me to answer, you answer also. We're on the same boat. Who are you to threaten me?"
Duterte said he has tasked his legal team to prepare a draft invitation for any international body that would want to come and probe summary executions in the country.
"It is up to them. But I have asked my lawyer here, legal (team) to prepare the letter to invite them to come and investigate. But I said it should be something live and not a one-way affair," he said in remarks at the oath taking of officers of media covering Malacañang.
Duterte again repeated his attacks against US President Barrack Obama, reminding him of police abuses targeting African-Americans.
"Even Obama, we'll ask him so he must be prepared. Now, why should I prepare? Who are you? In the context of things, who are you? Why are you asking me? What about you, killing the black people? Do not be such a hypocrite," he said.
"Why me? Those who have stayed in America for a long time, let's not fool each other. What is their treatment there of foreigners, or if you are not white? Now, you who have studied in America, have lived in America, tell me straight, walang bolahan. How are you treated there in America if you are not white?" he added.
Duterte also vented his anger at columnists whom he thought were more concerned about the impact of his attacks against the US, than about him and his constituents.
Hypocrisy
He berated the US anew for what he called its hypocrisy and for invading Iraq supposedly in search of weapons of mass destruction.
After wasting Iraq, the US, Britain and their allies never recovered even fireworks, he said.
"That's their hypocrisy," Duterte pointed out.
"Kung hindi lang bawal magpatay ng Americano, patayin kita dito (If it's not unlawful to kill an American, I'll kill you here)," he said.
Duterte reiterated that he wanted Americans in the probe. "Ano sa palagay nila sa akin, gago (What do they think of me, stupid)?" he said.
The President reiterated that he does not care if he goes down in history as a killer or a disgraced politician.
"If I go down in history as a killer or disgraced, as I am the one impeached, it's okay. Assassination, fine. I do not lose my honor in both. It's fine with me," he said.
Duterte reiterated that he has long put his integrity and his presidency and even his life on the line in his intensified war against illegal drugs.
At the same time, Duterte reiterated he cannot allow his accusers to draw "garbage" of information from De Lima and make a report out of it.
"That's about stupid," he said.
He said any investigation should be a two-way street where all parties concerned would also be allowed to ask questions.
"Magtanong muna sila sa lahat then magtanong ako sa kanila (They may ask questions, and then I'll ask them too). Rapporteur of EU, rapporteur of UN, whoever is interested, rapporteur of the state department, or Obama," he said.
Duterte said Obama may come to the country to personally ask questions, but the President said he should also be allowed to ask Obama pertinent questions regarding the abuses and the killing of African-Americans in the US.
"Tutal wala naman siya ginawa na kasi (He has done nothing anyway because) he's out, maybe he can come here and find time to ask me questions and I'll answer him. I have some interesting questions to ask. I would just term it very interesting questions. You know what's sauce for the gander is sauce for the goose," he said.
"It cannot be just a one-way traffic here. Even if I am a President of a small republic, I will see to it that in matters of principle, we are in parity, tabla (equal). Even if we're not as popular as America," he added.
The President said he would never allow UN rapporteurs to work on a wrong premise fed by his political enemies.
Duterte recalled that he talked with Alston when he was mayor of Davao but nothing came out of the investigation.
"There was no result. And for all the time that I was investigated by the human rights and the rapporteur, nothing came out of it," the President said.
The President again fired a broadside at De Lima, whom he accused of having immoral relations with her driver and for benefiting from drug money from convicts.
"Then a secretary of justice here, and if you have noticed, she kept on hammering at me. And I said, if you have a good case, if the goods are there with you, file a case," he said.
Duterte said De Lima has been banking on the testimony of her key Senate witness, self-confessed killer Edgar Matobato, but still she dilly-dallied in the filing of charges against him.
He vowed yesterday to have De Lima put behind bars on non-bailable charges.
"Kasi nandiyan na daw 'yung witness niya si Matobato, so go ahead. Wala siyang ginawa. Now, nandito na sila, naipit na siya (She has Matobato as witness, go ahead. She did nothing. Now, she's in trouble)," he said.
"But this De Lima, she screwed her driver and screwed the nation," the President said.
"Our problem is not my mouth. It's drug addicts numbering about three million, and we have new surrenderees. My slurs and my curses –they are but manifestation of the anger inside me," he said. "Wag nila akong takutin (Don't threaten me)."
Duterte said it's the US, the EU and the UN that should be investigated "because they have committed far more injustice.
"Even then there were already killings. Look at the statistics. That would make you a good journalist because you are fair, factual," he said.
He added he is ready to "resign tonight" once it is established that he is behind the summary killings.
He reiterated that the local police are not in the business of "mummifying" slain drug suspects, as such practice is an expertise of drug syndicates.
Meanwhile, the UN said its review of the human rights situation in the Philippines on Sept. 28 will be done from Geneva and not in Manila.
Tess Debuque, UN Information Center Manila, has clarified an 18-man team from the UN Committee on Economic, Social and Cultural Rights will conduct its review at the Palais des Nations at 3 p.m. to 6 p.m. (9 p.m. to midnight in Manila), and not in Manila as reported earlier.
A UN advisory said the Philippines will undergo a review because it is one of 164 states that have ratified the International Covenant on Economic, Social and Cultural Rights. Signatories to ICESCR undergo regular review.
The committee will discuss with a Philippine delegation a range of issues relating to the implementation of the ICESCR.
The advisory said the committee's meetings with the Philippine delegation at the Palais des Nations will be public and will be webcast at http://webtv.un.org/. 
The Philippines has submitted a report to the ICESCR.
The committee will release its findings on Oct. 10.
Other countries being reviewed are Costa Rica, Cyprus, Poland, Tunisia, Lebanon and the Dominican Republic. – Rainier Allan Ronda
Picking up the pace in infrastructure development
MANILA, Philippines – With an infrastructure gap that threatens to slow down the country's economic growth, the business community is rife with talks of accelerating the roll out of vital structures that will support progress and improve the living standards of Filipinos.
Infrastructure development in the country has not kept pace with an economy growing around six percent every year. This is reflected in the rush hour hell experienced daily by most Metro Manila workers who endure long queues and a sweaty crush in the capital's dilapidated train system and motorists who frequently get stuck in epic traffic jams.
So decrepit is the state of Philippine infrastructure that the country currently ranks 90th among 140 economies surveyed in the 2015-2016 Global Competitiveness Report by the World Economic Forum in the adequacy of infrastructure. The country's ranking in infra also pales in comparison to those of neighboring ASEAN nations. Malaysia ranked 18th, Thailand 32nd and Indonesia 37th.
The  Asian Development Bank (ADB) estimates that between 2010 and 2020, the Philippines needs to invest $127 billion in infrastructure to stave off an infrastructure crisis that would be an offshoot of growing population and rising incomes.
Banking on PPP
The Duterte administration — which has signified early on that it would build on the gains of the previous administration— promises to pick up the pace of the public-private partnership (PPP) program by streamlining the approvals process and opening its doors to more unsolicited proposals under the PPP scheme, therefore maximizing the expertise of the private sector and freeing up government funds for other use.
The PPP program, launched by the Aquino administration in 2010, aims to attract more private sector investments in public infrastructure through competitive bidding.
In the five years of implementation, however, it went through terrible birth pains, with slow project approvals and several failed biddings, resulting in only 14 projects being awarded out of the 53 in the pipeline. Cited as bottlenecks were the enormous sizes of the projects and legal impediments.
Socio-economic Planning Secretary Ernesto Pernia has said the Duterte administration wants to attain tangible results within the first 100 days of governance by laying down a national budget 30 days after the President's first  State of the Nation Address (SONA) on July 25 and putting in place mechanisms for shortening the approvals process for projects in the PPP pipeline.
He noted the average time it took to implement the 12 projects under the PPP scheme in the past six years was 29 months. This, he said, can be whittled down to between 18 to 20 months.
PPP Center executive director Andre Palacios said discussions are now ongoing at NEDA, its parent agency, on the streamlining of the approval process at the ICC level where projects tend to stagnate.
"We already have a streamlined ICC approval process but what we need to do is to streamline it further because it is in the ICC level where the technical issues are threshed out," he said. "But we also need to strengthen the streamlined process to keep the integrity of the projects."
Under the new administration, unsolicited proposals for infrastructure projects under the PPP scheme — or those proposed by the private sector to the government — would also be given equal treatment in the review process as solicited ones. The Aquino administration shied away from such projects because of legal ramifications, preferring instead to pursue infra projects studied on its own.
Finance Secretary Carlos Dominguez has said the execution of the PPP program would be reviewed to accommodate more unsolicited proposals, especially those that would help ease Metro Manila traffic.
Palacios believes this would not be a problem for the program as the Build-Operate-Transfer (BOT) Law provides for unsolicited proposals but noted that agencies endorsing such proposals must carefully review those.
There was a preference for solicited proposals under the previous administration. Under the current administration, there is no bias for or against unsolicited proposals," he said. "These would be given the same amount of attention in the review process."
Among the unsolicited proposals having difficulty getting past the procurement process is the North Luzon Expressway and South Luzon Expressway Connector Road, of Metro Pacific Group which would be subjected to a Swiss challenge this month.
A new unsolicited proposal, in fact, was lodged at the technical working group (TWG) of the Investment Coordination Committee (ICC) on July 5, the first for the new administration. The proposal of East West Rail Corp and Alloy MTD Group to build and operate for 30 years a nine-kilometer, 11-station elevated Light Rail Transit (LRT) line that would traverse Diliman, Quezon City to Lerma, Manila was endorsed by the Philippine National Railways (PNR).
The proposal would be reviewed for 15 days from the date of submission after which the proposal would be forwarded to the cabinet-level ICC for approval. The committee would convene on Aug. 2.
The ICC-TWG is composed of the National Economic and Development Authority (NEDA) Secretariat, the Department of Finance (DOF), Department of Environment and Natural Resources-Environment Management Bureau (DENR-EMB) and the PPP Center undertakes specific aspects of the appraisal of a proposed PPP projects. These cover socio-economic appraisal, financial appraisal and risk allocation evaluation, environmental appraisal, commercial viability and bankability and value for money analysis, as well as legal and institutional appraisal.
Palacios thus enjoins government agencies to review unsolicited proposals with tact.
"On our part, we are reaching out to agencies to strengthen their capacities to evaluate unsolicited proposals to determine if it meets the criteria of the law. In the past administration, agencies were not too familiar with unsolicited proposals so we need to help one another," he said.
The government is determined to complete by 2017 the procurement of around 17 stalled PPP projects collectively valued at $580 billion. Many of these projects still lack the requisite approval of the National Economic and Development Authority (NEDA) Board while some that have made it to the auction stage were snubbed by bidders and sent back to the drawing board. These comprise airports, seaports, dams and dikes among others.
Palacios said the PPP program "requires strong and sustained political support" across several administrations as most projects would be operating between a period of 25 to 30 years under the BOT law.
With the experience gained by the center in the previous administration, he believes the government can easily iron-out snags in the program.
"We have sufficient experience in the procurement and implementation of these projects so we now have a basis for policy reforms that will fully enhance the program," he said.
Economic managers have also said that awarded contracts would be respected so as not to derail the implementation of the projects.
Agenda outside infra
Infrastructure may be the hottest topic tied to development but not to be overlooked are other items in the economic agenda which the new administration is pursuing at a more deliberate pace.
To recall, the 10-point economic agenda comprises the following: continuance and maintenance of current macroeconomic, fiscal, monetary, and trade policies; institution of a progressive tax reform and a more effective tax collection; increasing the competitiveness of businesses and improving the ease of doing business; accelerating annual infrastructure spending; promoting rural development; ensuring security of land tenure to encourage investments; investing in human capital development; promoting science and technology; improving social protection, as well as strengthening the implementation of the Responsible Parenthood and Reproductive Health Law.
Economic managers expect the Philippine economy to grow by six percent to seven percent this year; by 6.5 to 7.5 percent in 2017; and by seven to eight percent in 2022.
Among the other policy issues raised recently is the provision of greater support for rural and regional development to reflect the poverty-and-inequality-reducing components of the economic plan.
Pernia said the economic agenda of the administration would build on the gains of the past administration but would deviate in such a way that macroeconomy would not be its sole focus.
"The theme of our economic program is poverty-and-inequality reducing economic growth. It is clearer than just saying inclusive growth and so that is what we are trying to achieve," he said.
The current administration is inheriting a country experiencing strong economic growth with sound macroeconomic fundamentals, the benefits of which are not felt by the poor.
"Of course we give credit to the achievement of the previous administration. It has done a lot of good in terms of the macroeconomy. We will continue the good macroeconomic policies but at the same time, we would like to make a big push towards regional and rural development which I think was not given much emphasis in the previous administration," said Pernia.
"Given that many of us in the Cabinet are from Visayas and Mindanao, we are going to make that push for investments in Visayas and Mindanao," he added.
Dominguez has said Mindanao has a potential to be a "major food basket" with the right investment infrastructure. Davao City, the hometown of President Duterte has also been receiving a lot of attention, causing businesses to "boom."
Manila-based Asian Development Bank (ADB) is heeding this call and is preparing $770 million in additional loans to the Philippines this year. The multilateral lending institution is giving high priority to peace and development projects in Mindanao through the rehabilitation of roads; promotion of small-and-medium-sized enterprises; and capacity building in local government units. It is already collaborating with the Mindanao Development Authority and other regional development agencies for these endeavors.
In the first half of 2016, the development bank approved $583 million worth of loans for various projects covering conditional cash transfers, water transmission improvement in Metro Manila and surrounding areas, as well as water supply development in municipalities.
Pernia said the administration is keen on reducing by one percent to 1.5 percent annually in the next six years the present poverty rate of 26 percent. He noted that the poverty rate has only decreased minimally from a rate of over 30 percent in the 1990s because not enough attention was given to the development of human capital.
"The reason for that is we always focused on economic growth and not on the labor supply side and the population side," he said.
Speaking of population, the socieconomic planning chief is strongly batting for the faster and more effective implementation of the Reproductive Health Law and bridging the gap in healthcare and education.
Pernia, an economist whose area of expertise include development economics, demographic economics, human resource development, health and education and regional economic cooperation, said the existing TROs on several provisions of the law should be immediately lifted because the country cannot reap demographic dividends in the future if Filipino women today continue to be restrained by economic and social complications brought about by early and unplanned pregnancies.
Two TROs have so far been imposed on provisions of the RH Law by the Supreme Court last year. The first is the TRO on the use of subdermal implants which effectively prohibits the DOH from procuring, promoting, distributing and administering the contraceptives.
Subdermal contraceptive implants facilitate the delivery of the hormone progestin steroid from capsules or rods placed under the skin.
Another TRO prohibits the Food and Drugs Administration (FDA) to renew licenses and to issue licenses for the sale of all family planning commodities and devices by the government and the private sector.
The United Nations Population Fund (UNFPA) has said that despite its young population, the Philippines is still decades away from realizing demographic dividends as its youth, young women especially, are still deprived of access to family planning tools, full education, and gainful employment.
Demographic dividend occurs when a country's working age population is larger than the population that is dependent and younger. But to maximize the dividend, countries must ensure their young working-age populations are able to seize work opportunities and other income generating opportunities.
A study conducted by UNFPA, states that unlike most of its Southeast and east Asian neighbors, the Philippines failed to achieve a proper demographic transition, defined as a change from a situation of high fertility and high mortality to a situation of low fertility and low mortality.
Investments critical to helping the youth are those that protect rights, reproductive right included. Others are improvement of health and gaining of skills and knowledge. Assuming all of these conditions are met, the Philippines would be able to reap demographic dividends by 2050. - Phil Star