Philippine Marines, marching in formation alongside armoured personnel carriers, head to the frontline past damaged buildings in the Mapandi area of Marawi on the southern island of Mindanao on Aug. 30, 2017. AFP/Ferdinandh Cabrera Source: Philstar
PRESIDENT DUTERTE DECLARES LIBERATION OF MARAWI AFTER ISIS SIEGE

Picture: AFP Source: The Australian
Philippines President Rodrigo Duterte on Tuesday, October 17, symbolically declared Marawi City in Southern Philippines liberated from ISIS militants after a five-month siege that has left more than 1000 people dead and sparked fears the conflict could spill over into Southeast Asia.
Duterte led rain-soaked troops in celebration in Marawi a day after the military claimed a major breakthrough as it announced the death of the head of the Islamic State group in Southeast Asia, Isnilon Hapilon,in a gunbattle in the city.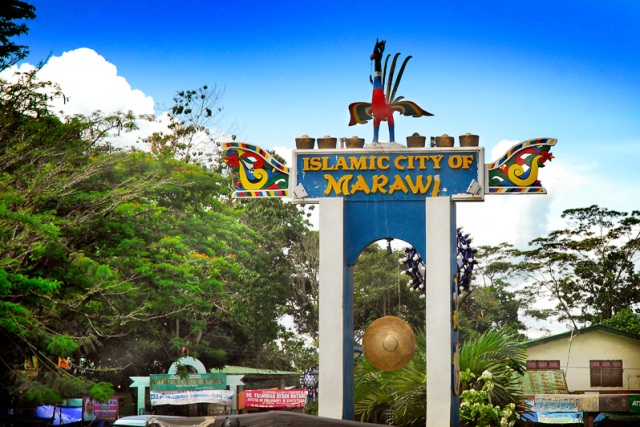 Image: Philstar
"Ladies and gentlemen, I hereby declare Marawi City liberated from the terrorist influence that marks the beginning of rehabilitation of the city," Mr Duterte told troops in the ruined city yesterday, as fighting continued between the last surviving militants and security forces.
Shortly after his announcement, Philippines military chief Military chief Eduardo Ano sought to clarify the President's statement, saying it meant the threat from the militants, who have been fighting in Marawi since May 23, was substantially over.
"They're leaderless and they have no more organisation," General Ano said. "There are still skirmishes."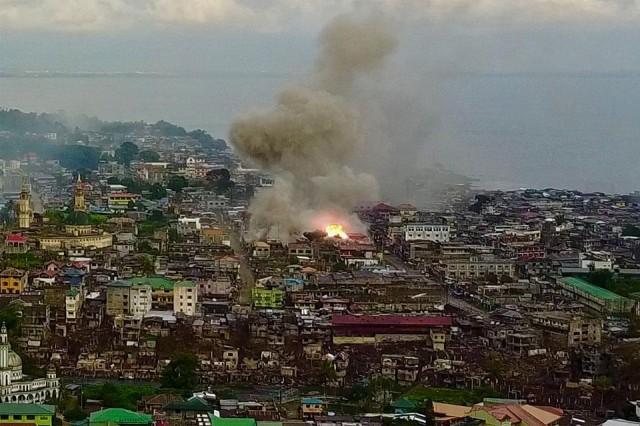 Marawi City seige Image: GMA
DUTERTE'S VICTORY: Leading ISIS commanders killed as Philippines stands on verge of total victory in Marawi
ISIS is now days away from annihilation in Philippines. During a standoff with Philippine troops, the two leaders of the ISIS insurgency were killed, thus ending a reign of terror for the people of Marawi. As the Armed Force of Philippines stand on the verge of total victory in Marawi, the successful operation also vindicates President Duterte's decision to put Mindanao under martial law, beginning in May. While the opposition Liberal party denounced and worked to undermine Duterte's decision, the President argued that this was the only way to quickly and effectively purge Marawi and neighbouring areas of terrorist occupation. Source: The Duran
The rapid success of Philippine troops against foreign funded and heavily armed terrorists, has progressed according to Duterte's original proposals. With a full victory now possible in a matter of days, President Duterte's battle strategy can now be called a success.
The rebel alliance in Marawi is comprised of fighters from the Maute group, Abu Sayyaf, and aided by foreigners from countries that include Malaysia, Indonesia, Singapore, and some Middle East states.
Child soldiers and teenagers are among the gunmen.–REUTERS
"The Marawi Crisis Has Shown The President's Brilliant Leadership," said Prosecutor  Darwin Cañete, lawyer and staunch supporter of Duterte.
"If you build an army of 100 lions and their leader is a dog, in any fight, the lions will die like a dog. But if you build an army of 100 dogs and their leader is a lion, all dogs will fight like a lion." ~ Napoleon Bonaparte Image: Videoz Trending
"We were supposed to go to Marawi today with the President but we were advised by ground commanders not to go because they will conduct the assault this morning," said Defense Secretary Lorenzana
This sincere benevolence of the President for the country gained commendation from Darwin Cañete, lawyer and staunch supporter of Duterte.
Image: Videoz Trending
He mentioned and highlighted in his Facebook post how the President showed his brilliant leadership in times of In his Facebook post, he highlighted how different and one of a kind Duterte is to us Filipinos. He mentioned how the president showed brilliant leadership in times of breaking point, that is why he is so special to filipinos.
Here are his points:
* He acted like a president.
* He listened to his experts.
* He contained the rebellion from spreading.
* He gave his commanders tactical flexibility.
* He gave them unconditional logistical support.
* He gave them political cover.
* He complied with the law.
* He gave them morale boosts and was always on top of the situation WHILE fending off ridiculous grandstanding from the morally bankrupt bonehead stupid critics.
* He mourned each and every death.
* He gave courage to the wounded.
"The best defense is a good defense." Image: Videoz Trending
President Duterte Declared Martial Law In Whole Mindanao @ 10 pm May 23, 2017 Source: you tube
May 23, 2017, Filipino forces have been fighting against Maute militants in the city of Marawi , when the fighters – affiliated to both the Isis terror group and Hapilon's Abu Sayyaf group – began attacking the town and kidnapping civilians in retaliation to the army's failed attempt to capture Hapilon. When the war in Marawi started that is being led by Isnilon Hapilon (Commander leader of Abu Sayaf believed to be the leader of the ISIS terrorist group in the Philippines based in Basilan and said to be the emir of ISIS in Southeast Asia), Omar Maute (One of the leaders behind the Maute Terrorists Group), and Mahmud Ahmad (Believed to be the group's financer).
This image taken from undated video shows Isnilon Hapilon (center), the purported leader of the ISIS group in Southeast Asia, Isnilon Hapilon at a meeting of militants in an undisclosed location.  AP FILE Source: newsinfo.inquirer.net
According to National Defense Secretary Delfin Lorenzana during a news briefing conducted 11:30 am of October 16,2017, Monday, he confirmed  that two of the terrorist leaders,Omar Khayyam Maute and Isnilon Hapilon  , were killed in Marawi City during a ground attack by Philippine troops early morning of October 16. A big boost to a military battling to contain the spread of Islamic State's radical ideology.
     "Yes, I confirm the killing of (Isnilon) Hapilon at saka Omar Maute this morning, early this morning.They were both killed, in fact their faces have already been splashed in the internet and in the websites," Lorenzana said in a press conference in Camp Aguinaldo. Source: Philippine Canadian Inquirer
Pres. Duterte had been saying  that they should not celebrate when the Marawi war comes to an end because it is still a loss for the Philippines, however, the Marawi city soldiers couldn't help to show their happiness when they learned the good news.
Soldiers in Marawi City celebrate and all smiles Image: Inside Military Forum 
Image: Pinoy Thinking
According to Lorenzana, the President was supposed to go to Marawi Monday morning, but was adviced by the officials not to because of the plan to attack.
"We were supposed to go to Marawi today with the President but we were prevailed by the commanders on the ground to postpone our trip because they are going to conduct the assault this morning," Lorenzana said in the news briefing.
No president has ever had that kind of care for our country before. That is also what lawyer and known Duterte supporter,  Darwin Cañete noticed.
Isnilon Hapilon (R) and Omar Khayyam Maute (L) Source: NETCITIZEN
"Following their operational plan they were able to do it this morning, they were able to get Isnilon Hapilon and Omar Maute in the last Daes-Maute stronghold.  They were both killed," the defense chief said. He added that government forces were able to recover 17 hostages in Marawi City on Sunday night.
According to Secretary Lorenzana, a female hostage provided the exact location where Hapilon and Maute were hiding.
With apparent smiles of relief, soldiers line up to have their picture taken. This was posted in the Facebook page Inside Military Forum. Applauding the soldiers and telling them we are proud of you. Source: Pinoy Thinking
Philippine troops killed two leaders of a militant alliance in an operation in southern Marawi City on Monday, the defense minister said, a big boost to a military battling to contain the spread of Islamic State's radical ideology.
              Isnilon Hapilon, (R),Islamic State's anointed "emir" in Southeast Asia, and Omarkhayam Maute, (L), one of two Middle East-educated brothers at the helm of the militant alliance Dawla Islamiya, were killed as part of an operation based on information from a hostage recently rescued.Source:  New Straits Times
"So they were able to do it this morning. They were able to get Isnilon Hapilon and Omar Maute. They were both killed. In fact, their faces are now splashed in the internet. They were also able to recover 17 hostages,"
Lorenzana said the bodies of the two terrorist leaders would be subject to DNA test, noting that these two have bounties on their heads from foreign countries.
He also said government troops are now chasing a foreign terrorist who is fighting on the side of the Maute group in the city.
"There is still another personality that they are trying to get, sic, the (Malaysian), according to some reports he is still hiding in some of, one of the buildings there and that's what they are trying to do now," Lorenzana said.
"The indication here is that the Marawi incident is close to the end. We may announce the termination of hostilities in the couple of days."
Lorenzana also confirmed the report from the Task Force Ranao saying government troops rescued 17 hostages in Marawi City on Sunday night.
"So may na-rescue tayo na 17 hostages last night. Halo halo ito, may lalaki, babae, mga bata. Wala pa ko breakdown kung ilan ang lalaki at babae. dinala sa safe zone and undergoing medical examination. (So we have rescued 17 hostages last night. These are a mix of men, women and children. I still don't have the breakdown. They were brought to a safe zone and are now undergoing medical examination.) They will also undergo debriefing," Col. Romeo Brawner Jr., deputy commander of Task Force Ranao said.
Brawner added that there are also more than 20 soldiers wounded in the ongoing battle, adding that the main battle area between government troops and Maute terrorist shrunk to two hectares.
As for Armed Forces of the Philippines Chief of Staff Gen. Eduardo Ano, the death of Hapilon and Omar Maute signifies the beheading of the Maute Terror Group. This is how Ano describe the said incident while saying that the war in Marawi is about to end. Ano added that the loss of the terrorist group's 2 leaders will result to the disbandment of the entire terrorist group sooner or later. The General also said that even the Maute members in the different areas will feel the effect of today's operation as Ano, compared the death of its leaders to the loss of the center of gravity.Source: NETCITIZEN   Image: AFPCRS
The said military operation started around 2AM today and ended around 6am of the same day where the military recovered 7 dead bodies including the cadavers of Hapilon and Maute after an intense firefight.
The AFP chief also said that they are also going after Malaysian terrorist Mahmud Ahmad, believed to be a financier of the terrorist group. So the public can be assured that their government forces will not  just sit back and relax after this momentus victory.
Colleagues of university professor Dr Mahmud Ahmad recalled he was a staunch advocate of jihadism and martyrdom. — MMOL graphics Source: Malay Mail Online
Mahmud Ahmad is the top remaining target for Philippine forces as the military said he was among six to eight foreign fighters in a battle zone comprising about 60 to 80 buildings.
"Mahmud remains… one of our high-value targets in the operations being conducted," Padilla said.
Terrorism expert Ahmad Kumar Ramakrishna from Singapore's S. Rajaratnam School of International Studies said if Mahmud Ahmad survived he would likely take over the leadership of IS-linked fighters in the southern Philippines.
The militant is also reported to be a university lecturer in his home country who was in charge of raising finances from abroad for the jihadists and recruitment.
The restive south of the Philippines is home to a decades-old Muslim separatist insurgency and to extremist gangs that have declared allegiance to IS, including notorious kidnap-for-ransom group Abu Sayyaf and Maute group.
On Tuesday, the military said it raised the alert level in a part of the southern Philippines as it warned against retaliatory attacks from sympathisers of the militants.
URBAN WARFARE. The military has been fighting a difficult urban warfare in Marawi City. Image: BFM
The Philippine government has offered a P10 million bounty for Hapilon, on top of the $5 million reward offered by the United States. They also offered P5 million for the two Maute brothers.
There are still about 20 hostages with the terrorists.
The conflict between government forces and armed groups started May 23, when authorities tried to arrest Hapilon.
The armed groups were also supposed to establish a wilayat or ISIS province in Marawi.
Soldier fighting the ISIS-inspired Maute group Image: Retired Analyst – blogger
The prolonged conflict has left much of the once bustling urban center ravaged, and the government has begun plans for its rehabilitation. –
Lorenzana said they will announce the termination of hostilities once government forces have ensured that there are no more terrorists-stragglers in the city and have cleared all structures of IEDs and other traps.
"After the fighting stops, we will refocus our efforts on the challenging task of rebuilding and rehabilitating Marawi," the Defense Secretary noted.
Meanwhile, Davao City Vice Mayor Paolo Duterte hailed the Armed Forces of the Philippines for the death of Hapilon and Maute.
Image: Expat Media
In his Instagram post, VM Duterte thanked the AFP especially those who gave the ultimate sacrifice, to protect the Filipino people from terrorists like the Maute Group.
"I have nothing but my deep respect for you and and your families' sacrifices for the Filipino people," the young Duterte said.
SOURCES:
The Australian
France 24
Videoz Trending
NETCITIZEN
Canadian Inquirer
New Strait Times
ibtimes.co.uk
*****
NETCITIZEN: ISIS' newest Emir in South East Asia, Killed in Marawi -President Duterte
Dr. Mahmud bin Ahmad Image: Netcitizen
WHO IS "DOC AHMUD"
Dr. Mahmud bin Ahmad, known as Abu Handzalah (born 25 September 1978), is a Malaysian professor of Islamic law and a senior Islamic militant with Abu Sayyaf in the Philippines.
He was born in Batu Caves, Gombak District, Selangor.
In the 1990s he traveled to Pakistan to study, where he obtained two Bachelor degrees from the International Islamic University, Islamabad. In the late 1990s, he is said to have attended an Al-Qaeda training camp in Afghanistan. He has a Masters degree from the International Islamic University Malaysia and a Doctoral degree from the University of Malaya. While teaching at the University of Malaya, he was a senior lecturer in the Department of Aqidah and Islamic Thought in the Academy of Islamic Studies.
Image: Netcitizen
According to fellow teachers at the University of Malaya, it was in late 2013 that he began expressing openly his views with respect to jihad. He wrote a journal titled "Faith of the Mujahidin" and founded a religious school called Open Tahfiz Centre.
In March 2014, he arranged for at least four Malaysians to travel to Syria to join the Islamic State of Iraq and the Levant.
He has been on the Malaysian most wanted list since he traveled to the Philippines in July 2014.
ISIS' newest Emir in South East Asia, Killed in Marawi – Pres. Duterte
Slowly but surely, the Philippine Government is regaining its hold on the Islamic City of Marawi
After the declaration of liberation a few days ago by President Rodrigo Roa Duterte, due to the killing of the top 2 leaders of the terrorists in the country, Isnilon Hapilon of Abu Sayyaf and Omar Maute of Maute terror Group, another big-time leader was netted by the government forces. He is rumored to be the newly appointed emir by the ISIS for South East Asia after the death of Hapilon.
President Rodrigo Duterte confirmed yesterday that Doc Ahmad, a Malaysian terrorist who funded the Maute terror group to stage its attack in Marawi City, was killed by soldiers.
"Now, the other, 'yung sabi nila si doc, yung tatlo iyan (the one they call Doc, there were three of them), (Isnilon) Hapilon, Omar (Maute) tapos yung (and) doc, he is an …(Malaysian). He was taken this afternoon. And that completes the story," Duterte said in a speech in Manila
Military spokesman Restituto Padilla Jr. also confirmed that Ahmad was dead.
"Yes," Padilla said in a text message when asked if Ahmad was among those killed by the military.
"Hostages rescued know who he is and reported he was killed last night," he added.
Mahmud was among 20 extremists killed in offensives launched by security forces in Marawi City late Wednesday, Oct. 18 and early Thursday, Oct. 19.