Labeling Rodrigo Duterte as the Filipino Trump?
People keep on calling Rodrigo Duterte the Philippine Donald Trump. Are they wrong?
HUFFPOST: The Trump Phenomenon ANd How Americans Came To Distrust Their Politicians
Republican have voted down the Bush dynasty, not only because of the unpopularityof George W. Bush and anger against his agrressive policies, pre-emptive doctrine, and hos wars, but also because Jeb Bush's personality on TV during the debates was obnoxious.The Bushes were voted down because Americans are averse to dynasties that might come to believe they are entitled to own the US presidency.
Donald Trump, once known as The Donald, has taking a liking to now being called Mr. Trump. He is a phenomenon that most Americans and most in the world belittled, thinking it was temporary, until it snowballed and became a firm reality.
The Donald was a figure known for his acumen, talent for negotiations, and deal-making abilities, a successful businessman. Ordinary Americans are impressed by him because he is a rich, successful man who marries supermodels. Many ordinary Americans wish they were like the Donald, smiling, boastful, and happy about his success.
When Trump entered the election battle, some were astonished, others dismissed him. He said he would fund his own campaign, something that deeply impressed those who were already fans of the Donald. Trump then shed his smile and laugh, and adopted anger and condescension, either as a temporary mask for the elections or as an official trait for his Mr. Trump character or as President Donald Trump.
The tactic he has chosen is challenging and tackling just about anyone. He made his ego a successful marketing ploy. He used his startling stances against Muslims, Mexicans, women, and African Americans as a shock publicity tactic. He injected hope among the frustrated, in a way that left no room for logic, as his followers in their enthusiasm forgot to ask about the difference between fantastic promises and empty rhetoric.
One Trump supporter showed off his collection of mugs, t-shirts, and similar items all branded with the word Trump. He said he bought them all to support Trump. To be sure, since Trump is funding his own campaign, he cannot receive donations, but he found another way to raise money: selling Trump paraphernalia for profit. Many supporters are convinced Trump would be a president for small businesses and will not be the Establishment's man, having challenged it all the way to the White House.
In truth, Donald Trump has started reaching out to the poles of the ruling establishment in the United States, which comprises top companies, intellectuals, capitalists, defense industries, banks, oil companies, and technology companies. Trump's current tactic is to challenge the establishment to appease ordinary Americans angry at their dismal economic conditions in the country of the super-rich. But Trump, preparing for the near future, is seeking reconciliation and partnership with the same establishment, beyond his current tactics. Like Clinton, he understands the structure of power in America.
The Trump and Sanders phenomena have demonstrated that average Americans have lost trust in Washington, and want to send out a clear message that they are angry and want to rebel against the status quo and against the performance of the politicians and the government in the US capital. The two phenomena also suggest average Americans have had enough of the major corporations' sway over the economy and decision-making.
Regarding the foreign policy of both Clinton and Trump, the general reading of their attitudes suggest the book will be closed on Barack Obama's appeasement, and that the US will enter a phase that Americans and their establishment want to be more assertive and aggressive against foes and opponents.
FILIPINO JOURNAL: DUTERTE, A PHENOMENAL PHENOMENON
Underfinanced and overly maligned for his brand of leadership, Davao City Mayor Rodrigo Duterte jumped into the presidential derby two months after the official campaign period had started. And with no national political machinery, and who hardly traveled outside his city for two decades as mayor, Duterte was hesitant to enter the race. But it must have been destiny that pushed him into the fray.
With no previous national government experience, Duterte knew too well that to beat his nationally well-known rivals, he has to win the hearts of the people and seal a "sacred" covenant with them. To do this, he has to go down to the level of the "common tao (people)" and impress upon them a sincere message of hope, which is "Para tunay na pagbabago" – for a real change.
Impunity of lawlessness
Before becoming mayor of Davao City, the city was known as the "Murder Capital of the Philippines." It was the country's Dodge City where lawlessness ruled. And this brings to mind the legendary Wyatt Earp, the crime-fighter in the epic movie "Gunfight at O.K. Corral," which was followed by "Tombstone" decades later.
Together with his three brothers and the feared gunfighter and killer, John Henry "Doc" Holliday, Earp clashed with a group of outlaws called "cowboys" in the 1870s, chasing them from Dodge City, Kansas to Tombstone, Arizona where the Earps and Holliday figured in gunfight at the O.K. Corral. Wyatt Earp was credited with fighting lawlessness in Dodge City and Tombstone.
In so many ways, Digong Duterte may be likened to Wyatt Earp. Wyatt's posse cleaned up Tombstone of the lawless cowboys while Digong fought the criminals of his city with the participation of a reputed group of vigilantes known as the "Davao Death Squad" or DDS. Although Duterte never admitted to being the leader of DDS, it came to be known as the "Duterte Death Squad," which makes some people wonder: Is Digong a gangster or a gang-buster? But his people – the "masa" – like what he did for their city, which Numbeo ranked in June 2015 as the "fourth safest city in the world."
According to Wikepedia, Numbeo is a crowd-sourced global database of reported consumer prices, perceived crime rates, quality of health care, and other statistics. Using its crime and safety indices, Numbeo rated Davao City "low" in its crime rate measures and "high" in its safety measures. Interestingly, while that is happening in Davao City, other cities (e.g., Cebu City and Metro Manila) are rated increasingly in crime and dangerously unsafe. Davao City boasts that it is one of only three areas in the world, after the U.S. and Canada, to have a fully computerized Integrated Response System 911. And by and large the citizens are happier.
Zero tolerance
It did not then come as a surprise that when Digong entered the presidential race, his reputation as an iron-fisted disciplinarian impressed people across the country. And his zero tolerance for lawbreakers became his trademark.
He liked to patrol the city streets at night riding on a Harley Davidson or sometimes driving a taxi to catch robbers preying on drivers. He banned smoking in public places.
At one time, he caught a foreigner violating the ordinance and forced him to chew the cigarette butt. He also prohibited firecrackers and imposed a nighttime curfew for minors to fight juvenile delinquency.
Digong's "shock and awe" style of conveying his campaign message is what sets him apart from his rivals who use traditional canned slogans and promises to woo the voters. But the voters preferred to hear Duterte's blunt warnings and threats to lawbreakers. Like for instance when Duterte threatened to shoot criminals and hang them using laundry line or drown them in the Manila Bay. "The fish in Manila Bay will get fat," he said. "If I become president, even God will cry."
In one of the presidential debates, he pledged to eradicate crime — especially drug trafficking and kidnappings – and corruption in three to six months. When a journalist asked him to elaborate, Duterte said that while suspected drug dealers end up in jail in Manila, they'd be dead in his city. And he was applauded when he said: "When I say 'leave Davao,' you leave Davao. If you do not do that, you're dead. That's the way the story will go, no drama." Then he turned to one of his rivals, Mar Roxas, and told him: "If you do not know how to kill people and you're afraid to die, that's the problem, you cannot be a president."
That kind of language sends shudder down the spines of criminals. But to the masa, it sounds like sweet symphonic melody. He earned the nickname "Duterte Harry" after a Clint Eastwood character called "Dirty Harry" who had little or no regard for rules. Indeed, "killing all criminals" has become his trademark campaign battle cry. However, he'd remind his audience that if they didn't commit a crime, they don't have to worry.
Impossible dream?
Crime in the Philippines has become one of the country's biggest – if not the biggest – problems. Killing of journalists, assassination of political figures, drug trafficking, and human trafficking have been plaguing the country… and the occurrences are increasing. No amount of law enforcement reform and legislation has effectively curbed lawlessness.
For the past two decades, people have been calling for a leader to come forth and give criminals a run for their lives. And a lot of them wished, "If only we have a Filipino Lee Kuan Yew, the country would be a lot safer." It would seem like wishful thinking, an impossible dream. But when Duterte decided to run for president, the people reacted spontaneously. To a lot of them, particularly the poor masa, Duterte is the messiah who will deliver them from a perpetual bondage of poverty. When hope is gone, change – any change – is welcome. After all, what is there to lose?
Duterte is not only a phenomenon; he is a phenomenal phenomenon.
BOTH WON THE PRESIDENCY
US President Donald Trump's recent friendly phone conversation with Rodrigo Duterte, during which he invited the Philippine president to the White … Duterte has been dubbed the "Trump of the East", a label often rejected due to differences in the cultural context and global power of the two countries.
ABS-CBN: Duterte congratulates Donald Trump
President Rodrigo Duterte is looking forward to working with Donald Trump, who was elected US President on January 20,2017.
"President Duterte wishes President-elect Trump success in the next four years as Chief Executive and commander-in chief of the U.S. military, and looks forward to working with the incoming administration for enhanced Philippines-US relations anchored on mutual respect, mutual benefit and shared commitment to democratic ideals and the rule of law," the Office of Communications Secretary said in a statement.
Donald Trump Is Elected President in Stunning Repudiation of the Establishment
Donald John Trump was elected the 45th president of the United States in a stunning culmination of an explosive, populist and polarizing campaign that took relentless aim at the institutions and long-held ideals of American democracy.
The surprise outcome, defying late polls that showed Hillary Clinton with a modest but persistent edge, threatened convulsions throughout the country and the world, where skeptics had watched with alarm as Mr. Trump's unvarnished overtures to disillusioned voters took hold.
The triumph for Mr. Trump, 70, a real estate developer-turned-reality television star with no government experience, was a powerful rejection of the establishment forces that had assembled against him, from the world of business to government, and the consensus they had forged on everything from trade to immigration.
The results amounted to a repudiation, not only of Mrs. Clinton, but of President Obama, whose legacy is suddenly imperiled. And it was a decisive demonstration of power by a largely overlooked coalition of mostly blue-collar white and working-class voters who felt that the promise of the United States had slipped their grasp amid decades of globalization and multiculturalism.
In Mr. Trump, a thrice-married Manhattanite who lives in a marble-wrapped three-story penthouse apartment on Fifth Avenue, they found an improbable champion.
"The forgotten men and women of our country will be forgotten no longer," Mr. Trump told supporters at a rally in New York City, just after Mrs. Clinton called to concede.
In a departure from a blistering campaign in which he repeatedly stoked division, Mr. Trump sought to do something he had conspicuously avoided as a candidate: Appeal for unity.
"Now it's time for America to bind the wounds of division," he said. "It is time for us to come together as one united people. It's time."
That, he added, "is so important to me."
He offered unusually warm words for Mrs. Clinton, who he has suggested should be in jail, saying she was owed "a major debt of gratitude for her service to our country."
Mr. Trump's win — stretching across the battleground states of Florida, North Carolina, Ohio and Pennsylvania — seemed likely to set off financial jitters and immediate unease among international allies, many of which were startled when Mr. Trump in his campaign cast doubt on the necessity of America's military commitments abroad and its allegiance to international economic partnerships.
From the moment he entered the campaign, with a shocking set of claims that Mexican immigrants were rapists and criminals, Mr. Trump was widely underestimated as a candidate, first by his opponents for the Republican nomination and later by Mrs. Clinton, his Democratic rival. His rise was largely missed by polling organizations and data analysts. And an air of improbability trailed his campaign, to the detriment of those who dismissed his angry message, his improvisational style and his appeal to disillusioned voters.
He suggested remedies that raised questions of constitutionality, like a ban on Muslims entering the United States.
He threatened opponents, promising lawsuits against news organizations that covered him critically and women who accused him of sexual assault. At times, he simply lied.
But Mr. Trump's unfiltered rallies and unshakable self-regard attracted a zealous following, fusing unsubtle identity politics with an economic populism that often defied party doctrine.
His rallies — furious, entertaining, heavy on name-calling and nationalist overtones — became the nexus of a political movement, with daily promises of sweeping victory, in the election and otherwise, and an insistence that the country's political machinery was "rigged" against Mr. Trump and those who admired him.
He seemed to embody the success and grandeur that so many of his followers felt was missing from their own lives — and from the country itself. And he scoffed at the poll-driven word-parsing ways of modern politics, calling them a waste of time and money. Instead, he relied on his gut.
At his victory party at the New York Hilton Midtown, where a raucous crowd indulged in a cash bar and wore hats bearing his ubiquitous campaign slogan "Make America Great Again," voters expressed gratification that their voices had, at last, been heard.
"He was talking to people who weren't being spoken to," said Joseph Gravagna, 37, a marketing company owner from Rockland County, N.Y. "That's how I knew he was going to win."
Republican offered Donald Trump to voters who ran as an unapologetic populist, railing against foreign trade deals and illegal immigration, did they move so drastically away from their ancestral political home.
To the surprise of many on the left, white voters who had helped elect the nation's first black president, appeared more reluctant to line up behind a white woman.
Mrs. Clinton's loss was especially crushing to millions who had cheered her march toward historyas, they hoped, the nation's first female president. For supporters, the election often felt like a referendum on gender progress: an opportunity to elevate a woman to the nation's top job and to repudiate a man whose remarkably boorish behavior toward women had assumed center stage during much of the campaign.
Mr. Trump boasted, in a 2005 video released last month, about using his public profile to commit sexual assault. He suggested that female political rivals lacked a presidential "look." He ranked women on a scale of one to 10, even holding forth on the desirability of his own daughter — the kind of throwback male behavior that many in the country assumed would disqualify a candidate for high office.
The public's verdict was rendered.
Uncertainty abounds as Mr. Trump prepares to take office. His campaign featured a shape-shifting list of policy proposals, often seeming to change hour to hour. His staff was in constant turmoil, with Mr. Trump's children serving critical campaign roles and a rotating cast of advisers alternately seeking access to Mr. Trump's ear, losing it and, often, regaining it, depending on the day.
Even Mr. Trump's full embrace of the Republican Party came exceedingly late in life, leaving members of both parties unsure about what he truly believes. He has donated heavily to both parties and has long described his politics as the transactional reality of a businessman.
Mr. Trump's dozens of business entanglements — many of them in foreign countries — will follow him into the Oval Office, raising questions about potential conflicts of interest. His refusal to release his tax returns, and his acknowledgment that he did not pay federal income taxes for years, has left the American people with considerable gaps in their understanding of the financial dealings.
But this they do know: Mr. Trump will thoroughly reimagine the tone, standards and expectations of the presidency, molding it in his own self-aggrandizing image.
ABC.Net.Au: Rodrigo Duterte Won The Presidential Election In The Philippines May, 2016
With nearly 90 per cent, Mr Duterte had an insurmountable lead of 5.92 million votes over his nearest rival, administration candidate Mar Roxas.
"It's with humility, extreme humility, that I accept this, the mandate of the people," Mr Duterte said as the results came in.
"What I can promise you is that I will do my very best not just in my waking hours but even in my sleep."
Rodrigo Duterte, the controversial mayor of Davao City, won presidential election in the Philippines on May 9,2016, besting four challengers despite a campaign marred by rape jokes, death threats and various obscenities.
Duterte was a former lawyer and prosecutor prevailing in the contest to replace outgoing President Benigno Aquino III, who was ineligible for reelection after a single six-year term. Under Philippine election law, the candidate with the most votes wins even without a clear majority. Duterte had won 38.65% of the vote,with Mr Roxas on 23.16 per cent, according to PPCRV.
In his final rally, Mr Duterte repeated to tens of thousands of cheering fans his plans to end crime within six months of starting his presidency.
"Forget the laws on human rights," said Mr Duterte.
"If I make it to the presidential palace, I will do just what I did as mayor. You drug pushers, hold-up men and do-nothings, you better go out.
"Because as the mayor, I'd kill you."
Wikepedia: Duterte is a Filipino lawyer and politician who is the 16th and current President of the Philippines. He is the first Mindanaoan to hold the office. At 71 years old, Duterte is the oldest person to assume the Philippine presidency; the record was previously held by Sergio Osmeña at the age of 65.
Duterte's political success has been aided by his vocal support for the extrajudicial killingof drug users and other criminals. Human rights groups have documented over 1,400 killings allegedly by death squads operating in Davao between 1998 and May 2016; the victims were mainly drug users, petty criminals and street children. A 2009 report by the Philippine Commission on Human Rights confirmed the "systematic practice of extrajudicial killings" by the Davao Death Squad. Duterte has alternately confirmed and denied his involvement. The Office of the Ombudsman closed an investigation in January 2016 stating that they found no evidence that the Davao Death Squad exists, and no evidence to connect the police or Duterte with the killings. The case has since been reopened. Duterte has repeatedly confirmed that he personally killed three kidnapping suspects at a police checkpoint while Mayor of Davao in 1988. 
During his campaign, he promised to reduce crime by killing tens of thousands of criminals. His domestic policy has focused on combating the illegal drug trade by unleashing a deadly crackdown on the suspected sale and use of drugs. According to the Philippine National Police the death total passed 7,000 in January 2017, after which the police stopped publishing data. Following criticism from United Nations human rights experts that extrajudicial killings had increased since his election, he threatened to withdraw the Philippines from the UN and form a new organization with China and African nations. He has also declared his intention to pursue an "independent foreign policy", and sought to distance the Philippines from the United States and European nations and pursue closer ties with China and Russia.
ABS-CBN: How Duterte and Trump measure up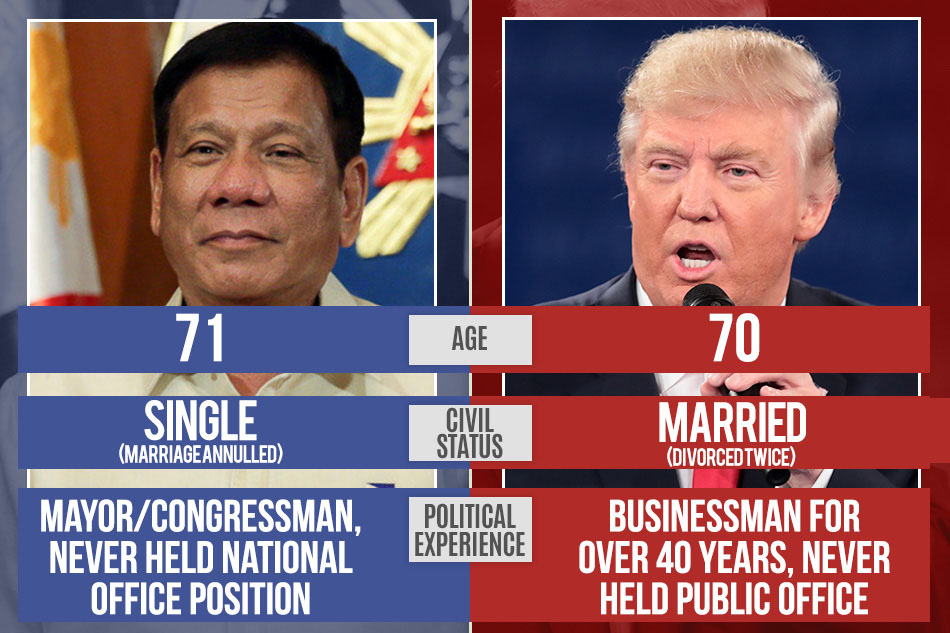 DONALD TRUMP VS RODRIGO DUTERTE BIO
PoliTikalon – blogger: Here's the detailed comparison of Presumptive Nominee of the Republican Party, Donald Trump and the so-called "Donald Trump of the East", Philippine President Rody Duterte.
REASONS WHY TRUMP & DUTERTE WOULD PROBABLY GET ALONG
In actual fact, Duterte has had experience in representing people and community asmayor and as a congressman, whereas Trump has only experienced how to make tonnes of money and play the populist game on American TV. A
Says: They're not exactly the same but they talk about their platform of "change" amongst others, IMHO.
They have a lot of differences and similarities as well and that's great. It's nice to make friends. Especially since President Duterte have been grilling the US-PH ties and other foreign ties the Philippines has at the moment.
They don't have much political similarities but they could be friends. Here is the reason why:
1. They both "spoke their minds"
Image: The Sun Star/ Says
Since Duterte is genuinely a very candid and natural person, who grew up during the time when Public Relations were unnecessary, he had said a lot of blunder. From bad rape jokes and what he thought of women in general to picking a fight with the US, to cursing the Pope.
Trump on the other hand has more than people can remember. His political party even needed to take his Twitter away from him. Here are just some of the horrendous things he has said:
"You know, it really doesn't matter what the media write as long as you've got a young, and beautiful, piece of ass."
"When Mexico sends its people, they're not sending the best. They're not sending you, they're sending people that have lots of problems and they're bringing those problems with us. They're bringing drugs. They're bring crime. They're rapists… And some, I assume, are good people."
"Our great African-American President hasn't exactly had a positive impact on the thugs who are so happily and openly destroying Baltimore."
2. They're very vocal about what they think about women—which is not so much.
Duterte's statement towards the raped Australian missionary saying "he should have been first" made him lose a lot of supporters. Trump however has had a misogynistic reputation over the past years. From women's accusations of groping to treating women as a piece of meat saying that they don't need to do a good job and all they need is a "nice piece of ass"
He also reportedly bullied Miss America contestants when he used to own the Miss Universe organization.
3. Even though their platforms are light years away, they both pin-pointed the current government's weaknesses and both promised "Change"
Duterte pointed out the numerous faults during the Aquino administration. From transportation to corruption and drugs. Duterte's main platform is "Change is Coming" which is drug-centric. He aims to get rid of the drug trade in the Philippines once and for all.
Trump on the other hand, promised to "Make America Great Again" he promised to change healthcare, climate change policy and foreign policy.
4. They both understood the power of social media and used it to their advantages.
If you've noticed, social media was a war zone during and prior to the May 2016 elections in the Philippines. Duterte supporters, fanatics and "keyboard warriors" took to social media to express their frustrations and support towards the then-candidate. Trump was very powerful through Twitter and reportedly garnerned $ 3.4 billion worth in media coverage.
5. Did I mention that they both love Putin?
Trump has always been vocal with his agreements with Russia's Vladimir Putin. "Look at Putin — what he's doing with Russia — I mean, you know, what's going on over there. I mean this guy has done — whether you like him or don't like him — he's doing a great job in rebuilding the image of Russia and also rebuilding Russia period," Trump told Larry King on CNN.
Duterte says that Putin is "his favorite hero".
6. In spite of all the controversies, they both triumphed after a grueling election
Congratulations to both Rodrigo Duterte and Donald Trump!