Miss Amy Wolfe , an unemployed US church organist, was just 13 when her attraction to 1001 Nachts began forming. And while 13 is quite young, I think it's plenty old enough to know that you've got some other issues at work here if you're falling in love with  a carnival ride, or anyone or anything whose name begins with a number. Miss Wolfe married a magic carpet fairground ride in 2009.This follows a "courtship" of 3,000 rides over ten years with the 80ft gondola ride called 1001 Nachts.People who experience this sort of intense emotional connection to something which doesn't breathe are said to have a rare condition called 'objectum sexuality' where people develop attractions to objects. Hence the term. It does seem clear that she is and was aware that most people do not fall in love with carnival rides of ANY kind and that most people would find the entire notion of one doing so to be slightly, um, strange. (Some folks might even say that it is freaking weird as hell. Some. Some may say that. Some may say other things, but some may say that. Almost NO ONE will say that it's normal. None.)
Source: UK Telegraph:
Miss Wolfe, 33, from Pennsylvania, will change her surname to Weber after the manufacturer of the ride she travels 160 miles to visit 10 times per year, according to reports "I love him as much as women love their husbands and know we'll be together forever," she said. She claims to believe they share a fulfilling physical and spiritual relationship and does not get jealous when other people ride it. Although she faces discrimination from employers, most of her family and friends have been supportive. "I'm not hurting anyone and I can't help it," she said. "It's a part of who I am."
According to The Sun "I was instantly attracted to him sexually and mentally. I wasn't freaked out as it just felt so natural but I didn't tell anyone about it because I knew it wasn't 'normal' to have feelings for a fairground ride. While all my friends were going through their teens having crushes on boys, I was still thinking about 1001."
The Telegraph, "I love him as much as women love their husbands and know we'll be together forever." Wow. She might be surprised at how much, or in a lot of cases, how little "some women" love "their husbands" or the other way around. I take it she's never seen "Jon and Kate Plus 8".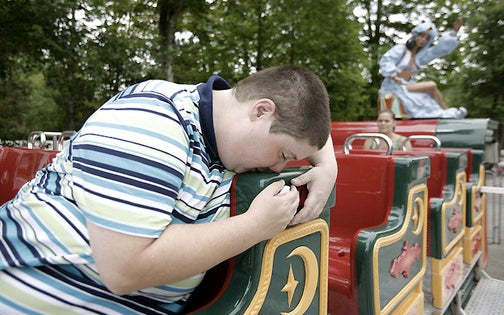 Odd Culture did not think it was possible for somebody to marry an inanimate object. In what country/state/city would this be legal?