World leaders responded to deadly attacks in Paris with defiant pledges of solidarity and Europe tightened security after Islamic State said it was behind an assault by gunmen and bombers that left at least 129 dead and 352 injured after Kalashnikov shootings, grenade and suicide strikes in the French capital.
In the wake of the attack, there has been an outpouring of reaction across social media.
From Barack Obama to Vladimir Putin and across Europe and the Middle East, leaders expressed their condolences to French President Francois Hollande who said the attacks amounted to an act of war against France.
After the worst bloodshed in France since the end of World War Two, European neighbors including Britain, Belgium, Switzerland, Germany and Italy increased security. France temporarily imposed border controls.   (Reuters)
French President Francois Hollande closed the borders and declared the attacks "a horror"
Terrorists blew themselves up with suicide belts as security forces stormed the concert hall. 
Two reported suicide bombers detonated outside Stade de France stadium during a match between the French and German national team  
French President Francois Hollande declared a state of emergency and closed all borders in western Europe's second-most-populous nation.
He also told all 12 million residents of the Île-de-France region, which includes Paris, to remain indoors.
"Terrorist attacks of an unprecedented magnitude are in play in Paris. It's horror," Hollande said. "We have mobilized all forces possible to neutralize the terrorist."
Early Saturday, he declared: "For all those who've seen these atrocities, rest assured – we want to say that we will bring the fight against terrorism and will be without pity because when terrorists are capable of such atrocities, it will certainly be faced with a determined France, a united France." (people.com) 
American rock band Eagles of Death Metal was performing and a source tells PEOPLE not all crew members have been accounted for
Brave Parisians are opening their homes to strangers to take refuge as the entire country goes under state of emergency
Bands like U2 and Foo Fighters had already taken the initiative to cancel upcoming Paris gigs in the wake of the attack at Le Bataclan during an Eagles of Death Metal concert that claimed at least 118 lives (the band has confirmed all members are safe). But this new announcement means all Paris concerts have been canceled until further notice by city officials. (billboard.com)
French security forces raided Bataclan early Saturday morning, local time, killing two terrorists. An official told the AP that the scene inside the theater was "carnage." 
In addition to the attack at the concert hall, dozens more victims were gunned down at cafes and on the streets of Paris.
French prosecutor Francois Molins told reports that 18 people were killed at rue de Charonne, one at Boulevard Voltaire, five at rue la Fontaine au Roi and 14 at rue Alibert in front of cafe Le Carillon.
He also said five terrorists had been "neutralized."
AFP reports that at least two suicide bombers tried to attack Stade de France, where 80,000 soccer fans were watching a friendly match between France and Germany. Three people were reported dead there.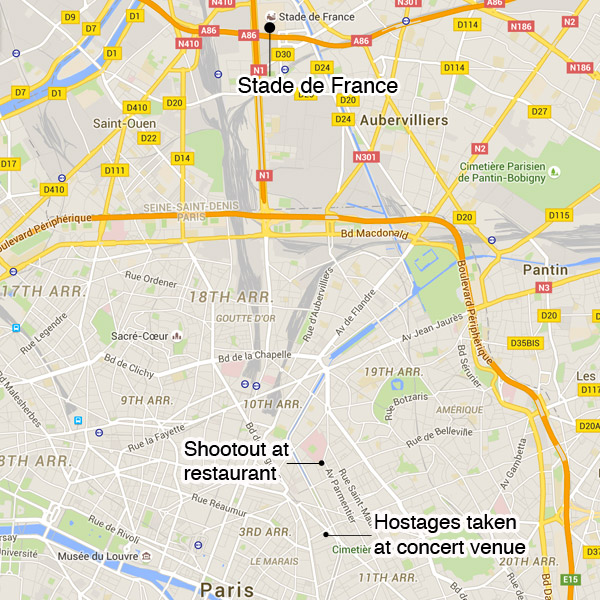 The explosions were heard inside the area, causing players on the pitch to stop play and tens of thousands to rush the field. President Francois Hollande was at the match at the time and was whisked away from the scene by security services.
In New York City, the World Trade Center lit up with the colors of the tricolore in solidarity. (people.com)
Famous landmarks around the world were lit in the blue, white and red colors of the French flag to show solidarity with the French capital after at least 127 people were killed in multiple terrorist attacks there Friday night.
The 408-foot spire of One World Trade Center, built at the site of 9/11 terror attacks in New York City, was illuminated on Friday night.
"It is a very painful night. And our hearts and our prayers are with the people of Paris," said New York Mayor Bill de Blasio. "And you know, we know all about this feeling because of what we experienced on 9/11."