> Allied soldiers mock Hitler atop his balcony at the Reich Chancellery, 1945  
The final victory over Nazi Germany achieved, soldiers and allies of the British, American and Russian armies mimic and mock Adolf Hitler and his ideas on Hitler's famous balcony at the Chancellery in conquered Berlin. The photo is taken on 6th July, 1945 (1945 (about 2 months after Germany's surrender, 1 month before Hiroshima and the day after the Phillipines were liberated). Corporal Russell M. Ochwad, of Chicago, plays the part of Hitler on the famous balcony of the Chancellery, in Berlin, from which the former Nazi leader had proclaimed his 1,000-year empire. A British and Russian soldier stand on each side of Cpl. Ochwad, while American and Russian soldiers cheer at the little get-together.
The Russians were coming from the East, the Brits and Americans from the West, all with the objective of taking the Chancellery, knowing that would signal the end. So when they both finally met there, and the Nazis were irrefutably vanquished, they must have felt ecstatic. You can barely imagine what those men have gone through, and how many times they have nearly been killed or had to kill others to get there. Just think of the relief they must feel to be standing there knowing that it is over.
The soldiers on the bottom are mostly Americans, the round helmets and M1A carbines are enough for that. There are three Russians as well, in the high boots and pilotka caps. The "A" on the shoulders on the right (two soldiers) is a shoulder patch which indicates they are a soldier of the US First Army.
The building itself was called the "neue Reichskanzlei" (New chancellery). In late January 1938, Adolf Hitler officially assigned his favorite architect Albert Speer to build the New Reich Chancellery. Hitler commented that Bismarck's Old Chancellery was "fit for a soap company" but not suitable as headquarters of a Greater German Reich. (rarehistoricalphotos.com)
(Photo by Fred Ramage/Getty Images) 
> COLOR PHOTOS FROM PRE-WAR NAZI GERMANY   
Nazi Party was not just a political organization, it was a psychological propaganda machine. The Nazis had an incredible sense of aesthetics and fully understood the power of iconography and branding. Enter inside the Nazi world through these amazing color photos and be thrilled. The symbols and colors of Nazism were all carefully orchestrated to have maximum psychological effect. There was nothing accidental about the structure of the crooked cross or the usage of dramatic colors such as red, white and black. Long, draping banners and standards with Roman eagles and gilded leaves all were designed to evoke images of strength, power, and a connection to history.
Nazi symbols are alluring. They look good. They are sharp, carefully tailored to catch the eye and made to inspire passions. The armbands worn on black uniforms are a striking statement of virility and supreme confidence. On the SS uniforms, the addition of the skull and crossed bones, the totenkopf, was a deliberate move to instill fear and terror in the hearts of anyone who faced the uniform. The men wearing it felt empowered by the menacing appearance of the uniform.
The ceremonial was considered as art. There was nothing accidental or incidental about Nazi pageantry. Everything was carefully staged and orchestrated. Nighttime processions lit by fire and bonfires upon which books were burned were all choreographed for effect. They reveled in tales of heroism and glorified war. Images from the Nuremburg rallies still impress us today with the absolute precision and dramatic scale of the stage set by the Hitler regime on the Zeppelin fields.
The black-white-red color scheme is based upon the colors of the flag of the German Empire, the black-white-red colors were commonly associated with anti-Weimar Republic German nationalists after the fall of the German Empire. In Mein Kampf Adolf Hitler defined the symbolism of the swastika flag: the red represents the social idea of the Nazi movement, the white disk represents the national idea, and the black swastika, used in Aryan cultures for millennia, represents "the mission of the struggle for the victory of the Aryan man, and, by the same token, the victory of creative work". Hitler knew that the colors red, white and black combined create a psychological sense of intimidation and power, which is why a lot of propaganda like these banners use the same color combination.
The photos were taken by Hugo Jager, a former personal photographer of Adolf Hitler. He traveled with Hitler in the years leading up to power and throughout World War II. He was one of the few photographers who were using color photography techniques at the time. As the war was drawing to a close in 1945, Jaeger hid the photographs in a leather suitcase. He then encountered American soldiers prompting fears of potential arrest and prosecution for carrying around so many images of such a wanted man. When the soldiers opened the case however, their attention was distracted by a bottle of cognac they found there, which they opened and shared with Jaeger. Jaeger buried the photographs inside 12 glass jars outside Munich. The photographer returned to the burial place over several years to ensure they were safe. He dug up all of the photographs ten years later in 1955, storing them in a bank vault. In 1965, Jaeger sold them to Life magazine.
The photos were taken by Hugo Jager, a former personal photographer of Adolf Hitler. He traveled with Hitler in the years leading up to power and throughout World War II. He was one of the few photographers who were using color photography techniques at the time. As the war was drawing to a close in 1945, Jaeger hid the photographs in a leather suitcase. He then encountered American soldiers prompting fears of potential arrest and prosecution for carrying around so many images of such a wanted man. When the soldiers opened the case however, their attention was distracted by a bottle of cognac they found there, which they opened and shared with Jaeger. Jaeger buried the photographs inside 12 glass jars outside Munich. The photographer returned to the burial place over several years to ensure they were safe. He dug up all of the photographs ten years later in 1955, storing them in a bank vault. In 1965, Jaeger sold them to Life magazine. ( rarehistoricalphotos.com)
> A LONE MAN REFUSING TO DO THE NAZI SALUTE, 1936  
A lone man refusing to do the "Sieg Heil" salute at the launching of the Horst Wessel in Nazi Germany, 1936
The photo was taken at the launch of a German army vessel in 1936, during a ceremony that was attended by Adolf Hitler himself. Within the picture a lone man stood with arms crossed as hundreds of men and women around him held up their arms in salute and allegiance to the Nazi Party and its leader, Adolph Hitler. Everyone in attendance is showing their undying support for Der Fuhrer by throwing out their very best "Sieg Heil." August Landmesser, grimacing with arms crossed, stood strong and defiant as he showed his disapproval by not displaying support for the Nazi Party. What made this photo and Landmesser's defiance unique is that it represented the protest of one man, in its most sincere and pure form. The source of Landmesser's protest, like many great tragedies, starts with a love story.
The story of August Landmesser's anti-gesture begins, ironically enough, with the Nazi Party. Believing that having the right connections would help land him a job in the pulseless economy, Landmesser joined the Nazi Party in 1931. Little did he know that his heart would soon ruin any progress that his superficial political affiliation might have made. In 1934, Landmesser met Irma Eckler, a Jewish woman, and the two fell deeply in love. Their engagement a year later got him expelled from the party, and their marriage application was denied under the newly enacted racial Nuremberg Laws. They had a baby girl, Ingrid, in October of the same year, and two years later in 1937, the family made a failed attempt to flee to Denmark, where they were apprehended at the border. August was arrested and charged for "dishonoring the race" under Nazi racial law. He argued that neither he nor Eckler knew that she was fully Jewish, and was acquitted on 27 May 1938 for lack of evidence, with the warning that a repeat offense would result in a multi-year prison sentence.
The couple publicly continued their relationship and a month later August Landmesser would be arrested again and sentenced to hard labor for two years in a concentration camp. He would never see his beloved wife again. Eckler was detained by the Gestapo and held at the prison Fuhlsbüttel, where she gave birth to a second daughter Irene. Their children were initially taken to the city orphanage. Ingrid was later allowed to live with her maternal grandmother; Irene went to the home of foster parents in 1941. Later, after her grandmother's death in 1953, Ingrid was also placed with foster parents. A few letters came from Irma Eckler until January 1942. It is believed that she was taken to the so-called Bernburg Euthanasia Centre in February 1942, where she was among the 14,000 killed. In the course of post-war documentation, in 1949 she was pronounced legally dead, with a date of 28 April 1942.

The first and only photo of the family, June 1938. Although it was forbidden for them to meet, they appeared together in public and put themselves at exceptional risk.
August would be released in 1941 and began work as a foreman. Two years later, as the German army became increasingly mired by its desperate circumstances, Landmesser would be drafted into a penal infantry along with thousands of other men. He would go missing in Croatia where it is presumed he died, six months before Germany would officially surrender. His body was never recovered. Like Eckler, he was declared legally dead in 1949.
Interesting stuff:
In 1951, the Senate of Hamburg recognized the marriage of August Landmesser and Irma Eckler. Their daughters split their parent's names, Ingrid taking their father's and Irene keeping their mother's.
In 1996, Irene Eckler published the book The Guardianship Documents 1935–1958: Persecution of a Family for "Dishonoring the Race". This book about the story of her family includes a large amount of original documents from the time in question, including letters from her mother and documents from state institutions.
The photograph of August Landmesser refusing to do Sieg Heil was published for the first time on 22 March 1991 in Die Zeit.
The photograph version with the circle is the original copy.
The ship "Horst Wessel" that everyone is saluting was claimed by America as a war prize after WWII. It was recommissioned as a Coast Guard Cutter, renamed "Eagle" and it's still in service. (rarehistoricalphotos.com)
> THE NAKED GUNNER, RESCUE AT RABAUL, 1944  
This young crewman of a US Navy "Dumbo" PBY rescue mission has just jumped into the water of Rabaul Harbor to rescue a badly burned Marine pilot who was shot down while bombing the Japanese-held fortress of Rabaul. Since Japanese coastal defense guns were firing at the plane while it was in the water during take-off, this brave young man, after rescuing the pilot, manned his position as machine gunner without taking time to put on his clothes. A hero photographed right after he'd completed his heroic act. Naked.
Photo taken by Horace Bristol (1908-1997). In 1941, Bristol was recruited to the U.S. Naval Aviation Photographic Unit, as one of six photographers under the command of Captain Edward J. Steichen, documenting World War II in places such as South Africa, and Japan. He ended up being on the plane the gunner was serving on, which was used to rescue people from Rabaul Bay (New Britain Island, Papua New Guinea), when this occurred. In an article from a December 2002 issue of B&W magazine he remembers:
"…we got a call to pick up an airman who was down in the Bay. The Japanese were shooting at him from the island, and when they saw us they started shooting at us. The man who was shot down was temporarily blinded, so one of our crew stripped off his clothes and jumped in to bring him aboard. He couldn't have swum very well wearing his boots and clothes. As soon as we could, we took off. We weren't waiting around for anybody to put on formal clothes. We were being shot at and wanted to get the hell out of there. The naked man got back into his position at his gun in the blister of the plane." (rarehistoricalphotos.com)
> MUSLIM MEMBERS OF THE WAFFEN-SS 13TH DIVISION AT PRAYER DURING THEIR TRAINING IN GERMANY, 1943   
The 13th Waffen Mountain Division of the SS Handschar was a Muslim combat formation created by the Germans to restore order in Yugoslavia. It was given the title Handschar after a local fighting knife or sword carried by Turkish policemen during the centuries that the region was part of the Ottoman Empire. It was the first non-Germanic Waffen-SS division, and its formation marked the expansion of the Waffen-SS into a multi-ethnic military force. The division was composed mostly of Bosnian Muslims (ethnic Bosniaks) with some Catholic Croat soldiers and mostly German and Yugoslav Volksdeutsche (ethnic German) officers.
The division was initially sent to southern France for formation and training. On the night of 16/17 September 1943, while the 13th SS Division was training in France, a group of pro-Partisan soldiers led by Muslim and Catholic junior officers staged a mutiny. They captured most of the German personnel and executed five German officers. The mutineers believed that many of the enlisted men would join them and they could reach the western Allies. Soon the revolt was put down and as a result the division was moved to the Neuhammer training grounds in the Silesian region of Germany (present-day Poland) to complete its training. During the training phase, the German officers, pleased with its progress, coined the term Mujo for the Bosnian Muslims. The members of the division swore an oath of allegiance to both Adolf Hitler and Pavelić (Croatian leader).
The division fought briefly in the Syrmia region north of the Sava river prior to crossing into northeastern Bosnia. After crossing the Sava, it established a designated "security zone" in northeastern Bosnia between the Sava, Bosna, Drina and Spreča rivers. In late 1944, parts of the division were transferred briefly to the Zagreb area, after which the non-German members began to desert in large numbers. Over the winter of 1944–1945, it was sent to the Baranja region where it fought against the Red Army and Bulgarians throughout southern Hungary, falling back via a series of defensive lines until they were inside the Reich frontier. Most of the remaining Bosnian Muslims left at this point and attempted to return to Bosnia. The rest retreated further west, hoping to surrender to the western Allies.
Interesting facts:
Five men from the Waffen-SS 13th division received the Knight's Cross of the Iron Cross.
One of the paradoxical aspects of Hitler's elite Waffen-SS was that more than half of the estimated 900,000 men that served in its units were not full-blooded Germans. The first divisions of the Waffen-SS were essentially purely German in manpower, but starting with the 5th SS Panzer Division Wiking the Germans began to draw on foreign volunteers from occupied countries. Initially, only Nordic volunteers were accepted, but as the war progressed, and manpower shortages became more acute, the Germans began to broaden their definition of "acceptable races" to encompass just about every race except Africans and Jews. (rarehistoricalphotos.com)
> AN AMERICAN SOLDIER WEARS A HAND LETTERED "WAR IS HELL" SLOGAN ON HIS HELMET, VIETNAM, 1965  
(Photo credit: Associated Press Photos).
During the Vietnam War on June 18, 1965 173rd Airborne Brigade Battalion member Larry Wayne Chaffin smiles for the camera.
AP photojournalist Horst Faas took this iconic photo on June 18, 1965, during the Vietnam War with the 173rd Airborne Brigade Battalion on defense duty at Phouc Vinh airstrip in South Vietnam. The headband message "War is Hell" typified an acerbic attitude of many young American soldiers who were likely drafted and sent to the remote southeastern Asia jungles to engage in deadly and terrifying combat. A lot of the soldiers wrote graffiti on their helmets with inscriptions of their attitudes about where they were and why they were there.
The contrast is what makes this photo iconic. You have this, bright, young handsome soldier with a smile on his face and then you have the text on his helmet. Take the helmet out, and this could easily be a high school yearbook photo. His face betrays a sense of innocence, but when you look at his helmet, you can tell that he is anything but. You know that he has witnessed the horrors of war firsthand and is trying to cover it all up on the outside.
The identity of the soldier was unknown for many decades until recently when he was identified as Larry Wayne Chaffin from St. Louis. He served with that brigade in Vietnam for exactly one year beginning in May 1965 and when the photo was taken he was 19. Chaffin had many problems adjusting to civilian life when he returned from Vietnam. He died at the age of 39 from complications that arose from diabetes, an ailment he might have contracted from exposure to Agent Orange while serving in Vietnam. He died in 1985.
Colored Version 1 | Version 2 
The "War is Hell" quote originates from William Tecumseh Sherman' address to the graduating class of the Michigan Military Academy (19 June 1879); but slightly varying accounts of this speech have been published. Sherman was a Union Army general during the American Civil War. He succeeded General U.S. Grant as commander of the Western Theater of that war in the spring of 1864. The full quote:
"I've been where you are now and I know just how you feel. It's entirely natural that there should beat in the breast of every one of you a hope and desire that some day you can use the skill you have acquired here. Suppress it! You don't know the horrible aspects of war. I've been through two wars and I know. I've seen cities and homes in ashes. I've seen thousands of men lying on the ground, their dead faces looking up at the skies. I tell you, War is Hell!". (google.com)
> A MOTHER AND HER DAUGHTER FALLING FROM A FIRE ESCAPE, 1975 
On July 22, 1975 in Boston, a 19-year-old and her 2-year-old goddaughter were trapped in a burning building. A firefighter shielded them from the flames as a fire ladder inched closer. Then the fire escape collapsed. The woman died from her injuries, but her two-year-old goddaughter survived because she landed on the woman's body. It's tragic, going from the hope of immediate rescue to a deadly fall in seconds.
The photograph, which is a part of a series, shows 19-year-old Diana Bryant and her 2-year-old goddaughter Tiare Jones falling from the collapsed fire escape of a burning apartment on Marlborough Street in Boston. The fire escape at the fifth floor collapsed as a turntable ladder was extending to pick up the two at the height of approximately 50 feet (15 meters). Bryant died from her injuries, but Jones survived the fall, which was softened by her landing on Bryant's body. The photo also shows falling potted plants.

The baby survived because she landed on the woman's body.
This photo, taken by Stanley Forman, is officially titled "Fire Escape Collapse".
The photographs were awarded the 1976 Pulitzer Prize for Spot News Photography as well as World Press Photo of the Year. The photo was taken with a motorized camera. It was first published in the Boston Herald and then in newspapers around the world to much hostile reader reaction. The media was charged with invading the privacy of Diana Bryant and pandering to sensationalism. The picture also prompted officials in Boston to rewrite its laws regarding fire escape safety. Fire safety groups around the country used the photo to promote similar efforts in other cities. (rarehistoricalphotos.com)
> SMART, BEAUTIFUL AND DEADLY, 19 YEAR OLD RUSSIAN SNIPER ROZA SHANINA HAD 54 CONFIRMED KILLS 
Roza Shanina volunteered for the military after the death of her brother in 1941 and chose to be a marksman on the front line. Praised for her shooting accuracy, Shanina was capable of precisely hitting moving enemy personnel and making doublets (two target hits by two rounds fired in quick succession).Allied newspapers described Shanina as "the unseen terror of East Prussia". She became the first Soviet female sniper to be awarded the Order of Glory and was the first servicewoman of the 3rd Belorussian Front to receive it. Shanina was killed in action during the East Prussian Offensive while shielding the severely wounded commander of an artillery unit. Shanina's bravery received praise already during her lifetime, but came at odds with the Soviet policy of sparing snipers from heavy fights. Her combat diary was first published in 1965.
The Soviets found that sniper duties fit women well, since good snipers are patient, deliberate, have a high level of aerobic conditioning, and normally avoid hand-to-hand combat. They found the same with women as bomber crews, very fine adjustments and intense technical expertise actually gave them a better reputation than most all male bomber squadrons.
The Soviet Union made use of their female population because it was a necessity. It's just one of those situations that's unique in history, an enemy attacks with at first such great success that you have to throw everything you have at them. If children could hold rifles they were put in or joined partisan divisions, if you were a woman you could drive a tank or fire a rifle. The whole situation in the Soviet Union was unique. It actually had a lot less to do with the Soviet command needing bodies to hurl at the Germans, and more with a few other factors. For instance there was never a shortage of male volunteers to be pilots, and yet three all female squadrons were stood up, all of which saw some pretty serious combat.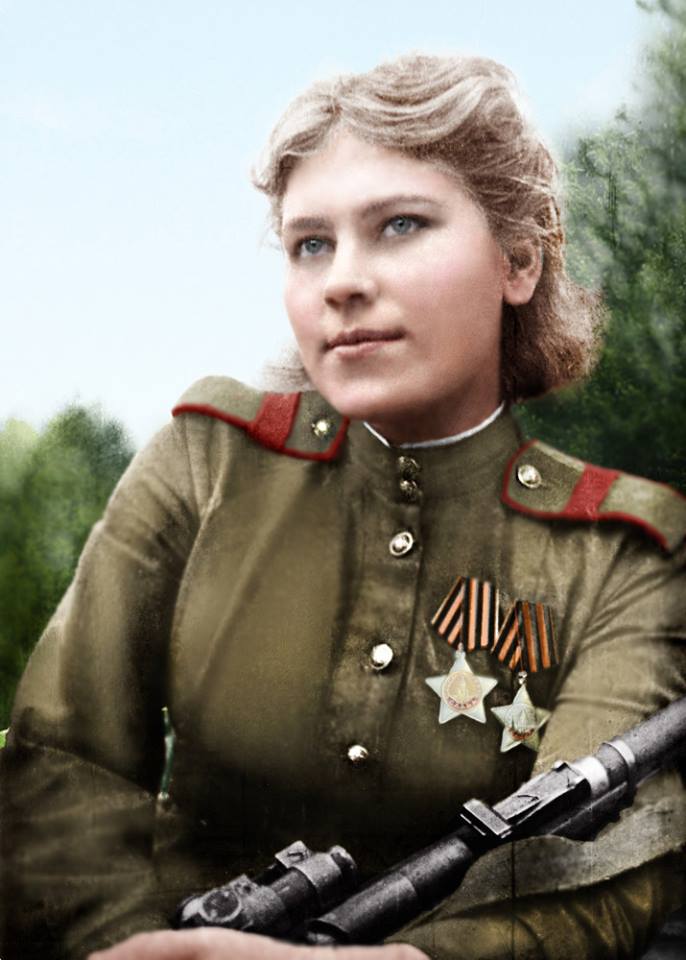 On the ground, women that ended up as tank drivers, machine gunners, or snipers ended up there mostly by their own tenacity. Obviously it was a different system for them back then, but concerning women on the front, there was no written policy against it (that policy would've violated the whole egalitarian principle of Communism), and when asked, senior command usually left it up to the company commander to decide. When Germany launched operation Barbarossa and caught the Russians off guard they made great gains and were within reach of Moscow. This is arguably getting close to the "knock out punch" they wanted. When an enemy attacks you in such force you have to use everything available to you. This includes women and younger males, the same as they did at Stalingrad. Not to mention the propaganda gains from women in combat roles. Some got there because they donated equipment, some because of their training, but all were needed (though maybe not utilized). You also have to remember that Russia had been in and out of war from 1905, which was another drain to the male population.   (rarehistoricalphotos.com)
> 775 CONFIRMED KILLS IN ONE PICTURE, 1945
Female snipers of the 3rd Shock Army, 1st Belorussian Front.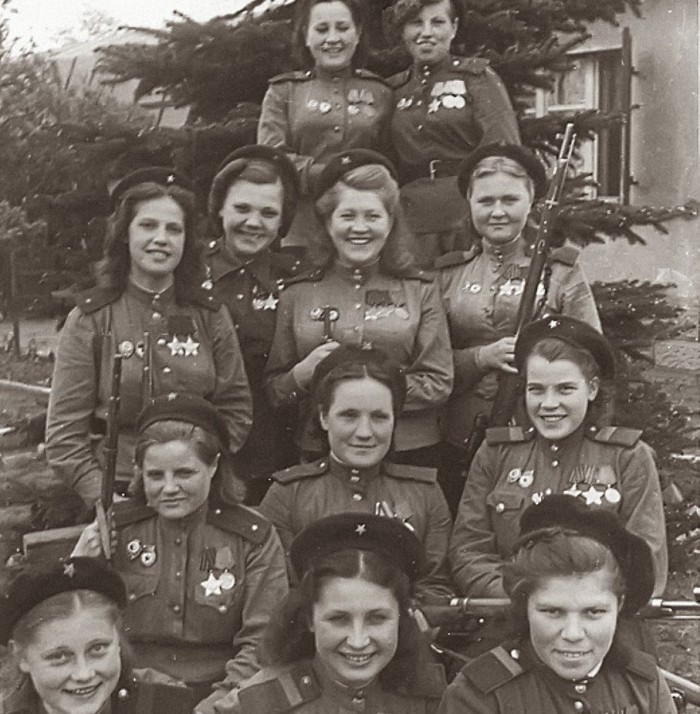 1st row – Guard Staff Sergeant, VN Stepanov: 20 kills. Guard Sgt JP Belousov: 80 kills. Guard Sgt AE Vinogradov: 83 kills.
2nd row – Guard Lieutenant EK Zhibovskaya: 24 kills. Guard Sgt KF Marinkin: 79 kills. Guard Sgt OS Marenkina: 70 kills.
3rd row – Guard Lieutenant NP Belobrova: 70 kills. Lieutenant N. Lobkovsky: 89 kills. Guard Lieutenant VI Artamonov: 89 kills. Guard Staff Sergeant MG Zubchenko: 83 kills.
4th row – Guard Sergeant, NP Obukhov: 64 kills. Guard Sergeant, AR Belyakov 24 kills
Total number of confirmed kills: 775. Photo taken in Germany, May 4, 1945.
Because of chronic problems in finding the manpower to fulfill military and industrial tasks, the Soviet Government recruited some 7.75 million women, of whom 800,000 served in the military. Sniping was a precision tole, which many women soldiers performed with expertise. It is estimated that in 1943 there were more than 2000 female snipers in the Soviet armed forces. Female snipers have been credited with more than 12,000 confirmed kills.
The Soviet Union used women for sniping duties extensively, and to great effect, including Nina Alexeyevna Lobkovskaya and Ukrainian Lyudmila Pavlichenko (who killed over 300 enemy soldiers). The Soviets found that sniper duties fit women well, since good snipers are patient, careful, deliberate, can avoid hand-to-hand combat, and need higher levels of aerobic conditioning than other troops. Women were regarded as having the skills and nerves required for accurate marksmanship. Notwithstanding male skepticism, Major General Morozov, "the father of the sniper movement", attributed superior female marksmanship to the fact that "a woman's hand is more sensitive than is a man's. Therefore when a woman is shooting, her index finger pulls the trigger more smoothly and purposefully".
The most successful Soviet use of snipers during the second world war were during their defensive stages of the war (1941–1943), after which the advantage of defense shifted to the German side and German snipers became a real danger to the advancing Soviets. Soviet military doctrine used snipers for providing long-distance suppressive fire and for eliminating targets of opportunity, especially leaders, because during World War II, Soviet military leaders and combat theorists (Vassili Zaitsev contributed greatly to Soviet sniper doctrine, although he was officially neither of these) found that military organisations have difficulty replacing experienced non-commissioned officers and field officers during times of war. They also found that the more expensive and less rugged sniper rifles could match the cost-effectiveness of a cheaper assault rifle given good personnel selection,training, and adherence to doctrine.
Interesting stuff:
The three most common sniper rifles employed by the Soviet Union were the Mosin-Nagant, the Tokarev SVT-40, and later, the SVD (1958); the first purpose built designated marksmen's rifle. (rarehistoricalphotos.com)
> THE FALLING SOLDIER, September 5, 1936 
The photo was taken by Jewish Hungarian photographer Robert Capa. From 1936 to 1939, Capa worked in Spain, photographing the Spanish Civil War. The Falling Soldier was thought to capture the moment of a soldier's death in battle. He is collapsing backwards, having been fatally shot in the head. He is dressed in civilian-looking clothing but wearing a leather cartridge belt, and his rifle is slipping out of his right hand.
What really happened on that hillside?
Robert Capa himself maintained almost total silence about it. Sometime in the 1940s, however, Capa would privately tell another friend, that he and Gerda and the soldiers had all been actors in a tragedy of coincidence. They'd been fooling around, he said, running, firing their weapons, acting crazy, laughing "this is how we'll shoot those fascist bastards" and he'd been taking pictures; he didn't hear any shots, "not at first". But as the soldiers played at combat for the benefit of his camera, a real bullet, fired perhaps from a fascist sniper's high-powered hunting rifle, or by one of the rebel Guardia Civil active in those hills, had pierced a real man's heart.
However, since 1975 there have been doubts about the authenticity of the photograph. The 2007 documentary La sombra del iceberg claims that the picture was staged and that Borrell is not the individual in the picture. In his 2009 book, Sombras de la Fotografía ("Shadows of Photography"), José Manuel Susperregui of the University of País Vasco concluded that the photograph had not been taken at Cerro Muriano but at another location about 35 mi (56 km) away. Susperregui determined the actual location of the photograph by examining the backgrounds of other photographs from the same sequence as The Falling Soldier, in which a range of mountains can be seen. It was concluded that the landscape was from Espejo. Willis E. Hartshorn, director of the International Center of Photography, asserted the photograph's veracity, suggesting that the militiaman had been killed by a sniper firing from a distance while posing for a staged photograph.
Either way, the Falling Soldier remains one of the most famous war photographs of all time. It was first published in the September 23, 1936, issue of the French magazine "Vu" with the stirring text: "With lively step, breasting the wind, clenching their rifles, they ran down the slope covered with thick stubble. Suddenly their soaring was interrupted, a bullet whistled, a fratricidal bullet, and their blood was drunk by their native soil". Later, in 1937, Life magazine would transform the image of The Falling Soldier into a symbol of the Spanish conflict by making it a visual epigraph to its editorial summary of the war.
> ACTRESS Marlene Dietrich kisses a soldier returning home from war, 1945  
This photo shows Marlene Dietrich passionately kissing a GI as he arrives home from World War II. It seems that the guy on the left holding her up is enjoying the view. It was first published in Life Magazine with the caption: "While soldiers hold her up by her famous legs, Marlene Dietrich is kissed by a home-coming GI". Photo taken by Irving Haberman.
Marlene Dietrich has a curious story. She was a German actress and singer. Her cinematography life started in Germany and later in Hollywood where she became very famous. Dietrich was known to have strong political convictions and the mind to speak them. In interviews, Dietrich stated that she had been approached by representatives of the Nazi Party to return to Germany but had turned them down flat. Dietrich, a staunch anti-Nazi, became an American citizen in 1939. In December 1941, the U.S. entered World War II, and Dietrich became one of the first celebrities to raise war bonds. She toured the US from January 1942 to September 1943 (appearing before 250,000 troops on the Pacific Coast leg of her tour alone) and was reported to have sold more war bonds than any other star. At the end of the war she was awarded the highest American civil medal: the Medal of freedom. (a12iggymom.wordpress.com)
>The priest and the dying soldier, 1962
Navy chaplain Luis Padillo gives last rites to a soldier wounded by sniper fire during a revolt in Venezuela. Braving the streets amid sniper fire, to offer last rites to the dying, the priest encountered a wounded soldier, who pulled himself up by clinging to the priest's cassock, as bullets chewed up the concrete around them. The photographer Hector Rondón Lovera, who had to lie flat to avoid getting shot, later said that he was unsure how he managed to take this picture. The Catholic priest, Luis Padillo, would walk the streets, even through sniper fire, offering last rites to the fighters. Besides priest's bravery, he also knows the enemy will think a lot before shooting him (just imagine the propaganda) and the enemy soldiers are catholic and would refuse that order.
The photo was taken on June 4 (1962) by Hector Rondón Lovera, photographer of Caracas, for the Venezuelan newspaper, La Republica. It won the World Press Photo of the Year and the 1963 Pulitzer Prize for Photography. The original title of work is "Aid From The Padre". (a12iggymom.wordpress.com)