The Hollywood candidate,Emmanuel Macron sensationally stormed ahead in the race for the French presidency
Emmanuel Macron looked more like a Hollywood president than a potential French one. The whole event felt like an Aaron Sorkin fantasy.
Emmanuel Macron, former French Economy Minister, founder and President of the political movement 'En Marche !' (On the move!). Photo: Chesnot Source: Sydney Morning Herald
There was a sharp, clean-shaven jaw, neat hair and gleaming teeth, a white shirt and thin black tie complementing his blue suit.
"Macron, president," the 16,000-strong crowd chanted.
"Thanks. Thanks for being here," he replied.
An hour and 40 breathless minutes later he started wrapping up.
"My friends we are living at an historic moment … We have 78 days to do something which has never been done. Seventy-eight days to make hope triumph."
The crowd roared again.
"Seventy-eight days because our time has come and our will is on the march! Vive la Republique! Vive la France!"
He raised both hands to a stamping, cheering, standing ovation.
At the moment Macron is the man most likely to be France's next president.
To the left of him is Socialist Benoit Hamon, an unelectable utopian. To the right, Republican Francois Fillon, mired in a corruption scandal that might not even see him last to the May election. Further right, Front National populist Marine Le Pen is riding high but unpalatable to the majority.
Macron's biggest problem is simple: he's a banker, and "no one likes bankers".
And in the radical centre: Macron.
Some call him the French Obama (one person called him the French Kevin Rudd).
Macron is the right man at the right time, and he cannot believe his luck.
"This guy is a political UFO," says Philippe Marliere, professor of French politics at University College London.
"A Macron victory would transform the party politics and … the way French politics works. Certainly."
Macron was born to a comfortable, middle-class life in Amiens in northern France, son of medical professionals. As a child he would bury himself in books on grammar, history and geography.
At his Jesuit private school he shone – and scandalised. At age 16 he fell in love with Brigitte Auziere, a French and drama teacher, married and 24 years his senior. They eventually married in 2007, by which time he was working in the Ministry of the Economy. The next year he left to work as an investment banker at Rothschilds, which made him a millionaire.
In 2014 President Francois Hollande made Macron his economy minister. But he found the socialists an uncomfortable fit. Two years later he formed his "En Marche!" movement: socially and economically liberal, secular and pro-Europe.
But from the start it had a whiff of a personality cult (note the initials). En Marche means literally "start walking", or more figuratively "on the move", with an echo of the "marchons" bit of the French national anthem. Says Marliere: "Now we're going to walk to our bright future, it sort of conveys that kind of idea, but it's very vague."
Nevertheless, it seems to be catching on.
"This man only two years ago was a completely unknown quantity," says Marliere. "It's still a mystery as to why he has succeeded in making the breakthrough he's got – of course, nothing is definite, let's remember it's a crazy election with lots of upsets. [But] now he's the clear favourite."
Thanks to France's two-round presidential election, Le Pen is unlikely to be able to capitalise on Europe's right-wing populist surge. In the second round, conventional political theory says, the left and right combine against the National Front (FN), whoever the candidate. Polls currently predict Macron would rout Le Pen by a 2-1 margin.
Marliere calls Macron a "populist from the centre". He uses the same rhetorical devices as the populists – he is apart from the political establishment, above the usual political divides, an outsider with new ideas and policies.
"It's not an ideology or a program, it's more an attitude, a way of addressing people," Marliere says.
He attracts young voters, reassures big business and appeals to France's large retired population.
Dr Rainbow Murray, a reader (associate professor) at Queen Mary University of London says the secret of Macron's success is simple: "He's filling this huge gap where the median voter lies.
"He is a blank canvas on to which [voters] are projecting their own hopes and dreams, a bit like Barack Obama in 2008. I think a lot of people want something more moderate than what their respective parties are offering and Macron seems to be the best fit.
"He's quite charismatic and good at pitching to an audience. He really knows how to mobilise a crowd. And he's also quite politically savvy – he's played every move very carefully, he's made sure to keep his campaign squeaky clean."
Murray says Macron's biggest problem is simple: he's a banker, and "no one likes bankers". There has been serious political science research on this: bankers score pretty much at the bottom of the pile of professions you can have if you want to be a professional politician.
Marliere predicts another problem could be hubris – "he will start believing too much in himself".
"I think there are signs of it in certain rallies … he gets a bit carried away. I think some people are asking who is this guy, looking a bit more like a preacher than a standard French politician. The French like good orators – but don't get carried away."
Another political insider, who has met Macron several times, echoes this concern. "There's a touch of the Kevin Rudd about him," they say. "He becomes a little hectoring. He is extraordinarily clever, no doubt, but he knows he's clever and that puts off some people. He emits this sense of 'I am the cleverest person in the room'."
Then there is the more practical problem of where he will place his policies. His Lyon speech was thick with rhetoric such as "our project is to enable all French people to take their destiny in their own hands … not to speak in the name of the people but to work with the people, for the people". It was thin on actual policy.
He has pledged to reveal more next month, later than his opponents. At that point, says Marliere, his centre-right economics could lose him a lot of support.
Explains Murray: "The left is suspicious of his overtures to the right, and vice versa.  He risks turning people off every time he tries to talk to the opposite audience. Once he's got his manifesto out that will be 'make or break' for him. [He may] weave it all together in a coherent way, but if people can't make sense of it or find too many holes to pick then they might start wandering off."
The least likely problem is a personal scandal, despite some recent rumours about his sexuality, and despite the way his current relationship began. The French just don't care much.
"They could make allegations tomorrow that he's having orgies or he's sleeping with men. I think the French would take that with a pinch of salt," says Marliere. And if it was an affair with another woman "they absolutely couldn't care less because they assume that all politicians have affairs".
Murray says the story behind Macron's marriage, in France, doesn't hurt him.
"You would think it wouldn't go down well, would you? … the teacher dating her student kind of smacks of paedophilia. But it's never been framed that way in France. In fact some people have said it shows that he's open minded and willing to think outside the box and be unconventional. If anything it garnered him respect."
In France financial, rather than personal impropriety hurts politicians.
Marliere agrees – the age gap and the origin story would only shock bigots, or "very old people".
However Macron's youth could hurt in a more basic way: when they come to the ballot box, the French might think twice about giving the presidency of a nuclear power to a man not yet 40.
A Paris political insider disagrees. He says Macron projects the image of a person comfortable and capable in moving around the capitals of the world. He says Macron's downfall is more likely to come, if it does, from that of his rival, Francois Fillon.
If Fillon is forced to withdraw then his place could be filled by centre-rightist Alain Juppe, who could tempt Macron supporters over to a more familiar and comfortable candidate.
Of course, in the end, the win is only the beginning. Straight after winning, Macron would somehow have to build a party capable of giving him a friendly parliament, or he will find himself hamstrung.
Possibly, in more ways than one.
"The French always vote, in a presidential election, in the negative," the insider tells me. "They give their vote to the one they least dislike. That's why every presidency is crippled. They end up with no mandate."
How Brigitte met Emmanuel Macron- when she was his married teacher
Image: Reuters Source: The Sun
Emmanuel Macron, a 39-year-old former investment banker who ran without the backing of a major party, is the neoliberal candidate widely tipped to beat far-right Marine Le Pen to the French presidency. He is seen as the clear odds-on favourite to win the second round of the French president election.
But that is not the news. He is married to a 64 year-old. Emmanuel Macron's relationship with Brigitte Trogneux began with 'kiss on cheek' when the former Rothschild Bank employee was still aged only 16 which sparked their decades-long love affair according to the Daily Mail reports.
The picture shows Macron's first "kiss" with Trogneux at the end of a theatre production. Source: The Local
Mr Macron's wife was his French teacher at his private high school in Amiens, northern France. She also ran the theatre club where he was a budding actor. She was directing him in a school play when they began a love affair which angered his parents and saw him banished to Paris.
When he moved to Paris at the age of 18, she jumped ship from her own family soon after and followed him down.
It seems like it was love at first sight – it's understood the pair used to have long discussions together – and she would read his writing out to the class.
"She used to recite his work all the time. She was totally captivated by his writing skills," a former classmate told Le Parisien newspaper.
A whole new level of "teacher's pet".
And the pair weathered town gossip, the fury of Mr Macron's parents and an enforced separation, according to a forthcoming book by French journalist Anne Fulda which casts new light on their unorthodox relationship.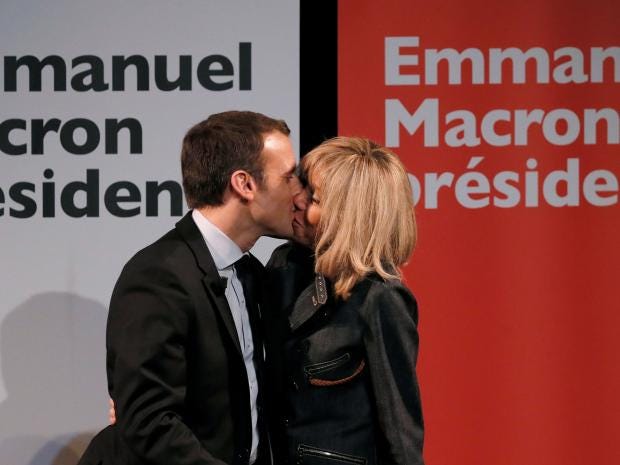 Emmanuel Macron kisses his wife Brigitte Trogneux REUTERS Source: Independent
Before turning 17 Mr Macron was dating his still-married teacher, against the express wishes of his parents. Mr Macron is now 39, and his 64-year-old wife was by his side as he celebrated his victory in the first round of the presidential elections held on 23 April 2017.
From teacher to lover to France's next year lady? Meet 'Madame Macron'
As the French presidential elections approach, and with the far-right Front National leading in the polls ahead of the youthful En Marche party of Emmanuel Macron, romance is likely the last thing on anyone's mind.
Emmanuel Macron and wife Brigitte Trogneux. Photo: Getty Images Source: The Sydney Morning Herald
But a charming and refreshing detail about Mr Macron's personal life could offer an insight into the sort of leader he might prove to be.
Mr Macron's relationship with his wife dates back to 1994, when the then 15-year-old schoolboy met 39-year-old mother-of-three Brigitte Trogneux, at a Jesuit school in the conservative town of Amiens, France. Ms Trogneux taught literature and ran the theatre club at Mr Macron's school.The pair grew closer after he convinced her to write a play with him. Macron played the lead role in a school play Jacques and his Master, by the deeply philosophical Czech émigré writer Milan Kundera.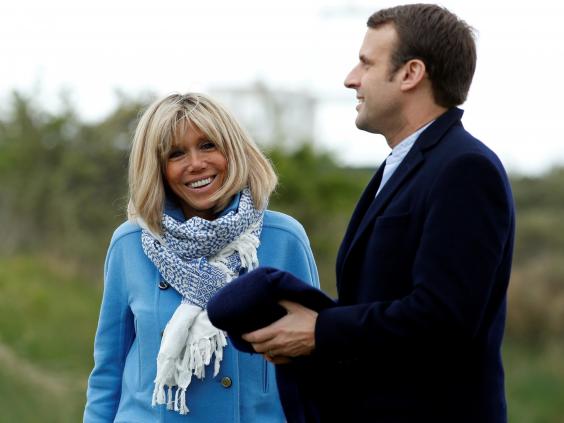 She admires his 'rare intelligence' and 'extraordinary humanity'.  He let her sit in on some meetings when he was a minister (Benoit Tessier/Reuters) 
Without any apparent bashfulness, he asked the mother-of-three if together they could re-write sections of the play The Art of Comedy by Eduardo De Filippo, to expand it to include 15 new roles.
To that end, they started seeing each other every Friday.   There was no question, ever, of the pupil-teacher relationship exceeding any limits set down by French law, which defines the age of sexual consent as 18 in cases where one person has authority over the other.
But Brigitte has subsequently admitted: "Little by little, I was won over by his intelligence.  I still haven't measured all its depths."
There was an electricity between them, long walks along the canals.
"I felt myself falling," she told Paris Match, "Him too."
It was, by the accounts given in the French magazines, a love that had to conquer all.  The married teacher told the teenager he had to leave her, and Amiens, to finish his schooling at the elite Henri IV lycée in Paris.
But – Brigitte confided in Paris Match last year – "At 17, Emmanuel told me 'Whatever you do, I will marry you'!"
"Love carried everything with it," she added, "and led me to divorce."
The young academic star fell in love with his class teacher when he was 15…she was still "happily married" and one of the three children she had with then-husband Andre-Louis Auziere was in Mr Macron's class at the Lycée La Providence in Amiens. Everybody including his parents thought this teacher's daughter was his girlfriend…nope they were wrong. Her oldest son, Laurence, is two years older than the man who is now his step-father.
But her husband's work in international finance often took him away from the northern French city, and the teacher then known as Mme Auziere would reportedly meet her pupil for trysts at luxurious homes belonging to her well-heeled family.
Mr Macron's parents were troubled by the rumours flying around about their son's infatuation with a woman twice his age, and according to Ms Fulda's exposé they staged a meeting at which Mme Auziere was reduced to tears but refused to back off.
When that intervention and attempts at match-making with a family friend failed to cool the affair, the neurologist and paediatrician decided to dispatch their son to Lycée Henri-IV in Paris, which was both one of the top secondary education institutions in France and a respectable 90 miles (145km) from Amiens.
But Mr Macron continued to make clandestine trips back to his hometown to visit the older woman, and in 2006 Brigitte underwent an acrimonious divorce with her husband.
Brigitte Trogneux, (not actually Madame Macron) the wife of presidential hopeful Emmanuel Macron, used to be his French teacher. Source: The local
Now the "happily married" is relative in this context.
She told Paris Match magazine: "At the age of 17, Emmanuel said to me, 'Whatever you do, I will marry you!' "
In October 2007, 21 months after she divorced the banker André Louis Auzière, the 54-year-old Brigitte and the 29-year-old Macron married in the upmarket town of Le Touquet, where they have a home.
"Emmanuel said 'We're going to shut people up,'" a smiling Brigitte is reported to have recalled.
She wore a white dress "as short as what she wears in town", according to L'Illustre magazine, which added that Macron, by now approved of by Brigitte's family of bourgeois chocolatiers, made sure to thank his new wife's children in his wedding speech, "for loving us as we are".
He apparently spoke too of a love that was "not altogether common, [between] a couple not completely normal, even if I hate that adjective, but [between] a couple who exist."
He echoed the sentiment in his book Revolution, published in November, in which he described the wedding as "official consecration of a love that was at first clandestine, often hidden and misunderstood by many."
The truth, it seems, is that this is an enduring partnership, "a conversation that is continuing 25 years after their first meeting," – as some accounts have put it – between two intellectuals.
Her friend the writer Philippe Besson has told journalists that Brigitte would be a first lady "steeped in literary references."  Invitees to her 'salons' are said to have included the author Michel Houellebecq, the actor Pierre Arditi, and the actress and Aids activist Line Renaud.
But the admiration for her husband seems undimmed.  She described him to Paris Match as "a character from another planet, who mixes rare intelligence with extraordinary humanity; a philosopher who became a banker and politician."
For his part, he clearly values her opinion.  When he was a minister, she sat in on some of his meetings.
Last month Mr Macron confirmed that Brigitte would not – and had not – played a mere, passive supportive 'wife of the candidate' role.
His wife would never just be "behind" him, he told supporters. "If I'm elected – no, sorry, when we are elected – she will be there, with a role and a place."
Brigitte – who gave up teaching in 2015 to support her husband, then the French economy minister – has already been credited with bringing out a more extrovert side to the former Rothschild investment banker.
She has also had the foresight to warn those around her that they would "hear true and false remarks" about her husband.  There have already been false rumours of a gay affair with Radio France chief executive Mathieu Gallet, wittily scotched by Macron, who revealed how close he remained to his wife.
"It's unpleasant for Brigitte," he told a campaign rally in February, "Who wonders how I could physically do it.  She shares my life from morning to night.  I can't split myself in two.  If over dinners in town you are told I have a double life with Mathieu Gallet, it's my hologram that has escaped, because it's not me!"
Those close to the Macrons say the truth is what Tiphaine, the 33-year-old youngest daughter of Brigitte, was quoted as saying: "I know few couples so happy."The relationship between Emmanuel Macron and Brigitte might be a little outside customary French political tradition.Despite their age gap almost exactly matching that between male grandfather President
Donald Trump
, 70, and wife
Melania
, 46, it might for some reason require more explaining – as when the French current affairs magazine L'Express took the trouble to clarify, using the French for grandchildren (petits-enfants): "When he [Macron] talks about going to see his petits-enfants at the weekend, the 30-something is not talking about his little children but his [step]-grandchildren."
But it seems that for the man who may soon be French president and his wife, it works.
In France, teacher-pupil relationships like the Macrons' aren't that shocking – the gossip surrounding Brigitte is pure sexism
The unusual relationship has not attracted an excessive amount of attention in France, where sexual impropriety is often seen as a fact of political life. This is despite the fact that the age of consent between teachers and pupils is 18, as opposed to 15 among members of the general public.
The fact that Emmanuel Macron met his wife Brigitte, 24 years his elder and once his teacher, in a classroom setting has shocked the British public.
In fact, it's stunned everyone – except the French.
Transposing the situation to a candidate in the UK's general election is basically impossible; it would send shockwaves throughout British politics. But as a French person, it's the reaction that is surprising. The Macrons' story is unusual and interesting, sure, but it's also no big deal.
It's a cliché that French politicians are forever upsetting the country's politics with their love affairs. But even when you move beyond the stereotypes, it's true that the French do have a vastly different attitude than their British counterparts when it comes to sex and relationships.
Firstly, pupil-teacher relationships in France are not frowned upon as a deeply inappropriate affair, as long as both parties are over the age of 18. That's not to say that these relationships are common, but as long as consent applies and the law is respected, people mind their own business.
Secondly, French presidents have, since time immemorial, made ink run on paper about their relationships with younger and beautiful women.
At one point, according to a local journalist with a long memory, the love affair created a "pure scandal".
Impressive, by English standards, but it has to be said that the rather less racy reality – as presented by the Macrons and those close to them – is perhaps far too monogamous, and probably a little too Mills and Boon to qualify Mr Macron for the Panthéon of French presidential greats.
So far, Macron would struggle to beat even the Elysée's current occupant, Francois Hollande, whose policies were hardly a roaring success but who added greatly to the jollity of the nation by being photographed, face hidden behind his scooter helmet, visiting the apartment of an actress 17 years his junior.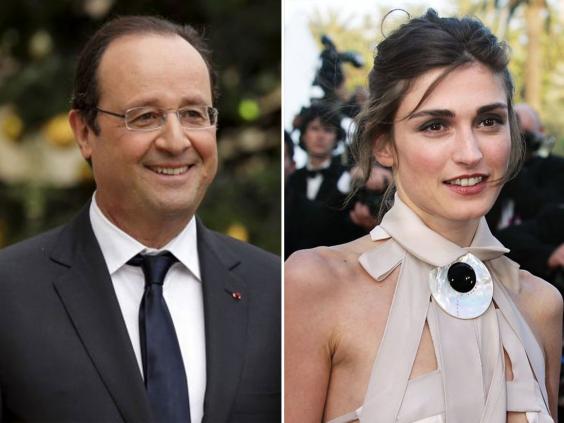 Incumbent President Francois Hollande was unruffled when he was caught having an affair with Julie Gayet, an actress nearly two decades his junior, while former President Nicholas Sarkozy infamously left his wife for the actress, musician and model Carla Bruni.
The resulting end of his relationship with official partner Valerie Trierweiler (nicknamed the rottweiler) did at least mean the short, bespectacled Mr Hollande dared appoint to his cabinet Ségolène Royal, the mother of his four children, whom he had left for Mme Trierweiler.
And yet the French nicknamed him Monsieur Normal – probably fairly, because Hollande's reputation as a ladies man is nothing compared to that of Valerie Giscard d'Estaing.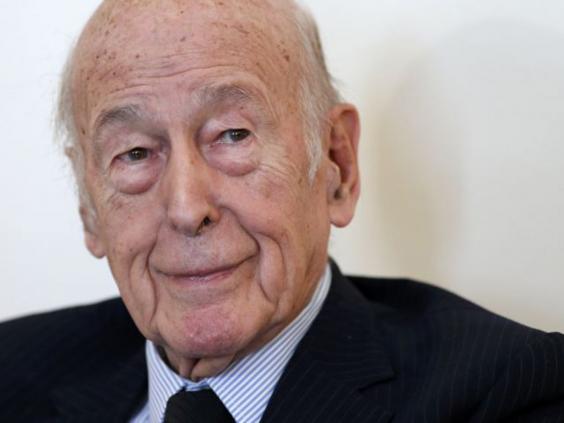 Valery Giscard d'Estaing (Reuters)
Shortly after being elected in 1974, Valerie Giscard d'Estaing was involved in a dawn collision with a milk float while driving home a woman who wasn't his wife, and Jacques Chirac earned the nickname "five minutes, shower included" for his brisk approach to extramarital romance.
Giscard D'Estaing's poll ratings soared, possibly because female as well as male voters warmed to the chivalry of a French president who would give his mistress a lift home.)
Then, of course, there is the great Francois Mitterand, who for most of his 14-year presidency concealed the fact that he spent most evenings with his mistress and their secret daughter, Mazarine.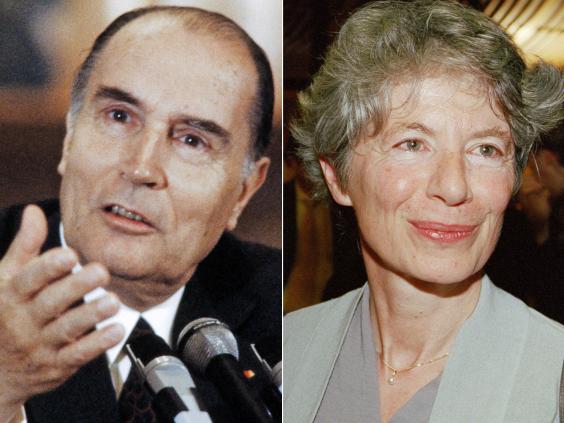 Francois Mitterand had a daughter with Anne Pingeot in 1974 – a fact he kept secret until 1994 (Getty Images; Corbis) 
The socialist Mitterand was succeeded in 1995 by right-winger Jacques Chirac, whose brisk efficiency earned him the nickname amongst his entourage of 'cinq minutes, douche comprise' [five minutes, shower included].
So Brigitte, the daughter of a renowned chocolatier and macaron-maker in the northern city of Amiens, who has been married to Macron for 10 years, will not shock the French.
And yet the backstory of Macron's romance with his school sweetheart continues to intrigue, and has become the subject of great gossip and speculation even in his home country.
But this has nothing to do with pupil-teacher relationships, French politics or romantic behaviour. This is simply sexism.
What is fuelling endless chatter about Macron's position in the relationship and his history with Brigitte is the fact that she is his senior. If Macron had been a woman and Brigitte a man, likely there would never have been such an uproar – at least in France.
In the US, there has been no backlash against Donald Trump, whose flamboyant wife Melania Trump is 24 years younger than him – strangely enough, that's the same age gap as the Macrons.
Brigitte, 64, a grandmother of seven, is no doubt very conscious about her age and strives to look youthful on the arm of her 39-year-old husband, who could become France's youngest president.
A key player in Macron's En Marche! movement, Brigitte initially avoided the publicity surrounding Emmanuel Macron's campaign. But as Macron's popularity rose through the polls, so did interest in the woman who shares his life and could one day join him at the Elysée Palace.
Macron embraces his wife Brigitte, 25 years his senior, after winning 23.9% of the vote. Source: The Sun  Image Credit: Getty
The monogamous relationship between Mr Macron and a wife 25 years his senior might seem staid by the standards of some unfaithful French presidents
They walked hand-in-hand into the victory rally, embraced and kissed on stage: Emmanuel Macron, winner of the first round of the French presidential election, and his elegant blonde wife Brigitte.
At the lectern, the man now expected to beat Marine Le Pen in round two – despite not having had a political party until starting the En Marche! movement a year ago – made sure to thank all those who had helped him get so astonishingly far.
Then he turned, smiled at her and thanked the most steadfast supporter of them all, his wife Brigitte: "always there, and what's more, without whom I wouldn't be me."
Criticism of Brigitte as the ageing peroxide blonde about to step in the shoes of a first lady is just another expression of misogyny in the political sphere. And it ignores the fact that her age and experience may prove essential to balance the political immaturity Macron has been accused of. What is certain is that if Macron wins on 7 May, she will stand proud by his side – whatever the tabloids across Europe make of it.
How Emmanuel Macron eschews convention in both his public and private life
The fact that his wife is 24 years his senior is hardly remarkable, considering that this is almost an expected norm when the genders are reversed – Donald Trump is 24 years older than Melania. But this doesn't stop the press, both local and international, from repeatedly drawing attention to the age gap.
Such bizarre fascination hasn't stopped Mr Macron from charmingly displaying his devotion to the love of his life. Their public displays of affection have led to French gossip magazine Paris Match running a number of covers of the couple as they hold hands, go on holiday and attend state events.
The French presidential candidate Emmanuel Macron and his wife, Brigitte Trogneux, arriving at a state dinner last March. CreditJean Catuffe/Getty Images Source: The New York Times
Seeing a man who is attractive and powerful with a woman who is 24 years older than him has led some of his critics to spread rumours about his sexuality. There were recently unfounded claims in Parisian circles that he had an affair with Mathieu Gallet, chief executive of Radio France.
Mr Macron is as open about the interest in his home life as he is with the other main criticism people seem to have about him – his youth and relative inexperience as a politician. At a rally in London he said: "I boast of my political immaturity and inexperience because their political experience is political inefficiency." He knows that people, especially the young, are fed up with the current systems that are in place and are desperate for something new.
The way in which Macron is able to attract young voters is the envy of every politician. He has been able to do what the Liberal Democrats have failed to do and what the Tories are still desperately working towards. At his rally in London in February, an overwhelmingly young group of people cheered him on to the sound of the Ting Tings playing in the background.
His pro-European and proudly pro-internationalist values may have something to do with his popularity among an increasingly mobile and international generation. His rallies in cities outside of France invariably see large turnouts – the London event had an estimated 4,000 attendees.
Emmanuel Macron and his unusual first lady have gone viral in China
Social media users appear fixated on the relationship between Macron and his wife, Brigitte Trogneux, potentially the next First Lady of France.
On China's Twitter-equivalent, Weibo, many are comparing the couple with the main characters of a popular Chinese TV drama: 'In the name of the people'.
(Ironically that is actually one of Le Pen's campaign slogans).
The storyline sees a crack squad tackling corruption in government, with villain Qi Tongwei marrying an older woman for power.
The hashtag which translates as "marrying his teacher 24 years his senior," which according to SBS has been seen more than nine million times.
That said, France 24 reports that the comments have been largely favourable towards Macron and his marriage, despite some jokes and a bit of fascination: "I can only say this Frenchman is very romantic."
One commenter wrote:
If a marriage is happy, then age doesn't matter.
H/T: Agence France-Presse via France24
Source:
Independent UK
indy100 independent
The Local
The Sun