Why Black people can't forget and can't forgive?
It took 10 minutes to convict 14-year-old George Stinney Jr. It took 70 years after his execution to exonerate him.
Accused of killing two white girls in South Carolina, George Stinney Jr was tried and electrocuted in just 83 days. As a judge ponders whether to quash the verdict, Karen McVeigh speaks to the families involved
     George Junius Stinney,Jr. was executed in 1944 for the murder of two white girls.    Image credit: YouTube
 An n old storage shed, half swallowed by weeds, shimmers in the hazy winter sunshine opposite the Green Hill Missionary Baptist Church. This is all that remains of the thriving lumber yard and sawmill on which Alcolu, a rural town in South Carolina, was built.  Image credit: Bokeh From the Green Hill church it is a few minutes' walk, across a ploughed field littered with corn husks, to the shallow ditch in the woods where the bodies of two girls, Betty June Binnicker, 11, and Mary Emma Thames, seven, were found, side by side, 70 years ago this month. Their murders stunned the townspeople, many of whom had taken part in a search for them the day before.  Image credit: Post and Courier 
George Stinney Jr, of African descent, was the youngest person to be executed in the 20th century in the United States.
This young black was only 14 years old at the time of his execution by electric chair.
70 years later, his innocence has just been officially recognized by a judge in South Carolina.
From his trial to the execution room, the boy always had his Bible in his hands while claiming his innocence.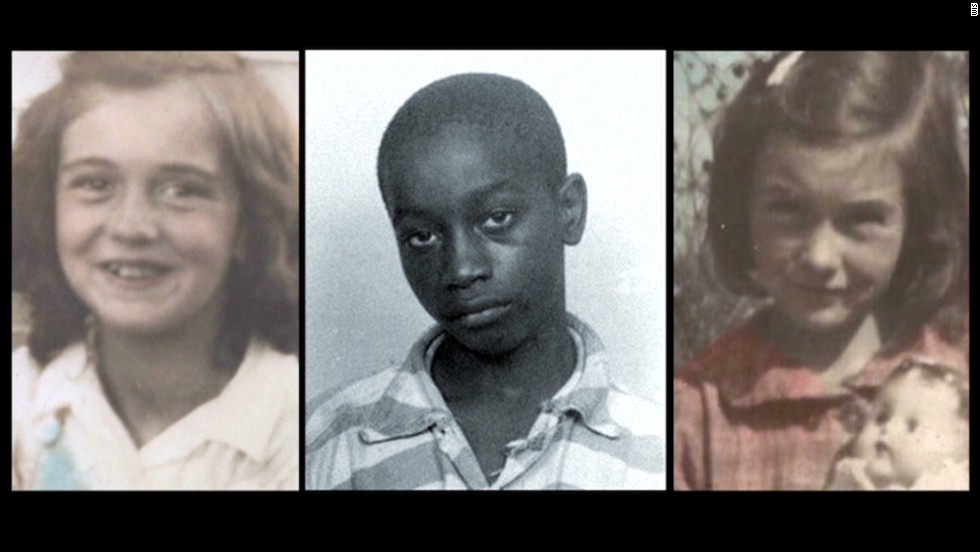 (L)  Betty June Binnicker, 11 (M) George Junius Stinney,Jr (R)  Mary Emma Thames, 7  Image credit: CNN.com
On the afternoon of March 23, 1944, Betty June Binnicker, 11, and Mary Emma Thames, 7, failed to return home. The next morning searchers, George Stinney, Sr among them, discovered the girls' bodies lying in a water-filled ditch not far from the house where the boy and his parents lived. The two young white girls had been found brutally murdered, beaten over the head with a railroad spike. Both girls' skulls were crushed and one of the girl's bicycles lay on top of their bodies.
He and his little sister, who were black, were said to be last ones to see them alive. His little sister was hiding in the family's chicken coop behind the house in Alcolu, a segregated mill town in South Carolina, while after a short investigation, officers handcuffed George,Jr and his older brother, Johnnie, and took them away. They released John, but a few hours later, George confessed to murdering the girls.
The sawmill fired Stinney, Sr and the family had to move and rarely saw George, Jr again because his incarceration was 50 miles away.
"[The police] were looking for someone to blame it on, so they used my brother as a scapegoat," his sister Amie Ruffner told WLTX-TV earlier this year.
On April 24, 1944,a mere 10 days later, the State tried George,Jr for the  girls' murders. Records indicate 1,000 people crammed the courthouse. Blacks were not allowed inside.
        George,Jr, according to police, confessed to the crime. No witness or evidence that might vindicate him was presented during a trial that was over in fewer than three hours. An all-white jury convicted him in a flash, 10 minutes, and he was sentenced to "be electrocuted, until your body be dead in accordance with law. And may God have mercy on your soul," court documents say.  Image credit: Scoopnest.com
At that time, all the members of the jury were white. And the trial concluded that same day with Judge P.H. Stoll presiding. The court had appointed Charles Plowden as Stinney's counsel. Plowden was a tax commissioner campaigning for a Statehouse seat.
Solicitor Frank McLeod represented the State. He presented evidence from law enforcement that George,Jr confessed to the crime. While law enforcement testified that a confession occurred, no written confession exists in the record today. Nothing remains from documentary evidence indicating whether the court admitted a murder weapon, bloody clothes or other demonstrative evidence.
Plowden called no witnesses, did not cross examine, and never filed an appeal. No one challenged the sheriff's recollection of the confession.
The trial lasted 2 Hours and 30, and the jury made the decision of his sentence after 10 minutes and found George,Jr guilty. No appeals were filed and no stays of execution requested.
The same day Judge P.H. Stoll sentenced Goerge,Jr to death by electrocution.
The boy's parents, threatened, were barred from taking part in the trial after being ordered to leave the city.
Prior to his trial, George spent 81 days in detention without the possibility of seeing his parents for the last time.
He was imprisoned alone in his cell, 80 kilometers from his hometown.
His hearing of the facts was done alone, without the presence of his parents or a lawyer.
Fewer than three months after the girls' deaths, Stinney was escorted to an electric chair at a Columbia penitentiary, built for much larger defendants. The chair's straps were loose on Stinney's 5-foot-1-inch, 95-pound frame, and books were placed on the seat so he would fit in the chair.
George's electrocution charge was 5,380 volts on his head. We let you imagine what such an electric shock can have on a young child's head.
In 2014, the A.N.D. erected a marked grave.
When the switch was flipped, Stinney's body convulsed, dislodging the oversized mask and exposing his face to about 40 witnesses, including the slain girls' fathers, according to James Gamble, son of the Clarendon County sheriff at the time. Gamble recalled the execution for The Herald in Rock Hill a decade ago.
 SOURCES:
***** 
     George Stinney's Family Speaks Out!  (Why We Believe the George Stinney Jr. trial was tainted from the start!)
Today- February 20, 2014, the Family and Advocates of George Stinney Jr. have decided to release an official statement with regards to their loved one. Their desire to release this statement is not an emotional appeal for empathy but rather our desire to make more public little known facts about this case and our feelings with having to endure this incident that will always be in the background of our lives. In addition this effort is to highlight our belief that we must not hide the past, but apologize for the past, and work toward a progressive future. While we are now fighting to correct this wrong, we want to hope for an America in which all American Citizens can welcome freedom and justice. (Family and Friends)
Statement:
Clarendon County, South Carolina, -At fourteen years of age George Stinney Jr., a young boy with no criminal record in his entire life, who's name now lives in infamy as the youngest person executed in U.S. History for the "alleged" murder of young two white girls. The case of George Stinney Jr. stinks of circumstantial, unproven and unsubstantiated prosecutorial testimony combined with a host of other injustices. The list of questionable factors is heavy, they include; a Governor who was an alleged White Supremacist , a Defense Tax lawyer who was not trained for Defense of Capital Cases-while preparing for an election that dropped the ball and totally misrepresented Stinney. Also don't exclude the fact that the confession of George Stinney Jr. was never recorded in police files, and Detectives offered the boy ice cream once they were done-also that the statement appears to have been fabricated from start to finish. While these factors may be minimal to some we, believe-they are enough to show and prove that George Stinney Jr. had no chance of a fair trial, and that this case-was tainted from start to finish.
Facts:
We believe that the Confession of George Stinney Jr. was a historic miscarriage of justice and according to witnesses and court records the confession of George Stinney Jr. does not exists in any public records. Three Sheriff's offered the boy ice cream once they were done. While at the recent court hearing testimony from a child psychiatrist who said the confession, no matter what it said, is "not reliable."Dr. Amanda Salas, a defense witness, said she reviewed what few documents remained from the case and interviewed Stinney family members to make her evaluation. Salas testified that Stinney was likely suggestible to the white prosecutors and law enforcement who were there for his confession. She also said George Stinney grew up in a culture and in a family that encouraged strict compliance to whites, which may have caused George Stinney to "cave" when questioned by the adults.
The confession…is best characterized as a coerced, compliant, false confession," Salas said. the confession, no matter what it said, is "not reliable."

It is believed that Governor Olin D. Johnston (an alleged White Supremacist), was mainly responsible for the "railroading," of this case

Our research has shown that Governor Olin D. Johnston (an alleged White Supremacist), was mainly responsible for the "railroading," of this case- Johnson was in an election year and directly assigned the Police investigator Mr. S.J. Pratt from Columbia, South Carolina. Still despite many ongoing questions regarding the validity of the officers' testimony and Stinney's alleged confession from local (area) churches, the N.A.A.C.P., and unions who pleaded with Johnston to stop the execution and commute the sentence to life imprisonment, citing George Stinney's age as a mitigating factor but he did not act, instead Johnston allowed the execution to take place. That spring, police details of Stinney's alleged confession were swiftly routed to the governor's office in Columbia. As clemency pleas came in to then-Gov. Olin Johnston, responded with the graphic false, fabricated details were never true claiming they were relayed to him by Mr. SJ Pratt: "George Stinney killed the smaller girl to rape the larger one. Then he killed the larger girl and raped her dead body. Twenty minutes later he returned and attempted to rape her again but her body was too cold." That account, however, is in direct conflict with a recently found autopsy report that did not find evidence of a sexual attack. This account never happened.

Johnston's letter "had no basis in fact. It was a complete lie," said Manning attorney Ray Chandler, in a recent interview whose law firm is defending George Stinney. A review of the original autopsy report previously buried in state archives and a re-examining of events — potentially puts the case on new footing
Charles Plowden The court appointed 31-year-old Charles Plowden, a tax commissioner, to defend Stinney. "Plowden had political aspirations. Plowden who had never tried a capital case. Making matters worse, his court-appointed attorney was planning a run for office, putting him in a dangerous conflict of interest that ensured the inadequacy of George Stinney's defense "Plowden was provide enough defense so that he could not be accused of incompetence, but not be so passionate that he would anger the local whites who may one day vote for him."
The employment and Family relationships are (attached) they further the fact that George had no chance at a fair trial, because all of the inquest jurors were related or worked at the mill for Mr George Burke Sr. who was the mill foreman.
To this day, no physical evidence that George Stinney Jr. committed the crime exists. His trial — if you call it that —George was convicted and sentenced in one day of court which lasted less than two hours. Prosecution. No outside witnesses were called. No defense evidence was presented. The boy faced his sentence without (us) his family who were forced to move away from the city for fear of lynching from the angry mobs. Stinney Jr. was left to face trial alone 1,000 people-whites only crammed the South Carolina courthouse. Blacks weren't allowed inside. The all-White jury deliberated for all of 10 minutes in between lunch before sentencing him to death by electrocution –All this constitutes cruel punishment.
Family and Advocate Statements:
I along with many believe America is truly a "Great," County, but we (Americans) must be interested in telling truth and not distorting history to suit our own ends. Let us rewrite this wrong, let us, correct history for the purpose of doing what is right. Stinney's name must be cleared
Says, Gregg L Greer (Advocate member of the Southern Christian Leadership Conference).
Sonja Eddy Williamson (Lead Advocate)

                                                                 

I pray George Stinney, Jr will be exonerated, even as   they took his life. It is never too late to clear one's name and correct history. My dedicated support for George Stinney, Jr comes by the endless hours of research of the crime and the background of those involved. Please remember to include Judge Mullen in your prayers that she will pray over this case and know George was entitled to fairness. As a human being we all have rights no matter our age, race or social status. As a human we are all created the same and should be treated the same.

Said, Sonya Williamson (Advocate/Researcher for the case)

 
This is something that I know. I know my brother is innocent.""Someone has to be the scapegoat," Aime Stinney said. "My brother was the scapegoat." Aime Stinney said she found peace a long time ago. "There is a God who sits high and looks low," she said. "I know that anyone who had anything to do with this will have to come before a just God."   Aime Ruffner (Stinney Family, Sister of George)
The Stinney Family only seeks "Justice", "exoneration," and nothing else. My Grandparents did not live to see the day when this case would be recalled to court. We pray the courts accept the evidence that we know has been known to the public all along, and if only people had looked, but given the time in South Carolina (Jim Crow Era) no one cared to seek the truth. The family strongly believes that documents, public records, and just plain common sense all clearly show that George Stinney Jr did not get a fair trial. Seventy years is a long enough time for any family to suffer such a loss. We pray that we won't have to endure another seventy years for "Justice." We need everyone's support in making sure that the Siblings of George Stinney Jr-Charles, Katherine and Amie het the closure that their parents did not live to see. We will not forget the two innocent girls who I'm sure are in Heaven with George waiting for the truth to come out. We believe that they as well, would want the "real" guilty parties revealed and justice finally served.
Norma Robinson (Stinney Family, Niece)
During the time I was doing the time of the research for the book, "Carolina Skeletons," I read various statements from various local people in support of a clemency for George Stinney Jr sent to then South Carolina Governor Olin. The people who all seemed to me as good and decent because I noticed that they had shown an enormous amount of human compassion for George Stinney Jr. which was so unusual to me because it was the time of the Jim Crow Era in America but the statements represented how people of different ethnic and social backgrounds can understand one another and come together. David Stout, (Writer Carolina Skeletons) 
 It is our Prayer that South Carolina does right by means of Justice, and in the eyes of God, and clear the good name of George Stinney Jr. because George Stinney Jr. is innocent. (Family/Friends)
George Stinney Jr. Rest In Peace!
(All supporting documents can be found on https://www.facebook.com/groups/theloveofgeorge/)  
Source: