No one can get over Miss Philippines Catriona Gray iconic slow motion turn-around move in Miss Universe 2018 pageant prelims Source: YouTube 
manilatimes.net:  Catriona Gray's journey from the 'World' to the 'Universe'
Born in Cairns on January 6, 1994 to Australian Ian Gray—whose origins are from Scotland—and Bicolana Normita Magnayon of Oas, Albay the two-time beauty queen started her public life as a singer and martial arts expert.
 Image credit: Mid-Day
She was lead vocalist of her school's jazz band and earned a Certificate in Music Theory from the Berklee College of Music in Boston, Massachusetts, USA, before moving to Manila to work as commercial model.
Catriona Gray volunteering with Young Focus that works to give every child the opportunity to better themselves and to have access to an education regardless of their family's situation. Source: PARAISO – cat'elle
Miss Universe Catriona Gray, a talented simple down to earth Filipina who is true to her words when she won the coveted crown. When she was in Tondo, she brought hope and smiles to Tondo kids. She brought pride to our country and Filipino people globally! Image credit: Facebook
Prior to joining Miss World Philippines, Gray became a familiar face on television and among the underprivileged children and their parents whom she served in depressed areas of Manila via the advocacy project, Paraiso.
Image credit: YouTube She whipped the patriarchy for Pantene in 2013.There are certain commercials that make an impact culturally, but Pantene's "Labels Against Women" didn't just set the bar, it also questioned the height of the bar for women and fought the insults hurled at those who try to clear it. Gray is proud to be one of the women who stood for gender equality. Source: GMA Network
In 2013, she was one of shampoo brand Pantene's "Labels Against Women" advocates who were fighting for gender equality. Her face is likewise recognizable as a Pond's girl.
 Image credit: Rogue PH
Gray further appeared on the cover of Rogue Magazine in its music issue in 2014 and has worked the runway in Bench Body fashion shows.
 Miss Universe Philippines 2018 Catriona Gray was left shocked after old photos of her made the rounds online claiming that she has never seen them before.The said photos show a young Gray during the first pageant she ever joined way before she became the esteemed beauty queen that she is now.In a previous interview in the ABS-CBN late night talk show "Tonight with Boy Abunda", Gray first recounted the story of the first pageant she has joined as a child.
"I did have my first pageant when I was around 5 in 1999. [It was] Little Miss Philippines sa Sydney," she revealed in the said interview.
Gray also said that she won the said pageant adding that she felt that her mother was nudging her towards becoming a beauty queen even at a young age.
And now, throwback photos taken from that pageant surfaced online and netizen gushed at how adorable Gray looked during her first pageant.
The photos show Gray wearing a pink ball gown with a crown on her head and a sash that reads "Little Miss Philippines". Source: The Filipino Times
Statuesque at five-feet-10-inches, Gray was a natural candidate for beauty pageants. She was crowned Miss World Philippines 2016, besides sweeping the major awards as Best in Swimsuit, Best in Evening Gown, Best in Fashion Runway and Best in Talent.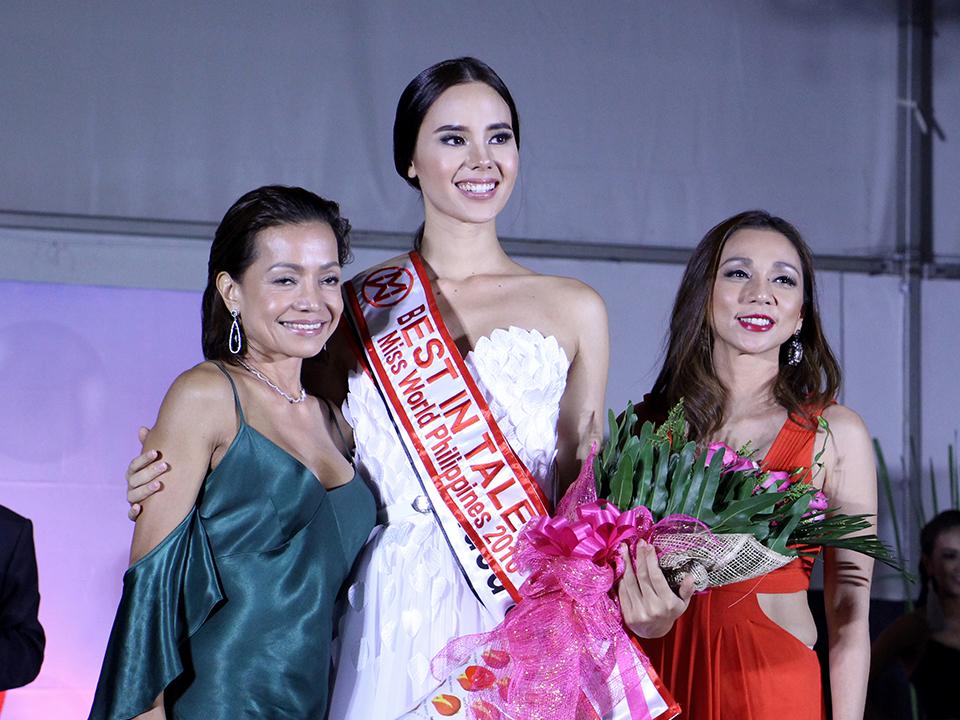 Image credit: gmanetwork.com
With many similarities to the Philippines' first Miss World winner, TV host and actress Megan Young, it was not only Filipino pageant fans who were disappointed when Gray made toward the tail end of the competition's Top 5, but many others in the international communities.
Image credit: Pageanthology_101
As that year's Multimedia awardee, a second-placer in Talent and among the Top 5 in the "Beauty with a Purpose" project, Gray was easily a shoo-in for the title and successor to Mireia Lalaguna of Spain.
It was Stephanie Del Valle of Puerto Rico who was crowned Miss World in the 66th edition of the UK-based pageant at MGM National Harbor in Washington, DC, USA, with Gray gracious in defeat.
But fans were all the more dismayed when the organizers and winners of Miss World and Mr. World led by Julia Morley and Del Valle came to visit Manila in September 2017, without including Gray in the entourage, given she was still the reigning Miss World Philippines.
BINIBINING PILIPINAS
Diehard beauty pageant aficionados soon expressed on social media that it would be to Gray's advantage—and their form of revenge—to vie for the Miss Universe Philippines title via Binibining Pilipinas.
 Philippine Star..December 11 at 12:39 AM.. Miss Philippines Catriona Gray pays homage to the diverse culture of the Philippines in a costume that features the three main islands of the country: Luzon, Visayas and Mindanao during the Miss Universe 2018 national costume segment…(via pep.ph)  Her national costume was designed by Jearson Demavivas, who also created her national costume at the Binibining Pilipinas 2018 pageant last March 18."
As such, her fans became ecstatic in January when they learned that Gray was indeed one of the earliest applicants for Binibining Pilipinas 2018, confident she would win the country its fourth Miss Universe crown after Pia Wurtzbach's phenomenal win in 2015.
Indeed, from the press presentation in February to the National Costume and Jag Jeans fashion show and Parade of Beauties in March, Gray was the picture of a worthy Miss Universe Philippines. The coronation on March 18 just confirmed what pageant experts had predicted all along.
Five Special Awards: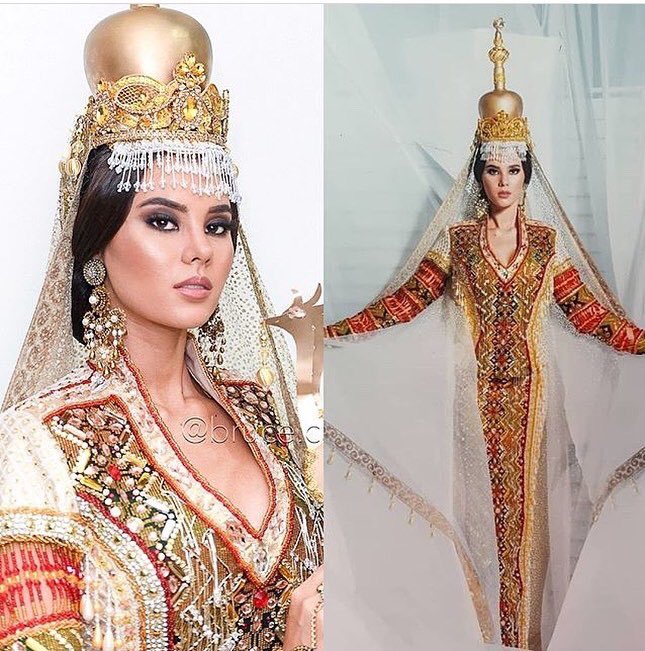 Image credit: Twitter
CATRIONA GRAY || National Costume Presentation || Bb Pilipinas 2018 .. Maranao Princess ..Source: YouTube
 Miss Ever Bilena: The Ever Bilena woman is strong-willed and beautiful, just like our newly crowned Miss Universe 2018 .. Image credit: YouTube
 Jag Denim Queen Image credit: Facebook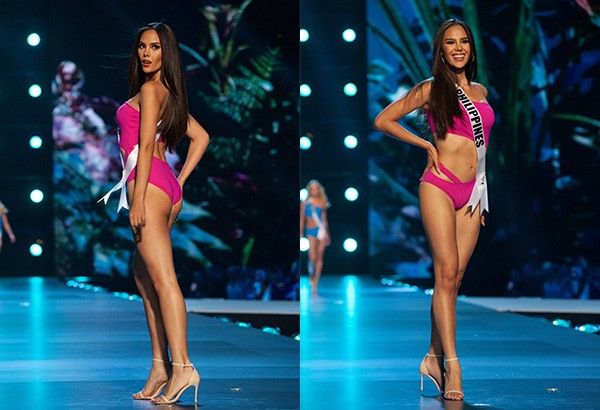 Best in Swimsuit.. Image credit: Philippine Star  
 Best In Long Gown .. Image credit: YouTube 
Just as she did in Miss World Philippines, Gray swept five special awards at Binibining Pilipinas: the Pitoy Moreno National Costume Award (named after the fashion czar who passed away in January), Miss Ever Bilena, Jag Denim Queen, Best in Swimsuit and Best in Long Gown.
Nevertheless, it was the question-and-answer portion that sealed Gray's fate, so to speak. As final candidate to be asked among the Top 15 finalists, the jam-packed Smart Araneta Coliseum waited with bated breath for her reply to pageant judge and US Ambassador to the Philippines Sung Kim's question.
Image credit: manilatimes.net  COVER PHOTO BY DANTE DENNIS DIOSINA; INSIDE PHOTOS BY JOHN MICAH SEBASTIAN AND CATRIONA GRAY'S FACEBOOK ACCOUNT
"After the devastating war, Marawi [City] is now on its way to recovery. What will be your message to the young women of Marawi?" he asked.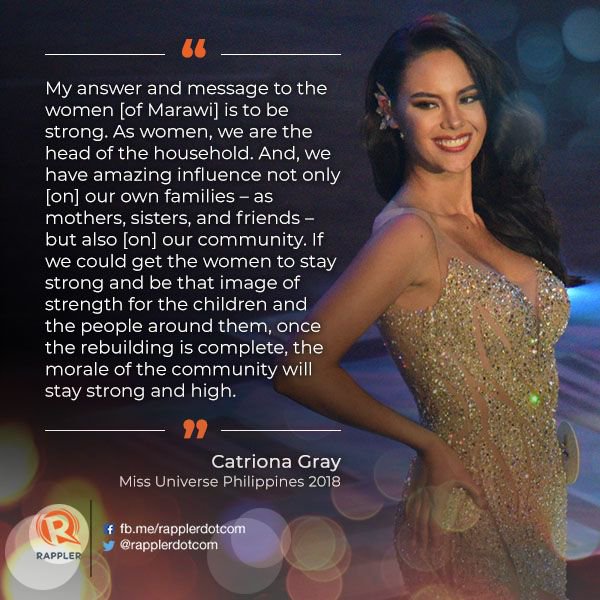 Source: Scoopnest.com
Confident, and straight to the point, Gray replied, "Thank you for that question. My answer and my message to the women is to be strong. As women, we're the head of the household and we have amazing influence not only in our own families as mothers, sisters, and friends, but also in our community. If we can get the women to stay strong and be that image of strength for the children and the people around them, then once the rebuilding is complete and is underway, the morale of the community will stay strong and high. Thank you."
The Big Dome erupted in deafening cheers and there was no doubt that Gray is the worthy winner of the Miss Universe Philippines crown.
Catriona Gray's Attitude Before Binibining Pilipinas 2018 Revealed By Netizen In Viral Post Source: 
PhilNews.Ph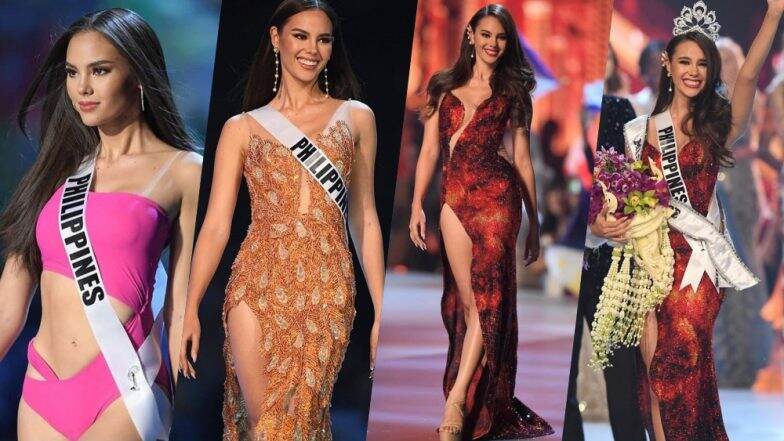 Image credit: 
www.latestly.com
She is the fourth Filipino to bring home the coveted title, joining Gloria Diaz, Margie Moran, and Pia Wurtzbach who won in 1969, 1973, and 2015, respectively.
The Daily Sentry:  Mayon Volcano gown is not only successful in symbolizing our highest volcano, it has completed the color of the Philippine flag. Now that Catriona joined our three reigning Miss Universes since Gloria Diaz in 1969, Margarita Moran three years after in 1973, Pia Wurtzbach in 2015, and again, three years after came Catriona Gray.   
 Image credit: 
Wikipedia … The gowns of the four beauty queens completed the colors of the Philippine flag, Yellow, White, Blue, and finally Red.

Gloria Diaz, 1969, wearing a yellow gown.

Margarita Moran 1973, wearing a white gown.

Pia Wurtzbach, 2015, wearing her iconic blue gown.

Catriona Gray, 2018, wearing the Mayon Volcano-inspired fiery gown.
She might have not ruled the "World," but Catriona Gray has conquered the "Universe."
  Thanking God for His gift, Catriona Gray clasps her hands in prayer when she was declared Miss Universe Philippines. Source: The Manila Times
After failing to bring home the Miss World title two years ago, the 24-year-old Filipino-Australian beauty on Monday, December 17, made a strong comeback in the international pageant scene after bagging the Miss Universe (MU) 2018 crown in Bangkok, Thailand.
She bested 93 other candidates from different countries. Demi Leigh Nel-Peters from South Africa passed the iconic Mikimoto crown to Gray.
In similar messages posted on Instagram and Facebook, Gray said, "Where do I even begin?"
She recounted that when she was 13 years old, her mother dreamt she would win the pageant wearing a red dress.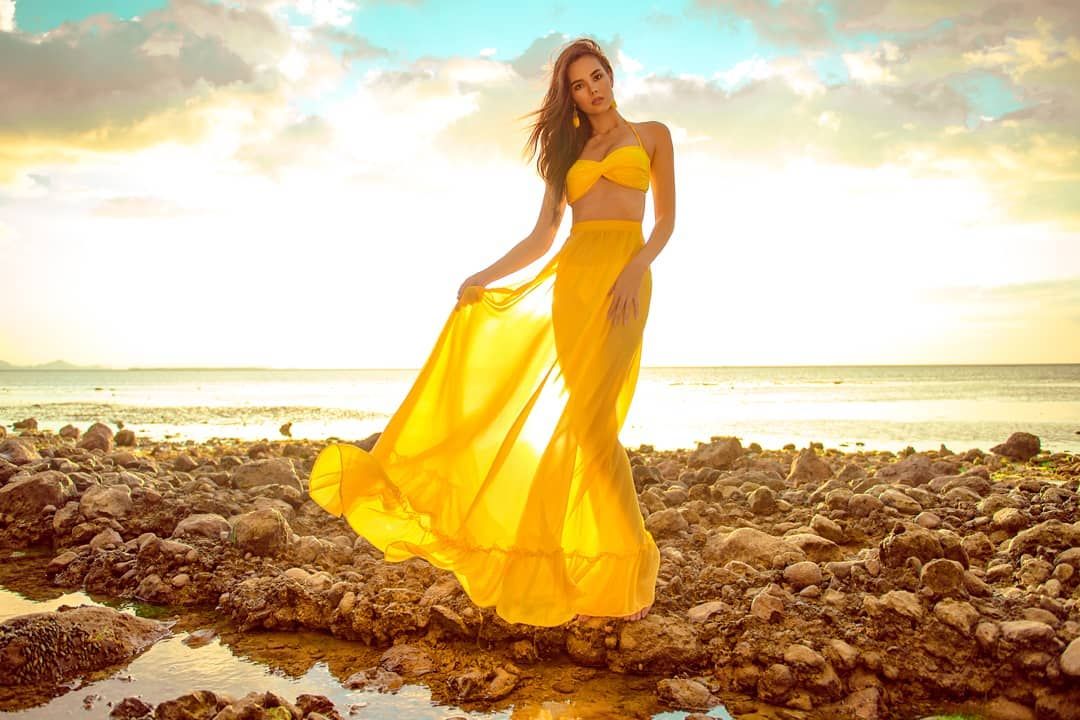 Image credit: Philippine Tatler  Pia Wurtzbach also took to Instagram today to ask her followers to support Catriona's Miss Universe bid. "Praying for good weather, world peace, and…….for Catriona to win Miss Universe! Pianatics, let's do this. Let's support our Miss Universe Philippines!" Source: Cosmo.ph
Next time the sun rises, the Universe will be upon us. Less than 24 hours to go to @missuniverse! Keep sending me prayers mga kababayan!  
Image credit: manilatimes.net
"Today, my mother's dream came true," she said.
Gray thanked God, saying her victory was in His "glory and honour."
The message turned emotional as the beauty queen gave her message for the country.
"Philippines, what an amazing honor it has been to carry your name across my chest and to embody you in all aspects. I may now carry the sash of Miss Universe, but I'll forever be your Miss Philippines," she said.
She consistently placed at the top of pageant aficionados and pundits' lists, with some saying she was the candidate to beat this year.
Gray reaped praises for her performance during the pageant's preliminary show, particularly during the swimsuit competition where a slow motion twirl had her trending on social media.
Gray was also showered with praise by former beauty queens, including Miss Universe 2015 Pia Wurtzbach and Demi-Leigh Nel-Peters, Miss Universe 2017.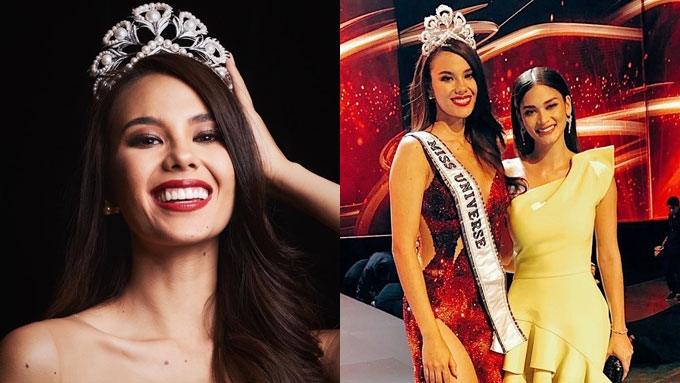 Image credit: PEP.ph Catriona Gray adn Pia Wurtzbach
This girl is on fire! You started strong and captured our hearts with your grace, commitment and fearlessnes! And that walk…how could anyone forget that walk? Now, you've conquered the Universe! This is just the beginning. Congratulations, Miss Universe 2018 @catriona_gray! You have made us all proud! Raise your flag!
Image credit: The Courier Mail 
GOD'S GIFT
The day after the pageant, the newly crowned darling of the Universe in the Philippines (at least for now) shared her thoughts on Instagram and Facebook.
"After months of preparation and guidance and prayers, I kept waiting for a wave of nerves to hit me but it never came. Maybe it was God's gift to me that night, or maybe I just knew I had done everything to be ready, now it was just for me to enjoy and have fun. Just to think that I'm going to say Catriona Gray… PHILIPPINES gives me the chills all over again," she said.
She then thanked all those who helped her along the way, especially "Madam SMA (Stella Marquez Araneta) and the Binibining Pilipinas Charities Incorporated (BPCI) executive committee … her family, friends and her loyal #Catrionians."
She added, "What an amazing journey we've been on. Through the highs and lows you've never left my side. For your love, dedication and ceaseless support … I am forever grateful that you've chosen me as your queen."
No doubt, Gray helped in bringing a record crowd to the Araneta Center, which had the biggest audience turnout in its long, illustrious history. More than 10,000 high-energy fans came to watch the pageant live, making Gray's Binibining Pilipinas win more memorable.
Recalling the moment
In a pocket interview with select media outfits and The Sunday Times Magazine on Wednesday, Gray recalled she did not feel nervous throughout the contest run, not even while waiting for her turn at the nerve-wracking Q&A portion.
"Throughout the competition, even before I joined Binibini, my mindset was [Miss] Universe [Philippines] or nothing, that being the goal of my journey, I knew I only had to prove to myself and prove to everyone else that I worked hard for this," she narrated.
"When I woke up that day, parang ang feeling ko, 'Ay, coronation pala today, bakit wala akong nerves?' I thought baka when I hear the sound of the crowd and I see all the people, that's when I'd feel it. Then when we were about to step on to the stage and I still didn't feel nervous, I was like, 'Lord, is this a gift?' I just felt so reassured in that I had done everything to prepare [for the pageant] so now it's time for me to enjoy," she continued.
"I was just so happy to be there. I was so happy every time I would see the fans and see my family… Then when it was announcement time na, I thought again that I would be so nervous, especially because I was really aiming for [Miss] Universe [Philippines]. pero I still wasn't. I was just weirdly calm and feeling strange. Now that I think about it, masaya lang talaga."
Backtracking, she added, "I guess the only time I got a little nervous was when I realized that I was going to be last for the Q&A, and I was wondering if there was a reason why. Like, 'Oh, my gosh, what are they gonna ask me; are they leaving something really difficult for last' or something like that… But OK lang."
It was also providential that her question complemented her National Costume—that of a Maranao princess.
"When I look back at it, I really just feel very content on how I performed—being able to walk away, especially with National Costume [award]. I'm so proud because I was able to work so closely with my designer, Jearson Dimavivas, in the whole process of making that National Costume and to have it recognized—to have him recognized for showcasing the culture of Marawi and also the Maranao princess—was just wonderful."
Multi-advocacies
Feeling blessed beyond belief, Gray is all the more inspired to continue her multiple advocacies, especially now that she is Miss Universe Philippines. She considers Tondo, Manila her main focus where she pushes for free education for indigent children.
She has also been proactively supporting LoveYourself—an organization involved in HIV testing, education, prevention, counselling and more—for the past two years now.
Her third advocacy is supporting projects for indigenous people in the south.
According to Gray, the rise of HIV in the Philippines is alarming, since the rest of Southeast Asia is on the decline. These days, those usually infected with the disease are apparently within the 14- to 21-year-old bracket.
"They're young, they need to have a future, they need to enjoy life. This [problem] needs to be addressed, and I've been talking to a lot of people [who can assist at least] to bring the cost of testing down," she shared.
Asked about the controversial decision of President Rodrigo Duterte to close down Boracay for six months, Gray said she is happy that the administration has "a tomorrow mindset" in preserving the famous island rather than thinking only of what it can give economically in the short term.
"It sets a good example for other destinations to be aware not to reach that point where Boracay is now. I think this is a good wake up call for everyone that our environment matters. And even though I do sympathize with the businesses that will be closed down for six months, because I know it will be a big blow especially to small businesses, I think that it is necessary. We can't it let go on to the point of no return."
She offered that it is through educating and empowering oneself in the preservation of the environment as that everyone can help in preserving the pristine beauty of the Philippines.
"Bring your trash with you; don't leave it on the island or throw into the water. Leave only footprints and take only photographs," she stated with conviction.
Sacrifices
While some beauty queens become aware of their social responsibility only upon their win, Gray has long known how everyone needs to help make their community, their country and the world a better place.
As Miss Universe Philippines, she said she wants her reign to be remembered as one that has been very proactive in supporting and advancing good causes.
"The only sacrifice is really time. I mean, a lot of different things will command my time now, especially [that] I want to dedicate my reign to being very proactive. Being a beauty queen, I believe that an advocacy is what anchors you in the whole journey because [this] can be so glamorous, so glitzy and beautiful. But if you anchor yourself onto cause, you'll feel like a regular person even if you're wearing a crown," she explained.
"Thankfully, my loved ones understand and know that other things are demanding my time and they don't take it against me. I'm so lucky that I have a very supportive group of people around me."
Preparations
Grateful for a second chance to represent the Philippines in an international beauty pageant, Gray said there has been no announcement so far on where Miss Universe 2018 will be held, albeit rumors it will be held in China.
Nevertheless, soon after Holy Week, she and her team already started preparing for the competition, beginning with wardrobe and styling to best represent the Philippines.
"We're really looking to showcase Filipino designers, different textiles, and different inspirations from different Filipinos icons. I'm very excited for that. Physically, I've started my workout regimen and also an eating plan, to give myself a lot of energy.
"Thirdly, the pasarela [or catwalk] and public speaking will start very soon. I'm really looking forward to transforming my performance from Binibini onto another level because I feel I can push myself more," she shared.
Asked to comment on predictions she will win the Philippines its next Miss Universe—past beauty queens included—Gray graciously said, "Grateful talaga ako [for the support and encouragement] and I will work for it even harder and stronger. I will put my 150 percent effort in every aspect to bring home the crown. I owe it to the Philippines to give Miss Universe all that I've got," she promised.
WHAT CATRIONA GRAY WORE DURING THE MISS UNIVERSE 2018 PAGEANT: 
1. ADARNA: The Blazing Siren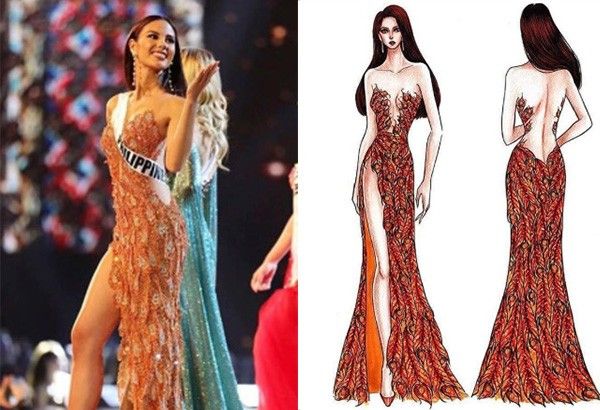 Catriona Gray goes 'Ibong Adarna' for Miss Universe evening gown.
Miss Universe Philippines 2018 Catriona Gray surprised fans when she chose none of the sketches revealed on Facebook by her designer, Mak Tumang, and instead, went for a golden sweetheart gown with a thigh-high slit for the evening gown preliminary competition of the Miss Universe 2018 pageant.
As a result, Catriona was a standout in a sea of white dresses that flooded the evening gown portion.
maktumang.. ADARNA: The Blazing Siren
The 'Ibong Adarna' is a mythological pulchritudinous bird that could change in several fascinating guises. Its enchanting voice can enable complete healing to anyone who hears it. Some artists liken it to the mythological Phoenix where it recurrently regenerates itself by arising amidst a spectacle of flames and candescence. This makes it a fitting symbol of resilience, rising and rebirth.
Catriona has a resilient, tenacious and unwavering spirit. Her voice is truly captivating literally and figuratively. She uses it to influence, advance her timely causes and both melt and heal hearts. Her will-power and burning passion drive her to make every Filipino proud in whatever she does. She is the blazing Adarna! Watch her rise in glory along with our hopes and dreams for our beloved country: the Philippines!
Inspired from the Philippine Adarna Bird, Phoenix & Mikimoto Crown
Source : The Philippine Star
2. FROM IBONG ADARNA TO MAYON VOLCANO: MISS UNIVERSE 2018 CATRIONA GRAY 
For this year's coronation night, Miss Philippines Catriona Gray brought the Philippines' Mayon Volcano, known for its 'perfect cone', to the Miss Universe stage.
Catriona sashayed in a fiery red gown that was inspired by the Mayon Volcano.
Mak Tumang, who made her gown, posted details of the stunning gown on his Facebook account at the same time that Catriona walked the stage at Impact Arena, Bangkok, Thailand.
"Today, Catriona is coming home. She is celebrating her roots – she is celebrating Albay! The prominent and iconic Mayon Volcano is the penultimate inspiration for this creation," Mak said.
The designer recalled that according to tales, the volcano was named after a mythological character "Daragang Magayon" or beautiful lady.
Miss Philippines Catriona Gray brought the heat and the crown as she strutted with her sultry red evening gown in Miss Universe 2018 at the IMPACT Arena in Bangkok, Thailand. Source : The Philippine Star
Mak Tumang: 
: Fiery and Lovely Perfection
Today, Catriona is coming home. She is celebrating her roots – she is celebrating Albay! The prominent and iconic Mayon Volcano is the penultimate inspiration for this creation. It is dubbed as the 'perfect cone' because of its symmetric conical form. Folk tales have it that it was named after the mythological heroine 'Daragang Magayon' (Beautiful Lady). Despite its pulchritude is the fact that it is the most active volcano in the Philippines erupting numerous times in the past half a millennium. Catriona can be considered as the modern-day Daragang Magayon. She embodies the Filipina's beauty, intelligence and burning passion. This lady is definitely on fire! Watch her erupt right before your very eyes and let the lava of grace, goodness and hope flow.
"Catriona can be considered as the modern-day Daragang Magayon. She embodies the Filipina's beauty, intelligence and burning passion," Mak said.
Mak also posted a screen capture of his chat with Catriona who was asking him for her gown's inspiration as early as March.
"I know it's super early, just wanted to research, hehe," Catriona said.
The volcano was named after the mythological heroine "Daragang Magayon" (Beautiful Lady) according to local folk tales
"She embodies the Filipina beauty, intelligence and burning passion," as posted on the Instagram page.
The Philippines' bet won the admiration of historians when she showed the effort and research that went behind her costume for the national costume competition.
Catriona "brought" the entire Philippines when she donned her costume inspired by the Philippines' parol.
Source : The Philippine Star
3. "THREE STARS AND A SUN" EAR CUFF, A PATRIOTIC EARRINGS OF MS. UNIVERSE QUEEN CATRIONA GRAY
Her journey to bring home the Miss Universe crown was sealed with Gray wearing another one of her designs created by by Tessera Jewelry. Her fans were not surprised when she wore a familiar patriotic ear cuff on the most important night of her pageant career. But it was different from what she wore when she was crowned Miss Philippines — ultimately better and flashier.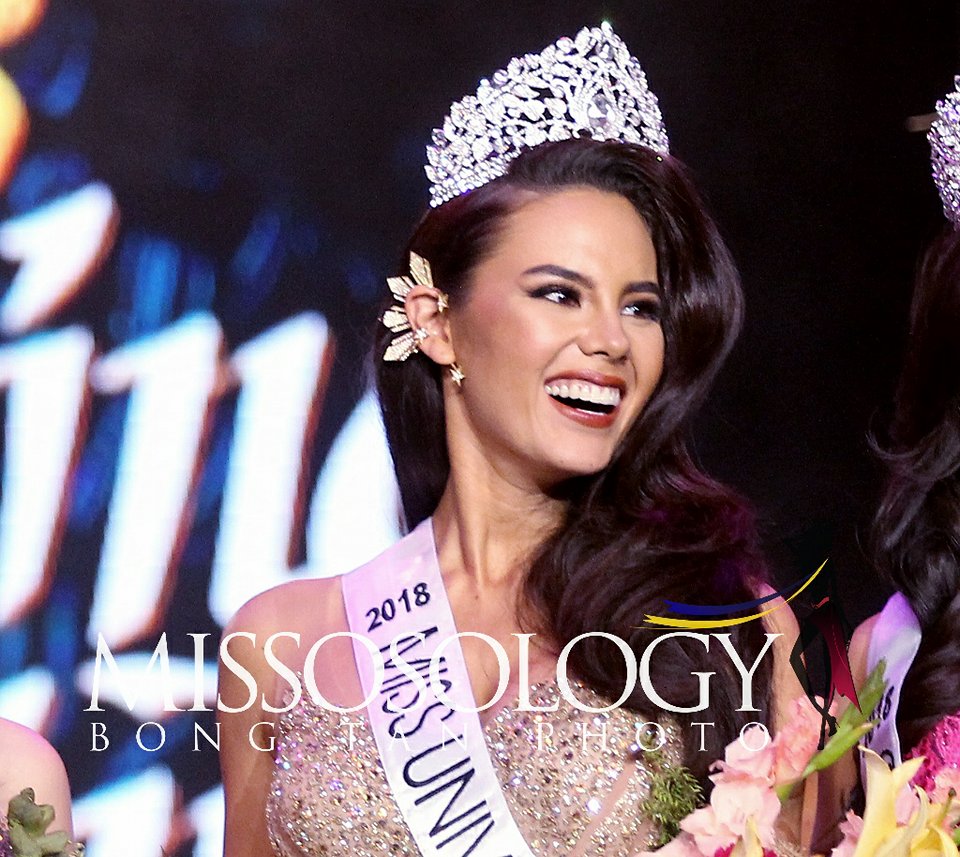 Image credit: Missosology
The "Alab at Dangal" earcuff is made of gold with the rays studded with diamonds and rubies. It has two stars and another one dangling off the cuff. Her earlobes were adorned with golden pearl studs with the same details.
The creative beauty queen took cues from the symbolism found in the Philippine flag. The gold cuff named "Three Stars and a Sun" that was covered in white crystals hugged her ears.
 Image credit: Paddylast Inc
Here's what you've all been waiting for. Introducing, ALAB AT DANGAL patriotic earcuff by CATRIONA GRAY for TESSERA JEWELRY. Made of gold, studded with diamonds and rubies with golden south sea pearls. The pride of every Filipino. Congratulations to our Tessera Queen X Miss Philippines X Miss Universe  
Gray's touch of patriotism via an earcuff during the Evening Gown Competition became a trending topic online; it is, she said, 'An ode to our beautiful .
SOURCE: CNN Philippines 
4. PEARL OF THE ORIENT EARRINGS 
Since then, the universe took notice of her accessories that highlighted her love for the country.
During the preliminary competition, the 24-year-old Filipino-Australian beauty once again wore her own creation. The earrings had a sun with three golden pearls and precious stones dangling from it, aptly called "Perlas ng Silangan or Pearl of the Orient."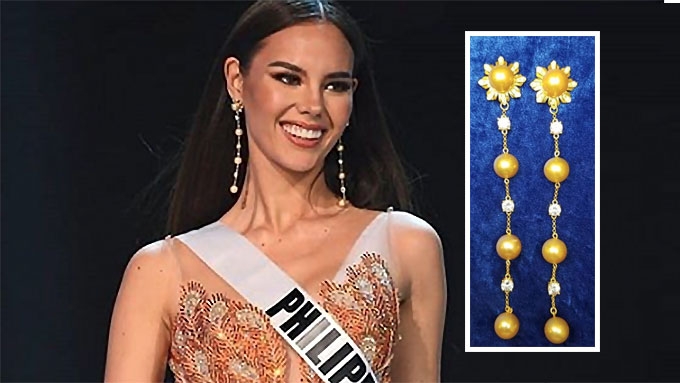 Catriona Gray designed the earrings she wore at Miss Universe 2018 prelims SOURCE: PEP.ph
The earrings swayed perfectly as she did her "lava walk."
Cheers to another patriotic jewelry designed by our very own @catriona_gray  Introducing, PEARL OF THE ORIENT dangling earrings. This dangling earrings were inspired by Philippines' popular title "The Pearl of the Orient/Perlas ng Silangan". Let us all give our continuous love and support to our Ms. Universe, Catriona Gray. We're all very proud of you and we will always have your back ☀️ CATRIONA X TESSERA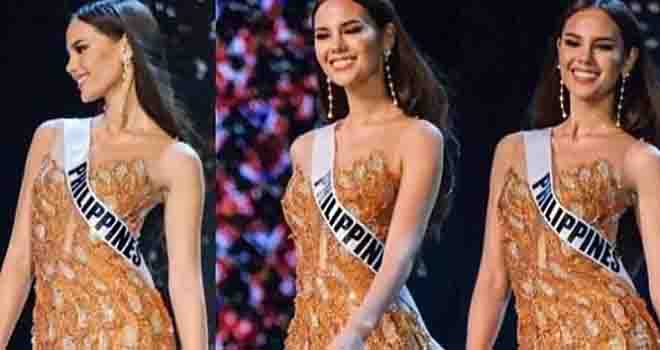 Catriona Gray has been trending online ever since she showed off her 'lava walk' and 'slo-mo twirl' at the #MissUniverse preliminary competition.. Image credit: ShowBiz Chika
SOURCE: CNN Philippines
LOOKING BACK FOR ROGUE
Catriona was alone in the Philippines. Her parents were in Australia and she missed them. For Mother's Day, she uploaded a few cover songs onto Soundcloud. The Philippines took notice, as only a celebrity-obsessed all-singing-all-dancing nation could do. "My first gig was in Saguijo, my second gig was at Privé. The third was at Bench Universe, [the fashion show.] In my underwear." Her voice, that fine contralto, rises in panic. "I was shitting myself!"
Cat, a professional model, all five feet ten inches of her, is still seized by a childlike disbelief at both her luck and her situation. To sing in front of 25,000 people for two nights in a row was an "awesome thing to put on a resumé," even as she punctuates the story with an accented yet colloquial 'Da fuck?!'
Bench Universe was her first underwear fashion show, and her inclusion in it confused her. "I'm a toothpick. I don't have curves and I don't have a shape, and I was going to sing in front of so many people in my underwear?" It wasn't even just underwear—it was a bikini with a mesh bottom through which 25,000 people could see her "bum hanging out." She had begged her then-manager for an alternative before finally grabbing an enormous black cape. This teenager, who wore bare the seat of her mother's overalls while "dragging [her] bum" through caves in Australia, whose face graced Pond's beauty cream commercials as well as the now world-famous Pantene #WhipIt TVC, was self-conscious about putting her derriere on view. "I don't mind if I'm modeling," she says about her self-proclaimed toothpick body, "but if I'm singing, that's a whole different thing."
Yet, for all that power, no one knew who she was. "I was getting tagged on YouTube as Georgina Wilson," she laughs, embarrassed for Georgina, embarrassed for the general burden of beauty, knowing that her presence at a microphone can't be justified by her face alone.
The cut from her Bench performance is on her Soundcloud account; it's a glitchy darkwave version of Christina Perri's "Jar of Hearts." Cat's voice is lower than Perri's, much stronger, turning the pop song into a choral anthem, an accusation.
She speaks dreamily of gigs "where you can do where you want to do." Beset by requests for Zedd's "Clarity" at Hyve, she admits that "No, I can't sing that, not even if I wanted to." She did, however, perform Florence and The Machine's "Dog Days Are Over" at Republiq, simply because—with her steady range and full round vocals—she can.
What Catriona can and cannot do, however, depends less on the situation than on her own steam. "I didn't want to be a model," she says bluntly, "but I told myself, 'I can.'" Raised as an only child in Cairns, the port of the Great Barrier Reef, by a doting mother and a father who bristled with survival skills from the Vietnam War, Cat was outdoorsy in a manner only Australian children can be. Despite being terribly uncoordinated with sports, she uses three reallys when measuring how great it was to grow up in the bush, and ticks off the classes she took in her outdoor recreation course: kayaking, canoeing, rock climbing, abseiling, navigation. "I conquered a lot of my fears and pushed a lot of my boundaries," she says, adding sadly, "I hate the city. I feel very lethargic here."
Traffic, smog, and unending noise weren't the only elements working against her in Metro Manila. She had to leave behind her first love, and move into an apartment with three male models. Her friends back in Australia thought it was an opportunity. "How you could not be attracted to them?" Cat mimics. "They're walking around in their fucking boxers and shit!" But for Cat her heartbreak was pure and her living situation full of disillusionment. "It was so bad," she says, launching into a story how "one time, they broke the front door, so we had no security in our apartment."
She found herself becoming obsessed with thoughts of going back to Australia to study at a university. She had always loved school, and the difference between her planned path and her current one was suddenly thrown into sharp relief. "Modeling," she sighs, "you can't put that kind of energy into it." The chaos of Manila inspired in her an intense craving for the routine of education, and she found herself coming up against everyone who wanted her to keep pursuing work, even her own parents.
"I felt so unstable," she says, and here, to mark her turning point, the crescendo of a song, her voice rises to a gleeful fevered pitch: "But then! I realized! I could study here and work here too!" The relief at her revelation flooded her. It floods her even now, as she tips her head back happily. "I felt like I saw God."
Cat moved out of the model apartment to live on her own. Frustrated with the slowness of working under an agency, she went freelance and her career sped up accordingly, and while she had a heartbreak playlist ("I'd feel sad and I'd want to feel worse, so I'd listen to fucking Taylor Swift and everything.") she decided that "once I felt shit enough I'd have the momentum to feel better."
She did begin to feel better, but it was a slow burn. She ditched Swift for Ella Fitzgerald and continued to cover songs with the instrumentation of Brigada's percussionist and musical jack-of-all-trades Enrique de Dios. "He has a keyboard, a guitar, and he uses a loop," Cat says matter-of-factly. "He's brilliant." On her Soundcloud, she covers Rihanna right next to Sara Bareilles, and her take on Adele's "Set Fire to the Rain" is gracefully darkened by its musical bed: Daft Punk's "Something About Us."
As unconventional as Cat's choices have been, some of her decisions have surprised even herself. "I swore I'd never date a male model," she laughs, discussing her current beau, "but our first kiss was at [a TVC] casting." More than a model, however, her boyfriend is a health buff. Their dates are to the gym, which Cat initially hated. "He said, 'I'll train you,' and I said, 'May the Lord be with you.'" Yet surviving weights and water fasts was nothing compared to all Cat had already been through, and she soon found herself calling him her life coach.
Thus run Catriona Gray's days: trips to the gym, home-cooked meals, modeling jobs that won't let her leave the country, and a masters certificate in Music Theory from Berklee. "Childhood living is easy to do," she croons on a Rolling Stones cover, even as she proves herself wrong. "I feel very grandma," she says, indicating her tame social life, seemingly unaware of how far she's come on her own gumption and gall. Where, though, is she headed?
"Hawaii," Cat says happily. There she'll meet up with her family—Breaking Bad recaps and her parents plus a gaggle of "cackling Filipinas" she counts herself part of. Without irony or guile, the 19-year-old turns to me and says, "I'm excited to feel like a kid again.
This article was originally published in the January – February 2014 issue of Rogue.
Photographed by Mark Nicdao
Styled by Pam Quiñones
Makeup by Robbie Piñera
Hair by Celeste Tuviera
Photographer Assisted by James Bautista, Philip Nicdao, Chris Soco and Egoy
Stylist Assisted by Cath Sobrevega and Mel Sy
SOURCE: Rogue PH