Family confirms death in Switzerland after bout with cancer of British actor who played the iconic spy in seven films.
Roger Moore at 89
SIR ROGER MOORE
JAMES BOND FRANCISE
Roger Moore grew up to become James Bond and The Saint – as one of the most successful actors of his generation.
Moore played a few small roles in theatre and films before his mandatory army duty, then moved to Hollywood in the 1950s.
In 1954, he appeared opposite Elizabeth Taylor in The Last Time I Saw Paris and with Eleanor Parker in Interrupted Melody the following year.
Beginning with Live and Let Die in 1973,he triumphed with a performance which skilfully blended strength with humour.
Six more Bond films followed over the ensuing 12 years – The Man with the Golden Gun, The Spy who Loved Me, Moonraker, For Your Eyes Only, Octopussy and A View to a Kill over the next 12 years.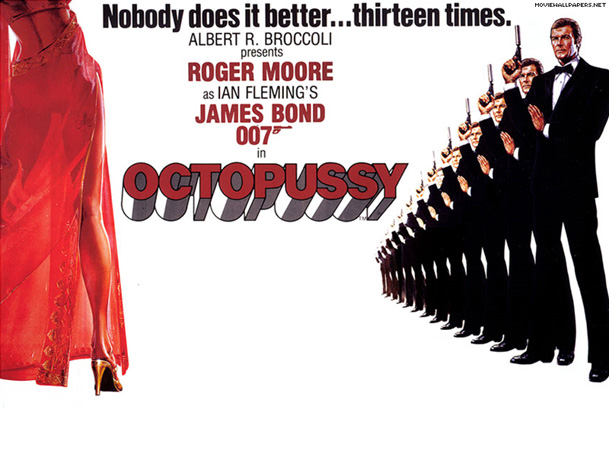 And while the Bond of the Ian Fleming novels that the films were based on was generally described as being in his 30s, Moore would stay with the role until he was 57.
He continued to work regularly in films after handing over Bond to Timothy Dalton, but never with the same success.
His post-Bond films included such forgettable efforts as The Quest with Jean-Claude Van Damme and Spice World with the Spice Girls.
His James Bond was light-hearted, more so than any other official actor to portray the character. He often portrayed 007 as somewhat of a playboy, with tongue firmly in cheek, but also as a very capable and seasoned detective.
He made a number of other films but discovered the cinema-going public could not always accept a change of image. In some cases, heroes were meant to remain heroes, he once said.
During his 1980s, the actor appeared only occasionally in film or television, notably as Lord Edgar Dobbs in The Quest (1996) and an episode of the American TV series Alias in 2002.
In 1989 he was invited by Andrew Lloyd Webber to star in his new musical, Aspects of Love. Despite grave doubts, Sir Roger agreed to accept the part after much persuasion by Lloyd Webber.
But six weeks before the musical was due to open in London's West End, he withdrew because he felt his singing was not up to the role.
It was a courageous act and done, as usual, with the full support of his close family.
Despite having made millions through his film and television career, friends stressed he was one of the most modest and charming actors in the business and all that really mattered were his wife and family.
In 1999, the star was created a Commander of the Order of the British Empire (CBE), and a Knight Commander of the Order of the British Empire (KBE) on June 14, 2003.
The citation on the knighthood was for his charity work, which has dominated his public life for more than a decade. Sir Roger said that the citation "meant far more to me than if I had got it for acting… I was proud because I received it on behalf of Unicef as a whole and for all it has achieved over the years".
Sir Roger was the longest-serving actor to play the womanising MI6 agent, having portrayed 007 in seven films.
Last year during a question-and-answer session at London's Southbank Centre, he admitted that, despite winning the coveted role of the martini-swirling spy, one part he wished he had landed was Lawrence of Arabia.
He said: "I remember Bob Baker and I going to see Lawrence of Arabia and coming out both being very depressed and saying 'We might as well give up the business', because they had made the best movie that had ever been made."
At the end of A View to a Kill in 1985 he decided to hand back his licence to kill. "I realised that jumping around with bullets and bombs in my middle-fifties was really daft," he said.
He spent twelve years in the role (from his debut in 1973, to his retirement from the role in 1985), and made seven official films. He was also the oldest actor to play Bond: he was 45 when he debuted, and 58 when he announced his retirement on December 3, 1985.
Sir Roger himself was quoted in the press as saying that he felt embarrassed to be seen making love scenes with beautiful actresses who were young enough to be his daughters.
UNICEF ROLE
In 1991, Moore became a goodwill ambassador for UNICEF, having been introduced to the role by the late actress Audrey Hepburn.
It was in 1983 that his life changed when filming his sixth film as James Bond in India. Shocked at the poverty in India, he became interested in the Third World humanitarian effort.
His friend Audrey Hepburn had impressed him with her work for Unicef, and consequently he became a Unicef Goodwill Ambassador in 1991. He was the voice of "Santa" in the Unicef cartoon The Fly Who Loved Me.
As Hepburn had, he threw much of his energy into the task.
"I felt small, insignificant and rather ashamed that I had traveled so much making films and ignored what was going on around me," he said in describing how the work had affected him.
Moore received the Dag Hammarskjold Inspiration Award for his work with UNICEF and was named a commander in France's National Order of Arts and Letters in 2008, an award he said was worth "more than an Oscar".
That same year he published an autobiography, My Word Is My Bond, which included details about his work on the Bond films, his friendship with Hepburn, his encounters with Cary Grant, Frank Sinatra, Elizabeth Taylor and other stars, and his health struggles – including a bout with prostate cancer, which he beat.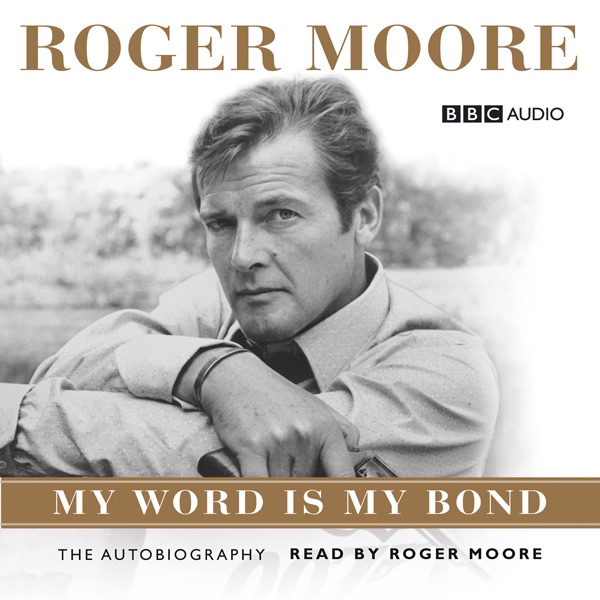 BOND'S GIRLS
Sir Roger Moore dies leaving his fourth wife Kiki – a look at the James Bond actor's colourful love life
The movie star was married four times and claims he suffered domestic abuse as the hands his first two wives
The James Bond star, who died today following a short battle with cancer, married four times and claimed he suffered domestic abuse as the hands his first two wives.
WHO WAS SIR ROGER'S FIRST WIFE?
In 1946, at the age of 18, Sir Roger Moore wed fellow RADA student Doorn Van Steyn , who was six years older than him.
Their short marriage was incredibly turbulent and Roger claimed she hit him with a teapot, scratched and punched him and once even punched his doctor as he tended to her husband's slashed hand.
Speaking to Piers Morgan on his Life Stories TV show in 2012, he said: "It made a change because normally she punched me."
"She would scratch me. She threw a pot of tea at me. I'd been sunbathing in the garden, I came up and I'd taken off my pants and I gave her some smart Alec answer and this teapot came hurtling at me. I said, 'Right, that's it, I'm leaving'.
Roger said his first wife Doorn Van Steyn was abusive and once threw a teapot at his head
"She storms off out of the room and I hear the bath running. I thought, 'What a cow, I'm leaving her and she's having a bath'.
"So I smashed the bathroom door open and she had all my clothes in the bath and said, 'Now leave me'. I waited for them to dry. The marriage was doomed."
Moore left Doorn – real name Lucy Woodard – in 1953 but said he had to pretend to have a fling with a friend's wife to get a divorce.
WHAT HAPPENED WITH HIS SECOND WIFE DOROTHY SQUIRES?
Shortly after his divorce, Roger married Welsh singer Dorothy Squires, who he had met the previous year.
Squires was 13 years his senior and after their wedding in New York in 1953,  they moved to the US to pursue their acting careers.
However, there were tensions in their marriage due to the age difference and they moved back to the UK in 1963.
Squires suffered numerous miscarriages during their marriage and Moore admitted things could have been different between them if they'd been able to have children.
Moore also claimed Squires was abusive during their relationship and even smashed a guitar over his head.
He told Piers Morgan: "There was a confrontation. I remember, to avoid confrontation, I used to strum the guitar and one day I was sitting on the edge of the table strumming and she was ranting on about something and I wasn't taking any notice.
"Next thing I know, it was like slow motion, I could feel the guitar coming out of my hands and I could see it up above my head and… bash, it came down. She ruined the guitar. She had a great temper."
Moore also claimed she threw a brick at him when she discovered his affair with Italian actress Luisa Mattioli, who went on to become his third wife.
Roger Moore tells Terry Wogan about playing James Bond in amazing TV interview
He said: "She threw a brick through my window. She reached through the glass and grabbed my shirt and she cut her arms doing it…The police came and they said, 'Madam, you're bleeding' and she said, 'It's my heart that's bleeding'."
Squires found letters from Luisa to Roger and planned to include them in her autobiography but they won injunctions against their publication in 1977.
She unsuccessfully sued him for loss of earnings but Moore paid her hospital bills after she underwent cancer treatment in 1996 and when she died in 1998.
WHAT HAPPENED BETWEEN ROGER AND LUISA?
Roger left Squires for Luisa in 1961 while he was filming The Rape Of The Sabine Women in Italy but she refused to accept their split.
She sued him for loss of conjugal rights but he refused to return to her within 28 days as ordered by the court.
After seven years, Squires finally granted him a divorce and he married Luisa in 1969.
The couple had three children together, Deborah, Geoffrey and Christian.
HOW DID HE MEET HIS WIFE KIKI?
Moore and Luisa separated in 1993 and shortly afterwards he began a relationship with Swedish born Danish socialite Kristina "Kiki" Tholstrup.
The actor said being diagnosed with prostate cancer in 1993 was "life-changing" and caused him to reassess his marriage.
Luisa refused to grant him a divorce until they agreed on a £10million settlement in 2000.
Moore married Kiki in 2002 and described her as "organised, serene, loving, calm" saying: "I have a difficult life. I rely on Kristina totally. When we are travelling for my job she is the one who packs. Kristina takes care of all that." (The Sun)
SIR ROGER MOORE DIED AT 82
A statement was released today on the James Bond star's Twitter account by his family.
It read: "With the heaviest of hearts, we must share the awful news that our father, Sir Roger Moore, passed away today. We are all devastated."
Actor Sir Roger Moore, best known and the longest-serving actor to play the iconic British spy James Bond, has died aged 89, his family has announced.
He played the famous spy in seven Bond films including Live and Let Die and A View to a Kill.
Sir Roger's family confirmed on Tuesday the news on Twitter, saying that "our father, Sir Roger Moore, passed away today". He had died after "a short but brave battle with cancer".
"We are all devastated," the message said.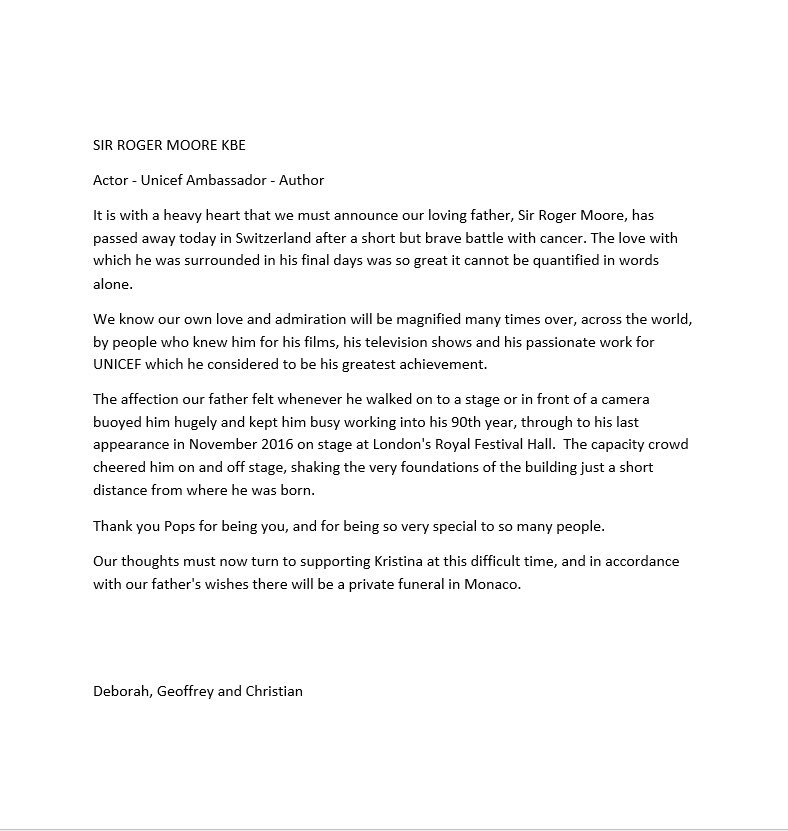 The statement, from his children, read: "Thank you Pops for being you, and being so very special to so many people."
"With the heaviest of hearts, we must share the awful news that our father, Sir Roger Moore, passed away today. We are all devastated," they said in a Twitter post.
The actor took the character of James Bond in a more humorous direction than his predecessor Sean Connery.
ROGER MOORE'S QUOTES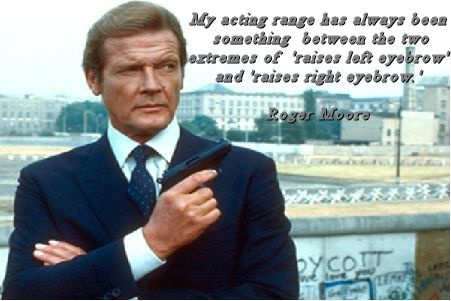 SOURCE:
Mirror
Google
ALJAZEERA
BBC