Goodwood is a name which is synonymous with the world of motor sport. It possesses a history dating back to the 1930s.
S
The Goodwood Festival of Speed is the largest motoring garden party in the world – a unique summer weekend that brings together an impossibly heady mix of cars, stars and motor sport 'royalty' to create the largest car culture event in the world. Held in the immaculate grounds of Goodwood House, this annual Hillclimb event is a true celebration of motor sport and all things automotive.
In picture: Goodwood sculptures. In 1997 Ferrari built an Italian garden featuring one of its cars suspended from a Roman arch complete with polystyrene 'foundations' 
The Goodwood Festival of Speed began in 1993 when Lord March was initially refused planning permission for the Goodwood Circuit. Twenty years on, it is working with a platform called StoryStream to take it into the digital age.
In 2013,British Grand Prix showcased everything that's captivating about Formula 1 – the speed, the competition, the risks, the technological battle and the inevitable glamour.
But the abiding criticism of F1 as it makes its way across the globe is that 'the show' has evolved for the participants' benefit instead of the paying public. High ticket prices, combined with restricted access and little opportunity to get up close to the cars and drivers have made it a spectator sport for only the committed… and the monied.
However, as Formula One has pursued an ever more commercial path, an annual event in West Sussex has grown a global reputation for unrivalled fan access and engagement. As an estimated 110,000 spectators poured into Silverstone, down 27,000 after last year's sodden debacle, the annual Goodwood Festival of Speed, sponsored in part by The Telegraph, attracts 185,000 people. The figure that could be more, but is capped to preserve the visitors' experience.
The event takes place next week and is celebrating its 20th year after Lord March's plan to revive racing at the Goodwood Motor Circuit was stymied by the initial refusal of planning permission. Instead he decided to run racing cars up the drive in front of his house, Goodwood House… and the Goodwood Festival of Speed was born.
Two decades on, the four-day Festival attracts the aforesaid 185,000 visitors and covers motoring from 1885 to the present day, with Formula 1 teams and current supercars vying for attention with iconic racing cars from yesteryear.
Ferrari at the Goodwood Festival of Speed
Goodwood Festival of Speed 2015
The Goodwood Festival of Speeed's theme will be "full throttle – the endless pursuit of power"
Fireworks light up the night behind the stunning Gerry Judah-designed Central Sculpture celebrating Mazda's motorsport heritage
Toyota-GT86-for-Goodwood-Festival-of-Speed-2015 
Goodwood Festival of speed 2014
Festival Speed 2014 : The theme for the 2014 Goodwood Festival of Speed is 'Addicted to Winning – The Unbeatable Champions of Motor Sport'.
360 degree views of the Goodwood Festival of Speed 2014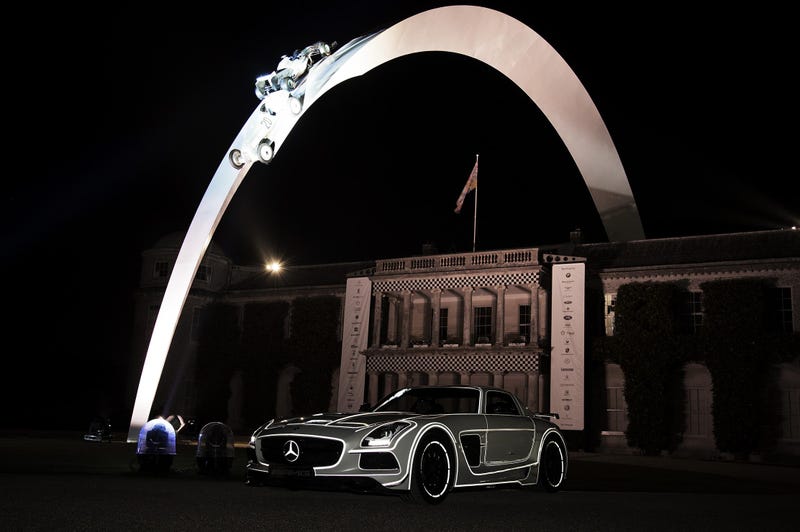 John Surtees, Ferrari 158, Goodwood Festival of Speed, 2014
Porsche 917K 2014
In 2013, coinciding with the 50th anniversary of the 911, Porsche gets the honor.
The organizers of the festival have commissioned the Landon based artist Gerry Judah to create a sculpture for Porsche that represents speed and dynamism. The result is a spectacular gravity defying work which incorporates three actual 911 Porsche cars in an arial acrobatic display. The installation which an airforce flyby is 35 metres high and weigh over 22 tones. 
Gerry Judah, sculpture for Porsche at the Goodwood Festival of Speed 2013. Photo David Barbour
A trio of Bluebirds  on display at Goodwood Festival of Speed 2013
Malcom Campbells Bluebird V LSR is being shipped from Daytona International Speedway to Goodwood. It is the first time since the 60s that the Bluebird V and Donald Campbell's Bluebird CN& LSR will be seen together.
Veuve Clicquot will be sponsoring the champagne for the overall prize-giving and 'The Fastest Lady Driver' at the 2013 Goodwood Festival of Speed Photo:
Mercedes-Benz is celebrating 120 years of participating in motorsport. Gerry judah arches mercedes-benz sculpture at goodwood festival of speed. Mercedes-Benz is celebrating 120 years of participating in motorsport. And they're doing it in a way that's about as subtle as the S-Class Coupe — with a nearly 300 foot arch over Goodwood House with two race cars driving on it.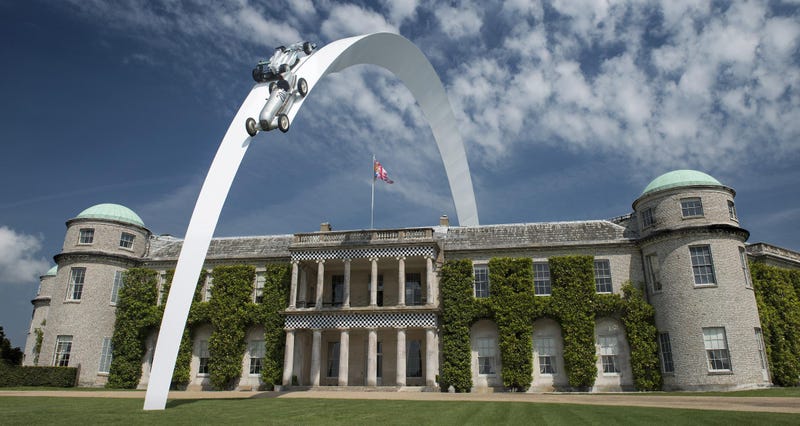 Lotus Sculpture, Goodwood Festival Of Speed 2012 / by Gerry Judah
GOODWOOD FESTIVAL OF SPEED – MEMORIES
Remembering that one time we went to Goodwood Festival of Speed, 2011
The main focus of the 2011 Goodwood Festival of Speed event was Jaguar who were celebrating 50 years of the E-type.
To mark the occasion there was a huge 28 metre metal sculpture of an E-Type Jaguar, created by Malcolm Sayer.
The Jaguar sculpture was erected on the lawn in front of Goodwood house where everyone, including us, seemed to be crouching down into unnatural and awkward positions hoping to take a good photograph of it.
The statue made by Alfa Romeo for the 2010 Goodwood Festival of Speed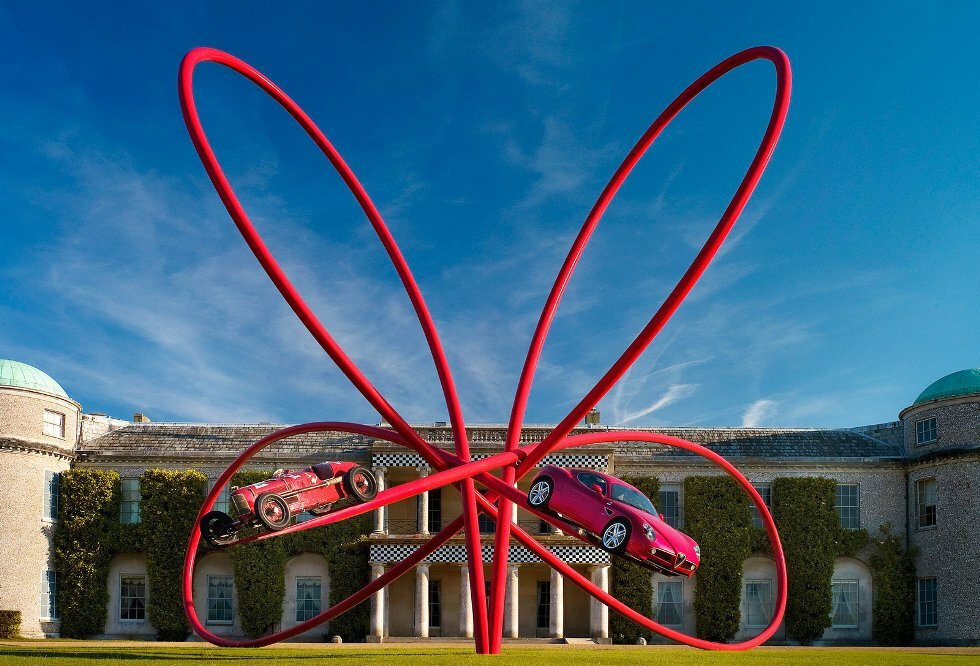 Goodwood Festival of Speed Sculpture  Gery Judah,Audi 2009
Land Rover sculpture at Goodwood Festival of Speed 2008
Land Rover celebrated its 60th anniversary in 2008, creating one of the most ambitious and impressive sculptures ever seen at the Festival of Speed. Resembling a giant, inverted, man-made "rock" (again designed by Judah, as with all post-1998 sculptures) it paraded the marque's rugged off-road ability to the full – 40 feet above the ground
Toyota 2007: By 2007 Toyota was celebrating 50 years of motor sport success, and a procession of its racing cars was strung on vast structures resembling rugby goalposts
Renault was the featured marque again in 2006 and displayed a series of Renault and Renault-powered racing cars beneath this giant structure
In 2005 Honda used the Festival – and of course a new sculpture – to celebrate 40 years of grand prix success. Its installation was inspired by the Japanese tradition of kinetic sculpture and was the biggest yet. It consisted of six racing cars seemingly swaying in the wind on giant pivots, way above festival-goers' heads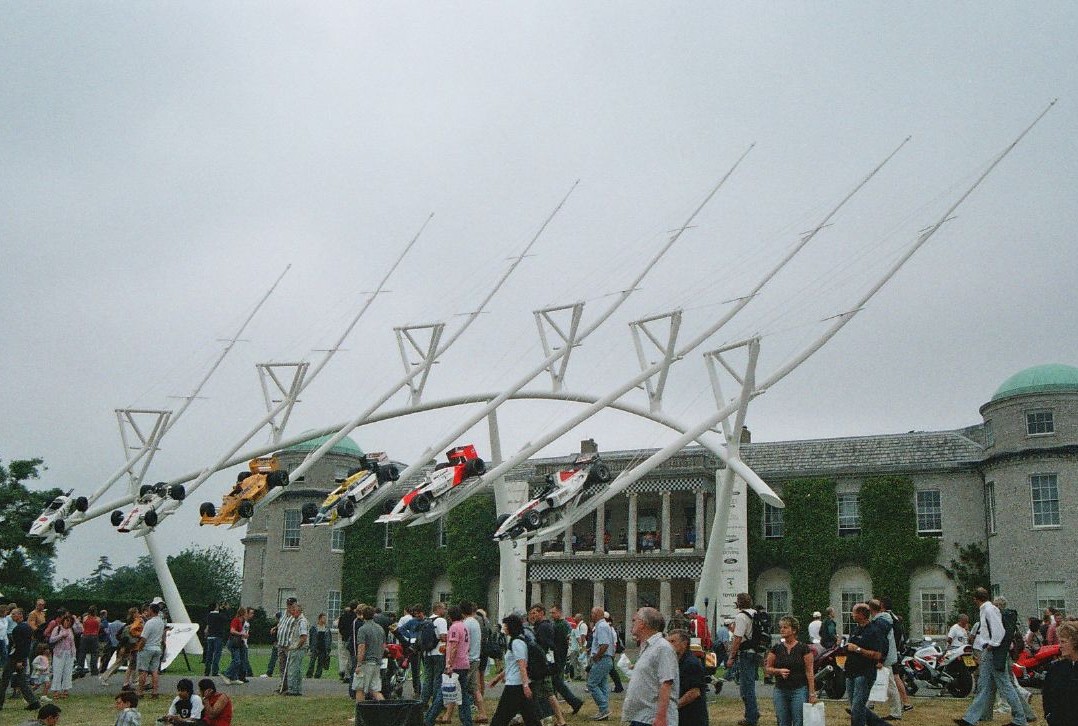 Gerry Judah's 2004 Rolls-Royce sculpture was more ambitious in scale than any that had gone before, and aimed to celebrate the brand's heritage in powering ground-breaking vehicles for use on land, sea and air
In 2003 Ford celebrated its 100th anniversary with the biggest sculpture constructed for the Festival up to that point. It featured three Ford GT40s scorching along a breathtaking silver 'racetrack' seemingly materialising from the blue skies above. In the foreground, Ford made a splash by displaying dozens of its most notable cars, tracing its illustrious history back to the Model T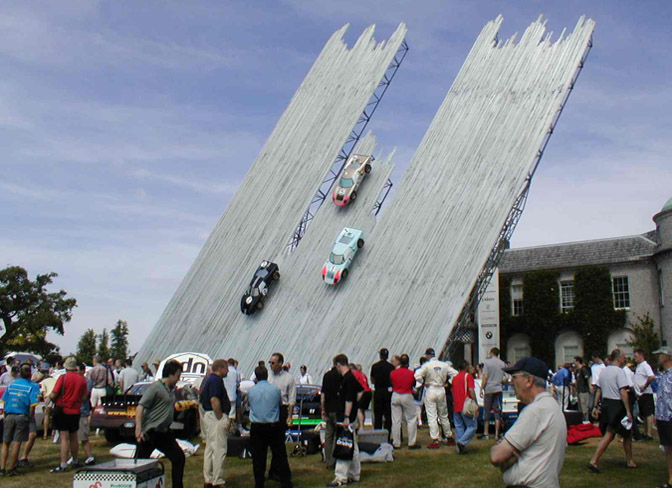 2002: Not to be outdone, Renault stole the show in 2002 by celebrating 100 years of grand prix success with seven of its racing cars held aloft on a giant white and blue 'feather'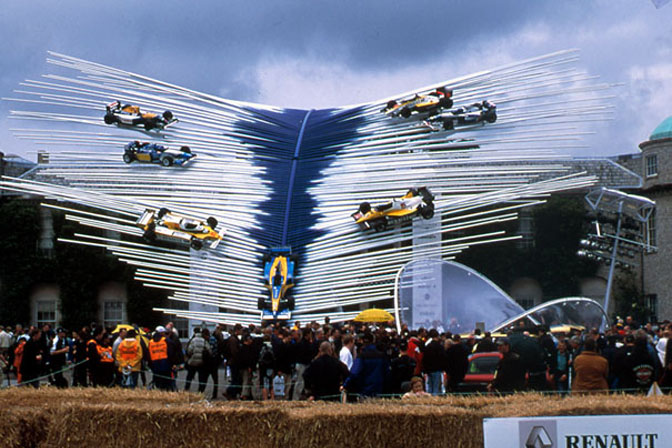 Mercedes-Benz took centre stage in 2001 with this dramatic Gerry Judah sculpture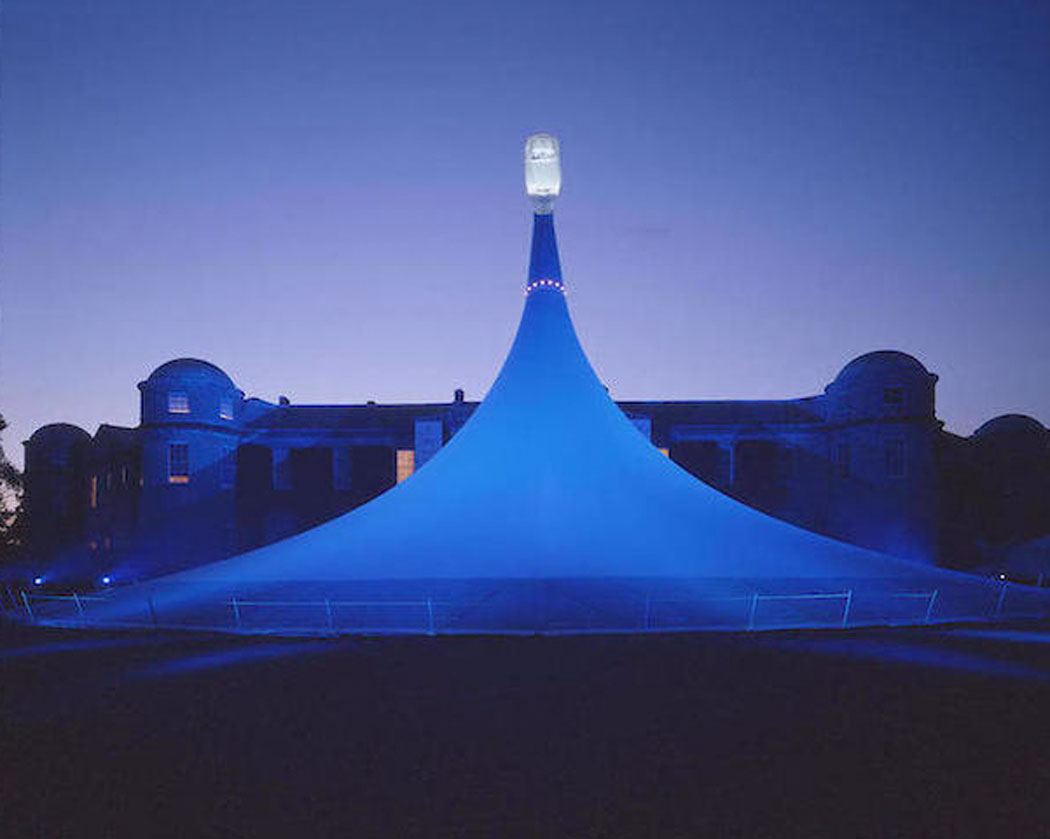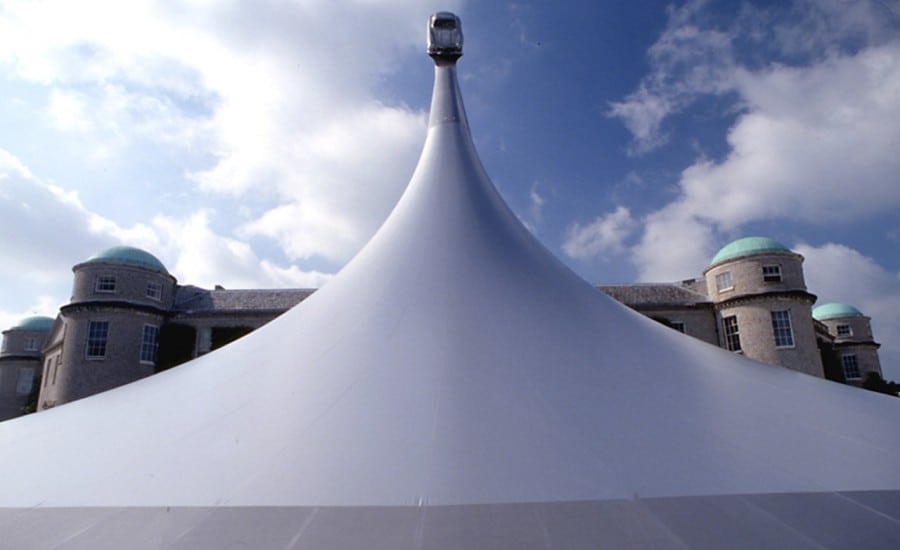 In 1998 Gerry Judah mesmerised show-goers with his inaugural Festival installation, featuring a clutch of Porsche racing cars dramatically 'impaled' on giant spikes. It was a fitting way for Porsche to celebrate its 50th anniversary
Audi followed in 1999 with a similarly dramatic, almost skeletal display resembling nothing so much as a section of a motorcycling wall of death, complete with models from the firm's past and a concept car representing its future
Temporary structure designed with Gerry Judah while at DMP, commemorating 100th anniversary of Ford. The sculpture depicting the 1966 24 Hours of Le Mans Ford GT40 Mk. II race and its famous finish. As the actual cars were on track, those displayed are replicas.
Alfa Romeo celebrated its centenary with a giant steel structure supporting a pair of its cars: a P2 and a 2003 8C Competizione
GOODWOOD FESTIVAL OF SPEED – MEMORIES
Remembering that one time we went to Goodwood Festival of Speed, 2011
The main focus of the 2011 Goodwood Festival of Speed event was Jaguar who were celebrating 50 years of the E-type.
To mark the occasion there was a huge 28 metre metal sculpture of an E-Type Jaguar, created by Malcolm Sayer.
The Jaguar sculpture was erected on the lawn in front of Goodwood house where everyone, including us, seemed to be crouching down into unnatural and awkward positions hoping to take a good photograph of it
Ferrari at the Goodwood Festival of Speed
SOURCES:
laurasdiatribe.blogspot.com
blog.vpn-autos.fr
motorpasion.com
pix-hd.com
telegraph.uk