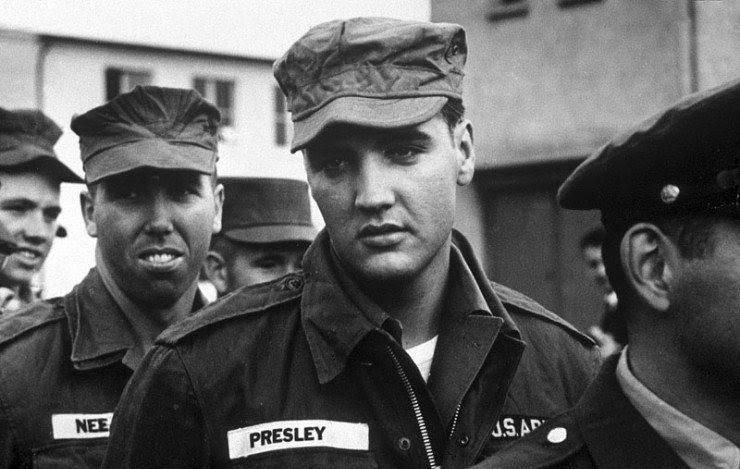 Elvis Presley: A soldier in Germany- a very distinguished US soldier began his military service in Germany. Elvis Presley was already a rock star by then. Though he couldn't perform during his service, he left behind many musical traces.When a young Elvis Presley disembarked on October 1, 1958, with a duffel bag slung over his shoulder, hundreds of mostly female fans offered the 23-year-old GI a warm welcome. At least since his first million-selling hit, "Heartbreak Hotel," German teenagers had also fallen completely under the King's spell.. Presley's military service in Friedberg lasted until March 2, 1960. Then he flew home and never returned. But he took at least one souvenir with him: the popular German folk song, "Muss I denn zum Städtele hinaus," which in Elvis' English version conquered the world as "Wooden Heart."..Elvis Presley died on August 16, 1977, but he lives on in Bad Nauheim and Friedberg. Every summer since 2002, the "European Elvis Festival" has been staged in his one-time home. Visitors from around the world celebrate the rock legend with Cadillac Corsos, Elvis impersonators and, of course, plenty of rock 'n' roll. Source: dw.com Image credit: twitter.com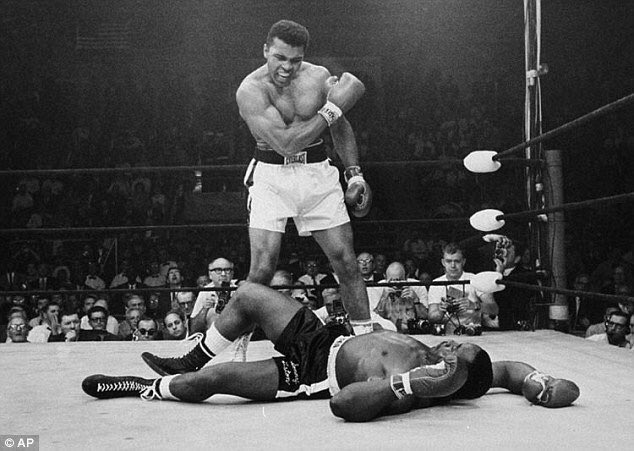 Muhammad Ali, the magnificent heavyweight champion whose fast fists and irrepressible personality transcended sports and captivated the world.He called himself 'The Greatest,' and to many he was not only the greatest boxer, but the greatest sportsman who ever lived. He died at 74.  Source: nbcnews.com Image credit: Twitter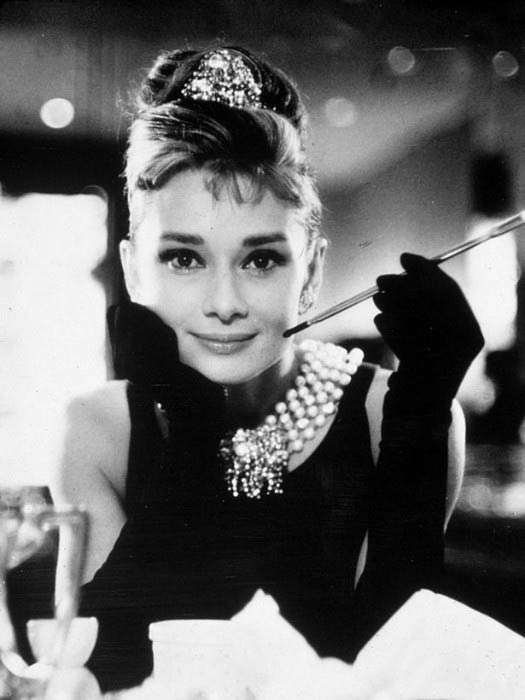 Audrey Kathleen Ruston , born name: Audrey Hepburn Movie (Breakfast at Tiffany's, With Cigarette) Poster 1961. She was best known for being one of the most popular film and fashion icons. Having starred in critically acclaimed and evergreen movies such as Breakfast at Tiffany's (1961) and My Fair Lady (1964). Her journey as one of the most loved actresses of the fifties and sixties was not easy. She lived through the Nazi occupations of Netherlands, which prevented her from realizing her dreams of ballet stardom due to the severe malnutrition she experienced.  At the end of German occupation, she was 16 years old and suffered from severe malnutrition, weighing just 88 pounds. She was also suffering from acute anemia, jaundice, asthma and edema. In 1995, the Empire Magazine placed her on #8 on the list of "100 Sexiest Stars in Film History". To honor her as an acting legend and for her humanitarian work, the US Postal Service released a 37 cent commemorative stamp in 2003. She was a chain smoker and used to smoke more than 3 packs in a day. She had a serious hydrophobia, which made it difficult to shoot some of the scenes in Two for the Road. The director had to place divers in the pool to convince her to shoot. She wasn't on social media. Source: healthyceleb.com/fashion.telegraph.co.uk  Image credit:  healthyceleb.com
Pablo Picasso and Françoise Gilot. France. August, 1948: Photographer Robert Capa (1913-1954) photographed famed artist Pablo Picasso with his once lover Françoise Gilot in 1948. Artist Pablo Picasso holding an umbrella above Françoise Gilot on the beach. The man in the background is Picasso's nephew, Javier Vilato. Françoise Gilot is the subject of Picasso's 1949 painting "Seated Woman," which is currently on view in the SDMA exhibit and was recently donated to the museum's collection. Gilot was with Picasso for close to 10 years and had two children with him. She later married Jonas Salk and has long worked on behalf of the Salk Institute. Françoise Gilot One of France's most celebrated artists and wife of the late Jonas Salk, Françoise Gilot will always be known as Picasso's muse.  Source:Magnum Photos Store/ icp.org/ kpbs.org/laundelles.wordpress.com/ kpbs.org Image credit: kpbs.org
Donald Trump was a regular at New York nightclub Studio 54. He is the subject of a BBC Radio 4 programme tonight (April 18), exploring how he ended up as a guest at infamous New York party spot Studio 54. The BBC summary reads: "Frances Stonor-Saunders explores how the young Donald Trump stormed into Manhattan from the outer boroughs in the late 1970s and headed straight for New York's most outrageous nightclub. "He didn't dance, didn't drink, and didn't take drugs. So what was he doing in the cocaine-fuelled hothouse of the disco revolution?" Anyone who's familiar with 1998 film 54 will know the United States president was a fan of the disco club, as he stars in the flick as a "VIP patron". Google search the terms 'Donald Trump' and 'Studio 54′ and you'll see photographic evidence of him there, too. It doesn't come as a much as a surprise as he was once an Ibiza raver. Studio 54 was a popular haunt for celebrities in the late '70s and '80s, with the likes of Michael Jackson, Andy Warhol, Cher, John Travolta, Madonna, Al Pacino and Grace Jones among the attendees. Source: mixmag.net
Tom Cruise, Top Gun: Aviator glasses or the most-selling style of sunglasses.  No accessory has been reborn with more impact thanks to an appearance in a movie than Ray-Ban Aviators. In 1986's Top Gun student fighter pilots layed by Tom Cruise and Val Kilmer competed to be best in their class. Their Aviator sunglasses sparked massive worlwide sales. Aviators have appeared in other films before and since: James Stewart wore similar style in The Spirit of St Louis (1956), Peter Fonda wore them in Easy Rider (1969)… but it was the film Top Gun that made them not only a classic, but also what is reputed to be the world's best-selling style of sunglasses. It was worn by the cast of Top Gun precisely because it was what fighter pilots wore, and still wear. The style was launched in 1929 after General MacCready of the US military commissioned a manufacturer to design eye protection for United States Air Force pilots that would offer a clear field of vision., and reduce glare from the sun -which was causing headaches- and the effects of ultraviolet and infrared radiation on flyers' eyes. The comminssion was effectively responsible for the Ray-Ban company being stablished. In 1935 the military designated the style it helped to create as the Type D-1; the first time Aviators went on sale to the public was in 1936, when Ray-Ban was formed. The original model had a plastic frame, so that no metal touched the faces of the ground crew working in subzero conditions (although it was later replaced by a gold-coloured metal one) and an antiglare lens in a distinctive green colour. It was not until 1941 that D-1 goggles were officially replaced by what were at last referred to as 'Glasses, Flying, Sun, Rose Somoke, Type 2′. Source: Vision Vintage Original Image credit: heroichollywood.com
 Top Gun Maverick Tom Cruise Joseph Kosinki Release Date – Deadline reports Paramount Pictures has slated Top Gun: Maverick to hit theaters July 12, 2019. Oblivion director Joseph Kosinski is set to helm the project. Kosinski will reunite with Tom Cruise on the sequel to the iconic 1986 action film about hotshot Navy pilots directed by the late Tony Scott. The new film will follow Maverick, now an instructor to a new generation of capable pilots.Maverick will match the same style and tone as the original film. Skydance CEO David Ellison and Jerry Bruckheimer, producers of the original return to produce the sequel with Cruise. Composer Harold Faltermeyer will also return to score the sequel. The return of Val Kilmer and whether or not the soundtrack will once again feature the music of Kenny Loggins remains a mystery. Kilmer has confirmed that he was indeed asked to come back to reprise his role as Iceman in the sequel, however, it has not yet been announced. Source: heroichollywood.com
Marlyn Monroe: File:Marilyn Monroe photo pose Seven Year Itch.jpg Source: commons.wikimedia.org The iconic actress would have turned 90 on June 1, 2016. -From the beginning, Marilyn Monroe—the iconic actress who would have turned 90 on Wednesday, was a "figure of fantasy," as TIME put it in a 1956 cover story. Her face and body jump-started her professional life, from her earliest days as a model to the calendar shoot that revived her sputtering career in 1949. But all along, Monroe wanted more. She wanted to be cultured, educated and respected for her craft. In the unbylined cover story, which was written by Hollywood reporter Ezra Goodman with the help of 33 reporters in 26 cities, TIME explored how Monroe's troubled youth as Norma Jeane Baker affected her psyche as Marilyn Monroe. "Norma Jeane was trained for nothing except laying on paint; her education was so poor that she could not even fake a cultural conversation," the story explained. "In public she was smothered by feelings of inferiority. In private she was swept by panics, anxieties and hallucinations. And yet, curiously, life in its deepest expressions was on Norma Jeane's side—perhaps had always been on her side. The sensitivity which made her feel so deeply the shocks of her childhood was countered by a set of instincts as solid as an anvil. She took blows that would have smashed many people, and she cracked a little, but she did not fall apart. And always there was that traffic-jamming, production-stopping hunk of woman that the scared little girl inhabited." As that "hunk of woman" began to earn her international fame, many in Hollywood saw her as nothing more than that. "That blonde can't act her way out of a Whirlpool bra," one of her directors told the magazine, anonymously. Acting had become her career, and a very successful one at that, but it was not a passion. Source: 1077thejewel.com Image credit: commons.wikimedia.org
Twiggy: TheiIconic face of the 1960s  – a fanatical opponent of Botox, she has never done and would not make an injection, which she considers harmful to the facial expressions and body. She is convinced that Botox turns people into monsters. At the same time, from a purely female spontaneity, the supermodel has nothing against plastic surgery. She is an advocate for a healthy lifestyle – she prefers healthy foods and likes to do exercises. Twice a week, Leslie goes to the gym or tap dancing classes. At the time, her father had strictly advised his growing daughters (Leslie has an older sister) not to consume alcohol. Source: Kaleidoscope effect 
The Beatles:  On Aug. 8, 1969, photographer Iain Macmillan had 10 minutes to take photos of The Beatles as they crossed the street on Abbey Road, St. John's Wood, London. Macmillan stood on a 10-foot step ladder placed in the middle of Abbey Road at 11:30 a.m. and took six pictures. Reuters reported on Thursday: "The most famous pedestrian crossing in popular music, outside Abbey Road Studios in north London, was designated a site of national importance by the British government. Beatles fans from around the world flock to the road to pose for photographs imitating the picture on the 'Abbey Road' album cover which shows Paul, John, George and Ringo strolling over the crossing."'This London zebra crossing is no castle or cathedral but, thanks to the Beatles and a 10-minute photoshoot one August morning in 1969, it has just as strong a claim as any to be seen as part of our heritage,'" said the UK minister of tourism. Source: printmag.com
David Bowie. As a man, a musician or an artist. Or sum up his life in a way that feels fully-realised or appropriate, something that correctly encapsulates all that he had done and given to the world. All that can be confirmed by the past day is that this was a man that in one way or another united us all. Made us feel like it was okay to be who we wanted to be, brought a loud bang of art and imagery and provocation to the mainstream, and radically shaped the modern world. It's evident in the universality of his renown, but also in how easily his music can be translated through different guises, and presented in different forms. And it always works. Listening to 'Rebel Rebel' morph into a Brazilian samba number sung entirely in Portuguese feels oddly perfect, just as much as the same song works so well as a slice of spooky-synthy British electronica. Bowie wasn't only a chameleon himself. His music was, too. David Bowie tracks into everything from bossa nova hits to Japanese horror punk to spooky electronica. To drive that home, Huck has compiled a rundown of the songs that have so casually slipped into varying languages, different genres, and strange new compositions. Some of it has even been taken to space. Source: huckmagazine.com 
Tom Hunks: "Life is like a box of chocolates … you never know what you're gonna get" – lines from Tom Hanks' 1994 film which sum up main character Forrest Gump's extraordinary life. Hanks became a household name after this movie grossed 677 million dollars worldwide and he won an Oscar. Source: The Telegraph ..Tom Hanks—celebrated actor, attentive husband, and father of four—turned 61 last July 9, 2014. But that's not to say he's getting ready to slow down. In a 2009 interview, Hanks told Parade, "I still view myself as a guy who gets bit by a bug and I have to go off and explore. I hope I'm not done—geez, that'd be depressing wouldn't it? I love being an actor. I love being a creative partner in any number of other films. I can't imagine a life in which I don't wake up every day and somehow try to figure out how to help somebody tell a story. So I always begin all over at square zero loving what I do." Source: parade.com Image credit:  The Telegraph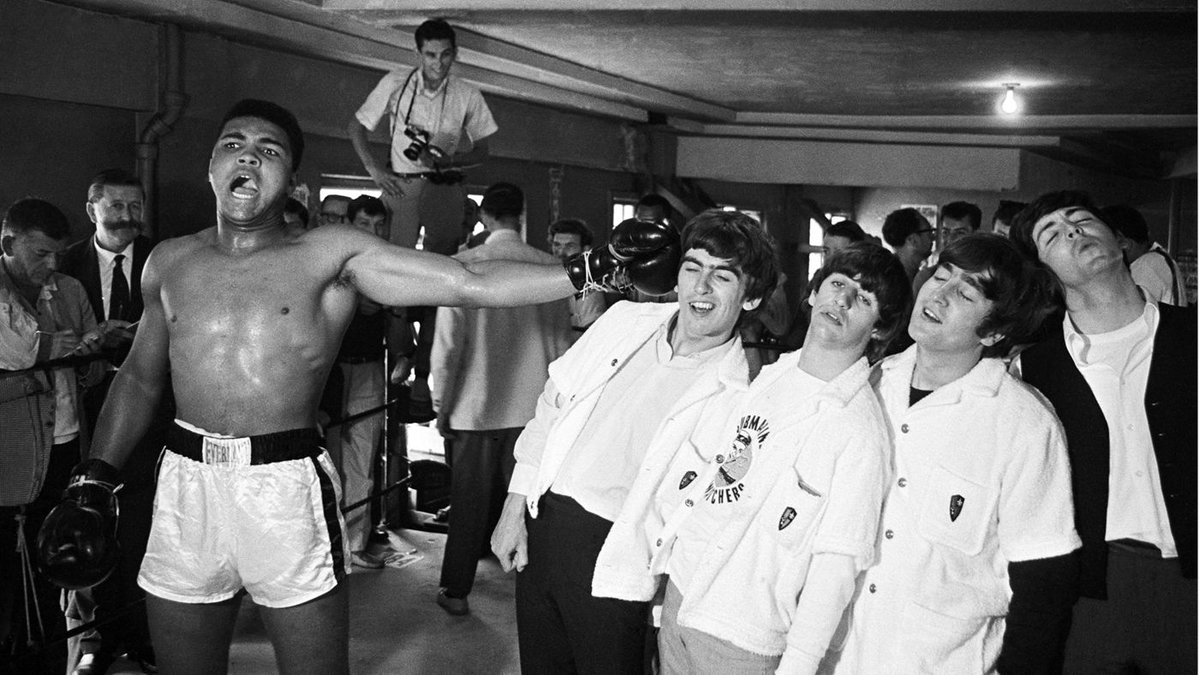 Muhammad Ali vs The Beatles by Chris Smith in 1964. Image  Credit: twitter.com Muhammad Ali was just days away from becoming Heavyweight Champion when he met up with the Beatles. … The Beatles had only been in America for 11 days when they found themselves herded into Miami Beach's 5th Street Gym for a photo op with a 22-year-old boxer named Cassius Clay. Source: rollingstone.com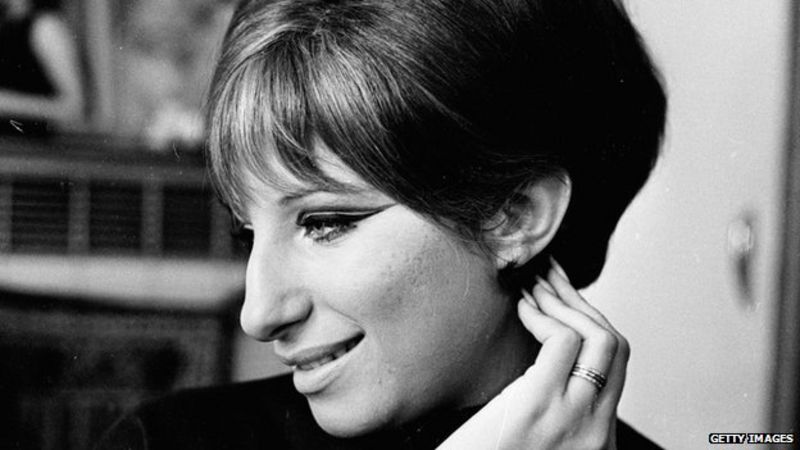 Barbara Streisand: Vreeland put Barbra Streisand on the cover of Vogue in 1966. Vreeland was known to push people's faults. "If you have a long nose, hold it up and make it your trademark," Vreeland said. Source: CNN.com  Singer Barbra Streisand becomes the first artist to score US chart-topping albums in each of the last six decades. The singer has amassed a total of six chart-topping albums in the UK across three decades – the 1970s, '80s and the first decade of this century. The album is a collection of classic songs with high profile singing partners, including Stevie Wonder, Josh Groban and Billy Joel, with whom she performs New York State of Mind. Source:bbc.com  Image credit: bbc.com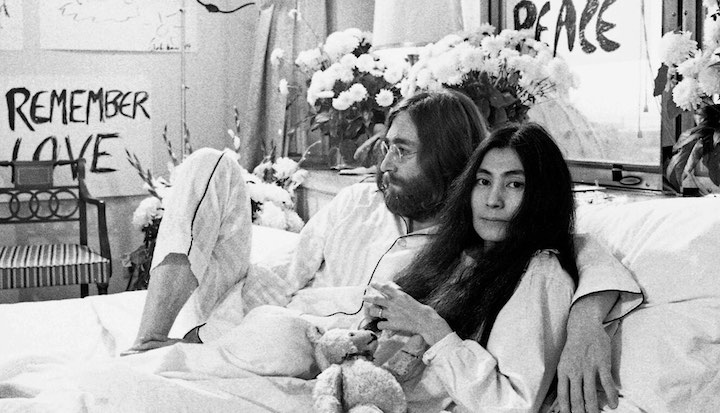 John Lennon & Yoko Ono stayed in the Amsterdam Hilton Hotel, room 902, for one week….. –Stay in bed"… "Bed Peace"… "Grow your hair".. These photographs are recently found again pictures from the collection of Nico Koster. Source: udiscovermusic.com Image credit: peterpappot.com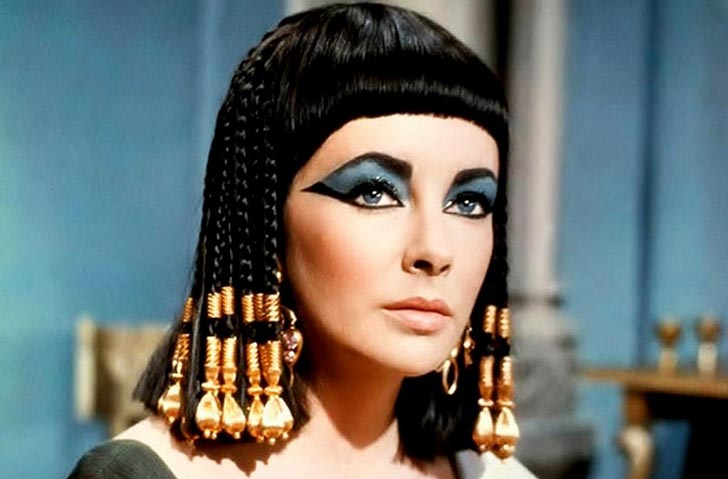 Elizabeth Taylor, Cleopatra,1963:  Cleopatra, the Ptolemaic Queen of Egypt whose story has captivated scholars and history geeks for centuries, ended her life in 30 BCE. Her legacy has played out on the big screen by countless stars. Cinema's version of the queen often emphasizes her exotic and lavish costumes, as any proper Hollywood spectacle would. Joseph L. Mankiewicz's Cleopatra was a lavish production and became the most expensive film ever made up to that point. Star Elizabeth Taylor was the talk of the town after becoming romantically involved with Richard Burton, her co-star, creating a tabloid frenzy. Taylor had a record-holding 65 costume changes in the movie. The budget for her opulent gowns (one made from 24-carat gold cloth) and headpieces was almost $195,000 — the highest ever for a single actor. Source: flavorwire.com  Image credit: twitter.com
At the right is Beyonce and at the left is Michelle Obama Image credit:  lgbtbulletin.com September 4, 2017 marked Beyoncé's 36th birthday, and some of the Queen B's nearest and dearest paid tribute to her by recreating one of her most iconic looks. Friends and family from B's mum Tina Knowles Lawson and her mother-in-law Gloria Carter, to her Destiny's Child bandmates Kelly Rowland and Michelle Williams, all posed in oversized hats and pigtails in a tribute to the video for 'Formation'. Even former First Lady Michelle Obama posed for a shot in the photo series that came out yesterday. serena Williams, a close friend of Beyoncé's who appeared in the video for 'Sorry' from Lemonade, also made an appearance. Source: lgbtbulletin.com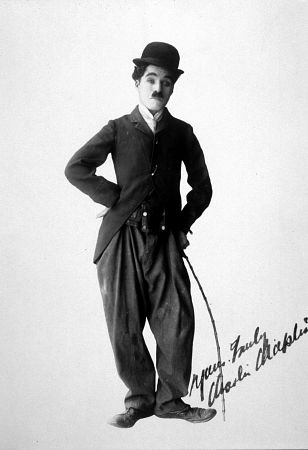 Not only was Charlie Chaplin the first world-famous film comedian, he is one of a handful of people from the silent era still remembered today by even casual movie audiences. From the Western world to Africa to China, he was a sensation. Since Chaplin is mostly remembered today for sentimental comedy, it's worth noting that when he was first becoming world famous in the 1910s, he was considered beneath middle-class sensibilities. Even the famous stylized walk he did as his Tramp character was characterized as "that nasty little walk" in a 1955 novel about perceptions of Chaplin around 1915. People even thought that Chaplin using a cane despite not needing it was debased because he might have used it to lift someone's skirt. It didn't help that, at the time, movies in general were considered a low-class, morally dubious form of entertainment. To be fair, Chaplin did do gags that even today seem a little base, and we're not just talking about slapstick. For example, in his 1918 film A Dog's Life, the Tramp's dog Scraps is digging a hole while the Tramp's head is near her hind legs. He looks over, gets disgusted by the smell, and lowers the dog's tail. Even in 1936, by which time Chaplin was in his more respectable period, the Tramp has a scene with a prison chaplain's wife where he's audibly trying not to fart and the gurgling of his stomach disturbs her dog. To be fair, such material is part of what made Chaplin's appeal at the time so universal. Source: listverse.com  Image Credit: twitter.com (1925 photo) 
Elizabeth Taylor (February 27, 1932 – March 23, 2011), often known as LizTaylor, was a British-American actress, businesswoman, and humanitarian. She began her career as a child actress in the early 1940s, and was one of the most popular stars of classical Hollywood cinema in the 1950s. Source: /en.wikipedia.org/wiki .. She was considered one of the last, if not the last, major star to have come out of the old Hollywood studio system. She was known internationally for her beauty, especially for her violet eyes, with which she captured audiences early on in her youth and kept the world hooked on with since. Source: imdb.com Image credit: Pinterest
Bob Marley: Robert Nesta Marley, OM (6 February 1945 – 11 May 1981) was a Jamaican singer-songwriter who became an international musical and cultural icon, blending mostly reggae, ska and rocksteady in his compositions. Starting out in 1963 with the group the Wailers, he forged a distinctive songwriting and vocal style  that would later resonate with audiences worldwide.  . Source:en.wikipedia.org .. Jamaican singer, musician and songwriter Bob Marley served as a world ambassador for reggae music and sold more than 20 million records throughout his career—making him the first international superstar to emerge from the so-called Third World. Source: biography.com  Image credit: Pinterest
Marlon Brando: The Godfather, 1972. "You come to me, and you say "Don Corleone, give me justice." But you don't ask with respect. You don't offer friendship. You don't even think to call me Godfather. Source: Pinterest
Michael Jackson 1958-2009:
His death stunned the world. Crippling several major websites services, as the abundance of people accessing the web, pushing internet traffic to unprecedented and historic levels. June 25, 2009. Source: 
Pinterest
Sophia Loren, Actress and Style Icon: "A woman's dress should be like a barbed-wire fence: serving its purpose without obstructing the view." – Sophia Loren Source: pinterest.fr .. Sofia Costanza Brigida Villani Scicolone known as Sophia Loren, Dama di Gran Croce OMRI is an Italian film actress and singer. She is an Academy Award-winning Italian actress and pinup beauty.
Marilyn Monroe and Sammy Davis Jr : Singer may be better known for their pre-war products, but the British car maker did put forth a concerted effort following the end of hostilities to make a go of it. In America, that included having Marilyn Monroe's curves compete with those of the SM1500 roadster in advertisements. No surprise, Marilyn won. A great shot of the famous blonde leaning on the Singer's fender while singer and Rat Pack staple Sammy Davis Jr. expresses his excitement for the car via an ebullient leap. Sadly, Singers never engendered that kind of emotion among enough buyers to remain independent, and in 1955 they were folded into the Rootes Group. Source: hooniverse.com Image Credit: Pinterest
Whoopi Goldberg: 1980's natural hair. Whoopi Goldberg (born Caryn Elaine Johnson; November 13, 1955 in New York City, New York) is an American actress, comedienne, author and talk show host. She made her movie debut in the 1985 period drama movie, The Color Purple for which she won a Golden Globe Award. Source: simple.wikipedia.org .. Image Credit: Pinterest
Al Pacino:  He was quiet, patient, and very deadly. His "Godfather" persona was so much more attractive than Sonny's. (James Caan).Tony Montana was crazy, ruthless and driven. That level of masculine power only surfaces if the man personifies it in real life. I totally agree with you, Pacino was pure FIRE. He intrigued audiences for more than 30 years. He's one of the GOATS: Greatest of All Time. Source: Quora Al Pacino once said, "My first language was shy. It's only by having been thrust into the limelight that I have learned to cope with my shyness." Source:  rcinet.ca Image Credit: Quora
Lee Jun-fan known professionally as Bruce Lee, was a Hong Kong and American actor, film director, martial artist, martial arts instructor, philosopher and founder of the martial art Jeet Kune Do, one of the wushu or kungfu styles. Lee was the son of Cantonese opera star Lee Hoi-chuen. Source: en.wikipedia.org …  Bruce Lee was a famous martial artist, movie star and cultural icon but his philosophy has caught fire around the world with a new generation seeking meaning and consciousness. He continues to teach us how to cultivate our truest selves and be in harmony with the world. Source: brucelee.com.. Bruce Lee remains the greatest icon of martial arts cinema and a key figure of modern popular media. Had it not been for Bruce Lee and his movies in the early 1970s, it's arguable whether or not the martial arts film genre would have ever penetrated and influenced mainstream North American and European cinema and audiences the way it has over the past four decades. Source: imdb.com… On jULY 20, 1973, the actor and martial-arts expert Bruce Lee dies in Los Angeles at age 32 from a brain edema possibly caused by a reaction to a prescription painkiller. During Lee's all-too-brief career, he became a movie star in Asia and, posthumously, in America Source: history.com Image Credit: pinterest.com