Jungle Justice, the Most Salient Sign of a Dysfunctional System
Jungle Justice. This isn't a word per say and doesn't have a definite definition but its a form of punishment. JUNGLE JUSTICE IS NO JUSTICE.  Justice can be defined as "Fairness in the way people are treated". It seems to be where people, precisely an irate mob,  take the law into their own hands and punish or beat someone for a crime they committed.
Jungle Justice 1:
Girl Stripped Naked For Cutting Her Friend's Face With Razor Blade
http://www.tayolawal.com/2013/09
Only in Nigeria can this happen…It happened in Benue State, Nigeria.We were told that the two girls fought over a sugar daddy. But a better source has said, it is not true, that the girls fought because one of them called the other her friend`s mother a prostitute. In order to retaliate, she cut her friend's face deeply with a razor blade. It was learnt that people who were passing by, who saw how deep the cut was, ordered the other girl to remove her clothes to serve as punishment for her. But when she refused, the men forcefully removed her clothes and stripped her naked.
It's so disgusting and this is unbelievable. What she has done is wrong, she shouldn't have used a razor blade on her friend. But men, is this the latest now? Whenever a girl steals, fights or misbehaves, instead of you to report her to the right authorities, you take the laws into your hands. You strip her naked just because you want to see her nakedness.
Jungle Justice 2
Egg-Blocker: Woman Set On Fire In Delta For Causing Barrenness In Other Women
www.360nobs.com/2014/05
A woman in Delta has been set on fire after being labeled a witch by the youths in her community.
Mama Philo, as she was known, was said to be the cause of many women's barrenness in the community, which led to youths to burn her.
This ugly incident took place in a community named Abala, just near Asaba.
According to one of the youths, "we set fire on her because she confessed to being a witch and being responsible for some women's barrenness. We cannot allow evil in this community hence, we set fire on her."
Jungle Justice 3
Villagers Lynch Rapist & Bury Him Beside His Victim
joshijoshiblog.wordpress.com/2013/06/08
Villagers in Bolivia's southern highlands buried a man alive in the grave of the woman he is suspected of having raped and murdered, an official said Thursday.
Police had identified 17-year-old Santos Ramos as the possible culprit in the attack on 35-year-old Leandra Arias Janco Sunday in a Quechua community near the municipality of Colquechaca, said Jose Luis Barrios, the chief prosecutor in Potosi province where the community is located.
Enraged, more than 200 community members seized Ramos and buried him alive alongside his alleged victim Wednesday night, according to Barrios. He said residents on Thursday blocked the road to the community, preventing police and prosecutors from reaching it.
A local reporter for an indigenous radio station, who would only speak on condition of anonymity for fear of reprisals, told The AP that Ramos was tied up at the woman's funeral. Mourners threw him into the open grave, placed the woman's coffin in it and filled the grave with earth.
Colquechaca is a town of 5,000 inhabitants located 207 miles (333 kilometers) southeast of Bolivia's capital, La Paz.
Also in Potosi, residents of the Quechua indigenous community of Tres Cruces on Wednesday stoned to death a suspected thief and burned his accomplice alive, Barrios said. The official said the two had earlier robbed a car and killed its driver.
Lynchings sometimes occur in rural and poor parts of Bolivia where police and other authorities are scarce.
– FoxNews
Jungle Justice 4
Shocking pictures of mob that broke into prison and dragged away alleged rapist and lynch him
http://www.mirror.co.uk/03/06/2015
A mob overran a prison in north eastern India, dragged away and lynched a man accused of rape, police said.
These shocking pictures show 'mob rule', as scores of people crowd round the bloodied and naked man in the street.
Many take pictures of the violence with their phone cameras while some can be seen pointing and smiling at the man being attacked.
Police Constable Sunep Aier said the mob overpowered security at Dimapur CentralPrison in Nagaland yesterday.
The crowd then seized the rape suspect whom they also accused of being an illegal migrant from Bangladesh and killed him.
In recent years, India has seen an outpouring of anger against sexual violence that is pervasive across the country.
Brutal Attack: An alleged rapist is dragged on a street by a crowd of Indian men after he was pulled out of prison and beaten to death in Dimapur
Jungle Justice 5
www.360nobs.com/2016/03/14
Mob Burns Innocent Man To Death Over N10 In Abuja
Daily Trust gathered that Chukwudi Orji, a friend of the deceased, Ikechukwu Anigbo, a barber had visited his barbing salon on Saturday. However, about 30 minutes after he left, Orji was said to have received news of violence involving some motorcyclists and at about 11p.m, he learnt that his friend, Anigbo was the victim of the violence.
Orji said "I saw the fire, but I did not know that someone was inside. There was smoke everywhere; there was no way you would have known that there was someone in the fire, except you were there or somebody told you about it."
It was gathered that a disagreement had ensued between the deceased who hails from Aku in Enugu State and a motorcyclist over N10 "change," he was supposed to have collected after paying his fare.
It was learnt that while the quarrel ensued the motorcyclist attracted his colleagues to the scene by shouting "thief".
"The mob that gathered following the alarm collected tyres from a vulcanising workshop near the scene and set the deceased on fire," the taskforce chairman of Abuja Spare Parts Dealers Association, Apo, Mr. Ezema Virginus Chukwudike, confirmed.

"When news of the incident spread, people became angry. They wondered why the motorcyclists would burn an innocent man. Even the man who volunteered to carry the corpse after he had been killed, was chased away.

"This is not the first time that motorcyclists are killing someone over a paltry sum of money.

"A similar thing happened in Kabusa, when a boy was stabbed because of change. Another man was killed on Wumba road. The same change issue led to the death of a man in Damagaza. In his case, after he was killed, they kept him near a river until the next day," Chukwudike was quoted to have said.

"The last time such an incident occurred in the area, the traders protested and it took the intervention of policemen to bring the situation under control," he added.
According to him, the matter was reported at the Apo Police Station.
Speaking on the incident, when contacted, the spokesperson of the FCT police command, ASP Anjuguri Manzah said,
"There was a disagreement last night between two opposing groups and we are in the know."
Manzah said there are several versions of the incident. While some insist that the late Anigbo did not commit any crime, some alleged that he attempted to snatch the motorcycle but was overpowered by the motorcyclists.
Jungle Justice 6
Angry Mob Set Ablaze Suspected Armed Robber In Calabar [WARNING – GRAPHIC IMAGES]
http://www.thetrentonline.com/2015/01/18
Another case of jungle justice reportedly happened in Calabar South Local Government of Calabar state after an angry mob set ablaze a young man suspected to be an armed robber.
It was learnt that the perpetrators of the act involved a group of boys in a hot chase and finally caught one of them and set him on fire.
According to reports, the group of boys who belonged to a gang known as 'Scolombo Boys' were allegedly caught stealing .
After the incident, some eye witnesses took some shots of the charred remains of the victim while others were seen in apparent jubilation at the scene of the incident.
This is really disheartening. Below are some very graphic images of the young man.
Jungle Justice 7
Jungle Justice: Rapist Castrated For Attacking Teenage Girl
http://www.dailymail.co.uk/2014/10/10
An Indian man who was caught trying to rape a teenage girl is in a critical condition in hospital after locals chopped off his genitals with a meat cleaver.
Suresh Kumar was set upon in Ganganagar, in India's northwestern Rajasthan state, after locals heard the girl's screams for help.
After finding the 40-year-old pinning the girl against a wall, a lynch mob dragged him to a butchers shop where they beat him with sticks for an hour before castrating him.
They then dumped the severed remains in the middle of a road and lefta bloodied Kumar nearby.
Aamir Dhawan, 30, said no one 'went to help' Kumar because they knew he had been punished for a 'sex crime'.
The spokesman said: 'As deplorable as these crimes are, law and order has to be maintained, and not lynch justice.
'We ask those men who carried out this attack to hand themselves in before we find them.'
Kumar was eventually taken to hospital where doctors described his condition as critical.
The girl involved was treated for shock, and given counselling.
The castration follows a string of violent sex crimes in India that have prompted vigilante justice.
In July, one man was killed and two others were badly hurt after being accused of raping and hanging a seven-year-old girl.
Jungle Justice 8
Nigerian Mob Forces Gay 'Couple' To Have Sex On Video
www.360nobs.com/2014/02/15
A mob in Port-Harcourt dragged out two men and made them masturbate and have sex with each other in front of a crowd.
The vigilantes are heard jeering in a video recording of the event as a large crowd of onlookers gathered to watch the men's humiliation.
According to reports, a crowd gathered, forced them to leave the house and made them 're-enact' the 'homosexual acts' they allegedly were carrying out in private.
Scenarios like this have become common ever since the government passed the anti-gay bill, with mobs taking justice into their hands rather than take the alleged criminals to the police.
Jungle Justice 9
Shocking Photo Of Angry Mob Stripping Naked & Sexually Manhandling Woman Who Stole A Phone
https://www.youtube.com     Published on Oct 19, 2012
SunNewsOnline reports: The mob descended on the lady, stripped her naked and beat her to a pulp. This happened amidst cheers and jeers from onlookers who were busy videoing the detestable act. Despite efforts to ward off the several blows rained on her, she had objects inserted into her private part by the mob. At a point, a man successfully inserted a torchlight into her private part, while others held her legs apart to make the bestial act easy. All efforts by the helpless lady, who was weeping profusely and pleading, to cover her nakedness with both hands, failed, as the mob tugged at various parts of her body.
Meanwhile, several reactions have trailed the disturbing video, with some describing it as an act that debased humanity. They questioned the absence of security operatives in such an upscale shopping mall and why the internal security did not make an effort to hand over the suspect to the appropriate authority. According to most saddened by the impunity with which the mob carried out their dastardly act, the mob action is gradually becoming an accepted behavior, warning that it should be nipped in the bud before it gets out of hand. They also averred that anybody accused of any crime is considered innocent except proved otherwise by the court. No one, they stressed, has the right to take life or subject another fellow human being to dehumanizing treatment. Unanimously, they agreed that security operatives should live up to their responsibility of securing the lives and property of citizens.
Jungle Justice 10
Four Robbery Suspects Subjected To Jungle Justice, Die In Police Custody – Crime – Nairaland
http://www.nairaland.com/   14 JAN, 2016
The suspects, Ahmed Fatai, Rafiu Mogaji, Godwin Uzong and Bayo Kadiri died last night at the Onipanu Police Station, Lagos State. They reportedly died after bleeding for over 4 hours from bullet wounds and other injuries sustained as a result of the mob attack on them. .
Their bodies have been deposited at the Ikorodu General Hospital morgue, while the case has been transferred to the Special Anti-Robbery Sqaud (SARS), Ikeja. They're said to have robbed a woman, Onchris, around Ilupeju.
They dispossessed her of N400,000 and telephone. They then proceeded to Jibowu where they attacked a Diamond Bank customer, Ms. Joy Oroh and snatched her handbag containing N200,000.
They reportedly shot Ms. Oroh on her thigh before collecting the money she had withdrawn to foot the hospital bill of a sibling admitted at the Infectious Disease Centre (IDH), Mainland Hospital, Yaba.
But unfortunately for the gang that also shot a motorcyclist who chased them, a mobile policeman on bank guard on Morocco Road reportedly opened fire on them, demobilizing them.
While their rider escaped with gunshot wounds, the other 4 were not so lucky as bystanders caught up with them and had them severely beaten.
Jungle Justice 11
http://www.barenakedislam.com/2012/10/17
Four students from the University of Port Harcourt, in southern Nigeria, were burned alive  by locals who accused them of being thieves. A horrific video of the scene has since surfaced online, angering their classmates, some of whom reportedly decided to get revenge by setting fire to the part of town where the young men were killed.
Observers.france24  According to the Nigerian press, the four killed students were second-year undergraduates whom local residents in the Aluu neighbourhood of Port Harcourt accused of stealing a laptop computer and a Blackberry phone. A friend of the victims, meanwhile, told the BBC that they had gone to Aluu to try to collect money they were owed, and were mistaken for thieves.
On Sunday, police arrested 13 people in connection with the case. However, this was not enough to calm Port Harcourt university students, who held a protest on Tuesday, blocking major roads on the edges of the university. Some reportedly turned to violence and set shops, houses and cars on fire in Aluu, which is adjacent to the campus, prompting many residents to flee. On Tuesday, the university closed its doors indefinitely. According to several of our sources, who preferred to stay anonymous out of fear for their safety, there have long been class tensions between the residents of Aluu and the university's students, who come from around the country and are generally wealthier.
This violence follows the killing of at least two dozen students at another Nigerian university, this time in the north of the country, earlier this month.
Jungle Justice 12
SICKENING: The shocking moment 'cheating' woman is STRIPPED and BEATEN in broad daylight
http://www.dailystar.co.uk/2014/10/14
Lin Yao Li was ambushed by four women as she walked home from the shops in the Chinese city of Puyang.
As Lin's attackers pulled her to the floor they ripped off her clothes while punching and kicking her repeatedly in the breasts and groin.
The ringleader of the gang was the scorned wife of the man Lin is accused of sleeping with.
The sickening attack was witnessed by passersby who did not even attempt to help the defenceless woman.
Local man Jun Feng, 30, who found Lin lying on the ground after the women left told local TV: "This type of thing is becoming quite normal.
"Angry wives and girlfriends get their revenge on their cheating men by attacking the other woman.
"People don't tend to get involved because they see it as being an argument of the heart."
Lin, 38, was taken to hospital and treated for cuts and severe bruising following the public beating.
The incident is just the latest in a series of similar public assaults which are often accepted in Chinese society.
Last month three woman wearing stilettos stamped on a woman they believed had been unfaithful.
Jungle Justice 13
HORROR: CHINESE MOB TIE PREGNANT WOMAN TO A POLE AND SAVAGELY BEAT HER UP – VIDEO
"This is not the first time she came to steal things from the village," one villager defended their actions. "Last time she was let go but then she came back. Otherwise she wouldn't have been beaten so brutally."
The woman was taken to a hospital after the jungle justice and one of the men Mr Yin handed himself to the police and he stayed on 8 days in jail and then was released after paying 300 Yuan.
Jungle Justice 14
 Mexican robbery gang lynched by angry mob
http://pulse.ng/
A Mexican mob took the law into their hands and administered jungle justice to thieves who have been raiding their homes.
Tired of being victims of violent robbery attacks, an angry mob in the Tehuacan town in central Mexico, decided to confront some thieves and in the process, arrested them and lynched them, with one of them reportedly dead while the rest, including a pregnant woman and a teenager, barely managed to survive when they were rescued by the police.
According to a graphic report carried by Daily Mail, the furious residents stripped the thieves and beat them with sticks and metal pipes before tying them to trees.
A crowd of some 100 people caught the criminals red handed robbing electronics at a home in the town of Tehuacan, in the state of Puebla and seized the four — two men, a male teenager and one woman said to be pregnant — and stripped them, before proceeding to beat the living daylights out of them.
The woman, who said she was pregnant, was 'struck in the face' while the teenager was tied by his hands and feet and beat up, local reports say. He suffered wounds to his abdomen, legs, back and head.
"We warned them of what would happen if they returned to rob from us," local neighbors, who said they were tired of thieves after a recent string of robberies, told local police.
Local cops tried to stop the brutal beatings but were pushed back by the crowd. State police had to intervene to bring the situation under control. One of the four suspects died of his injuries.
Local reports say the other three, including a teenager and a pregnant woman, received medical attention and were all expected to survive.
 Jungle Justice 15
Angry Mob Cut Off Penis Of Man Who Raped 3-Year-Old Girl In Brazil
http://pulse.ng/20.11.2014
A 66-year-old man who raped a 3-year-old girl has had his penis chopped off by an angry mob.
For Francisco de Souza Castro, he will ever regret the demon that pushed him to rape a 3-year-old girl after a mob group pounced on him and cut his penis as well as three of his fingers. The attack took place in the city of Severinia, Sao Paulo State, Brazil, when parents of the victim reported to the city's vigilante group that the 66-year-old Castro had defiled their girl.
After the attack, Castro was rushed to Santa Casa de Misericordia Hospital, in nearby Barretos, where doctors tried in vain to re-attach the lost digits of his fingers or his weapon of mass destruction, and so he will have to live the rest of his life with the handicap.
Reports in local Brazilian paper, Estadao, has it that Castro allegedly raped the infant, on the rural ranch where he worked.
Her mother reportedly spotted signs of the alleged attack when her daughter returned home later that night.
Marcelo Pupo, the police chief in charge of investigating the case, revealed that Castro had been conscious during the time he was attacked.
And he said officers were now hoping he would be able to identify his attackers.
Pupo also stated that the results of forensic tests on Castro's alleged young victim have not yet been confirm.
Jungle Justice 16
Vigilante Lynchings Go Viral in Peru
panampost.com/2015/09/16
"We have lost faith in the police," explained Cecilia García Rodríguez, the creator Catch Your Thief (Chapa tu choro), a nationwide campaign to promote vigilante justice in Peru.
She made the decision following an episode in early August when she caught a thief, only to have police officers release him 30 minutes later.
As the campaign went viral, social media users began posting pictures and footage showing alleged criminals receiving punishments ranging from brutal beatings to forced military exercises.
The luckiest ones are those who just get handed over to the police.
Thousands of Peruvians have adopted García's cause as their own in a country where one third of the population has fallen victim to a crime, according to the2014 Americas Barometer authored by the Latin American Public Opinion Project (LAPOP).
In late August, a Facebook event called "Catch Your Thief and Leave Him Paralytic" amassed 60,000 attendees before it was taken down, according to local daily El Comercio.
Of all the Americas, Peruvians are the least confident in their judiciary. A mere 34 percent told LAPOP that they trusted the enforcement of the law. Only Dominicans (42.8 percent) and Paraguayans (42.3 percent) approve of vigilante justice more than Peruvians (40.6 percent).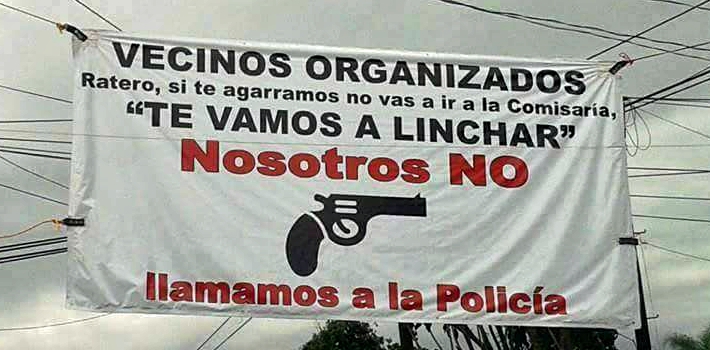 Jungle Justice 17
Vigilante Justice- Does It Work? It Did This Time!
http://mrdemocratic.com/2015/08/
Does vigilante justice work? It seemed to this time. A 32 year old man, Valentino Barerra, decided he'd hold a pensioner at knife point and rob him of his wallet. Well, there were others around witnessing who decided otherwise. They came to the elderly man's rescue and they stripped the would-be thug robber of his clothes, tied him to a street post, and then wrapped him in cling wrap.
The elderly man chose not to have charges pressed, feeling that Barerra had learned his lesson, so in this case, yes, vigilante justice did indeed work.