1. Wisteria Tree in Japan : Over 150 year old Wisteria Sinensis tree in Japan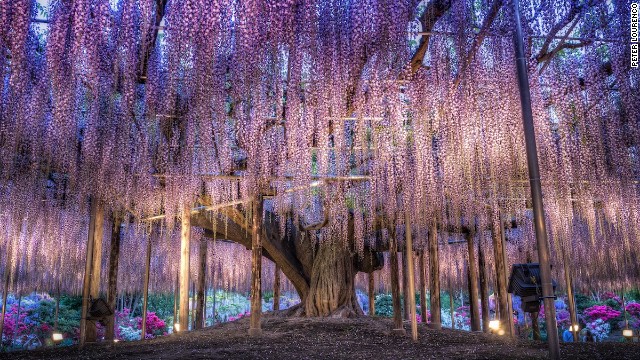 2. Portland Japanese Garden:  Is a traditional Japanese garden occupying 5.5 acres (22,000 m²), located within Washington Park in the west hills of Portland, Oregon, USA.
3.  Angel Oak Tree  Outside of Charleston,  South Carolina: Angel Oak is a live oak tree aged approximately 1,500 years. Some locals simply call it The Tree.
4. Sagano bamboo forest, Kyoto, Japan: The bamboo is extremely large and seems to extend to the heavens.
5. 750-years-old Sequoia,California : Giant Sequoia (Sequoiadendron giganteum) in Long Meadow Grove along the Trail of 100 Giants, Giant Sequoia National Monument, Sequoia National Forest, California
6. Gnarly Old Tree, South Australia :  
7. Montgomeryshire tree : This striking old tree in Old St Mellons, Cardiff, could be seen by motorists as they drove down the busy A48. 
8. 2000 year old Tree in South Africa named Tree of Life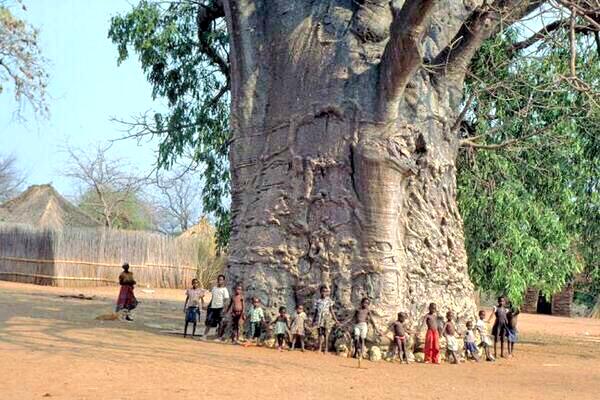 9. Madagascar's Beautiful Baobab Trees : A freshwater crab in Montaigne de Francais, Northern Madagascar. They are vital to mangrove ecosystems and are an important food for coastal villagers.
10. Ponthus Beech in Brocéliande Forest, France :  A beech tree aged more than 600 years which stays in a private part of the Broceliande Forest, a magic forest in Britanny, this one in which Merlin the Wizard used to live.
11. Old Tree on a Foggy Virginia Morning
12. The tree wrapped around a stone Buddha in Wat Mahathat, Ayutthaya, Thailand. Tree and shrine, India. Angkor Wat is the largest religious monument in the world but it threatens to become almost overrun by the nature around it.
13. 1000+ year old tree on Greek island of Aegina
14. A 2,000-year-old Jujube tree ("Ziziphus spina-christi" or "Sheizaf" in Hebrew) located in Ein Hatseva, near the Dead Sea. (photo credit:ISRAEL GALON/AGRICULTURE MINISTRY) 
15.  Banyan Tree is the national tree of India. 
The national tree of India, banyan is a very huge structure, long and deep roots and branches symbolize the country's unity. One can find banyan trees in throughout the nation. The huge sized tree acts as a shield, protects from hot sun. This is the reason why the tree is planted near homes, temples, villages and roadsides. In the rural parts of the country, banyan tree is considered as the focal point of the Panchayats and the gathering place for village councils and meetings. The tree is also considered sacred by the Hindus of India. With high medicinal value, banyan is often used as a herb to treat and cure many diseases.
16.Quiver tree forest, Namibia
The Quiver Tree Forest or Kokerboom Woud in southern Namibia, houses 250 specimens of the Aloe dichotoma tree. This unique forest became a national monument in 1995. It appears as if the trees were given some electric shock. Their branches have risen over the years seeming to reachup towards heaven and leaves have shrunk to form spikes that look like quivers. These trees grow upon the rocks.
 17. 125+ Year Old Rhododendron "Tree" In Canada
18. The Basket Tree
When he was a young boy, Axel Erlandson moved from Sweden to California with his family. But it wasn't until he was 41 years old that Axel began to shape trees as a hobby. His designs became more and more complicated and eventually he opened a "Tree Circus."
To create this specific tree, "The Basket Tree," Axel planted six sycamore trees in a circle and grafted them together when they grew another foot. When children asked him how he made the trees grow like this, he would simply reply, "I talk to them."
19. The Bodhi Tree
Ever heard of the Buddha? Yeah, well this fig tree in Bodh Gaya, India, is believed to be the tree under which Siddhartha Gautama achieved enlightenment approximately 2,500 years ago. According to Buddhist texts, right after the Buddha achieved enlightenment, he gazed up at the tree in gratitude with unblinking eyes for an entire week. Talk about a staring contest.
The Bodhi Tree was seen as a sacred shrine even during the lifetime of the Buddha by King Asoka, who held a festival every year in its honor. However, his queen is what many people would call "the jealous type" and had it killed by mandu thorns. But the Bodhi tree had the last laugh when it regrew in the very same spot and had a magnificent temple built next to it. Even today, the tree is the most important of four Buddhist pilgrimage sites.
20. Árbol Del Tule
This Montezuma cypress is located in the Mexican state of Oaxaca and has the stoutest trunk of any tree in the world. One theory is that it's mulitple trees grown together. However, DNA testing has proven that it is indeed one tree.
In 2001 it was placed on the UNESCO tentative list of World Heritage Sites, and guess what? It is sometimes nicknamed the Tree of Life because of all the animal shapes that can be seen in its gnarled trunk.
21. The Methuselah Tree
The Methuselah tree is like the estranged grandfather that no one in your family talks about.  It is estimated to have germinated around 2832 B.C. It is located in White Mountains of California. The tree is in Inyo National Forest and while visits to the site are permitted, the exact location of the tree is kept secret for its protection. Methuselah is an ancient bristlecone pine tree and until 2013 was the oldest known non-clonal organism on the Earth. This title was superseded when a different bristlecone pine in the same area was discovered to be 5,063 years old. The exact location and identity are kept secret to avoid possible vandalism. ( what's wrong with people? )
This is because an even older tree, nicknamed Prometheus, was accidentally cut down in 1964. At 4,843 years old, the bristlecone pine is worth protecting, even if it means anonymity.
22. Sarv-e Abarqu
23. Llangernyw Yew
27. CROOKED FOREST IN POLAND
Popular folklore has it that the forest is cursed or there is some weird or black magic in the forest. However, nothing of that sort has been reported in the forest. The Crooked Forest featuring weird-shaped trees is located in western Poland. There are around 400 pine trees in the forest. All these trees grow with a 90-degree bend at the point where the trunk shoots up from the ground. It is said that some tool or technique devised by early humans was deployed to give the trees such a shape. Unfortunately, the reason for this is not yet known.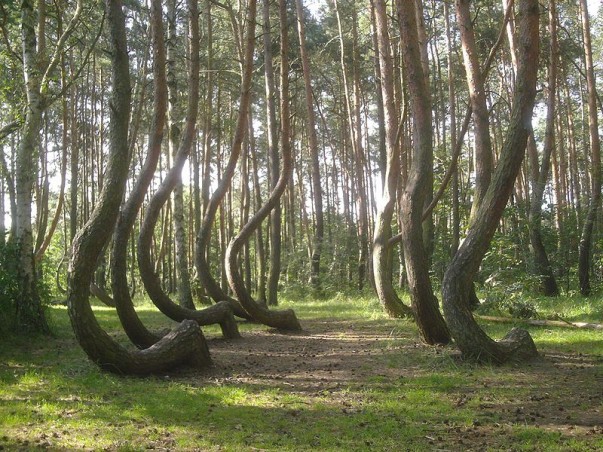 28. Old man's beard lichen, Tierra del Fuego Nat Park
29. Jabuticaba – The Brazilian Grape Tree(It Grows Fruits & Flowers Directly on The Trunk)
The flowers themselves appear on the tree at most twice a year – naturally. They look like some strange alien frost has deposited itself on the trunk.
A heavily laden jabuticabeira. As you can see, the fruit grows directly out of the trunk and branches. Another remarkable thing about jabuticaba fruit is that they taste delicious!
30. Wind-Swept Trees In New Zealand
Windswept Macrocarpa Trees, Invercargill, Southland, New Zealand | by Tanyaluk Photography.. These trees on Slope Point, the southern tip of New Zealand, grow at an angle because they're constantly buffeted by extreme antarctic winds.
31. Antarctic beech draped in hanging moss placed on World Heritage register. NW Pacific Rainforest, Oregon, USA
32. Flamboyant Tree, Brazil
The flamboyant tree is endemic to Madagascar, but it grows in tropical areas around the world.
33. Rainbow Eucalyptus In Kauai, Hawaii
The rainbow eucalyptus, which grows throughout the South Pacific, is both useful and beautiful. It is prized for both the colorful patches left by its shedding bark and for its pulpwood, which is used to make paper.
34. Jacarandas in Cullinan, South Africa
These beautiful Jacarandas, with their violet flowers, grow in South Africa.
35. Avenue Of Oaks At Dixie Plantation In South Carolina
This avenue of oak trees was planted some time in the 1790s on Dixie Plantation in South Carolina.
37.The President, Third-Largest Giant Sequoia Tree In The World, California