Here are some pictures of a line that establishes or marks a border which is simply know are "borderline".
What comes to your mind when you imagine a country's border? Barbed wire, steel fences, barren fields and armed guards? Borders have always represented 'NO ENTRY' and restriction. But there are also borders stood for warmth and friendship. What if borders welcomed instead of turning away?
 Belgium – Netherlands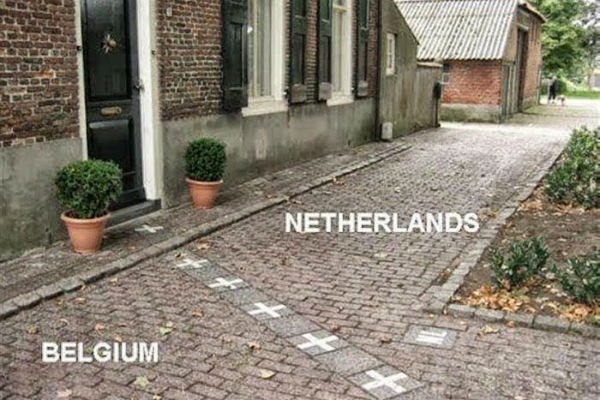 Germany – Netherland
Mexico – USA  
A fence stretches across the border of the state Arizona and Mexico. The United States-Mexico border is the most frequently crossedborder in the world and is close to 2,000 miles long.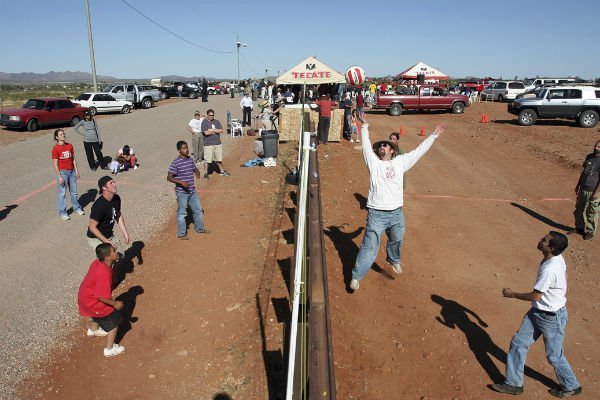 Sweden and Norway  
A snowmobiler prepares to ride the snow-covered border of Norway and Sweden.
Portugal – Spain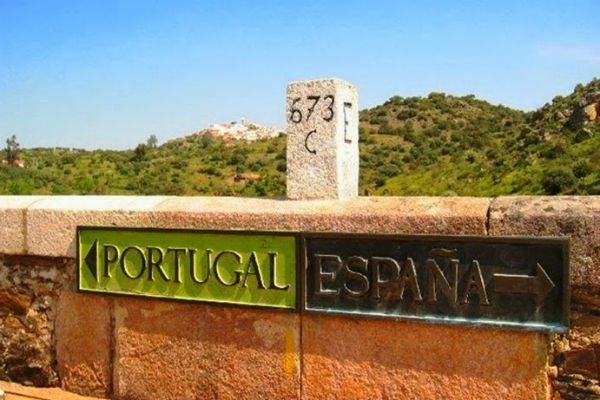 Russia – China 
Minnesota, USA – Ontario, CA 
Canada and United States
( Incidentally is the longest border in the world at 5525 miles, [1] is pretty picturesque at places.)  
India – Myanmar  
Pakistan – Afghanistan 
"One of the most dangerous borders in the world." 
 Associated with (and named after) Khyber Fort in Arab peninsula that was conquered by the Caliph Hazrat Ali (AS) in early days of Islam, Khyber Pass in Pakistan is amazing defile that has seen and made history for centuries. From Central Asia to South Asia, the pass has held
open the route for many, who ventured to reap the fortune of the extensive plans in the Subcontinent. It is awesome to see the marks and symbols left by those who took their chance through this way.
Gateway to the South Asia, the Pass has been centre of activity since ancient times. Caravans of merchants, missionaries, preachers of different philosophies, conquerors, artists and architects – from Aryan to Mughals – have moved from Central to South Asia for centuries. (In fourth century, Alexander from Macedon never took this route as it is wrongly considered, though. He took much difficult route further up in the north.) And, these days Afghan refugees come and go this way. Rail and modern automobiles commute through the historic pass where once only horses and camels used to stumble.  (contactpakistan)  
 Vatican – Italy City  
North Korea – South Korea
On the ground, along the demarcation line, is the Joint Security Area where the two countries stand face to face, conduct diplomatic negotiations, intimidate each other, and give tours to tourists.
India – Pakistan 
Myanmar – Laos – Thailand
Haiti – the Dominican Republic
China – Nepal 
USA and Russia 
Spain – Morocco  
Italy – Switzerland 
Venezuela – Brazil  
Taking into account that most of the border between Venezuela and Brazil is covered in nature and are almost inaccessible by foot, it is quite nice to be able to see both flags next to each other in this area:
Germany – the Czech Republic  
Hong Kong – Mainland China  
Hong Kong and Mainland China used to share a border on the same street. One side of the road was British and the other was Chinese.
Paraguay – Argentina – Brazil
Chile – Argentina – Bolivia 
Slovakia – Poland 
Argentina – Chile 
Tajikistan – Afghanistan
Venezuela – Brazil – Guyana  
It lies on the Guiana Shield in the southeastern corner of Venezuela's 12,000 sq mile Canaima National Park forming the highest peak of Guyana's Highland Range. The tabletop mountains of the park are considered some of the oldest geological formations on Earth, dating back to some two billion years ago.
Egypt – Israel  
Poland – Ukraine  
Northern – Southern Hemisphere
Sources:
Quora
coolestgalleries.com
scoopwhoop.com
buzzfeed.com