JEROME MORALES OF REUTERS  SHOOTING A LOADED QUESTION WithOUT REVIEW  IS AN IRRESPONSIBLE JOURNALISM. His questions are suggestive and provocative. He asked stupid questions that make Pres. duterte remarks a big issue,not understanding what he really mean,and put it in headlines! manipulated by the corrupt media to discredit pres. Duterte's administration by publicity in bias media.
Departure speech of President Rodrigo Roa Duterte before his trip to Laos and Indonesia
[Davao International Airport | 05 September 2016]
Lahat man kayo nakabarong.
Well, ladies and gentlemen my co-workers in government, mga mahal kong kababayan. I am leaving for Vientiane, Laos to join other ASEAN leaders at the 28th and 29th Summits and Related Summits. This will be my first meeting with other leaders of ASEAN Member-States as well as the leaders of the ASEAN's important dialogue partners including Australia, China, India, Japan, Republic of Korea, New Zealand, Russia, and the United States, that I will take the opportunity to discuss with them important regional and international issues that impact on the peace, security, stability, and the prosperity of our region.
Recent events have shown that there are elements out there who seek to sow terror and wreak havoc in our society. We remain firm in our resolve to combat terrorism in other forms and manifestations. We remain committed to our vow and duty to do our utmost to protect our citizens. I ask every Filipino to do this, to do his and her part for the sake of our country.
To use  the opportunity for meeting other ASEAN Leaders and ASEAN dialogue partners, to seek better support for regional efforts to address terrorism, and extreme and violent extremism. Terrorism and violent extremism are global concerns, and the Philippines will do its part as a member of the International Community and work with the partners to address this issue.
The Summit of ASEAN Leaders will discuss the way forward in realizing the ASEAN Community Vision 2025 with rules-based, people-oriented, people-centered ASEAN. The security of our region hinges on cooperation of ASEAN Member-States as well as the dialogue partners. Consistent to the Philippines' programs, we will call for a renewed cooperation for a drug-free ASEAN Community.
The Summits will also be excellent opportunities to underscore the importance of the rule of law and peaceful settlement of disputes. The interest of our people are at the heart of the ASEAN community-building and we shall work with our neighbors in addressing transnational issues such as trafficking of persons, terrorism and violence extremism.
On the economic front, we shall discuss ways to make growth inclusive so that the benefits of economic growth are felt by every Filipino. These include strengthening collectivity, and the region enhancing trade underscoring the importance of micro and small and medium industries, and conserving and sustaining the growth environment.
And those socio-economic aspects will advance and improve access to education that will open opportunities for all, including out-of-school youth to develop and realize the potentials to be productive and responsible members of society.
We will continue engaging our neighbors our neighbors on the promotion and protection of the rights of migrant workers. We will also push for capacity-building to improve emergency response and disaster management.
I have the honor to accept on behalf of the Philippines, the chairmanship of ASEAN in 2017 from Laos. This will formerly mark an important leadership role for the Philippines in the region as we commemorate the 50th anniversary of the association nest year.
After the ASEAN Summits, I will proceed with my working visit to Indonesia to discuss bilateral isues impacting our relationships.Upon my return, I will report on the gains that the Philippines achieved during the visits.
Daghang Salamat.
Questions & Answers:
Q: Good afternoon sir, Jerome Morales from Reuters News. Sir, there have been concerns on extrajudicial killings. And you will meet leaders, any line of communication that you have prepared to address this issue in front of other foreign leaders?
PRES. DUTERTE:  Extrajudicial killings?
Q: Yes, human rights.
PRES. DUTERTE:  To whom shall I address myself to? And who will be asking the question may I know?
Q: Obama sir. [no microphone]
PRES. DUTERTE: You know, the Philippines is not a vassal state. We have long ceased to be a colony of the United States. Alam mo, marami diyan, sa mga kolumnista, they look upon Obama and the United States as if we are the lap dogs of this country. I do not respond to anybody but to the people of the Republic of the Philippines. Wala akong pakialam sa kaniya. Who is he? When as a matter of a fact, at the turn of the century, before the Americans left the Philippines in the pacification campaign of the Moro in this island, there were about six million ang population ng Moro. How many died? Six hundred. If he can answer that question and give the apology, I will answer him.
I am not beholden to anybody. Iyong mga kolumnista diyan na 'wait until he meets,' who is he? I am a President of a sovereign state, and we have long ceased to be a colony. I do not have any master, except the Filipino people, nobody but nobody.
You must be respectful. Do not just throw questions and statements. Putang-ina, mumurahin kita diyan sa forum na 'yan. Huwag mo akong ganunin. Tell that to everybody. Itong mga kolumnista, para ba akong tinatakot, anak ka ng — umalis kayo diyan sa Pilipinas, pumunta kayo doon sa Amerika. You write kung ano nasa isip —  the lap dogs of this American. Who is he to confront me? As a matter of fact, he has too many –America has one too many to answer for the misdeeds in this country. Hanggang ngayon hindi pa tayo nakatikim ng apology niyan. That is the reason why Mindanao continues to boil.
Sabi mo that was the last century, 'yang wounds na 'yan from generation to generation.  As a matter of fact, we inherited this problem from the United States. Why? Because they invaded this country and made us their subjugated people. Everybody has a terrible record of extrajudicial killings. Why make an issue about fighting crime? Hindi nga niya maubus-ubos 'yan sa Mexico border niya. Look at the human rights of America along that line, the way how they treat the migrants there. Masyado kayong bilib sa Amerika, bumilib kayo dito sa atin, ano iyang America. Siya ang mag-explain sa akin kung bakit ganun extrajudicial killing nila. Can he explain the 600,000 Moro massacred in this island? Do you want to see the pictures? Maybe, you'll ask him, and make it public. We have a recorded history of that sordid period of our national life.
Nobody but nobody can just—sino ka? 'Yung mga American-Indian sa sine lang inubos mo eh. What about the rights of those guys who died in the past? Is it because it's just the past tense we do not answer for the present tense? You must be kidding. Stop joking yourself. Kayong mga sobra kabilib diyan—who is Obama to ask me that? I'll tell him, who are you? Tell him that, telegraph mo ngayon. Hindi ako punta dito, magpaka-ulila diyan sa mga…
We have long been a Republic. I do not — I said, I do not kneel down before anybody else, except the Filipino in Quiapo walking in misery and in extreme poverty and hunger. Hindi kayo maghinto diyan sa droga—the campaign against drugs will continue. Maraming mamatay diyan, plenty will be killed until the last pusher is out of the streets. Until the drug manufacturer is killed, we will continue and I will continue, and I don't give a shit about anybody observing my behavior. Sige lang mabilib kayo diyan. 'Yung mga column nag-bash, susmaryosep! Pagka-lap dog ng mga–pretending to be the conscience of this–sino ka? Hindi ako bilib diyan sa America. Gusto mo sipain ko pa 'yan sa harap mo eh. Pumunta kayo doon.
Q: Good afternoon sir, I'm Lala Babilonia from PTV4. Sir, what's your plan about the issue, the execution of Mary Jane Veloso in Indonesia?
PRES. DUTERTE: Hindi kita nakuha.
Q: Ano, sir–what's your plan about the issue or the execution of Mary Jane Veloso in Indonesia? Mary Jane Veloso, sir.
PRES. DUTERTE: About to be executed? Yes.
Q: Yes, sir.
PRES. DUTERTE: Well, I may just have to ask Widodo in a most respectful and in very, very courteous way. And if my pleadings will fall on deaf ears, I am ready to accept it – for the simple reason I do not doubt the judicial system of Indonesia. I have been there once upon a time, and I was able to observe how it works. Whether or not she is really guilty, she's bound to be culpable–culpable liability.
So, I might just accept the system and plead for mercy. But if President Widodo will deny it, still I would be grateful that she has been treated very well. For after all, we have our laws to follow and had it been any other or the other way around, I might also be at the receiving end of so many pleas for mercy and I would never know what or how to react.
Yes, Pia. Hindi man ganito magpahuli sila. I will change my attire in the airplane. I do not wear a barong sitting down. It's itchy.
Q: Sir, good afternoon. Could we just find out more about your declaration of state of lawlessness, and when we can expect parameters or guidelines of the implementation? For example, how long it will take, if there will be any curfews on certain areas. Siguro, more specifics on your declaration or if we can expect the document?
PRES. DUTERTE: Well number one, is that we should work out a very good example of how it works in other countries and the Philippines. But others, we have to ask for their support and maybe their cooperation of working this out. 'Yan ang parameter—that's the economic side of it, let's say itong migration. Kasi bukas na lahat eh, bukas na lahat because there's free trade especially if we can perfect the free trade agreement between ASEAN. Removing all barriers, tariff and everything including the migration of workers.
Q: [no microphone]
PRES. DUTERTE: Wala mang lawlessness doon eh. Ano man sa—dito?
Q: [no microphone]
PRES. DUTERTE: Dito? Tayo 'yan. I will not discuss it with them. I will not discuss it with them. I thought I said, I'd have talks on the economic side.
It's an internal affair which nobody but nobody should interfere including the so-called extrajudicial killing of the drug lords and the apparatus members of the drug syndicates. It will continue. Sabi ko, until such time that I can proclaim to the nation that we are drug-free. If that is my only purpose in this presidency, so be it. If you remove me because of the killings, then it shall be so.
Again, I would like to—there are a lot of you so much about extrajudicial killing, then connect it with Obama. No, I do not want to pick a quarrel with Obama but certainly, I would not appear to be beholden to anybody. I only am answerable again, to the Filipino people who elected me as President. Period. Nobody but nobody should interfere. This is an independent country, nobody has the right to lecture on me. God, do not do it.
Magka–gusto mo, yeah the right word, magkababuyan tayo doon 'pag ginawa mo sa akin 'yan. I do not accept that proposition that anybody is superior than me. We are supposed to be equal there. My country might be small, hardly keeping up with the economic problems but I will not allow myself—iinsultuhin mo, iinsultuhin mo 'yung Pilipino. But there are others whose mental—who has the mental capacity of dogs who laugh at the ass of the Americans.
Salamat.
— END —
Source: http://www.gov.ph/2016/09/05/departure-speech-of-president-rodrigo-roa-duterte-sept-5-2016/
cloudmind comment:
IN THE INTERVIEW, THE "SON OF A WHORE" (PUTANG INA) REMARKS WAS REFERRING TO THE IRRESPONSIBLE COLUMNISTS NOT TO PRES. OBAMA.
PRESIDENT DUTERTE IS NOT THE USUAL SMART-TALKING AND CLASSY PRESIDENT. IN FACT, HE BASKS IN THE NICKNAME " DUTERTE HARRY" A VARIANT OF THE DETECTIVE CHARACTER "DIRTY HARRY" PLAYED BY CLINT EASTWOOD IN THE ACTION THRILLER. OTHERS CALL HIM "TRUMP OF THE EAST". DESPITE THAT, THIS FOUL-MOUTHED PRESIDENT VOWED TO GIVE THE FILIPINOS A "CLEAN GOVERNANCE," THAT IS WHY HE WAS ELECTED.
FILIPINOS ACCEPTED THE FACT THAT PRESIDENT DUTERTE CURSES A LOT. HE CURSES IN PUBLIC AND IN FRONT OF BUSINESSMEN, REPORTERS, CRIMINALS. THERE WAS EVEN  AN OUTRAGED FROM THE MEDIA WHEN HE WAS ACCUSED OF CURSING THE POPE DURING HIS VISIT TO PHILIPPINES  9 MONTHS AGO. FILIPINOS DIDN'T TAKE IT AS A BIG DEAL BECAUSE THEY UNDERSTAND ITS JUST AN EXPRESSION. BUT TO OTHER COUNTRIES, BEING FED BY THE IRRESPONSIBLE JOURNALISTS, IT IS EASY TO BELIEVE SOMETHING THAT IS JUST TAKEN OUT OF CONTEXT AND HE WAS JUDGED.
This is the full video of Pres. Duterte before he left for Laos that shows the full interview, in English and Filipino. Some media were cherry picking. International media is spinning it to do a smear campaign on the Philippine president's character because he is not the usual Philippine president lapdog for the U.S. interests. The media have taken it out of context and misleading. Interpretation is far different from the content and context of President Duterte's answer. He is not reffering to Pres.Obama when Pres. Duterte said "P*tang Ina" or "Son of a whore".
That phrase, " Putang Ina!" means son of a bitch, is a profane expression. . PEOPLE WHO SPEAK PHILIPPINE LANGUAGE HAVE ALSO POINTED OUT THE PHRASE IS MUCH LESS OFFENSIVE IN filipino, BUT SOUNDS VERY HARSH WHEN TRANSLATED DIRECTLY TO ENGLISH. "Putang ina literally means 'whore mother' and when used in Filipino, is more of an expletive expression of annoyance, dissatisfaction or anger … like 'shit' or 'damn it'," said Jason Paul Laxamana, a filmmaker who does Tagalog-English subtitles for Filipino movies. "Adding 'mo' to putang ina ('mo' in Tagalog is you/your/yours) is another thing … the translation becomes 'your mother is a whore' or 'you son of a whore' which is a verbal insult specifically to another person," he said.
There is definitely need culture awareness/sensitivity classes because there's a lot of language barrier issues here. Media is  too literal in their translation/interpretation. The problem is that human languages are not mathematics, and you simply cannot map word A -> concept "A" in target language. "Putang ina"  an expression for a Filipino language. But the BIAS MEDIA in Philippines TWIST THE STORY TO MAKE IT REFERRED TO Pres. Obama.
President Rodrigo Roa Duterte departs on September 5, 2016, from the Davao International Airport to Vientiane, Lao People's Democratic Republic to participate in the 28th and 29th Association of Southeast Asian Nations (ASEAN) Summits and Related Meetings from September 6-8, 2016. He is also bound for Jakarta, Indonesia on September 8 to hold his first working visit since he assumed office.
Pres. Duterte supposed to meet Pres. Obama on Sept. 5, Monday but because of the controversy about cursing that brought by the bias media, Pres. Obama canceled the meeting.
President Rodrigo Duterte expressed regret on Sept. 6, Tuesday for a tirade against "son of a whore" remark which led the US President Barack Obama to cancel a bilateral meeting.
"While the immediate cause was my strong comments to certain press questions that elicited concern and distress we also regret it came across as a personal attack on the US president," a statement released by Mr Duterte said.
Mr Obama cancelled what would have been his first meeting with Philippines' newly elected president, a White House spokesman said on Tuesday, after Mr Duterte's tirade.
Mr Duterte said both sides mutually agreed to postpone the meeting.
Even though the Filipino president's latest comment does not amount to an apology, the expression of regret is a rare instance when the tough-talking former mayor has expressed contrition for his remarks that often slide into profanity.
"We look forward to ironing out differences arising out of national priorities and perceptions, and working in mutually responsible ways for both countries," the statement said. (http://www.telegraph.co.uk)
Several transcripts of the speech confirm Mr Duterte said the less offensive 'putang ina'.
"If I would subtitle Duterte's sentence, it would be "damn it, I'll curse you in that forum," Mr Laxamana told the ABC.
"I watched the whole speech and it doesn't sound like he was directing it to anyone," he said.
A similar interpretation has been detailed by Nizza Gueco, a writer for the Liberal America website.
"As a clarification, Duterte is referring to reporters who are not respectful and are throwing questions at him that are not on topic," Ms Gueco said.
Liberal America Website: PH President Duterte cussing not directed at US President Obama
Presidential Communications (Government of the Philippines) posted an explanation on Facebook that President Duterte's cussing is not directed at US President Obama
.This is the full post:
'Liberal America' writer: Duterte cussing not directed at Obama
DAVAO CITY — President Rodrigo Duterte's statements at a press conference during his departure speech on Monday has been totally blown out of proportion by the local and international media.
In the United States, an independent group dissected an accurate transcript of President Duterte's Q&A with Reuters correspondent Jerome Morales and explained what Duterte said point by point.
'Liberal America' writer Nizza Gueco, admittedly not a Duterte fan, was concerned more about the implications of soured US-Philippine relations.
Gueco wrote in a column on the "Liberal America" website, "Lo and behold, my suspicions were true, the line that was cut from the video above wherein the President said "putangina" was not even directed to President Obama, it was directed to the reporter who, according to the President, 'just threw questions and statements.'"
Lifting directly from a transcript and a copy of the video of the press conference, Gueco pointed out that President Duterte said, "
"
You know, the Philippines is not a vassal state. We have long ceased to be a colony of the United States. Alam mo marami dyan mga kolumnista (You know there are a lot of columnists) who look up to Obama and the United States as if we are the lapdogs of this country."
Gueco explains, "In this statement, Duterte was clearly addressing his audience, Obama's name was only mentioned as an example because somebody in the audience mentioned Obama. I am not a Duterte fan, but anybody listening to that line who understands the language will know that he is not degrading Obama, he is merely lifting his people up."
The most misconstrued part of the statement reads as follows: "May mga kolumnista dyan na (There are columnists out there that write headlines such as) 'Who is he? I am a President of a sovereign state and we have long ceased to be a colony. I do not have any master except the Filipino people. You must be respectful. Do not just throw away questions and statements. Putangina (son of a bitch) I will curse you in that forum."
This clearly indicates that the President addressed the particular reporter who asked an offensive and out-of-line question despite PRRD's plea that questions be limited to his ASEAN and working trips overseas.
As nouns the difference between sorry andregret
is that sorry is the act of saying sorry; an apology while regret is the instance of such an emotion.
As a adjective sorry
is (of a person) regretful for an action; grieved or saddened, especially by the loss of something or someone.
As a interjection sorry
is expresses regret, remorse, or sorrow.
As a verb regret is
to feel sorry about (a thing that has happened), afterthink: to wish that a thing had not happened, that something else had happened instead. (http://wikidiff.com)
U.S. President Barack Obama called off a planned meeting Tuesday with new Philippine President Rodrigo Duterte, seeking distance from a U.S. ally's leader during a diplomatic tour that's put Obama in close quarters with a cast of contentious world figures.
"Clearly, he's a colourful guy," Obama said. "What I've instructed my team to do is talk to their Philippine counterparts to find out is this in fact a time where we can have some constructive, productive conversations."
Early Tuesday, National Security Council spokesman Ned Price said the meeting with Duterte was off.
Duterte has been under intense global scrutiny over the more than 2,000 suspected drug dealers and users killed since he took office. Obama had said he planned to raise the issue in his first meeting with Duterte, but the Philippine leader insisted he was only listening to his own country's people.
Eager to show he wouldn't yield, Obama said he would "undoubtedly" still bring up human rights and due process concerns "if and when" the two do meet.
The bizarre rift with the leader of a U.S. treaty ally was the most glaring example of how Obama has frequently found himself bound to foreign countries and leaders whose ties to the U.S. are critical even if their values sharply diverge.
Managing Duterte has become a worsening headache for Obama since the Filipino took office on June 30, pledging his foreign policy wouldn't be constricted by reliance on the U.S. Washington has tried largely to look the other way as Duterte has pursued closer relations with China, a marked shift for the Philippines considering recent tensions over Beijing's aspirations in the South China Sea.
A public break from the Philippines would put Obama in a tough position, given the Southeast Asian nation's status as a longtime U.S. ally. The Obama administration has sought to compartmentalize by arguing that military and other co-operation won't be jeopardized even if it detests the current Philippine leader's tone.
With a reputation as a tough-on-crime former mayor, Duterte has alarmed human rights groups with his deadly campaign against drugs, which Duterte has described as a harsh war. He has said the battle doesn't amount to genocide but has vowed to go to jail if needed to defend police and military members carrying out his orders.
SEN. ALAN CAYETANO'S OPEN LETTER TO BARACK OBAMA (A CALL FOR OPEN-MINDEDNESS) SHARE
Senator Alan Peter Cayetano's open letter to Barack Obama

~~~~~~~~~~~~~~~~~~~~~~~

An Open Letter To President Barack Obama.The White House
With A Prayer for a successful meeting between him and President Duterte.
Dear President Obama,
As a Citizen of the world and a believer in Change, allow me to write you an open letter to attempt to articulate the audacity of the Filipino people to hope for a better future and to aspire for a nation that is secure,peaceful,law abiding and prosperous.
While we are still mourning and recovering from the Davao Bombing, while our law enforcers are sacrificing and doing their duty everyday to reclaim communities from narcotics and criminality (many police officers have died in the line of duty), while our President is pursuing peace and fighting corruption, powerful forces are working against us (locally and internationally).
I write to you because more than any other person, you know how it feels to have the weight of the world on your shoulders.
To have the burden of fixing the problems of your own country but having to constantly live up to the expectations of the entire world.
To be called on, and depended on but at the same time to be hated and cursed at.
To be pulled and torn in every direction and at every crossroad.
I ask myself where does President Obama get the strength to see this through? It can only have come from the grace of GOD and a deep love of one's people and of all humanity.
Despite all the challenges, you have persevered and have accomplished so much.
Now it is our turn. Our turn to experience Change we can believe in.
We finally have a President who has faith in GOD, who has a deep love for our people, who is willing to sacrifice even his life and honor to see that change comes to all Filipinos.
President Duterte and our entire nation is now fighting 3 wars simultaneously.
The War against poverty (which includes leveling a playing field that by and large only oligarchs grow and prosper while the greater majority struggles just to survive);
The War against crime, illegal drugs and corruption, and;
The War on war. The quest for a just and inclusive peace and an end to the decades-long communist insurgency as well as other rebellions in our country.
After decades of hopelessness and up to 10 million Filipinos leaving our country to find work in foreign lands and after an entire generation exposed to the perils of illegal drugs, we finally have a President who is trying to get the country back on the right track.
Mr President, how many times have you been misjudged, prejudged or judged unjustly because of your nationality, Party affiliation, stand on issues or even your skin color?
Yet despite all these, you persevered. You never gave up! If there were mistakes along the way, you learned from those mistakes and you spawned an entire generation of people around the world saying "Yes We Can!"
Will you now allow us to lose hope and fail? Will the West deny us the "Change we can believe in?" Just because some people have misjudged our beloved President based on how he speaks. Aggravated by an obvious misinformation campaign about the human rights situation in the country.
Does he not deserve to be judged on his record and his actions? On facts and not manipulated statistics? On where he wants to bring the country rather than his sometimes politically incorrect words?
We Filipinos will always be your brothers and sisters. Your allies and friends. But we also deserve our own national identity and a chance for an independent foreign policy.
A foreign policy for Filipinos by Filipinos. A balanced friendship with our oldest ally and big brother the United States of America on one hand and a friendship of mutual respect with our neighbor China on the other.
You have tried at every turn to avoid war and done everything for peace! Can't we work on a win win win situation for the U.S.A, Philippines and China?
Over the last 7 years you have patiently addressed concerns of pessimists, critics and hardliners and pushed your peoples agenda forward inch by inch.
Well now the pessimists, critics and hardliners in the West, the United Nations, and the Philippines want us to continue to bicker and disagree. To let disagreements escalate into fights. And for what? So that no one wins?
Hardliners fear the Philippine government will make peace with the communist rebels. Critics Fear that CHRISTians and Muslims can't build communities and a Nation together? Pessimists say that we can't be a drug free Country.
Will we let the pessimists and hardliners win Mr President? Or will we persevere and try to understand each other, so we can wake up one day to a peaceful, prosperous and progressive Philippines.
Can't we give the Philippines and President Duterte a Chance?
As We Pray that GOD Blesses America, We ask The Americans to be used by GOD To Bless The Philippines.
GOD Bless You President "Yes We Can" Obama!
GOD Bless President Rody Duterte!
GOD Bless The Philippines!
Respectfully,
Senator Alan Peter S. Cayetano
SOURCE:
https://www.thestar.com
******~~~~~******
Duterte treated like 'a rockstar' at Asean Summit, says Andanar
04:36 PM September 7th, 201
VIENTIANE, Laos – Like a rockstar.
That was how President Duterte was treated by his counterparts and other official delegates at the 28th and 29th Association of Southeast Asian Nations (Asean) summits here, Presidential Communications Secretary Martin Andanar said Wednesday.
"President Duterte is a rockstar not only in our country, but also in other countries like Laos and Japan," Andanar told a press conference here.
"Other foreign ministers and delegates have scrambled to get a selfie with our President," he continued.
Presidential spokesperson Ernesto Abella said Mr. Duterte received "empathy" and warm welcome from leaders of the Asean's 10 member-states in his debut on the international political stage.
According to Abella, it was "admirable" how the President handled the conversation he had with his fellow heads of state during the Asean-China summit.
"He has the capacity for statesmanship that is usually missed because of the noise regarding some of his statements," he said. JE
SOURCE:
http://globalnation.inquirer.net
*****~~~~~*****
PRES DUTERTE ARRIVAL IN LAOS , HOW FILIPINO WARMLY WELCOMES OUR PRESIDENT 
Japan's Abe to Duterte: You are famous in Japan
VIENTIANE, Laos – Japanese Prime Minister Shinzo Abe on Tuesday expressed delight over meeting President Rodrigo Duterte at the Association of Southeast Asian Nations (ASEAN) Summit.
During a bilateral meeting on the summit's sidelines, Abe also informed Duterte that is he is well-known even in Japan.
"President Duterte, I would like to congratulate you on assuming the Office of President of the Republic of the Philippines. Mr. President is quite a famous figure also in Japan, and I am very excited to see you in person," he said, eliciting laughter from those present.
But on a serious note, Abe also condoled with the Filipino leader over the Friday night bombing that killed 14 people in Davao City.
"I would like to underscore that Japan firmly deplores the terror incident which took place in Davao the other day. I would like to take this opportunity to express my heartfelt condolences for the victims and their family members and also, I'd also like to reiterate my feelings of sympathy for you," the Prime Minister said.
The Philippines and Japan, former World War II foes, are celebrating 60 years of diplomatic ties this year.
*****~~~~~******
Mount Bud Dajo
Bud Dajo (today it is spelled "Dahu") is an inactive, but not extinct, volcano on the island of Jolo in the Sulu Archipelago of the Philippines. Unfortunately, it is blood-soaked ground. Battles in 1906, and 1911 pitted the United States against the Moro peoples known as the Tausugs. In 1945, Tausug guerrillas and the US Army's 163rd Combat Regiment (41st Infantry Division Division) combined against 400 well-dug in Japanese Marines. But while 1911 and 1945 were clear-cut and honorable victories, the 1st Battle of Bud Dajo, in 1906, began as true fight but ended badly in the controversial massacre of hundreds of innocent women and children. Known also as The Battle of the Clouds, its notoriety in American military history ranks it beside that of Sand Creek (1864), Wounded Knee (1890), and My Lai (1968). Unlike the other three incidents, the match up at Bud Dajo was not as overwhelmingly lopsided at its inception, nor did lax discipline and control unleash an orgy of sadistic violence, as marked the other three.  The resultant massacre at Bud Dajo was a as much as anything the product of moral indifference at the top command level and in part the indiscriminate employment of newer technology, specifically the machinegun. But the result was still the same.
    The word Bud means mountain in the Tausug language and Dajo refers to a species of local tree. Bud Dajo last erupted in 1897. A little over six miles southeast from the town of Jolo, it is 2,175 feet (663 meters)  above sea level and rises steeply to 1,443 feet (440 meters) at the highest of its three summits from above its surrounding high plain. The three summits are to the west, south, and east, running along the outer rim of a large, crater that is approximately 1,500 yards (1,370 meters) at its widest point and with a floor 300 feet deep in the center. The sides of the mountain are steepest on the south and east sides, approaching 60 degrees inclination as it nears the top of the crater rim. In 1906, its base was accessed by a single, narrow six-mile trail from the port of Jolo. A series of confusing, interconnected trails circled the base of the mountain, with three exceptionally steep trails leading to each of the three summits, along precipitous and exposed "hogback" ridges on the west and south trails.  A century ago, as it is today, the mountain was covered with dense jungle foliage and frequently shrouded in mists. (http://www.morolandhistory.com)
Duterte reminds US of Bud Dajo massacre
WHAT was President Rodrigo Duterte referring to when he said that the United States of America has not even apologized to the Philippines for its atrocities during the turn of the century when at least 600 Moro people were killed in the US' pacification campaign.
Duterte spewed out a tirade of historical extra-judicial killings when asked by a Reuters reporter about discussing extra-judicial killings (EJKs) with US president Barack Obama.
"Who is he? When as a matter of fact at the turn of the century, before the Americans left, the Philippines, in the pacification campaign of the Moro in this island, there were around 6M ang population ng Moro, how many died? Six hundred. If you can answer this question and give an apology, I will answer him," Duterte said.
Duterte was referring to the Battle of Bud Daho in 1906 in the island of Jolo.
It was in December 1898 when the US signed a treaty with Spain, acquiring the Philippines for $20-million. The Filipinos, however, refused the takeout and they waged a war.
On July 4, 1902, President Theodore Roosevelt declared the war over after successfully subjugating the insurrectionist Filipino forces, and in his own proclamation said, "except in the country inhabited by the Moro tribes, to which this proclamation does not apply."
The Moro Province was created in 1903 comprising the southern Mindanao and the Sulu islands. Unlike the other provinces, the Moro Province was to be staffed by US Army officers, simply because US believed the Moro Province was backward and need to be civilized and educated on democracy.
The Americans capitalized on the tribal divisions of the Moro Province and subdued them that way. Except those in Jolo. Despite three years of persuasion by Woods, the leader of the Jolo tribes refused to recognize the US as the ruler of the country.
In 1906, hearing words that the Americans were going to invade, the Jolo people fled to the 15-acre wooded crater of Bud Dajo, an extinct volcano, believing that the spirits of the volcano will protect them.
The following account is an excerpt from Wikipedia:
"On March 2, 1906, Wood ordered Colonel J.W. Duncan of the 6th Infantry Regiment (stationed at Zamboanga, the provincial capital) to lead an expedition against Bud Dajo. Duncan and Companies K and M took the transport Wright to Jolo.[2] Governor Scott sent three friendly datus up the mountain to ask the Bud Dajo Moros to disarm and disband, or at least send their women and children to the valley. (Hagedorn, pg. 64) They denied these requests, and Scott ordered Duncan to begin the assault.
"The assault force consisted of "272 men of the 6th Infantry, 211 [dismounted] men of the 
4th Cavalry
, 68 men of the 28th Artillery Battery, 51 Philippine 
Constabulary
, 110 men of the 
19th Infantry
 and 6 sailors from the gunboat 
Pampanga
."
[2]
 The battle began on March 5, as 
mountain guns
 fired 40 rounds of 
shrapnel
 into the crater.
[2]
 On March 6, Wood and Bliss arrived, but left Duncan in direct command. Captain Reeves, the acting governor of the District of Sulu, made one last attempt to negotiate with the rebels. (Hagedorn, pg. 64-65) He failed, and the Americans drew up into three columns and proceeded up the three main mountain paths. The columns were under the command of Major Bundy, Captain Rivers, and Captain Lawton.
[2]
 The going was tough, with the troops ascending a 60% slope, using machetes to clear the path. (Hagedorn, pg. 65)
"At 0700, March 7, Major Bundy's detachment encountered a barricade blocking the path, 500 feet (150 m) below the summit. 
Snipers
 picked off Moro defenders, and the barricade was shelled with 
rifle grenades
. The barricade was then assaulted in a 
bayonet
 charge. The Moros staged a strong defense, then charged with 
kris
 (the traditional wavy-edged sword of the Moros) and spear. 200 Moros died in this engagement, and Major Bundy's detachment suffered heavy casualties. Captain Rivers' detachment also encountered a barricade, and took it after several hours of fighting, during which Rivers himself was severely wounded by a spear. Captain Lawton's detachment advanced up a poor path, so steep in places that the Americans proceeded on hands and knees. They were harassed by Moros hurling boulders and occasionally rushing to attack hand-to-hand with krises. Lawton finally took the defensive trenches on the crater rim by storm.
[2]
"The Moros retreated into the crater, and fighting continued until nightfall. During the night, the Americans hauled mountain guns to the crater's edge with 
block and tackle
. At daybreak, the American guns (both the mountain guns and the guns of the 
Pampanga
) opened up on the Moros' fortifications in the crater. The Moros, armed with krises and spears, refused to surrender and held their positions. Some of the defenders rushed the Americans and were cut down. The Americans charged the surviving Moros with fixed bayonets, and the Moros fought back with their 
kalis
, 
barung
, improvised 
grenades
 made with 
black powder
 and seashells. The defenders were wiped out.
[2]
"Out of the estimated 800 to 1,000 Moros at Bud Dajo, only 6 survived. Corpses were piled five deep, and many of the bodies were wounded multiple times. According to Hurley, American casualties were 21 killed, 75 wounded.
[2]
 Lane lists them at 18 killed, 52 wounded. (pg. 128) Hagedorn says simply that "one-fourth of the troops actively engaged have been killed or wounded." (pg. 65) By any estimate, Bud Dajo was the bloodiest engagement of the Moro Rebellion." (wikipedia)
The "victory" that was earlier celebrated in the US was immediately tainted with shame after the US Congress realized there were women and children among the dead.
"The PH is not a vassal state, we have long ceased to be a colony of the US. Alam mo, maraming diyang mga columnista they look upon Obama and the US as we are the lapdogs of this country. I do not respond to anybody but to the people of the Republic of the Philippines. Wala akong pakialam sa kanya. Who is he to confront me, as a matter of fact, America has one too many to answer for the misdeeds in this country," Duterte said.
Source:
http://www.sunstar.com.ph/davao/local-news/2016/09/06/duterte-reminds-us-bud-dajo-massacre-495916
Read more in :
http://rarehistoricalphotos.com/moro-insurgents-1906/
http://www.documentingreality.com/forum/f10/moro-crater-massacre-aka-battle-mount-dajo-pictures-32085/
*****~~~~~*****
 SEPTEMBER 2, 2016 DAVAO CITY BOMBING
WHILE THE REST OF THE COUNTRY WERE ENJOYING THEIR SLEEP, PRESIDENT DUTERTE HAS ALREADY INSPECTED THE BLAST SITE, VISITED THE INJURED AT SMPC AND SYMPATHIZED WITH THE FAMILIES AT ANGEL FUNERAL HOMES IN LESS THAN 24 HOURS.
PRESIDENT DUTERTE WORRIED & IMMEDIATELY WENT TO SPMC HOSPITAL TO CHECK VICTIMS OF DAVAO BLAST
Despite security concerns hindering President Rodrigo Duterte to immediately go to the scene of the blast on Roxas Street, Davao City, the president still paid a visit to the site and the victims of the explosion last Saturday.
Duterte was only allowed to go and inspect the blast site six hours after the explosion at 4:30 a.m. on Saturday. The president was asked by the Presidential Security Group to stay at the Davao City Police Office headquarters in Camp Leonor before he was allowed to visit the blast site.
Duterte also paid a visit to the victims of the explosion confined in the hospital. He comforted the bereaved kin of the night market blast victims while assuring them that hospital expenses would be shouldered by the government.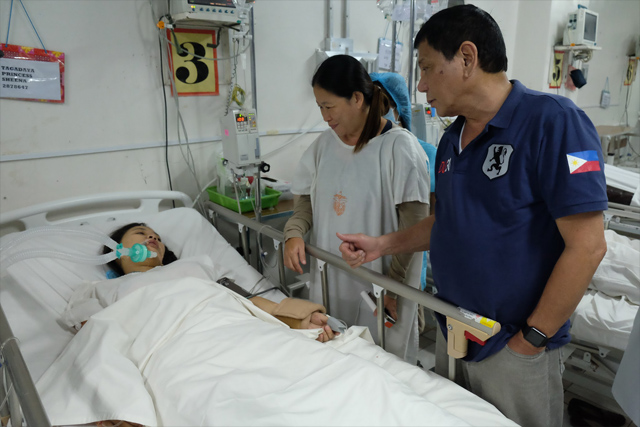 *****~~~~~*****
UPDATE:
'Narco vice mayor' being probed for Davao blast
September 14, 2016
Sept. 3, 2016: Radio DZMM  reported that Abu Sayyaf spokesperson Abu Rami said that the group owns up to the deadly attack. (newsinfo.inquirer.net)
Sept. 3, 2016: Muammar Askali alias Abu Ramie, the self-styled spokesperson of the Al Harakatul Al Islamiya, the Abu Sayyaf's official name, disowns Davao explosion, pointed to an ally as that behind the deadly explosion. (newsinfo.inquirer.net)
Chief Supt. Manuel Gaerlan, the Southern Mindanao police director said any group can claim responsibility over the explosion but that is normal. (newsinfo.inquirer.net)
*****~~~~~*****
Davao is the biggest city in the southern Philippines, with a population of about two million people. It is about 1,500 kilometres (930 miles) from the capital of Manila.
The city is part of the southern region of Mindanao, where Islamic militants have waged a decades-long separatist insurgency that has claimed more than 120,000 lives.
Duterte had been mayor of Davao for most of the past two decades, before winning national elections in a landslide this year and being sworn in as president on June 30.
Duterte became well known for bringing relative peace and order to Davao with hardline security policies, while also brokering local deals with Muslim and communist rebels.
On Sept. 3, 2016, Saturday morning, Duterte declared a "state of lawlessness", which his security adviser said gave the military extra powers to conduct law enforcement operations normally done only by the police.
When asked who was responsible, Duterte said authorities had been expecting reprisals from the Abu Sayyaf Islamic militant group following a military offensive against it.
The Abu Sayyaf is a small but extremely dangerous group of militants that has declared allegiance to Islamic State and is notorious for kidnapping foreigners to extract ransoms. The group beheaded two Canadian hostages this year.
Duterte last week ordered a major assault against the Abu Sayyaf on its stronghold of Jolo island, about 900 kilometres from Davao. Fifteen soldiers died in clashes with the Abu Sayyaf on Monday.
"I remember warning everybody that there could be a reprisal because of the operation there," Duterte said.
While Davao has been regarded as relatively safe compared with other parts of Mindanao, the Abu Sayyaf and other Islamic militant groups have carried out deadly attacks there in the past.
The Abu Sayyaf claimed responsibility for three bomb attacks in 2005 – one in Davao, one in a nearby city and a third in Manila – that killed eight people.
The Abu Sayyaf said it conducted the 2005 attacks in response to an offensive against it at that time.
In 2003, two bomb attacks blamed on Muslim rebels at Davao's airport and the city's port within a month of each other killed about 40 people.
However Duterte on Saturday made clear the Abu Sayyaf was not the confirmed culprit, as he named the Maute gang – another small militant group based in Mindanao that has also declared allegiance to the Islamic State group – as another suspect.
Duterte also raised the possibility of drug lords carrying out the attack as a way of fighting back against his war on crime.
Duterte has made eradicating illegal drugs the top priority of the beginning of his presidency.
Security forces have conducted raids in communities throughout the country to arrest or kill drug traffickers.
*****~~~~~*****
A repost:
For those who made fun of the Davao City bombing incident last night, let me tell you this.
Celebrate because your ego of putting the president in shame has won for the moment. Few months from now when you will start to realize that you are already enjoying the efforts of the President to give your community a better standard for safety, I hope you will not thank him. When you will no longer hear brutal beheadings by the ASG, I hope you will not thank him. When your kids, your parents, your friends, your relatives, and your neighbors are no longer taking drugs and change for good, I hope you will not thank him. When you and your family can now enjoy the good services of the government, I hope you will not thank him. And when one of these days you will hear how Philippines rise in the international platform, I hope you will not thank him.
Always remember, the president don't need to hear your praises, even your simple "thank you" message. But in times like this when all his enemies in his war on drugs, ciminality, corruption, and terrorism turn against him and attack "us" Davaoeños, his people, all he ask is a little respect. For the lives of our brothers and sisters has become a collateral for this bloody war for the sake of all law abiding Filipinos. The people of Davao did not ask for you, haters, to pray for us in times like this. All we ask is respect.. This is terrorism.. and the only people much worst than the terrorist themselves are the people who laughed at the victims who died.
~DARREN JAMES
*****~~~~~*****
The point is. No matter how they destroy Duterte in the international community, there will always be a Filipino who will defend him and tell the truth.
Repost: Mae Anne Digamo Paterson
After what happened in Davao, and no matter how they destroy our President Duterte in the international community, there will always be a Filipino who will Defend him and tell the Truth!
Here's a random scenario from abroad.
American or British talks to his Filipino friend: Hey Felicia. I'm sorry to hear about what's going on in your country right now. Hope your family is okay.
Filipina: Why what's wrong?
Foreigner: Haven't you read the news? There's been a lot of killings going on. The elected President is running the country with his reign of terror. They say he is a mass murderer and he is committing genocide.
Filipina: Oh, you mean the killings? Those are legitimate police operations. Those were criminals and drug peddlers killed because they resisted arrest. Wow! Genocide? That's like killing 6 million in a holocaust. That's just too much. Don't believe that. My family has never been better. In fact, this is the happiest they've been since the new President took office.
Foreigner: Really? Why so?
Filipina: Yeah. Because change has come. Just barely two months and he's done so much. Did you know that we already have 911 emergency response? 600,000 drug addicts and peddlers voluntarily surrendered for rehabilitation. More than 10 mining firms closed down because of illegal operations. They're making the country self-sufficient in producing rice. Stranded OFWs were rescued in Saudi Arabia. The railway transit is being repaired and is much more efficient now. The President goes after the drug lords and corrupt politicians. The government is engaging with peace talks with the rebels. They're hunting down the terrorist group down south. Crime has gone down 49%. It's so much safer to walk the streets now.
Foreigner: Wow! For real? I haven't read those in the news.
Filipina: Yes. Because media outlets here only report the negative ones. Most media corporations in the Philippines are owned by oligarchs. That's why they try to bring down the President because they are scared of him.
Foreigner: Thanks for telling me this. No wonder Filipinos always have good things to say about your new President.
Filipina: That's right. For the first time in my life, I've seen a President that we can really trust. He has the approval of 91% of the Filipinos. Oh, and by the way. Don't believe that it's chaotic in the Philippines you can go and visit!
Foreigner: Thank you that would be great!
http://news.asiaone.com
http://www.straitstimes.com
http://www.sunstar.com.ph
http://www.philstar.com
http://www.mb.com.ph
rappler.com