Jordanian pilot burned alive, ISIS claims in video
Al-Kaseasbeh was captured in December when his F-16 crashed near Raqqa, the de facto capital of the Islamic State group. The militants control about a third of both Syria and neighboring Iraq in a self-declared caliphate.
Jordan, a staunch Western ally, is part of a U.S.-led military coalition that has carried out airstrikes against Islamic State group targets since September.
The country had been conducting indirect, behind-the-scenes negotiations through tribal leaders in neighboring Iraq, according to the Associated Press.
Jordan offered to release an al-Qaida prisoner from death row in exchange for the pilot, but the militants didn't say if they were considering such a deal. The talks collapsed last week, and a Japanese journalist, Kenji Goto, who was held with al-Kaseasbeh was beheaded.
Jordanian state television reportedly suggested that the pilot was killed as early as Jan. 3, 2015.
A new video believed to be from the Islamic State purports to show the killing of the captive Jordanian pilot Lt. Muath al-Kaseasbeh.
In the video, a man who the militants say is al-Kaseasbeh is burned alive in a cage while wearing an orange jumpsuit.
It is the ISIS militants' "most barbaric video yet," according to Rita Katz, director and co-founder of the SITE Intelligence Group, which tracks the militants online.
The highly stylized video, called "Healing of the Believers' Chests," is 22 minutes long — longer than other videos released by the group.
President Barack Obama called the video "one more indication of the viciousness and barbarity of this organization," in a reference to ISIS. "Whatever ideology they're operating off of, it's bankrupt…this organization appears only interested in death and destruction."
"This organization appears interested in only death and destruction."
SOURCE:
Mashable.com
*****************************************************************************************************************************************
SYRIA: Cheering crowds watch big-screen videos of Jordanian pilot being burned alive by the Islamic State (ISIS)
Filmed in the ISIS terror group's de facto capital, Raqqa, the four minute clip is titled "Muslims' Joy at Burning of Jordanian Pilot." In the video, a young child of about 8 says, "I would burn him with my own hands," as the crowd cheers and shouts Islamic religious slogans when the pilot is engulfed by flames.
UK Daily Mail (h/t Maria J)  A sickening video showing cheering crowds of ISIS supporters watching the barbaric murder of a Jordanian pilot on specially erected giant screens was released yesterday afternoon.
The crowd can be heard cheering and shouting religious slogans as the airman goes up in flames, before an interviewer asks for their views on the atrocity, which has been widely condemned as one of the most sickening acts ever committed to film.
Among those questioned is a child who appears no more than eight-years-old. He is seen smiling and talking vividly about the murder, while eulogising about ISIS and their barbaric acts.
SOURCE:
barenakedislam.com
*****************************************************************************************************************************************
Jordanian king vows 'relentless' war on Islamic State's own ground
AMMAN Wed Feb 4, 2015 6:25pm EST
(Reuters) – Jordan's King Abdullah vowed a "relentless" war against Islamic State on their own territory on Wednesday in response to a video published by the hard-line group showing a captured Jordanian air force pilot being burned alive in a cage.
Jordan hanged two Iraqi jihadists, one a woman, on Wednesday and vowed to intensify military action against Islamic State.
"We are waging this war to protect our faith, our values and human principles and our war for their sake will be relentless and will hit them in their own ground," state television quoted the king as saying during a security meeting.
U.S. officials said on Wednesday that the United Arab Emirates had withdrawn from flying air strikes in the U.S.-led coalition campaign against Islamic State after the Jordanian pilot's plane went down over Syria in December.
Jordan, which is part of the U.S.-led alliance, had promised an "earth-shaking response" to the killing of its pilot, Mouath al-Kasaesbeh, who was captured after his F-16 crashed.
Government spokesman Mohammad al-Momani said on Wednesday: "We are talking about a collaborative effort between coalition members to intensify efforts to stop extremism and terrorism to undermine, degrade and eventually finish Daesh."
Daesh is used as a derogatory Arabic term for Islamic State.
He said it was a continuation of Jordan's long standing policy in fighting hard-line Islamist militants and that King Abdullah, who cut short a trip to the United States, headed a meeting with senior security officials on Wednesday.
"All the state's military and security agencies are developing their options. Jordan's response will be heard by the world at large but this response on the security and military level will be announced at the appropriate time," Momani said.
Islamic State had demanded the release of Sajida al-Rishawi in exchange for a Japanese hostage whom it later beheaded. Sentenced to death for her role in a 2005 suicide bomb attack in Amman, Rishawi was executed at dawn.
Jordan also executed a senior al Qaeda prisoner, Ziyad Karboli, an Iraqi man who was sentenced to death in 2008.
The Jordanian pilot was the first from the coalition known to have been captured and killed by Islamic State.
Jordan is a major U.S. ally in the fight against hardline Islamist groups and hosted U.S. troops during operations that led to the invasion of Iraq in 2003. It is home to hundreds of U.S. military trainers bolstering defences at the Syrian and Iraqi borders, and is determined to keep the jihadists in Syria away from its frontier.
CALLS FOR REVENGE
The fate of Kasaesbeh, a member of a large tribe that forms the backbone of support for the country's Hashemite monarchy, has gripped Jordan for weeks.
Some Jordanians had criticised the king for embroiling them in the U.S.-led war that they said would provoke a militant backlash but the pilot's killing produced a wave of outrage and calls for revenge.
Jordan's authorities have not commented on how many missions the air force has carried out against Islamic State.
In a televised statement to the nation, the king urged national unity and said the killing was a cowardly act of terror by a criminal group that has no relation to Islam.
There was widespread shock and anger across Jordan at the brutality of the pilot's killing, which drew international condemnation.
Kasaesbeh's father said the two executions were not enough and urged the government to do more to avenge his death.
"I want the state to get revenge for my son's blood through more executions of those people who follow this criminal group that shares nothing with Islam," Safi al-Kasaesbeh told Reuters.
Islamic State has seized large areas of Iraq and Syria, Jordan's neighbours to the north and east.
In the pilot's home village of Ay, mourners said Jordanians must rally around the state. "Today we put our differences behind us and rally behind the king and nation," said Jabar Sarayrah, a shopkeeper.
DAWN EXECUTION
The prisoners were executed in Swaqa prison, 70 km (45 miles) south of Amman, just before dawn, a security source who was familiar with the case said. "They were both calm and showed no emotions and just prayed," he added without elaborating.
Rishawi, in her mid-forties, was part of an al Qaeda network that targeted three Amman hotels in suicide bombings in 2005. She was meant to die in one of the attacks – the worst in Jordan's history – but her suicide bomb belt did not go off.
Only two other prisoners are on death row in Jordan – Mohammad Hassan al Sahli, a Syrian who was convicted of plotting and executing a rocket attack in August 2005 against a U.S. navy vessel and the Israeli port city of Eilat, and Jordanian Muamar Jaghbeer, a leading al Qaeda operative.
There are at least 250 Islamist militants in prison, almost half of them were arrested in the past year and are Islamic State sympathisers.
SOURCE:
reuters.com
*****************************************************************************************************************************************
And how did "leader of the free world" Barack Obama respond to the monstrous act of ISIS?
"You know, I just got word of the video….it's just one more indication of the viciousness and barbarity of this organization. And it I think will redouble the vigilance and determination on the part of global coalition to make sure that they are degraded and ultimately defeated. It also indicates the degree to whichwhatever ideology they are operating off of, it's bankrupt. We're here to talk about how to make people healthier and make their lives better. And this organization appears only interested in death and destruction."
*****************************************************************************************************************************************
Muslim clerics denounce 'savage' Isis murder of Jordanian pilot
The immolation of a Jordanian pilot by Islamic State (Isis) has triggered a unified outcry from senior religious clerics across the Muslim world – including a jihadi preacher – who insist the militants have gone too far.
Abu Mohammed al-Maqdesi, considered a spiritual mentor for many al-Qaida members, said the killing of Lt Muadh al-Kasasbeh was not acceptable in any religion. He spoke in an interview with Jordan's Roya TV a day after being released from more than three months in detention after the killing of the pilot. There was speculation he was freed to encourage him to speak out against Isis.
At Friday prayers in neighbouring Iraq, where the militant group has seized territory in a third of the country, Ayatollah Ali al-Sistani, a senior Shia cleric, said in a sermon that the "savage" act demonstrated the extremists knew no boundaries and "violated Islamic values and humanity".
Religious groups, often at odds over ideologies or politics, have increasingly been speaking out against the militants, who continue to enforce their rule in Iraq and Syria through massacres, kidnappings, forced marriages, stonings and other acts of brutality.
Iranian Shia cleric Ayatollah Mohammad Emami Kashani told his followers that militant groups such as Isis had been created by western states to promote "an ugly picture of Islam".
This week, Isis militants released a video of Kasasbeh, a Muslim, being burned to death in a cage. While the beheading of hostages from the US, Britain and Japan drew condemnation from most religious sects within Islam, the gruesome images of the airman's murder served as a unifying battlecry for Muslims across the world.
Jordan joined a US-led military coalition against the militants in September, but said it would intensify its air strikes in response to the killing of the pilot. On Thursday, dozens of fighter jets struck Isis weapons depots and training sites, Jordan's military said.
Outrage escalated in the capital of Amman after Friday prayers, with demonstrators unfurling a large Jordanian flag and holding up banners supporting King Abdullah II's pledge for a tough military response to avenge al-Kasasbeh's death. "We all stand united with the Hashemite leadership in facing terrorism," one banner read.
It is unusual to see such a unified response from religious institutions, because moderate camps often represent drastically different views to those of hardline minority groups. The recent attacks on journalists at the French satirical weekly Charlie Hebdo, for instance, brought a range of responses in the Muslim world, with many condemning the death of innocent people but disagreeing on whether the publication crossed the line in its caricatures of the prophet Muhammad.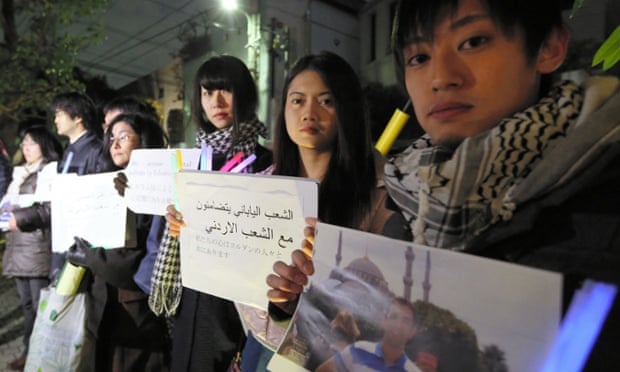 The 9/11 attacks in the US spurred a hint of celebration and praise from anti-American radical groups, including al-Qaida, the group behind the hijackings, but condemnation from moderate Islamic factions. Now, even al-Qaida has grown more outspoken against Isis, a former al-Qaida offshoot in Iraq. That criticism has left the Isis extremists increasingly isolated.
Even clerics aligned with Isis are said to be speaking out against the pilot's killing. Rami Abdurrahman, director of the UK-based Syrian Observatory for Human Rights, said extremists dismissed one of its religious officials in Aleppo province after he objected to how the pilot was put to death.
The religious official, Saudi cleric Abu Musab al-Jazrawi, warned during a meeting that such killings contradicted the teachings of the prophet, Abdurrahman said. Other clerics in the meeting in the northern town of Bab launched a verbal attack against the Saudi cleric, who was later sacked and referred to a religious court, he said. The incident could not be confirmed independently.
Many Facebook users in Bosnia posted pictures on Friday of the Jordanian king in his military uniform, hailing his pledge to take a "severe response" for the pilot's death. The head of Bosnia's Islamic community, Husein Kavazović, denounced the militant group, saying "there is no 'but' in condemning those crimes". At least 150 Bosnians have reportedly joined Isis, and Kavazović urged his government to strip them of their citizenship.
ISIS HAS BEEN CRITICISED BY MUSLIM CLERICS FOR DECLARING A CALIPHATE
Al-Maqdesi criticised the militants for declaring a caliphate, or an Islamic state, last year in the areas under their control. He said such a state run according to Islamic law was meant to unite Muslims, but the extremists had been divisive.
Grand imam Ahmed al-Tayeb, head of the world's most prestigious seat of Sunni Islam learning, the Al-Azhar mosque in Cairo, said this week that the militants deserved the Qur'anic punishment of death, crucifixion or chopping off their arms for being enemies of God and the prophet Muhammad.
"Islam prohibits the taking of an innocent life," Tayeb said. By burning the pilot to death, the militants violated Islam's prohibition on the immolation or mutilation of bodies – even during wartime, he said.
Iraq's most senior Sunni mufti, Sheik Mahdi al-Sumaidaie, said the crime against Kasasbeh was unprecedented, adding that "the prophet Muhammad said that only God can punish with fire".
Pakistani Sunni cleric Munir Ahmed, in his sermon in Islamabad, also dismissed any theological basis for the crime, saying the "gruesome" death of the Jordanian pilot was "the most horrible act of cruelty". It was a punishment that "Allah has kept for its own authority and no human is authorised to do it", he said.
SOURCE:
theguardian.com