Each age has its visionaries, and the 21st century is no exception.
The genesis of a prophet often follows the same pattern: a charismatic leader emerges in turbulent times – usually war, revolutions, famine, or natural disasters – and challenges secular and religious authorities.
Prophets do not belong to the past, but indeed to the present and invariably to the future. They are timeless because their lives and the predicted fulfilment of their prophecies can span decades, even centuries.
Because the way "prophet" is commonly used, there is a misconception that its basic definition is "someone who foretells the future," but this definition is too narrow. Prophet is better defined as "one who speaks for another."  A true prophet, then, is a person who speaks for God, delivering a message that God has ordained him to give,in fact, foretelling what would happen later.
In a similar way, a false prophet also may not be in the business of foretelling the future. A false prophet is simply someone who speaks for another but falsely. False prophets either speak for the wrong god, or they claim to have heard from the true God but do not accurately represent Him or His words. At the very least, they speak out of their own human hearts, but more likely, the "god" they are speaking for is really a demon.
The very fact that their predictions leave no-one indifferent points to our subconscious fascination with them. The dominant attitude in some societies is generally to dismiss prophets as fools and impostors, relics from the most obscure times in our history. Yet we often forget that new religious movements also appear every year.
A false prophet, though, with his covetousness, presumption, and self-will, is more likely to end up spending a good deal of time talking about himself.
Many false prophets simply point people to themselves. Their covetousness manifests itself in a desire for power, influence, control, prestige, or importance—the antithesis of being poor in spirit, meek, pure in heart, and mourning over their ungodly weaknesses. The true prophet does not draw attention to himself but to God. If a prophet or teacher spends a great deal of time talking about himself, it is a good indication just who his god is!
Prophets are false when they fail to express God's will accurately, and they fail because they are not in contact with the true God.
Here are some bizzare and scandals of modern prophecy and their alarming practices:
The MGZA appears to be linked to the "Zion Christian Church" (ZCC) of South Africa, which also has its headquarters in Limpopo province, and is South Africa's single largest black church.
The ZCC has a long tradition of encouraging its congregants to support "prophets." Some of the more famous recent "prophets" include:
1. LETHEGO RABALAGO: Mount Zion General Assembly chursh in the town of Zebedelia, Limpopo Province
The first "pastor" to publicly announce his "healing work" in this manner was self-styled "prophet" Lethebo Rabalago from the Mount Zion General Assembly (MGZA) church in the town of Zebedelia, Limpopo province.
Speaking to The Citizen, 24 y.o. Rabalago confirmed using Doom to heal people.
"God uses anything to heal the sick and Doom is no exception. I always have an a-ha moment with the sick because, through the mercy of God, they always get help," he said.
Alarming practices:
Posted a photo on Facebook which showed what looked like a large speaker on top of a person lying on the ground and sitting on the speaker while a person remains underneath Source: Weekend Post Image: naijapicks.com
A pastor with rocks in his hands throwing congregants as he claim that God instructed him to do that so that they get healed. Source: Daily Sun
Rabalago was reported to have also blessed "everyone with the gift of faith" by making them eat Omo washing powder. He then gave the washing powder, which was in a white container, to a young woman who was standing in a crowd of schoolchildren. Source: BUZZ SOUTH AFRICA
 In 2016, he is photographed spraying insecticide into the faces of his followers, saying it will heal them Source: Weekened Post
A South Africa pastor who sprays his congregation with insecticide has been widely condemned.
In a Facebook post, self-proclaimed prophet Lethebo Rabalago claims a pesticide called Doom can heal people. The company that produces Doom warned of the risks of spraying the substance, while a government commission urged anyone affected to lodge complaints.
But the pastor has defended his actions, telling the BBC he is using unconventional methods to heal people. The country has seen a wave of practices where church members have been subjected to unorthodox rituals to receive healing. In photos circulating on Facebook and Twitter, Mr Rabalago, who runs the Mount Zion General Assembly in the Limpopo province, is seen spraying the insecticide directly into the eyes and various body parts of his congregants.
He told the BBC's Nomsa Maseko in Johannesburg that he had sprayed the face of one woman because she had an eye infection and claimed the woman was "just fine because she believed in the power of God". He also claims the spray can heal cancer and HIV. "Doom is just a name, but when you speak to it to become a healing product, it does. People get healed and delivered through doom," a post on the church's Facebook account reads. Testimonies of people who have supposedly been healed by Doom have also been posted on the Facebook page.
But Tiger Brands, the company that makes the product, says it finds the practice "alarming".
"[We] want to make very clear that it is unsafe to spray Doom or any aerosol onto people's faces," the company said in a statement.
"Doom has been formulated to kill specific insects which are detailed on the cans, and the packaging has very clear warnings which must be adhered to," the statement added.
The company said it was trying to contact the pastor to ask him to stop the practice.
His mother, as gathered, has also disassociated herself from her son's ministry. "I don't know where my son is, and please, in the name of God, I do not want anything to do with him, his claims or his church," the physically challenged woman said.
Polemics Report: Lethebo Rabalago seems to be a popular speaker in his circles, and has even appeared on religious television. He is not the fringe of the charismatic movement in Africa. He is the mainstream of the charismatic movement in Africa. Please pray that the doctrines cessationism and the sufficiency of Scripture will grow on a continent so overtaken by charismatic charlatanry.
2. LESEGO DANIEL: Rabboni Ministries
Daniel is the father of the "Doom pastor" Rabalago.
sde.co.ke: In Kenya, news of human beings eating grass screams witchcraft and is usually a punishment for stealing stuff that does not belong to them.
However in South Africa, eating grass according to one Pastor Lesego Daniel, brings you closer to God. He argued that humans can eat anything to feed their bodies and survive on whatever they chose to eat.
Alarming practices:
Lesego Daniel, from the Rabboni Ministries, who in 2014 instructed members of his congregation to drink gasoline and eat grass and flowers, in order to effect miracle cures. Source: The European Union Times
News24: Religious practices that contravene the founding provisions of the Constitution, the Bill of Rights and international law should be discontinued."
The two commissions called on religious organisations, government, community members, civil society organisations and private organisations to condemn churches who continued to exploit the vulnerable and the destitute in the name of religion.
"People's living conditions and vulnerabilities should not be used as reasons to subject them to inhumane practices under the disguise of religion."
Gauteng infrastructure development MEC Nandi Mayathula-Khoza spoke at a church in Soshanguve, Pretoria, warning people off harmful religious practices.
"If you go about feeding people grass and petrol, you must know that you are not a good shepherd. You are misleading the folk," she said.
She warned of the health dangers of eating grass and swallowing petrol.
3. PHILIP SITHOLE: Hammanskraal,North Pretoria
The European Union Times: Just a day after Rabalago's revelations, another "prophet" going by the name of Apostle Phillip Sithole, located in the town of Hammanskraal, just to the north of Pretoria, released a video showing him commanding a church member to touch and eat live electric wires in order to be "cured."
According to the South African Daily Sun newspaper, Sithole also turned water into wine, announcing that he was replicating the biblical miracle, and one man who he asked to drink the wine instantly got drunk, so he included that scene in his video.
Sithole, who is the pastor of Divine Word Ministries, told the Daily Sun that he could "command people to touch live wires and they will not get electrocuted. Anointing is more powerful than live wires," he claimed.
He said after he had anointed people, they could do anything without putting themselves in danger. "Not everyone can do this. It's only for those who have the power of God."
 5. PENUEL MNGUNI: End Times Disciples Ministries in Gauteng, South Africa
The 25-year-old "man of God" reportedly started his church 2014 after training under Lesego Daniel.He has since been chased out of the Soshanguve, north of Pretoria, where his church was located.
Alarming practice
A South African Pastor, Prophet Penuel, has shocked many after asking the members of his congregation in need of prayers to strip naked and lie on the ground then sits or walks over their naked bodies in a bid to deliver them from 'evil spirits'.The 'man of God' is seen holding a microphone delivering a supposed sermon.  The church tagged one of the pictures: "Total demonstration of God Power, no pain in them; meaning God is with us. To God be the glory." The photos spawned anger from furious readers and was deleted. Source: Pulse.ng
SA Pastor Penuel Mnguni sits on church members, tired from masturbating (facebook) Source: Pulse.ng
 Spiritual food: Controversial dubbed "snake pastor" by local media South African Pastor Penuel Mnguni also feeds his congregation with live snakes,  with the promise that it would become chocolate it their mouths and with pieces of paper and items of clothing including this piece of purple cloth Source: Daily Mail Image:  UNILAD.co.uk
He fed cockroaches to two brothers in his congregation, alleging that the insects turned into cheese for the one and spices for the other. And fed poisonous flower too. Source: dailymail.co.uk
dailymail.co.uk:  The self-styled 'prophet' was arrested after South Africa's biggest animal charity, the SPCA tipped off police.
'He was doing a lot of things that were unacceptable, both to his congregation and the snakes,' he told MailOnline.
'But our jurisdiction only relates to animals, so we can only lay a charge against him for that.
UNILAD.co.uk: Dubbed "snake pastor" by local media South African Pastor Penuel Mnguni has been arrested and bailed for forcing people to eat live snakes and underwear.
BBC NEWS: Charges against Mr Mnguni, laid by the Society for the Prevention of Cruelty to Animals, were provisionally withdrawn in July 2015 because of a lack of evidence.
In 2015, Facebook images showed the self-proclaimed prophet feeding his members stones which he claimed to have turned into bread
Pastor Rides His Church Members After Commanding Them To Behave Like 'Horses'  Image: nigerianhive.com
 South African End time ministries pastor beaten and tied up Image: happenings.com.ng
happenings.com.ng: He was beaten up by some angry South African youths in Mmakaunyane Village in the North Western part of South Africa last week Sunday November 15th, 2015. During the attack, the youths burnt down his church and tied him and a member of his church up with rope.
The tent of his church was burnt down by the angry youths while he and some of his church members were beaten and tied up. Police officers fortunately came to their rescue. Image: happenings.com.ng
6. SOBRINO VALDECI PICANTO: Evangelical Pastor in Brazil
Linkedin.com: Sobrino Valdeci Picanto, an evangelical pastor from Brazil, persuaded his followers that he practiced oral sex because it was the way he preached the word, saying that his 'milk' was sacred.
Alarming Practice:
And this pastor said his penis was blessed and that "the Lord had consecrated with divine milk of the Holy Spirit" and of course, had to go around evangelising.
Valdeci Sobrino Picanto  Image: reportghananews.com
Image: idreamzmedia.com
"He convinced us that only God could come into our lives through the mouth", a follower said, "Often, after worship, Pastor Valdeci asked us to do oral sex on him until the Holy Spirit came through ejaculation and delivered funds to the church."
Image: ghanascoop.com
Denise Pinheiro, delegate of the region, said, "Valdecir was caught red-handed while rubbing his penis in the face of a local merchant, which promised to make more sales in her business due to the divine liquid. When we acted Valdecir offered no resistance and even asked if I wanted to be part of the kingdom of heaven on the way to the police station.
Sobrino Valdeci Picanto, 59, was arrested in Apore, Goiás, Brazil, for raping several women attending his church. He gave as an excuse that his penis had been consecrated with "divine semen of the Holy Spirit." 
Valdecir came to abuse some elderly, and defends himself by saying that 'he had an encounter with Jesus in a brothel and gave him the mission of spreading the sacred semen throughout the state, beginning with the faithful Apore Assembly, of which he is responsible'.
7. Walter Masocha was known by church members as "The Prophet", "The Apostle" and "Man of God" of Agape For All Nations Ministries International.
The Zimbabwean-born preacher  Masocha claims the vision instructed him to establish his church – Stirling-based Agape For All Nations Ministries International.
Masocha described his vision of God at the Fife hotel in an "exclusive interview" for a DVD produced by Agape.
He said: "I was praying in this place called the Balcomie Hotel, in room number 12.
"I was actually praying on my belly – and I woke up to have the most awesome experience.
"Every time that I think about this, I have this fear that comes over me. I fear God, I really fear God.
"I woke up in the afternoon to find the whole room was filled with a cloud. I could not see the furniture.
"I had had experiences where I encountered God in the past – seven times he had appeared to me.
"But this was something out of the ordinary."
He continued: "All of a sudden, this cloud moved.
"Part of the cloud formed the shape of a human mouth and through this mouth the Lord God began to speak to me. He said, 'I have heard your cry, I want you to lead my people. I want you to write this down.'
"I had to look around to find somewhere to write what he was going to say. I didn't even expect him to say anything about starting a church.
"I was just amazed by this big cloud and this lip thing that it was coming through.
"I started writing at around 4.15pm on the first day. And he continued speaking to me, giving me breaks in between, until 12.30pm the next  day.
"It turns out he had given me the vision of the church as I had wrote it down. It was just an amazing experience."
A spokesman at Balcomie Links Hotel would not confirm whether any other guests had heard the voice of God in Room 12.
He said: "As far as I am concerned, it has nothing to do with the hotel."
Alarming practice:
Walter Masocha Image: YouTube
nehandaradio.com:  A cult leader convicted of molesting two members of his flock claims God told him to start his ministry during a stay at an old hotel in Fife
PRINCESS Chiferere was just 13 when pervert preacher Masocha began grooming her at Agape for All Nations church in Stirling before molesting her. 'He said I had demons in my pants and he was pinging them away': Teen victim of sex shame preacher breaks silence – Image:  The Zimbabwe Daily
Jean Gasho Image: The AfroNews
bulawayo24.com: Jean Gasho says she was "abused, betrayed and humiliated" by Pastor Walter Masocha, the founder and leader of the Agape for All Nations Ministries International Church. The church members, especially women refer to Dr. Masocha as "Daddy". "I struggled initially to call him Daddy but he kept calling me his beloved daughter, and in the end I could not stop calling him Daddy and I even saw him as a father figure in my life, more important than my own biological father," Jean says.
He was Jean's spiritual father for about two years, until last year. "During those two years I watched the man I had trusted as my father slowly turn me against my husband and manipulate me in ways that were so cruel and almost inhuman. I used to confide in him and shared all my weaknesses with him, as he said I was supposed to tell him everything. He then started using the information I shared with him against me," Jean says.
Jean's husband however, never listened to her fears. Whenever she refused to go to church, her husband called her "demonic" and even reported her to Dr. Masocha.
"My marriage was so strained by the church, emotionally and financially, and Dr. Masocha was doing nothing to help us. I got to a point where I couldn't do it anymore, for sanity's sake," Jean says. "My husband was becoming more and more abusive, and everything he was doing he said he was being instructed by Daddy. I started to see that slowly it was Daddy who was destroying my life."
It was reported how disgruntled former members  labelled the church as a "cult"  where rags used to collect Masocha's sweat  were considered "blessed by the prophet." Source: newzimbabwe.com
Walter Masocha claims the "mouth of God" appeared to him on a spiritual break in Crail in 2006 or 2007.
Agape, a registered charity, raked in more than £3.3million from followers in the last four years.
Farai Chirashi son Scott Image: Rebel Circus
But it was hit by scandal when it emerged that former member Farai Chirashi cut her five-year-old son Scott's heart out after she was shunned by the church.
8.  PROPHET RUFUS PHALA: AK Spiritual Christian Church in Makgodu, Limpopo
Prophet Rufus Phala Image: Newsbugmedia
The Inkatha Freedom Party has called on the commission to investigate the increase in the number of pastors and prophets who use dangerous chemicals claiming they are healing people.
The Commission for the Promotion and Protection of Cultural, Religious and Linguistic Communities (CRL Rights Commission) says it is shocked to hear about two pastors who gave congregants harmful liquids to drink as part of their healing.
"As a commission we categorically state that no one should be subjected to conditions that are detrimental to their health and well-being," chairperson Thoko Mkhwanazi-Xaluva said in a statement on Friday.
Alarming practice:
Her statement follows reports about Prophet Phumzile Topi who allegedly gave his congregants a liquid substance to drink which caused them to vomit and collapse in Mthatha and Prophet Rufus Phala from Makgodu in Limpopo who made his church members drink Dettol antiseptic liquid.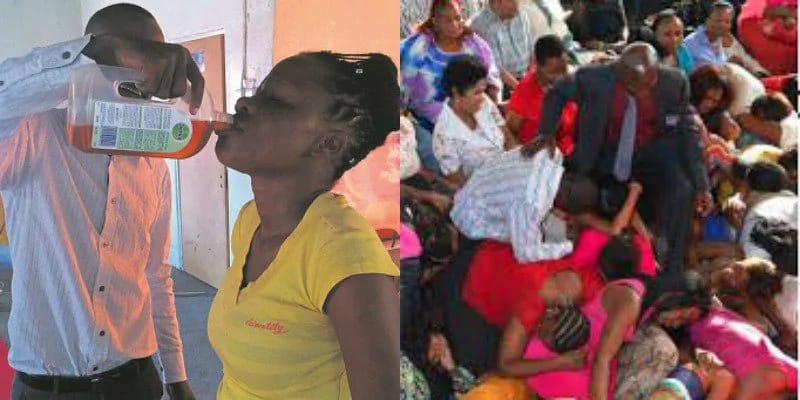 "Prophet" Rufus told the congregation to drink the disinfectant, promising they will be healed of their sickness. Image: Afrosky
xsouth.com: I know Dettol is harmful, but God instructed me to use it. I was the first one to drink it,
he claimed, adding that he has been getting WhatsApp messages from people who say they have been healed.
One Dr Mabowa Makhomisane, said Dettol is harmless when mixed with bath water or when cleaning a wound.
But if it goes into your stomach and gets absorbed into your body, it decreases the amount of oxygen in your system.

This might cause to you collapse and die. If you vomit the liquid into your lungs, it causes aspiration pneumonia. Your lungs will get swollen and you won't be able to breathe.
Dr Makhomisane advised the people who drank the liquid to consult a doctor immediately.
The economics of prophecy
Rational as we may think we are, we are still all ears whenever the end of the world is prophesied. The turn of a century generally marks a psychological milestone in our collective consciousness, and comes with its share of apocalyptic predictions – think of the millennium bug mania, or the end of the Mayan calendar on 21 December 2012.
Hollywood regularly exploits this trend with blockbuster films based on natural disasters and cataclysmic conflicts, and doomsday prepping ("survivalism") is now a multi-billion-dollar industry in America. Religious or not, most of us accept that the world, like our lives, will end one day. The question is: when?
No doubt many of us would lead a different life if we knew the answer. Our perception and approach to the future conditions much of our present as both individuals and as a society. The weather forecast, medical prognoses, financial investments, insurance, retirement pensions, for example, all reflect or determine our choices and approach to the future.
Prophets and progress
Like astrology, prophecy suffers from modern prejudice and continues to be dismissed as superstitious popular culture. Yet many figures of what we like to think of as the scientific revolution and the Enlightenment – Galileo and Newton included – were also practising astrologers or dabbled in biblical interpretation and mysticism.
Today, the Raëlians seek to reconcile religion and science with an atheistic theory of extraterrestrial intelligent design; they conduct research in human reproductive cloning, and claim thousands of followers worldwide.
It is funny, even ironic, how the meaning of some words we casually use to describe prophets has evolved over time. In the early modern period, "enthusiast" (one inhabited by God's spirit) and "visionary" (someone who has visions) were derogatory terms that could often see you imprisoned or confined to a madhouse.
Today, they have become highly praised attributes – at least in their secular sense. Steve Jobs is often hailed as a modern "visionary" for imagining transformative consumer devices that are now an essential part of our lives. Yet for many years his customers were compared to sectarian disciples, worshipping his kooky alternative technology in Apple's temple-stores.
History, as we know, is written (and rewritten) by the victors. Yet prophets and prophecies deserve credit for challenging our preconceptions and certitudes.
We pride ourselves as the heirs of the Enlightenment, inculcated with ideals of individual freedom, scientific and social progress. We should not forget, however, that those who first promoted universal suffrage, freedom of conscience and expression, inter-religious dialogue, wealth redistribution, the education of women and black slaves, female preaching and the abolition of slavery were all once branded as dangerous fanatics turning the world upside down.
Tomorrow, perhaps, the fanatics of the past will be rehabilitated as the visionaries of their time.
"Do not judge according to appearance, but judge with righteous judgment"
SOURCE:
Weekend Post
The European Union Times
buzzsouthafrica.com
linkedin.com
dailynews.co.zw/articles/2016/12/04/touch-not-my-anointed
How to Test False Prophets
You learn nothing if you treat every conversation like an argument. People may genuinely be interested to learn and understand your perspective, whilst "you" shut down and become defensive, confusing the other person.
There is a big difference between "thinking you're right vs "knowing you're right ". One is a guess, the other has the facts stacked on its side. Someone just can't admit when they're wrong.
waking up at the same time every night without an alarm clock