The 7.9-magnitude earthquake that hit Nepal April 25, 2015 affected millions but didn't change things in Basantpur Durbar Square, a place for the daily worship of Kumari, Nepal's living virgin goddess.
Even after the quake took over 7,000 lives while leaving much of Nepal in ruins, Kumari's pooja (worship) continues at Kumari Ghar- a three-storey architectural wonder which remained untouched whereas most of the temples and old palaces around it turned into rubbles.
~ Kumari Ghar , Kathmandu~
Even though the city states of Bhaktapur and Patan have separate Kumaris, the Kathmandu Kumari is regarded as the most important as even kings seek her blessings by touching her feet in public during the festival of Indra Jatra.
The seven year old Kumari is worshipped every morning as Taleju, a form of Durga (the invincible). Believers known as karmacharyas (Newar priests) from Telaju Temple visit her abode with flowers and prasad to seek blessings.
~ Boudhanath Stupa (or Bodnath Stupa) is the largest stupa in Nepal and the holiest Tibetan Buddhist temple outside Tibet. It is the center of Tibetan culture in Kathmandu and rich in Buddhist symbolism. The stupa is located in the town of Boudha, on the eastern outskirts of Kathmandu  ~ (sacred-destinations.com) ~ 
  ~ The Stupa ~
Kumari was blessing her devotees on the first floor of her house when the earthquake struck. Believing in her powers, Gautam Shakya an 11th generation caretaker of Kumari said "Kumari Ghar withstood the devastating earthquake because of Kumari's powers."
According to Shakya, mostly Chinese tourists were present in Kumari Ghar when the house started swaying and the tourists were asked to "think of Kumari and hold on to the wooden pillars tight." Kumari and her worshippers remained unharmed throughout the tremors.
The fact that Kumari Ghar stands strong while all other temples around it have disappeared is what astonishes  believers. The list of destroyed temples includes Kasthamandap which gave Kathmandu its name, Dusavatar, Maanju Deval (Shiva), Narayan, and Krishna temples.
Shakya, the chairman of Indra Jatra Management Committee, and Rajen Maharjan, 43, of Hanuman Dhoka Development Committee, said they would try to restore all lost temples. "We've artisans who can do it." Notices have been put up asking people not to take away old bricks and delicately carved wood from the complex.
Source: tribune.com.pk
The Kumari Ghar or  House of the Living Goddess 
King Jayaprakash Malla,  who died 1768 and was the last Malla king of yen to rule Kathmandu which corresponds to present day Kathmandu.  He contributed to the literature+ of Nepal Bhasa+ as well. In 1757, he built a a big brick temple  known for its magnificent carvings as well as its divine inhabitant named Kumari Ghar or the House of the Living Goddess, in virginal state of Durga Square  and was structured like a typical Newari vihara.  In his house resides the Kumari, an immature girl who is revered as the living goddess. He also made a chariot for Kumari and in the courtyard had detailed terra cotta tiles of that time laid down.
~ Maju Dega Temple ~
Overlooking the south side of Durbar Square, the Kumari Ghar is a three-story brick building richly decorated with wood-carved reliefs of gods and symbols.
~ Shiva-Parbati Temple ~
Time and again the temples and the palaces in the square have gone through
 reconstruction after being damaged by natural causes or neglect. The temple was renovated in 1966.  Presently there are less than ten quadrangles in the square. The temples are being preserved as national heritage sites and the palace is being used as a museum. Only a few parts of the palace are open for visitors and the Taleju Temples are only open for people of Hindu and Buddhist faith.
~ Taleju Temple: Built in 1564  ~
~ Kumari ghar window , Bagmati ~ 
One of the most curious attractions in the Southern end of Durbar Square, Nepal is the Kumari Ghar (Kumari Chowk) where the Raj Kumari, a young girl chosen through an ancient and mystical selection procee to become a human incarnation of Durba, Hindu mother goddess. She is worshipped during religious festivals and makes public appearances at other times for a fee paid to her guards.
~ Courtyard at the Kumari Ghar, House of the Living Goddess Kumari  ~
~ Kumari-ghar again:  Look at the gorgeous woodwork ~ 
In the courtyard, tourists are allowed to take photos except to photograph the Kumari as it is strictly forbidden. In the courtyard, here are more beautiful reliefs over the doors, on the pillars and around the windows.
~ Kumari ghar courtyard; where the living goddess lives was originally built in 757 AD and renovated in 1966  ~
The Living Goddess sometimes appears in one of the first-floor windows, especially if her handlers are paid well enough, and is said to answer devotees' questions with the expressions on her face. She is most likely to appear in the morning or late afternoon.
~ Living Goddess appears in one of the first-floor windows ~
~ This is where you can see the "Living Goddess" or Kumari. Tourists usually have to pay a fee to see her, but unfortunately she wasn't in. ~
~ Hindu Goddess Durga ~
In a land of temples and shrines, a Kumari is regarded as the incarnation of the demon-slaying Hindu goddess Taleju. Her reign comes to an end when she menstruates or bleeds for any other reason, including just a minor scratch.   At that time, Taleju abandons the young girl's body and she reverts to mortal status and the search for her replacement begins. She is given a modest state pension, but may find it difficult to marry – tradition has it that a man who marries an ex-Kumari will die young.
 ~ The Living Goddess of Kumari Ghar, worshipped and a role that will bring people to their knees before her.  ~
Kumaris are revered in the Newar community. They're believed to have powers of prescience and the ability to cure the sick (particularly those suffering from blood disorders), fulfill specific wishes, and bestow blessings of protection and prosperity. Above all, they're said to provide an immediate connection between this world and the divine and to generate in their devotees maitri bhavana—a spirit of loving-kindness toward all.
The tradition dates back to at least the tenth century, when young girls and boys across South Asia performed in Hindu and Buddhist rituals as agents for divination. Their presumed connection to the divine and ability to predict the future were of particular interest to Asia's rulers. Centuries later the tradition was taken up by people who lived on the periphery of the Indian subcontinent—in Kashmir, Assam, Bengal, Tamil Nadu, and Nepal—and who followed subversive religions that emphasized female power, or shakti, and tantric possession, a state brought about by magical invocations and rituals in which humans supposedly can be transformed into divine beings with supernatural powers.
~ Dhana Kumari Bajracharya, 63 : When a massive earthquake struck Nepal in April, Nepal's longest-serving "living goddess" was forced to do the unthinkable—walk the streets for the first time in her life, she said.
Dhana Kumari Bajracharya was enthroned in 1954 when she was just two years old and reigned for three decades as the Kumari of Patan.   In Kathmandu's "living goddess" who must move to an official residence, the Patan Kumari is allowed to live with her family, but can only emerge on feast days when she is paraded through the city to be worshipped. ~
Only in the remote mountain fastness of Nepal did the practice of glorifying prepubescent girls (in Nepali the word "kumari" means "virgin girl") as living goddesses for years at a time become a deeply rooted cult, and only in Nepal is the tradition nurtured with vigor today. To Newar Buddhists, the kumari is regarded as the embodiment of the supreme female deity Vajradevi, a Buddha. To Hindus, she incarnates the great goddess Taleju, a version of Durga.
In the Kathmandu Valley young Newari girls called kumaris are worshipped as omnipotent deities.
"The Living Goddess"  is a pre-pubescent girl from the indigenous Shakya clan of the Newari sect of the Kathmandu Valley in Nepal that represents veneration and recognition of the same supreme in conscious beings. While there are approximately eleven Kumaris scattered across Nepal, the Royal Kumari is the most important and celebrated. Idolized and worshipped by many, but not all, Hindus and Nepalese Buddhists, the custom of reverence for the Kumari is a relatively recent tradition, dating only to the 17th century.
~ The word Kumari, derived from Sanskrit Kaumarya meaning "virgin", means young unmarried girls in Nepali and some Indian languages (wikipedia) ~
Finding the Kumari Devi is a frantic process. The selection process for finding the Kumari Devi  resembles that of the Tibetan lamas, who are believed to be reincarnations of their predecessors. Using a specific group of 32 auspicious signs of divinity mostly must have to do with natural perfection and symbolically significant features, five senior Buddhist Vajracharya priests meet with hundreds of girls aged three to five from the Newar Shakya clan, the same caste to which Buddha belonged. A candidate must possess: a neck like a conch shell; a body like a banyan tree; eyelashes like a cow; thighs like a deer; a chest like a lion; a voice soft and clear as a duck's.  In addition, the girls must be in perfect health, have no blemishes, very black hair and eyes and dainty hands and feet. The girls' horoscopes are also checked to ensure they are compatible with those of the current king.
~ A Kumari must wear special clothes and makeup every day and have new festival dresses made of expensive cloth at least twice a year. The family must perform nitya puja—daily worship rituals—before her every morning. ~ 
~ A Kumari will always be dressed in red, wear her hair in a topknot and have the agni chakchuu or "fire eye" painted on her forehead as a symbol of her special powers of perception. ~
Once chosen, the final group of selectees endures a series of severe and  unorthodox tests.
According to tradition, the small group of would-be goddesses are taken one-by-one to the courtyard of the Taleju temple where men wearing demon masks dance around freshly severed buffalo and goat heads illuminated only by candlelight.This is certainly frightening to ordinary girls under five years old, but the goddess would not be frightened. Therefore the girl who shows no fear is likely to be the incarnation of Durga. If the girl shows fear, she is removed and another candidate undergoes the same procedure.
     ~ Three-year-old Matina Shakya took her seat as the Living Goddess at Kumari Ghar ~
In one final test, the girl must be able to pick out the clothing of her predecessor or from a collection of items that have been laid out in front of her. If she succeeds, she becomes the chosen one and her life changes until her divinity departs.
    ~ A little Nepalese girl bows to an idol ~
Once the Kumari is chosen, several other ceremonies are performed to cleanse both body and spirit. She is then robed in traditional red garments and made up with a "fire eye" painted on her forehead. Finally, the new Kumari walks across Patan Durbar Square upon a white cloth to the Kumari Ghar, the palace built in 1757, which becomes her new home, is worshipped as a "Living Goddess." Her needs and those of her caretakers are paid in full by the Nepalese government and she spends most of her time studying and performing religious rituals. She only leaves the temple a few times a year during festivals and her feet must never touch the ground. "Living Goddess."
~ She can eat only certain foods and no taboo items, such as hen's eggs or chicken. Everything in the house has to be kept ritually pure. No one in contact with her can wear leather. She cannot go outside, except on festival occasions, and then she has to be carried, either in someone's arms or in a palanquin, so that her feet don't touch the ground. ~
During her tenure as Royal Kumari, the feet of the "Living Goddess" never touch the ground. Like the rest of her body, Kumari's feet are now sacred. When she does venture outside, she is transported in a golden palanquin carried by several men.
To view a Royal Kumari is a rare and mysterious experience, yet there is a note of sadness, for it is a story of childhood lost.  It all becomes a part of the bittersweet emotion of traveling to another culture.
       ~ Kumari-ghar (Built in 1757 and home of the "Kumari" or living goddess) ~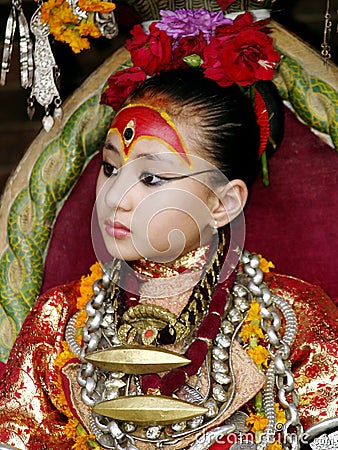 ~ Kumari dressed in her brightly decorated red and yellow outfit can be found in temples across India and Nepal but the one that resides in Kathmandu is the most famous. ~ 
Getting a glimpse of the Royal Kumari is considered a sign of good fortune, so it is  common for crowds to gather in the courtyard of her palace. While the occasion of a Kumari's appearance is usually brief and irregular in nature, she will most likely to emerge on her third floor balcony in early morning or late afternoon.
It was once a tradition that since Kumari is regarded as omniscient, she is not allowed to have an education. But today's custom changes because private tutors are provided. A formal education for modern ex-Kumaris is a necessity with a recent advances in technology. This made the Kumaris after returning to mortality  are allowed to attend public schools where they interact with their classmates as a normal pupil.
Life after Living Goddess Kumari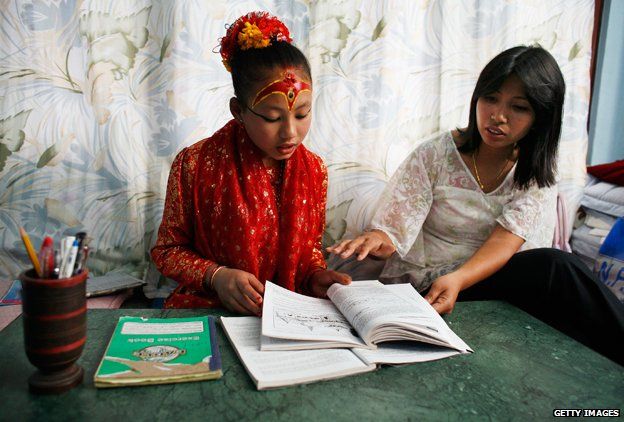 ~ Chanira with her tutor in 2007 ~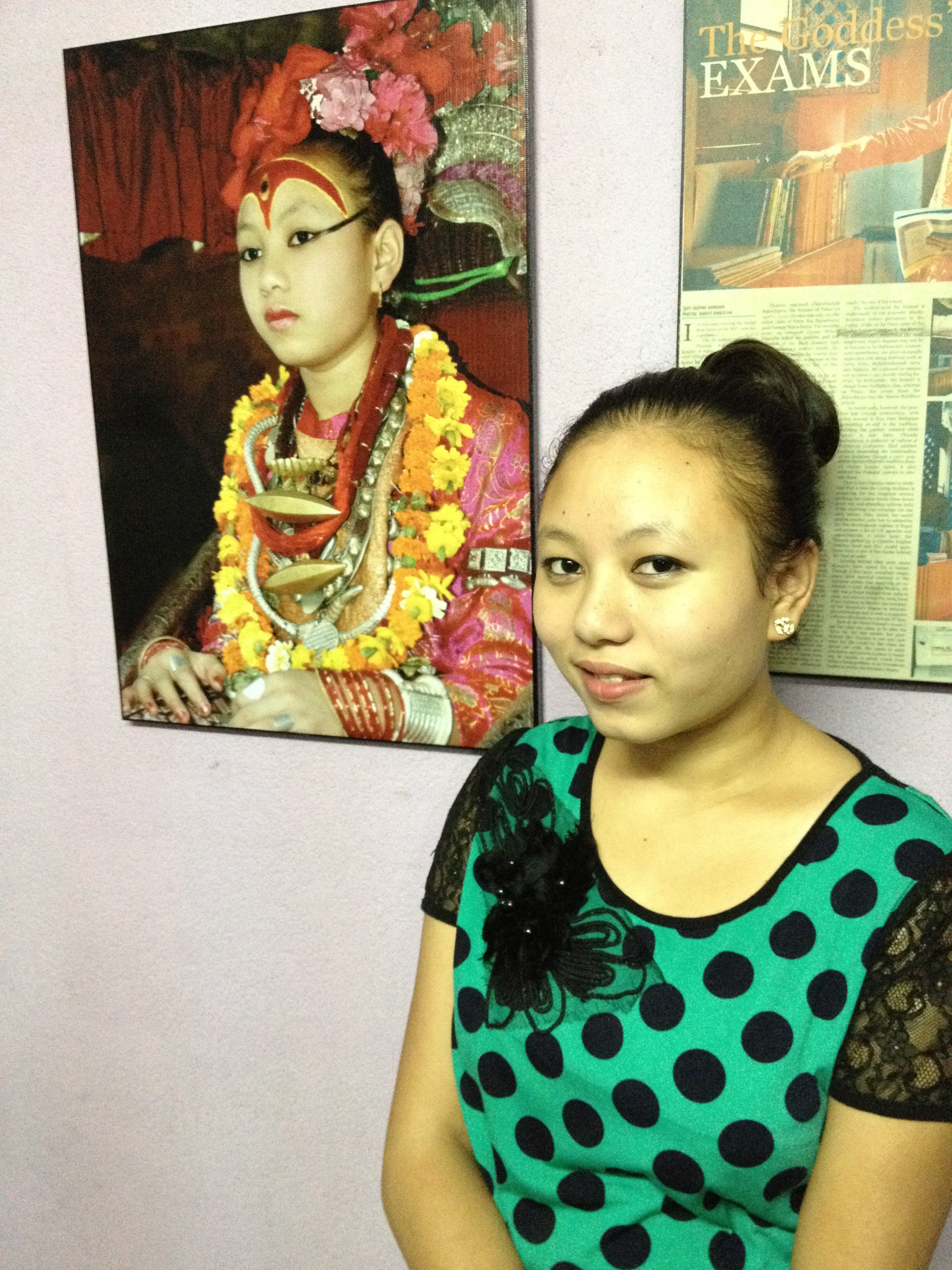 She's now a 19-year-old business student, and looks like any ordinary teenager in her fashionable green t-shirt and black pants. She became a Kumari when she was 5.
She  speaks fluent English and learned the language by reading newspapers during her Kumari days.
"When I was a goddess, I used to peek through the holes of windows," Chanira says.
She's now a 19-year-old business student, and looks like any ordinary teenager in her fashionable green t-shirt and black pants. She became a Kumari when she was 5.
"Being a goddess is just like being a princess and you get everything at home," she says. "I never missed going outside, but rather enjoyed staying at home and being part of the divine life."
Chanira's divine life ended abruptly when she was 15, the day she first menstruated. Suddenly, she was no longer the Kumari — and she says the transition was difficult.
She retired as a living goddess: the transformation, the challenges, and most importantly how it was to be a mortal, like almost every one of us.
During her Kumari years, private tutors taught her at home. All of a sudden, she started going to school with other kids.
"It was a big challenge for me," Chanira says. "All of the classmates were so afraid to talk to me because I was an ex-goddess and I was treated a little bit differently."
She continues, "They even used to say that I'm an alien. They said that to me."
Believers no longer bowed down to her or touched her feet as they'd done for years.
"I lost that respect," she says. "I never imagined that my life would be so changed in such a sudden way."
As soon as Chanira's tenure ended, local priests chose a new Kumari. Her successor happened to be a close friend, almost like a younger sister.
"When I was a goddess, she used to come here and we were friends, so she knows about the Kumari life," Chanira says.
"There wasn't a tradition to educate the Kumaris in the past," her teacher Rachna Upreti says. "Their world was in the four corners of their rooms."
But things have changed for modern-day Kumaris.
"She is really interested in the outside world," Upreti says. "Not just Nepal, but the whole world."  (sonianarang.com)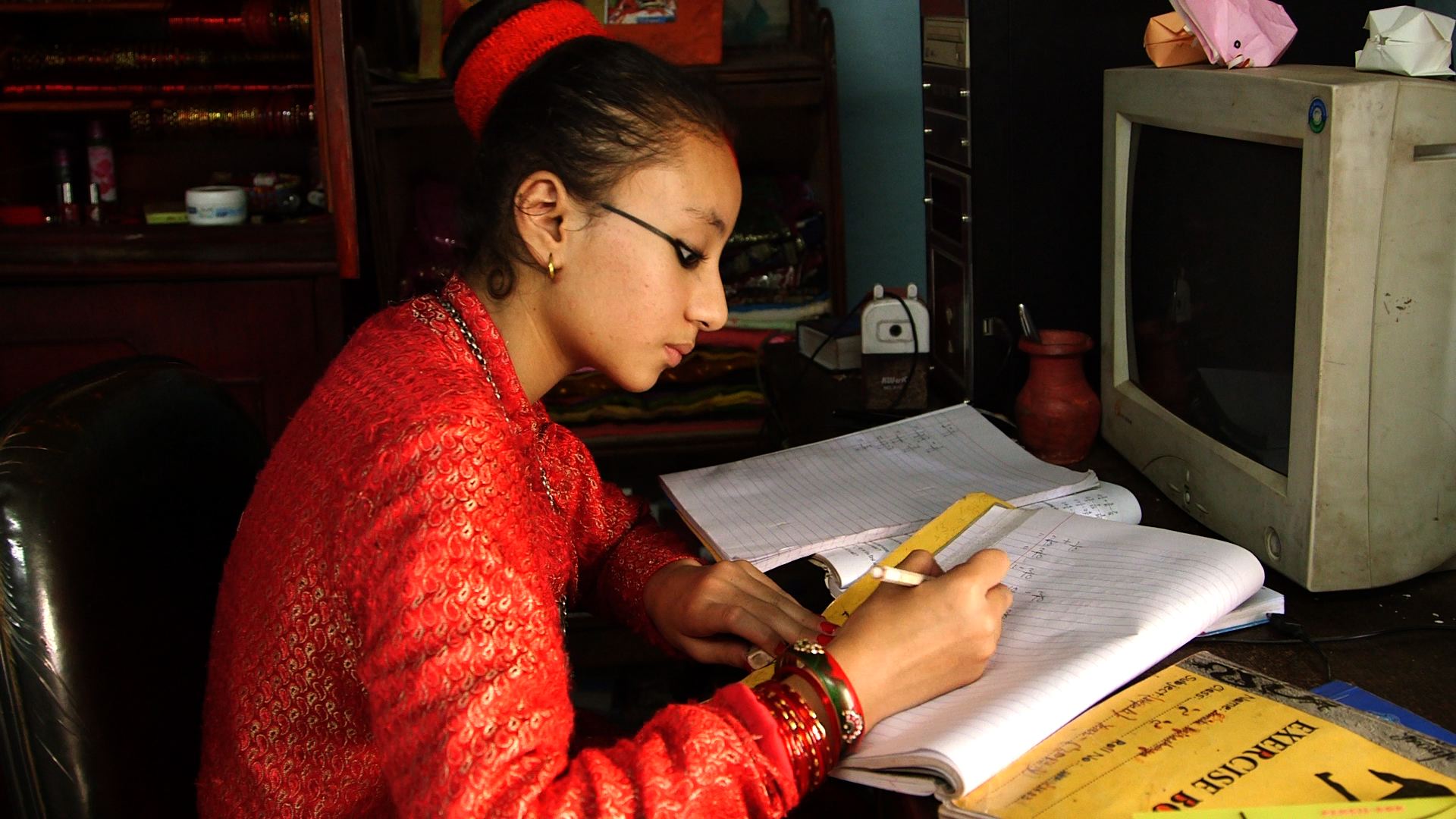 ~ "Perhaps I was the first kumari playing with computers," Ms. Bajracharya says. Afternoon light streams into her living room through a traditional, carved-wood Nepali window that looks out onto a bustling street. ~
  ~ The living goddess "Kumari " Chanira Bajracharya, 15, is worshipped by her parents after she passed her high school leaving certificate examination at her residence in Patan July 3, 2010. ~ 
Currently, she is pursuing her undergraduate in business studies. She wants to become a banker.
Ms. Bajracharya, the retired-kumari-turned-finance-student, says that her strongest class at Kathmandu University is math, but she is also fascinated with psychology. That could reflect her own unique perspective on human behavior, she says, having been worshiped as a child-goddess.
~ Sanuchhori Dangal steps out of the door. She represents tradition. Her job is to deliver blessed food—fruits, rice, lentils—for the kumari from a nearby temple. Ms. Dangal must make the walk barefoot, and she is not to be touched en route. ~
"We are all alive now because of the blessings of the goddess," says Ms. Dangal, 43.
Yet she expresses an expansive view of the kumari's modernizing role. "Change is necessary, but the faith remains the same," she says. "A human who is a god is different than a stone statue," she says. "Later, she can be a doctor or engineer."
That is a break from the past. Most of the retired kumaris Ms. Bajracharya knows have little formal education, she says. Ms. Bajracharya received tutoring during her years as kumari, as did her predecessor, but before that, schooling was the exception. In the past, she says, people felt that nobody was qualified to teach a kumari—after all, she's a goddess.
One kumari superstition is fading. Downstairs from Ms. Bajracharya's apartment, in a clothing shop memorably named "Ants In Row For Fashion Greed," the 22-year-old shopkeeper knows that a retired kumari lives upstairs. He doesn't believe the bit about men dying young if they marry a kumari, and he applauds her personal goals. "If she progresses in her studies, then she'll be a millionaire," says the shopkeeper, Sachin Shakya.
Ms. Bajracharya isn't the first retired kumari to pursue higher education. Rashmila Shakya, the 32-year-old former kumari of Kathmandu, got her master's degree a few years ago from Kathmandu's Lord Buddha Academy. Today she is helping to build an app store for one of Nepal's cellphone providers.
Three months ago, Ms. Shakya was wed in a traditional arranged marriage. Finding the right man took time. Even as the old beliefs fade, she says, some men still "don't want to marry an ex-Kumari."
But isn't that their loss? She laughs at that and says, "Maybe not from his point of view!" (THE WALL STREET JOURNAL)
Festivals and Events    
~ Living Goddess Kumari Samita Bajracharya sits next to her grandmother as she is kept outside her house to observe the Chariot Festival of Rato Machhindranath in Lalitpur May 13, 2013. Rato Machhindranath ~
The most important festival for the Kumari is Indra Jaatra, a celebration of the harvest held in late August or early September. On the third day of the festival, the Kumari Devi is carried around Durbar Square in a chariot. The chariot is kept next door to the Kumari Ghar and the great wooden yokes from past years are laid out nearby.
~ To Newar Buddhists, the kumari is regarded as the embodiment of the supreme female deity Vajradevi, a Buddha. To Hindus, she incarnates the great goddess Taleju, a version of Durga. ~
In a tradition established by King Jaya Prakash Malla (builder of the temple), the Kumari also bestows a tika (mark of blessing) on the forehead of the king who would reign in the coming year. This tradition was used against the king within a year: he was driven into exile on the even of Indra Jaatra in 1768, allowing the conqueror to take the tika and become the rightful king.
~ Kumari giving tika (mark of blessing)  ~
Sources:
nationalgeographic.com
commdiginews.com
David Reed, The Rough Guide to Nepal 4 (1999), 94-95.
sacreddestinations.com (kumari ghar, kathmadu)
tribune.com