The latest United Nations report on the Rohingya minority shocked the world yet again with descriptions of the kind of atrocities that the Myanmar security forces are perpetrating.
From children cut to death, to women raped and whole villages burned, these brutal acts have been justifiably characterised as most likely amounting to crimes against humanity. (Al Jazeera)
Myanmar: Who are the Rohingya?
Newly arrived Rohingya refugees sit inside a shelter at the Kutupalang refugee camp in Cox's Bazar, Bangladesh [Mohammad Ponir Hossain/Reuters]
Al Jazeerza: Who are the Rohingya?
The Rohingya are often described as "the world's most persecuted minority".
They are an ethnic group, majority of whom are Muslim, who have lived for centuries in the majority Buddhist Myanmar. Currently, there are about 1.1 million Rohingya who live in the Southeast Asian country.
The Rohingya speak Rohingya or Ruaingga, a dialect that is distinct to others spoken in Rakhine State and throughout Myanmar. They are not considered one of the country's 135 official ethnic groups and have been denied citizenship in Myanmar since 1982, which has effectively rendered them stateless.
Nearly all of the Rohingya in Myanmar live in the western coastal state of Rakhine and are not allowed to leave without government permission. It is one the poorest states in the country with ghetto-like camps and a lack of basic services and opportunities.
Due to ongoing violence and persecution, hundreds of thousands of Rohingya have fled to neighbouring countries either by land or boat over the course of many decades.
After centuries in Myanmar, it's estimated that half their population has fled to Bangladesh with horror stories of rapes, killings and house burnings. But who are the Rohingya? They tell us in their own words.BBC News  Published on Sep 7, 2017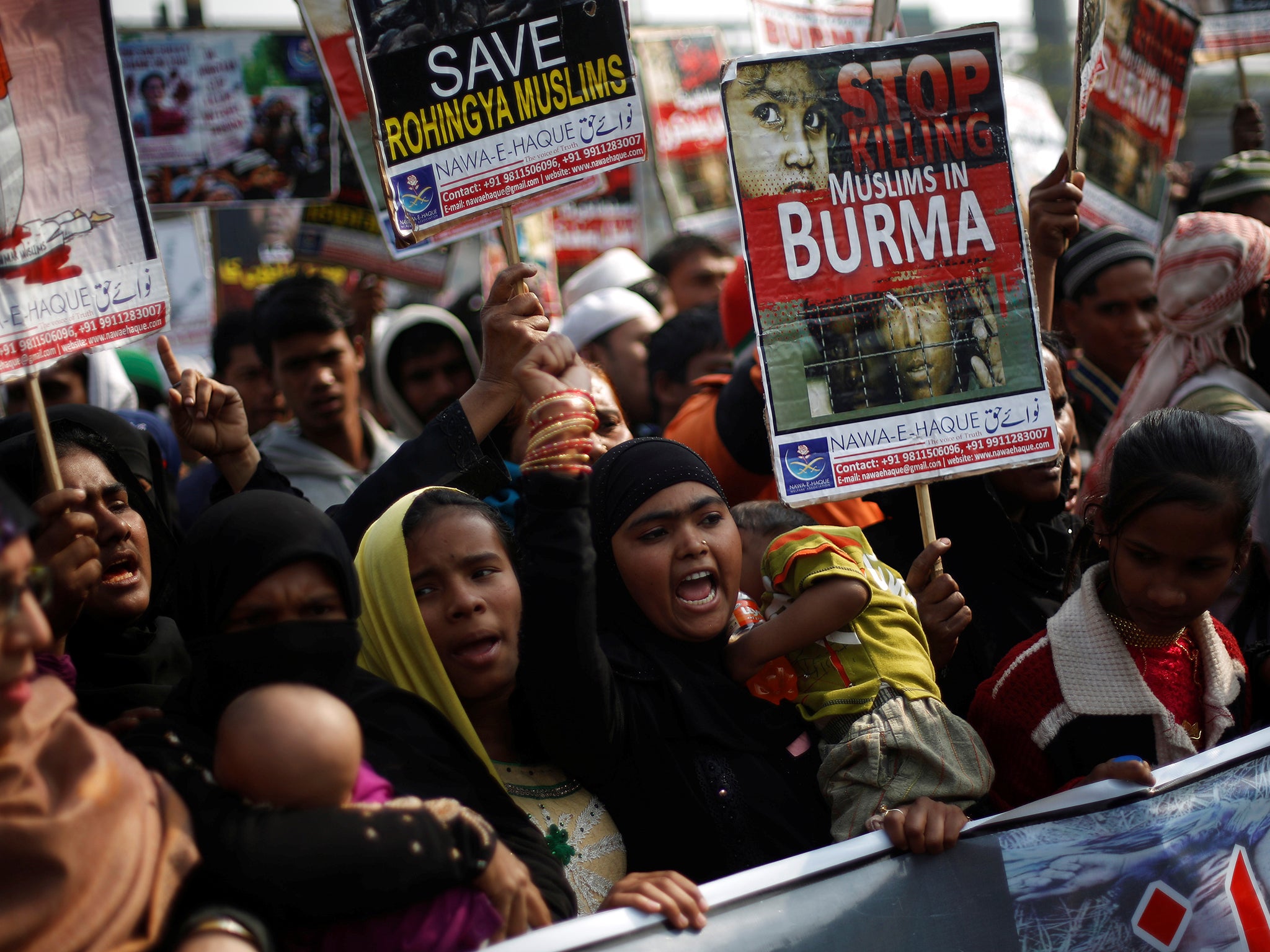 Image: The Independent
Al Jazeera: Where are the Rohingya from?
Muslims have lived in the area now known as Myanmar since as early as the 12th century, according to many historians and Rohingya groups.
The Arakan Rohingya National Organisation has said, "Rohingyas have been living in Arakan from time immemorial," referring to the area now known as Rakhine.
During the more than 100 years of British rule (1824-1948), there was a significant amount of migration of labourers to what is now known as Myanmar from today's India and Bangladesh. Because the British administered Myanmar as a province of India, such migration was considered internal, according to Human Rights Watch (HRW).
The migration of labourers was viewed negatively by the majority of the native population.
After independence, the government viewed the migration that took place during British rule as "illegal, and it is on this basis that they refuse citizenship to the majority of Rohingya," HRW said in a 2000 report.
This has led many Buddhists to consider the Rohingya to be Bengali, rejecting the term Rohingya as a recent invention, created for political reasons.
** Warning this report contains distressing images from the start ** Are there crimes against humanity taking place in Myanmar? And is Aung San Suu Kyi turning a blind eye? Newsnight and BBC Our World's joint investigation reveals the extent of the appalling treatment of the minority Rohingya Muslim community. Jonah Fisher has this report – which contains some shocking images. Watch Jonah Fisher's extended report for BBC Our World – Freedom and Fear in Myanmar – on Saturday and Sunday at 21.30 GMT on the News Channel and BBC World..BBC Newsnight  Published on Mar 10, 2017
Image: http://wisata-alam-c2a.blogspot.com.au
Al Jazeera: How and why are they being persecuted? And why aren't they recognised?
Shortly after Myanmar's independence from the British in 1948, the Union Citizenship Act was passed, defining which ethnicities could gain citizenship. According to a 2015 report by the International Human Rights Clinic at Yale Law School, the Rohingya were not included. The act, however, did allow those whose families had lived in Myanmar for at least two generations to apply for identity cards.
Rohingya were initially given such identification or even citizenship under the generational provision. During this time, several Rohingya also served in parliament.
After the 1962 military coup in Myanmar, things changed dramatically for the Rohingya. All citizens were required to obtain national registration cards. The Rohingya, however, were only given foreign identity cards, which limited the jobs and educational opportunities they could pursue and obtain.
In 1982, a new citizenship law was passed, which effectively rendered the Rohingya stateless. Under the law, Rohingya were again not recognised as one of the country's 135 ethnic groups. The law established three levels of citizenship. In order to obtain the most basic level (naturalised citizenship), there must be proof that the person's family lived in Myanmar prior to 1948, as well as fluency in one of the national languages. Many Rohingya lack such paperwork because it was either unavailable or denied to them.
As a result of the law, their rights to study, work, travel, marry, practice their religion and access health services have been and continue to be restricted. The Rohingya cannot vote and even if they jump through the citizenship test hoops, they have to identify as "naturalised" as opposed to Rohingya, and limits are placed on them entering certain professions like medicine, law or running for office.
Since the 1970s, a number of crackdowns on the Rohingya in Rakhine State have forced hundreds of thousands to flee to neighbouring Bangladesh, as well as Malaysia, Thailand and other Southeast Asian countries. During such crackdowns, refugees have often reported rape, torture, arson and murder by Myanmar security forces.
After the killings of nine border police in October 2016, troops started pouring into villages in Rakhine State. The government blamed what it called fighters from an armed Rohingya group. The killings led to a security crackdown on villages where Rohingya lived. During the crackdown, government troops were accused of an array of human rights abuses, including extrajudicial killing, rape and arson – allegations the government denied.
In November 2016, a UN official accused the government of carrying out "ethnic cleansing" of the Rohingya. It was not the first time such an accusation has been made.
In April 2013, for example, HRW said Myanmar was conductinga campaign of ethnic cleansing against the Rohingya. The government has consistently denied such accusations.
Most recently, Myanmar's military has imposed a crackdown on the country's Rohingya population after police posts and an army base were attacked in late August.
Residents and activists have described scenes of troops firing indiscriminately at unarmed Rohingya men, women and children. The government, however, has said nearly 100 people were killed after armed men from the Arakan Rohingya Salvation Army (ARSA) launched a raid on police outposts in the region.
Since the violence erupted, rights groups have documented fires burning in at least 10 areas of Myanmar's Rakhine State. More than 300,000 people have fled the violence, with thousands trapped in a no-man's land between the two countries, according to the UN refugee agency (UNHCR).
The UN has also said that hundreds of civilians who have tried to enter Bangladesh have been pushed back by patrols. Many have also been detained and forcibly returned to Myanmar.

Members of Bangladesh's border guards gesture towards Rohingya stranded in the no man's land between the Myanmar and Bangladesh borders [Mohammad Ponir Hossain/Reuters]
Al Jazeera: How many Rohingya have fled Myanmar and where have they gone?
Since the late 1970s, nearly one million Rohingya have fled Myanmar due to widespread persecution.
According to the most recently available data from the United Nations in May, more than 168,000 Rohingya have fled Myanmar since 2012.
Following violence that broke out last year, more than 87,000 Rohingya fled to Bangladesh from October 2016 to July 2017, according to the International Organization for Migration.
Many Rohingya also risked their lives trying to get to Malaysia by boat across the Bay of Bengal and the Andaman Sea. Between 2012 and 2015, more than 112,000 made the dangerous journey.
Prior to the violence that began in August, the UN estimated that there are as many as 420,000 Rohingya refugees in Southeast Asia. Additionally, it said there were around 120,000 internally displaced Rohingya.
Since the violence in Myanmar's northwest began, more than 300,000 Rohingya have fled to Bangladesh, UNHCR said. It added that more than 1,000 people, mostly Rohingya, may have been killed in Myanmar.
Al Jazeera: What do Aung San Suu Kyi and the Myanmar government say about the Rohingya?
State Chancellor Aung San Suu Kyi, who is the de facto leader of Myanmar, has refused to really discuss the plight of the Rohingya.
Aung San Suu Kyi and her government do not recognise the Rohingya as an ethnic group and have blamed violence in Rakhine, and subsequent military crackdowns, on those they call "terrorists".
The Nobel Peace Prize laureate does not have control over the military but has been criticised for her failure to condemn indiscriminate force used by troops, as well as to stand up for the rights of the more than one million Rohingya in Myanmar.
The government has also repeatedly rejected accusations of abuses. In February 2017, the UN published a report that found that government troops "very likely" committed crimes against humanity since renewed military crackdowns began in October 2016.
At the time, the government did not directly address the findings of the report and said it had the "the right to defend the country by lawful means" against "increasing terrorist activities", adding that a domestic investigation was enough.
In April, however, Aung San Suu Kyi said in a rare interview with the BBC that the phrase "ethnic cleansing" was "too strong" a term to describe the situation in Rakhine.
"I don't think there is ethnic cleansing going on," she said. "I think ethnic cleansing is too strong an expression to use for what is happening."
In September 2016, Aung San Suu Kyi entrusted former UN chief Kofi Annan with finding ways to heal the long-standing divisions in the region. While many welcomed the commission and its findings, which were released this August, Azeem Ibrahim, a senior fellow at the Center for Global Policy, argued it was just a way for Aung San Suu Kyi to "pacify the global public opinion and try to demonstrate to the international community that she is doing what she can to resolve the issue".
Annan was not given the mandate to investigate specific cases of human rights abuses, but rather one for long-term economic development, education and healthcare.
When setting up the commission, Aung San Suu Kyi's government said it would abide by its findings. The commission urged the government to end the highly militarised crackdown on neighbourhoods where Rohingya live, as well as scrap restrictions on movement and citizenship.
Following the release of the August report, the government welcomed the commission's recommendations and said it would give the report "full consideration with the view to carrying out the recommendations to the fullest extent … in line with the situation on the ground".
On the latest round of violence, Aung San Suu Kyi condemned a "huge iceberg of misinformation" on the crisis, without mentioning the Rohingya who have fled to Bangladesh.
The government has often restricted access to northern Rakhine States for journalists and aid workers. Aung San Suu Kyi's office has also accused aid groups of helping those it considers to be "terrorists".
In January, Yanghee Lee, a UN special rapporteur on human rights in Myanmar, said she was denied access to certain parts of Rakhine and was only allowed to speak to Rohingya who had been pre-approved by the government.
The country has also denied visas to members of a UN probe investigating the violence and alleged abuses in Rakhine.
Aung San Suu Kyi's fall from grace? BBC Newsnight ..BBC Newsnight Published on Sep 7, 2017
Image: Pinterest
Al Jazeera: What does Bangladesh say about the Rohingya?
There are nearly half a million Rohingya refugees living in mostly makeshift camps in Bangladesh. The majority remain unregistered.
Bangladesh considers most of those who have crossed its borders and are living outside of camps as having "illegally infiltrated" the country. Bangladesh has often tried to prevent Rohingya refugees from crossing its border.
In late January, the country resurrected a plan to relocate tens of thousands of Rohingya refugees from Myanmar to a remote island that is prone to flooding and has also been called "uninhabitable" by rights groups. Under the plan, which was originally introduced in 2015, authorities would move undocumented Myanmar nationals to Thengar Char in the Bay of Bengal.
Rights groups have decried the proposal, saying the island completely floods during monsoon season. The UN also called the forced relocation "very complex and controversial".
Most recently, Bangladesh's foreign minister labelled the violenceagainst the Rohingya in Myanmar "a genocide". The country's National Commission for Human Rights also said it was considering "pressing for a trial against Myanmar, and against the Myanmar army at an international tribunal" on charges of genocide.
Rohingya children cross the Bangladesh-Myanmar border fence as they try to enter Bangladseh in Bandarban (Mohammad Ponir Hossain/Reuters)
Al Jazeera: What does the international community say about the Rohingya?
The international community has labelled the Rohingya the "most persecuted minority in the world".
The UN, as well as several rights groups such as Amnesty Internationaland Human Rights Watch, have consistently decried the treatment of the Rohingya by Myanmar and neighbouring countries.
The UN has said that it is "very likely" that the military committed grave human rights abuses in Rakhine that may amount to war crimes, allegations the government denies.
In March, the UN adopted a resolution to set up an independent, international mission to investigate the alleged abuses. It stopped short of calling for a Commission of Inquiry, the UN's highest level of investigation.
The UN investigators must provide a verbal update in September and a full report next year on their findings.
Rights groups have criticised the government's reluctance to accept the UN investigators.
Human Rights Watch warned that Myanmar's government risked getting bracketed with "pariah states" like North Korea and Syria if it did not allow the UN to investigate alleged crimes.
In response to the latest round of violence, UN Secretary-General Antonio Guterres warned of the risk of ethnic cleansing, calling on Aung San Suu Kyi and the country's security forces to end the violence.
In early September, Guterres also warned of a looming "humanitarian catastrophe" if the violence does not end.
UN human rights chief Zeid Ra'ad al Hussein urged Myanmar to end its "brutal security operation" against the Rohingya in Rakhine, calling it a "textbook example of ethnic cleansing".
Both UN officials said they completely supported the findings of the advisory commission, led by Kofi Annan, and urged the government to fulfil its recommendations.
Article from  WordPress.com Have you ever think of this recent issue at least once in your life? Why the Muslim are being killing by Burma's Buddhist monk? And why the Medias are silent? Source: Pinterest
Al Jazeera: What is the 

Arakan Rohingya Salvation Army?
The Arakan Rohingya Salvation Army (ARSA), formerly known as the al-Yaqeen Faith Movement, released a statement under its new name in March 2017, saying it was obligated to "defend, salvage and protect [the] Rohingya community".
The group said it would do so "with our best capacities as we have the legitimate right under international law to defend ourselves in line with the principle of self defence".
The group is considered a "terrorist" organisation by the Myanmar government.
In its March statement, the ARSA added that it does "not associate with any terrorist group across the world" and does "not commit any form of terrorism against any civilian[s] regardless of their religious and ethnic origin".
The statement also said: "We […] declare loud and clear that our defensive attacks have only been aimed at the oppressive Burmese regime in accordance with international norms and principles until our demands are fulfilled."
The group has claimed responsibility for an attack on police posts and an army base in Rakhine State. According to the government nearly 400 people were killed, the majority of whom were members of the ARSA. Rights groups, however, say hundreds of civilians have been killed by security forces.
Rights group Fortify Rights said it has documented that fighters with the ARSA "are also accused of killing civilians – suspected government 'informants' – in recent days and months, as well as preventing men and boys from flee Maungdaw Township".
On September 9, the group declared a month-long unilateral ceasefire in Rakhine to enable aid groups to address the humanitarian crisis in the area.
"ARSA strongly encourages all concerned humanitarian actors resume their humanitarian assistance to all victims of the humanitarian crisis, irrespective of ethnic or religious background during the ceasefire period," the group said in a statement, adding that it calls on Myanmar's military to also temporarily lay down arms.
According to the International Crisis group, the ARSA has ties to Rohingya living in Saudi Arabia.
The Myanmar government formally categorised the group as a "terrorist" organisation on August 25.
Image Slide Share
*****
OIC condemns abuses against Rohingya in Myanmar
ARAB NEWS | 
Smoke billows above what is believed to be a burning village in Myanmar's Rakhine state as member of the Rohingya Muslim minority take shelter in no man's land between Bangladesh and Myanmar in Ukhia on Monday, September 4, 2017 (AFP) 
*****
Why are Buddhist monks attacking Muslims?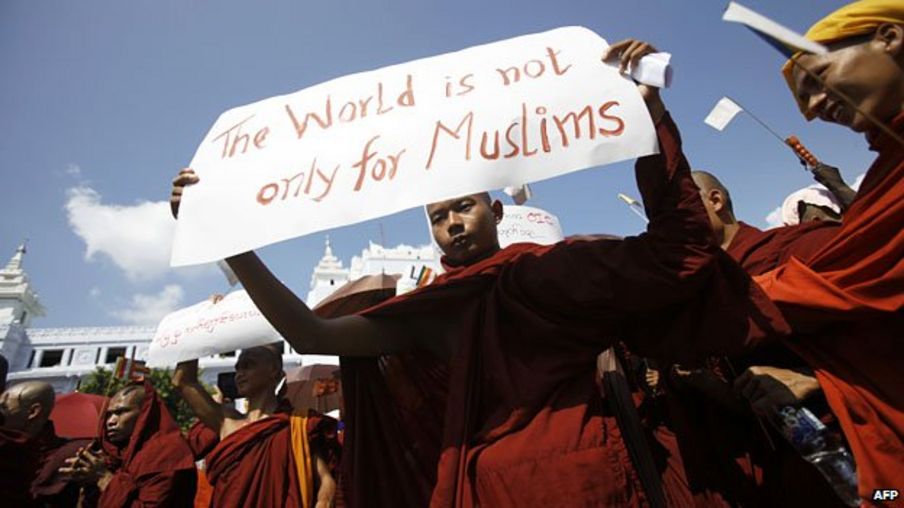 Of all the moral precepts instilled in Buddhist monks the promise not to kill comes first, and the principle of non-violence is arguably more central to Buddhism than any other major religion. So why have monks been using hate speech against Muslims and joining mobs that have left dozens dead?
This is happening in two countries separated by well over 1,000 miles of Indian Ocean – Burma and Sri Lanka. It is puzzling because neither country is facing an Islamist militant threat. Muslims in both places are a generally peaceable and small minority.
In Sri Lanka, the issue of halal slaughter has been a flashpoint. Led by monks, members of the Bodu Bala Sena – the Buddhist Brigade – hold rallies, call for direct action and the boycotting of Muslim businesses, and rail against the size of Muslim families.
While no Muslims have been killed in Sri Lanka, the Burmese situation is far more serious. Here the antagonism is spearheaded by the 969 group, led by a monk, Ashin Wirathu, who was jailed in 2003 for inciting religious hatred. Released in 2012, he has referred to himself bizarrely as "the Burmese Bin Laden".
March saw an outbreak of mob violence directed against Muslims in the town of Meiktila, in central Burma, which left at least 40 dead.
Tellingly, the violence began in a gold shop. The movements in both countries exploit a sense of economic grievance – a religious minority is used as the scapegoat for the frustrated aspirations of the majority.
On Tuesday, Buddhist mobs attacked mosques and burned more than 70 homes in Oakkan, north of Rangoon, after a Muslim girl on a bicycle collided with a monk. One person died and nine were injured.
But aren't Buddhist monks meant to be the good guys of religion?
Aggressive thoughts are inimical to all Buddhist teachings. Buddhism even comes equipped with a practical way to eliminate them. Through meditation the distinction between your feelings and those of others should begin to dissolve, while your compassion for all living things grows.
Of course, there is a strong strain of pacifism in Christian teachings too: "Love your enemies and pray for those who persecute you," were the words of Jesus in the Sermon on the Mount.
But however any religion starts out, sooner or later it enters into a Faustian pact with state power. Buddhist monks looked to kings, the ultimate wielders of violence, for the support, patronage and order that only they could provide. Kings looked to monks to provide the popular legitimacy that only such a high moral vision can confer.
The result can seem ironic. If you have a strong sense of the overriding moral superiority of your worldview, then the need to protect and advance it can seem the most important duty of all.
Christian crusaders, Islamist militants, or the leaders of "freedom-loving nations", all justify what they see as necessary violence in the name of a higher good. Buddhist rulers and monks have been no exception.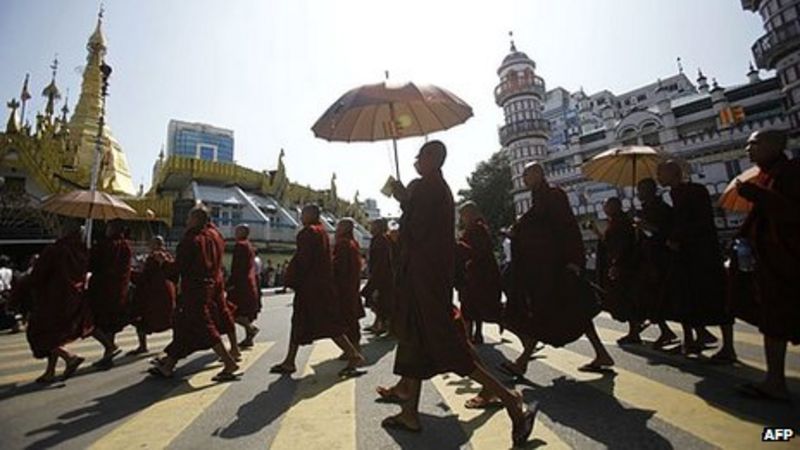 So, historically, Buddhism has been no more a religion of peace than Christianity.
One of the most famous kings in Sri Lankan history is Dutugamanu, whose unification of the island in the 2nd Century BC is related in an important chronicle, the Mahavamsa.
It says that he placed a Buddhist relic in his spear and took 500 monks with him along to war against a non-Buddhist king.
He destroyed his opponents. After the bloodshed, some enlightened ones consoled him that the slain "were like animals; you will make the Buddha's faith shine".
Burmese rulers, known as "kings of righteousness", justified wars in the name of what they called true Buddhist doctrine.
In Japan, many samurai were devotees of Zen Buddhism and various arguments sustained them – killing a man about to commit a dreadful crime was an act of compassion, for example. Such reasoning surfaced again when Japan mobilised for World War II.
Buddhism took a leading role in the nationalist movements that emerged as Burma and Sri Lanka sought to throw off the yoke of the British Empire. Occasionally this spilled out into violence. In 1930s Rangoon, amid resorts to direct action, monks knifed four Europeans.
More importantly, many came to feel Buddhism was integral to their national identity – and the position of minorities in these newly independent nations was an uncomfortable one.
In 1983, Sri Lanka's ethnic tensions broke out into civil war. Following anti-Tamil pogroms, separatist Tamil groups in the north and east of the island sought to break away from the Sinhalese majority government.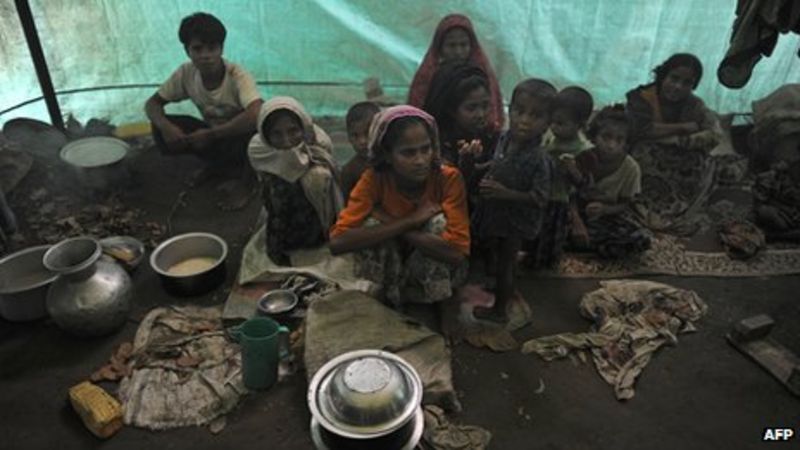 Violence has left many Burmese Muslims homeless
In Burma, monks wielded their moral authority to challenge the military junta and argue for democracy in the Saffron Revolution of 2007. Peaceful protest was the main weapon of choice this time, and monks paid with their lives.
Now some monks are using their moral authority to serve a quite different end. They may be a minority, but the 500,000-strong monkhood, which includes many deposited in monasteries as children to escape poverty or as orphans, certainly has its fair share of angry young men.
The exact nature of the relationship between the Buddhist extremists and the ruling parties in both countries is unclear.
Sri Lanka's powerful Defence Secretary Gotabhaya Rajapaksa was guest of honour at the opening of a Buddhist Brigade training school, and referred to the monks as those who "protect our country, religion and race".
But the anti-Muslim message seems to have struck a chord with parts of the population.
Even though they form a majority in both countries, many Buddhists share a sense that their nations must be unified and that their religion is under threat.
The global climate is crucial. People believe radical Islam to be at the centre of the many of the most violent conflicts around the world. They feel they are at the receiving end of conversion drives by the much more evangelical monotheistic faiths. And they feel that if other religions are going to get tough, they had better follow suit.
Buddhism and non-violence
Buddhist teachings were handed down orally and not written until centuries after the Buddha's lifetime. The principle of non-violence is intrinsic to the doctrine, as stressed in the Dhammapada, a collection of sayings attributed to the Buddha.
Its first verse teaches that a person is made up of the sum of his thoughts: "If a man speaks or acts with an evil thought, pain follows him, as the wheel follows the foot of the ox that draws the carriage."
The most basic principles of Buddhist morality are expressed in five precepts, which monks are obliged – and laymen encouraged – to follow. The first is to abstain from killing living creatures.
One objective of Buddhist meditation is to produce a state of "loving kindness" for all beings.
Verse five of the Dhammapada tells us that: "Hatred does not cease by hatred at any time: hatred ceases by love, this is an eternal rule."
Source:
http://www.bbc.com/news/magazine-22356306
*****
Shared from
The Cutting Edge
By: Nafeez Ahmed's Blog
29 APRIL 2013
Big Oil, Burma and the Genocide Against the Rohingya
South-east Asian country's untapped natural wealth is being opened up, regardless of the environmental and human costs
Over 125,000 ethnic Rohingya have been forcibly displaced since waves of violence swept across Burma's Arakan state last year, continuing until now, according to the New York-based 
Human Rights Watch's (HRW) latest sobering report
. The "ethnic cleansing" campaign against Arakan's Muslim minority, although instigated largely by Buddhist monks rallying local mobs, has been the product of "extensive state involvement and planning", according to HRW's UK director 
David Mepham
.
"All of the state security forces [in Arakan] are implicated in failing to prevent atrocities or directly participating in them, including local police, Lon Thein riot police, the inter-agency border control force called Nasaka, and the army and navy."
Burma's 
Rohingya minority
 has resided in the country for decades, but been formally denied citizenship by the government, subjected instead to forced labour, arbitrary land confiscations, and routine discrimination. Although the latest violence raises urgent questions about the integrity of Burma's ostensible democratic reform process, the west has refused to allow the campaign against the Rohingyas to interfere with efforts to integrate the regime into global markets.
The last two years has seen 
first the US
, then the UK and the EU, lift decades of economic sanctions with a view to "
open a new chapter
" in relations with Burma.
Nestled strategically between India and China, Burma is rich in fossil fuels and other mineral resources, including oil, gas, gold, timber and jade. In recent months, even as genocidal violence has escalated, the country has been 
courted
 by world leaders, such as President Barack Obama, British foreign secretary William Hague, and European Commission president José Manuel Barroso.
As 
Forbes reports
 , thanks to Burma's "vast, untapped reserves of oil and natural gas" – estimated at between 11 trillion and 23 trillion cubic feet – "and with sanctions over and a world thirsty for new sources of energy, Western multinationals are eager to sign deals."
But foreign companies must partner with local companies to be able to bid. This condition has spurred Myanmar's 
crony capitalist elite
 of fewer than 20 families – many of whom built their business empires on the back of state favours from the former military junta – to rebrand themselves as honest brokers for western investors looking for their next regional venture.
Attempting to consolidate their privileged position in a highly unequal but resource-rich economy, Burma's business families are making renewed efforts to capitalise on the resource rush, highlighting their philanthropic activities, and forging new ties with Burmese opposition leader Aung San Suu Kyi.
Foreign investment is currently dominated by Chinese, Thai and Indian firms, who operated relatively unfazed by western sanctions, but American, British and French multinationals such as Chevron, BP, Shell, and Total are jockeying to make up for lost time.
Yet the scramble to open up Burma for business has played a direct role in inflaming community tensions. One of the most prominent culprits is the Shwe Gas Project led by South Korean and Indian companies, to export natural gas via pipeline from Arakan state to China's Yunnan province. The 2,800km overland pipeline is slated to become operational this year.
The losers from this venture are the Burmese people and environment. An extensive report by the 
Shwe Gas Movement
 (SGM), a Burmese community-based human rights network, documented the destruction of local fishing and farming industries, including confiscation of thousands of acres of land to "clear areas for the pipeline and associated infrastructure", from 2010 to 2011. Tens of thousands have been left jobless, with little or no compensation or employment opportunities.
The pipeline also cuts through the Arakan Yoma forest ecosystems of the Western Mountain Range, part of the Eastern Hindu Kush-Himalayan region, contributing to soil erosion and endangering species. One third of coral reefs north of Kyauk Phyu town have already been seriously damaged, undermining fish and marine life, and local fishing. Freshwater rivers and waterways have been dredged for sand and gravel for construction purposes, and are set to become dumping grounds for toxic materials.
In December 2011, the pipeline project 
sparked widespread anger
across Arakan's cities and rural areas, as local people demanded provision of 24 hour electricity. Ranked the second most impoverished state of Burma by the UN Development Programme, approximately 3 million people living in Arakan have no access to public electricity, with just a few major cities able to access only five to six hours of electricity per day, provided by private companies at extortionate prices of 400-600 Kyat per unit (compared to 25 Kyat per unit in Rangoon). Overall, Burma is by far 
the poorest country in Southeast Asia
, with a third of the population living in poverty.
The eruption of ethnic violence across Arakan against ethnic Rohingyas six months later in 2012 was therefore most likely triggered by the simmering tensions wrought by escalating economic marginalisation. On the one hand, Arakan's deepening economic crisis, fuelled by the state-backed pipeline project, laid the groundwork for an increase in xenophobia and racism toward the Rohingya. On the other, Burmese state agencies appear to have deliberately fostered the ethnic cleansing campaign to divert populist anger away from the devastating impact of the pipeline project, and instead toward the most easy and vulnerable target to hand.
Even as violence against the Rohingya escalates, conflict has also broken out along the pipeline route between Burmese security forces and local armed resistance groups linked to the 
Kachin state
, where people have faced arbitrary arrest, torture, forced labour, rape and sexual violence at the hands of the Burma Army.
The plight of these different groups underscores that the fairytale of Burma's rosy democratic transition is exactly that – 
a fairytale
.
But lured by the promise of windfall profits, it is a fairytale convenient for competing global powers eager to capitalise on the country's untapped natural wealth, regardless of the environmental and human costs.
Source:
http://www.nafeezahmed.com/2013/04/big-oil-burma-and-genocide-against.html