PRESIDENT RODRIGO ROA DUTERTE
He is the strong leader with a soft heart. He is the ordinary man against the oligarchs, the crime-fighter, the benevolent dictator, the savior. He is the catalyst for change.
""It will be only one Filipino nation." ~ Pres. Duterte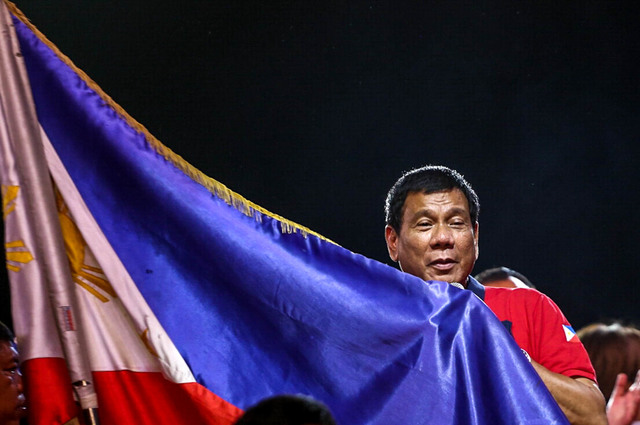 "I am here because I love my country and I love the people of the Philippines. I am a native of the Philippines," the tough-talking Duterte
***~~~***~~~***
DUTERTE CRITICIZES THE U N
President Rodrigo Roa Duterte calls for a press conference at the Presidential Guest House inside the DPWH Panacan Depot in Davao City on August 21, 2016.
"THE U.N. KNOWS HOW TO START A WAR BUT DO NOT KNOW HOW TO END IT" , SAID PRESIDENT RODRIGO DUTERTE
President Rodrigo Duterte on Sunday invited the United Nations to come to the Philippines for a public "conference" on killings linked to his relentless war on drugs.
The UN representative can ask him "all that you want to know," Duterte said in a televised news conference at the presidential guest house in Davao City.
"Extra-judicial killings, I will do the explanation in public, for international release if you want," he said.
Duterte's statement compared to an earlier statement by his spokesman, Ernesto Abella, which chided the UN for "unwelcome meddling."
Duterte did not name the UN representative, but in a Twitter post on Friday, UN special rapporteur on summary executions Agnes Callamard said she was willing to investigate the killings in the Philippines.
"I am willing to answer. I assume full responsibility for what happened because I was the one who ordered it," he said.
Duterte on Sunday also criticized the UN for not doing enough to stop violence in Syria, which he blamed on the United States.
"I don't see anybody from this stupid body complaining about the stench of death" in Syria, he said.
Duterte said the UN should have written him instead of criticizing him in a public statement.
"You have fallen short of the protocol needed to respect, you must be a s***. You did not follow the basic rudiments of protocol," he said.
"Maybe well just have to decide to separate from the UN kung ganauan kayo kabastos p***** e umalis na kami diyan sa inyo [If you are that rude, we will leave you]," he said.
Asked by reporters if he was serious, Duterte said: "The joke is on you." He said the UN should return the country's contributions first before the country could leave the group.
(Source: http://news.abs-cbn.com/ )
Slams international journalist by answering questions on increasing numbers of killings and the posible of violation in human rights
Mr. Miller is a UK Journalist based in Asia, his question was about the rumours that Duterte released a death squad to kill the criminals without facing any legal processes.
The President answered the question very well and made the journalist speechless.
"Compare the number deaths of the drug personalities on my administration to the previous administration, and you will realize that the number of deaths are the same. It's just that, those who were killed in the past were the innocent ones." President Duterte said to the journalist.
The President also mentioned the killings of black people in america and the bombing in Syria.
He also mentioned the iconic Syrian boy named Omran who miraculously survived bombing inAleppo Syria.
Duterte's answer to Mr. Miller has gone viral and earned praises worldwide and gained hundred thousands of shares on the social media.
Some foreigners also said that the President of the Philippines really knows what is the problem and what issues must be priotize by US and UN.
(Source: http://www.newsinfolearn.com/2016/08/president-duterte-answer-that-made.html)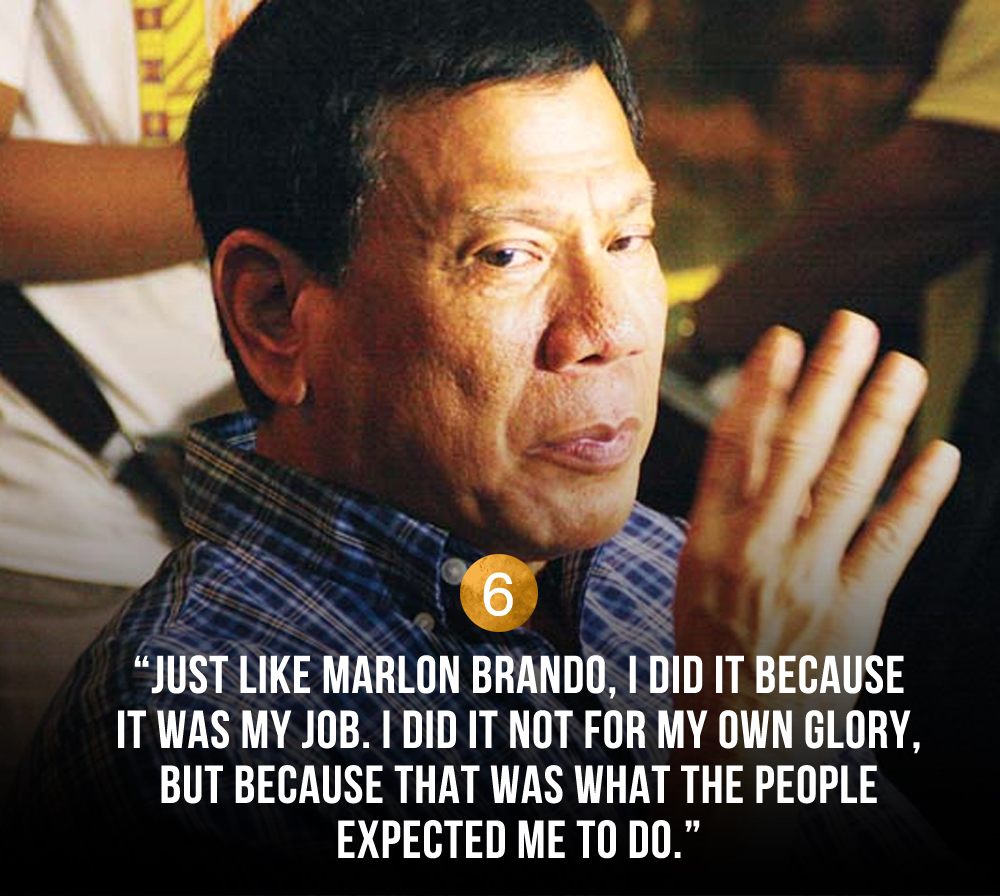 Offshore-Filipino activist John Arceneaux praises new Filipino President Rodrigo Duterte, lawyer & former Mayor, as a genuine grassroots change agent, not genocider
Filipino President-elect Rodrigo Duterte is not the genocider, rape-joke maker, and death squad leader as depicted by Matrix mind-control media, says Arceneaux.

According to press reports, "Duterte said he and Canadian Prime Minister Justin Trudeau also discussed human rights, and he said he told Trudeau: 'Universal Declaration of Human rights, fine, I said 'I'm following it, but Mr. Prime Minister, with few exceptions.'"
Arceneaux, an IT entrepreneur who has pioneered social media for off-shore Filipinos, notes that offshore Filipinos play a dominant financial and social role in Filipino society. Yet, Arceneaux says, off-shore Filipinos have had no voice in the Philippines that have represented their interests domestically in the Philippines as well as overseas in nations like Saudi Arabia and Singapore where Filipinos represent a high percentage of skilled and unskilled labor.
Incoming President Duterte, Arceneaux says, will be responsive to the needs of offshore Filipinos, known as "Pilipino sa Ibayong-dagat".
The UK Guardian reports that Duterte is now threatening journalists with assassination, something NewsInsideOut.com condemns.
By Alfred Lambremont Webre
President Rodrigo Roa Duterte calls for a press conference at the Presidential Guest House inside the DPWH Panacan Depot in Davao City on August 21, 2016. 
Story highlights
Philippines president fires back at UN criticism of his anti-drug tactics
International body recently condemned Duterte's deadly approach to drug problem
President Duterte Fires Thousands of Political Appointees
De Lima Affair with Driver 'Gave Rise' to NBP Corruption
Napoles List Deserves A Second Look
MANILA: The Philippines is not leaving the United Nations, the foreign minister said Monday, a day after President Rodrigo Duterte threatened to quit the body after it called for an end to the wave of killings unleashed by his war on drugs.
Foreign Affairs Secretary Perfecto Yasay said Duterte's statement "is a statement expressing profound disappointment and frustration".
"We are committed to the U.N. despite our numerous frustrations with this international agency," Yasay told a news conference. (http://www.dailystar.com.lb/)
Popular leader
Duterte enjoys high levels of support among Filipinos, who he says are tired of the scourge of drugs.
However, the new president's approach to drug crime is facing scrutiny within the country, with one of Duterte's most vocal opponents, Senator Leila de Lima, conducting an inquiry into the high numbers of drug-related deaths since he took office.
The senator has called Dela Rosa to a senate hearing on the issue.
Duterte stands by his tactics, which he says are justified in ridding the country of drugs.
"My orders are for the police to go out and hunt for criminals," he said. 'I tell them to arrest these criminals if they surrender peacefully, but kill them if they put up a violent struggle. I assume full responsibility for what happens."
(Source: http://edition.cnn.com/)
***~~~***~~~***
Duterte gets support of Australian netizens in war against drugs
President Rodrigo Roa Duterte in 60 MINUTES (Australian television program)
"The recent documentary made by the 60 MINUTES (Australian television program) is very biased. This is giving a wrong message to the viewers trying to destroy the good credibility of our beloved president. The reporter tried to show that President Duterte, PNP Chief De la Rosa and the policemen are abusive officers committing crimes against human rights without going deeper to know the real story to show the real situation. 60 minutes failed to show numerous drug related heinous crimes that Pres. Duterte  giving extreme measures to solve those issues. Human Rights Campaigner Cookie Diokno saying 'This isn't a war on drugs. It's a war on poor people' misleading the 60minutes. The President is dealing with the druglords, the drug traffickers who are not poor. They are wealthy people who are pressing poor to getting poorer. The President didn't order to kill all the criminals and he doesn't want everybody to die. She is exaggerating her views. The killings of criminals are justified. The shoot-to-kill order is only applicable to those RESISTING ARREST in a situation when drawing guns first leaving the police with no other option but to take them down. This does not reflect the real situation in the Philippines right now. One thing worst, the journalist relied much on his translator who is giving him lame opinion. The translator lied to him, as the drug user said he bought 300 pesos worth of drugs for him to smoke!"  ~ Cloudmind.info
Duterte gets support of Australian netizens in war against drugs
Australian news show 60 Minutes Australia, which prides itself in being that country's "leading current affairs program" with more than "35 years of excellence," was slammed on social media for its one-sided and decidedly unflattering portrayal of Philippine President Rodrigo Duterte and his crusade against drug lords and criminals. 
Comments from the Philippines and Australia, where the program aired, were almost unanimous in condemning the report. Many of the commenters told the reporters that they should have spent more time in the Philippines instead of relying on the word of one or two people.
One of the best comments, which perfectly captures the sentiments of majority of Filipinos towards their own media and how it presents Duterte's war on drugs, was from Miss Lauren Jaide who writes:
"Shame 60 minutes. I understand you need a catchy headline to attract an audience but to say 600 murdered in two weeks essentially by the president is defamation. One drug dealer would have multiple clients but for arguments sake let's say at least 5 clients each. Now if there were 600 drug dealers with 5 customers each that is 3000 people. That is 3000 lives that are lost to drugs, that is 3000 families whom are affected by drugs. Let's not be naïve to think there are only 600 drug dealers and drug pushers in the Philippines…. There are many many more so 3000 is a conservative figure. In reality the affect of drugs in the Philippines is crippling. Drug dealers may not all directly murder people (though some do) but they do kill people, ruin lives and destroy families. It is heart breaking to lose any life and I'm sure everyone has a reason as to why they 'had' to become a drug dealer but these people are being given an opportunity to surrender, to make the right choice, to stop killing people via drugs – if they choose to continue then they are fully aware of the consequences for their actions.

Philippines is a beautiful country and now they finally have a president whom is not corrupt, who has a proven track record of lowering crime rates and drug activity and who truly wants the best for his people. I can't wait to go back to Philippines and not have to have a guard with an AK47 escort my children and I from our car to the hotel entrance whilst physically removing a woman whom pushed her way through to grab at me and my son….. My heart breaks for the poverty and those affected by it. May Duterte be successful in his vision for Philippines."
Here is a sampling of some of the comments made on the post.
On behalf of the many Filipinos who support President Duterte in his sincere desire to clean up the Philipines, not for his sake (he is 71 years old, after all), but for the sake of our children — we would like to say thank you to Ms. Jaide and all the other Australians who stood up for fair and balanced reporting.
It is disconcerting when you turn on the news, or read the papers, or go to any of the websites of the supposedly "reputable" media outlets and see that what they are reporting is completely different from your own reality. This is why so many people are now turning to social media, not for news but for validation that what they are feeling is also shared by other people. Your comments from the other side of the world are much appreciated.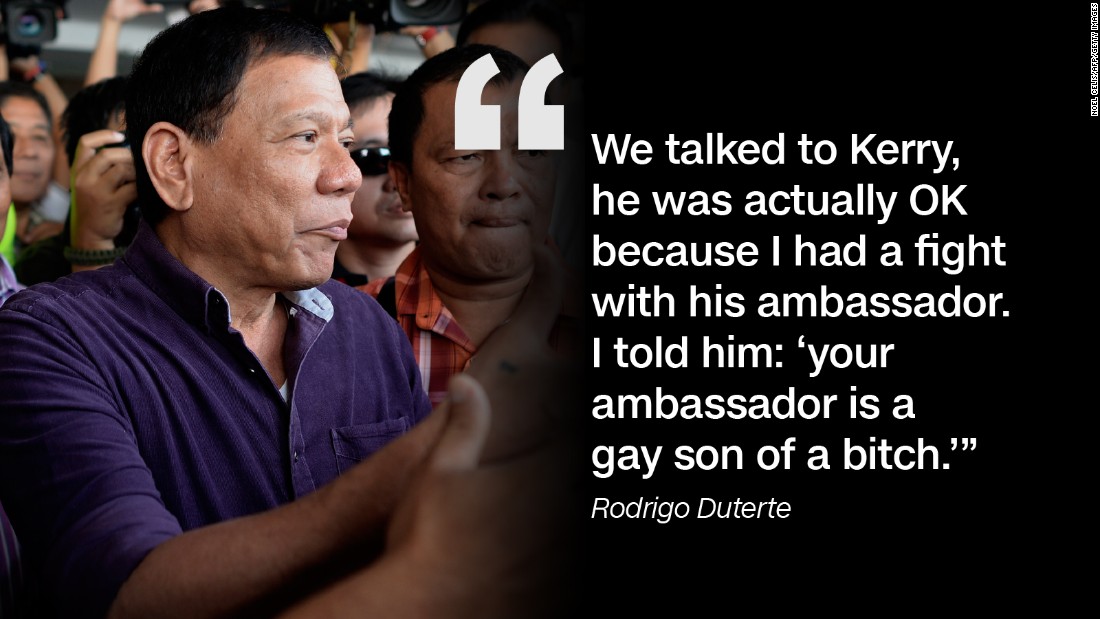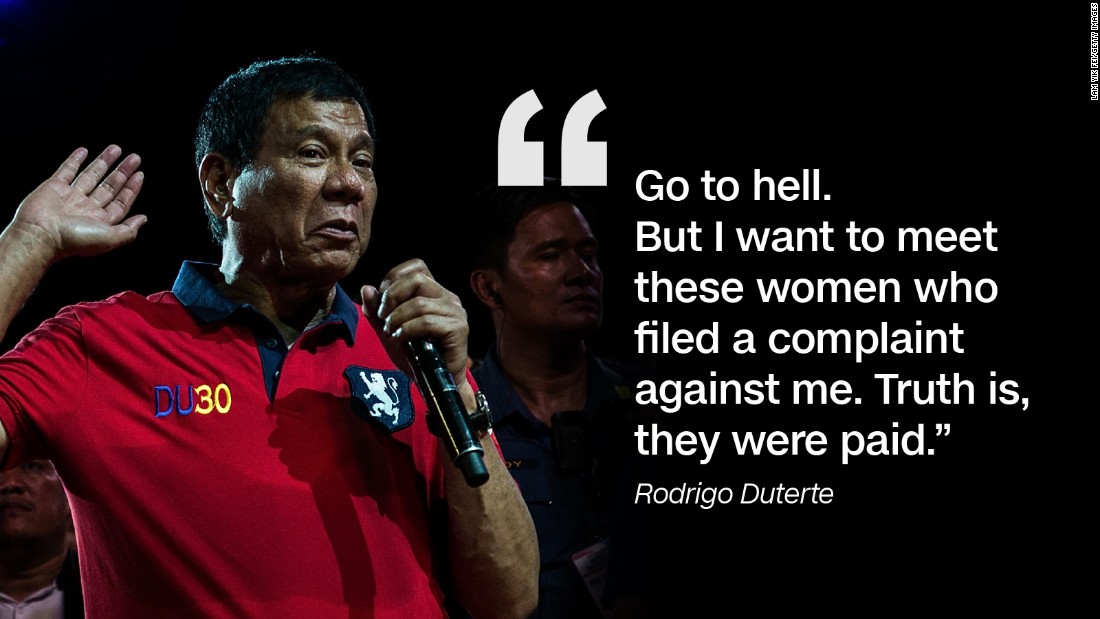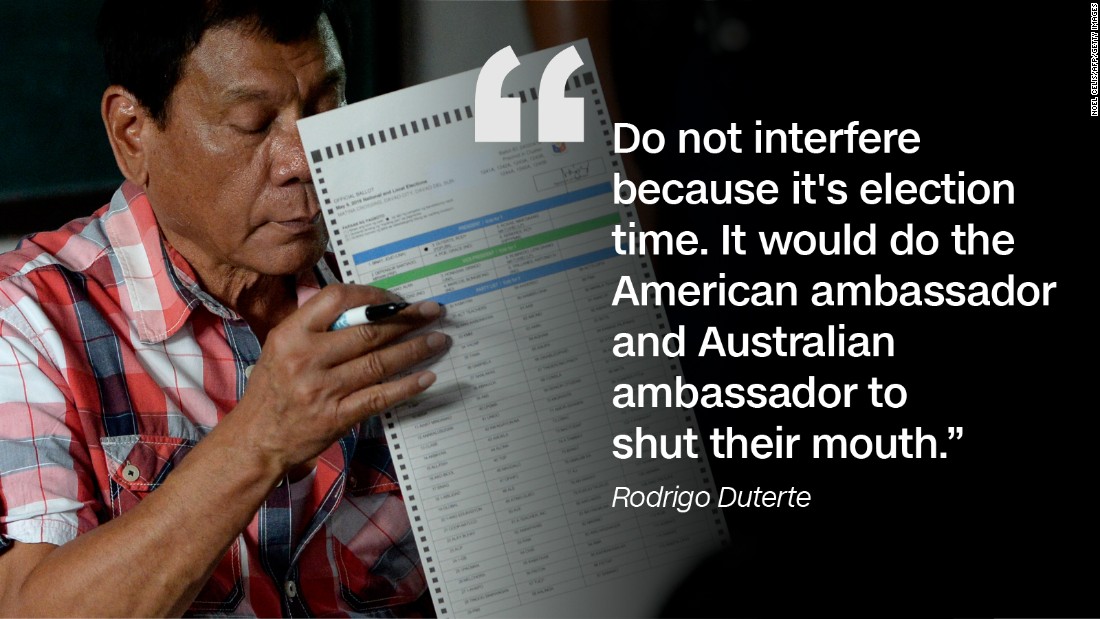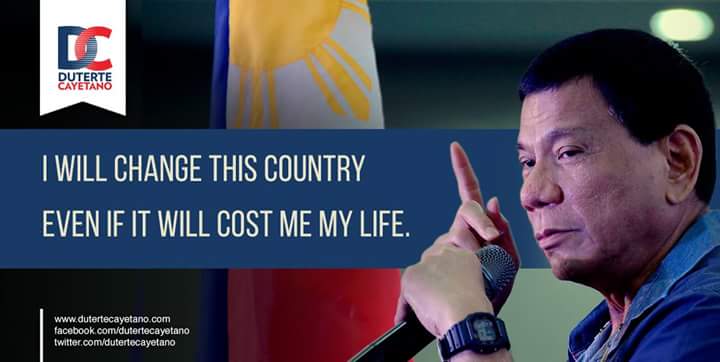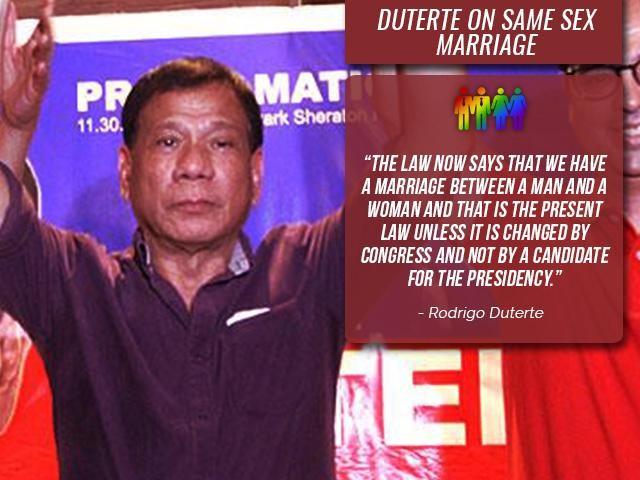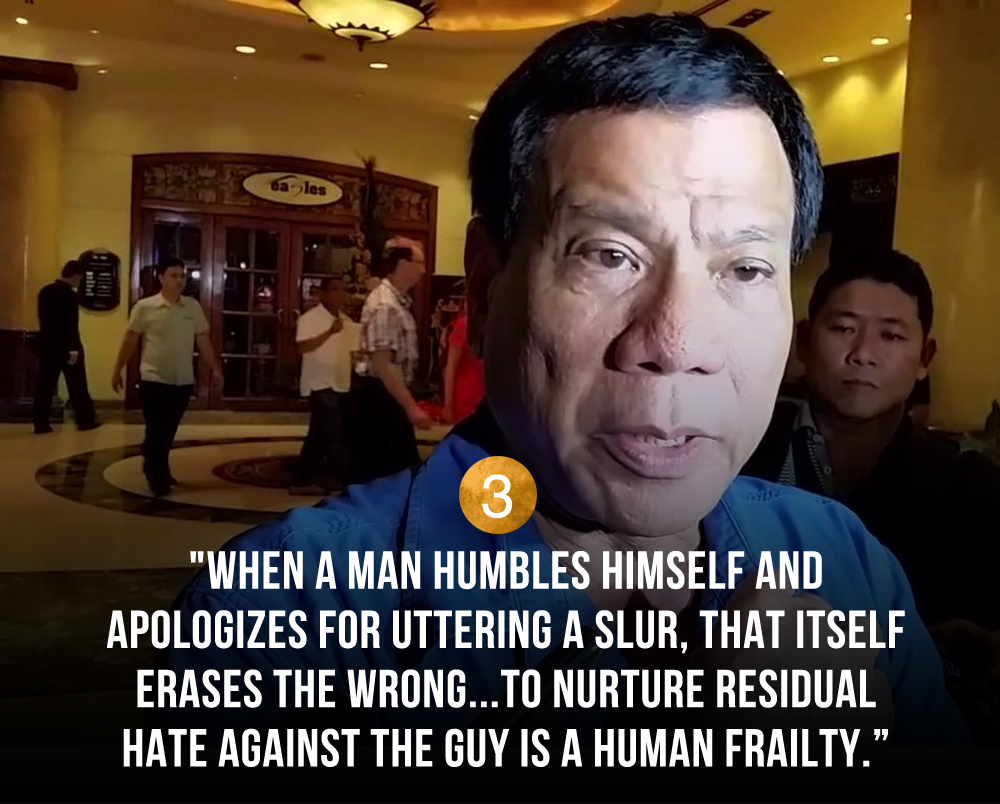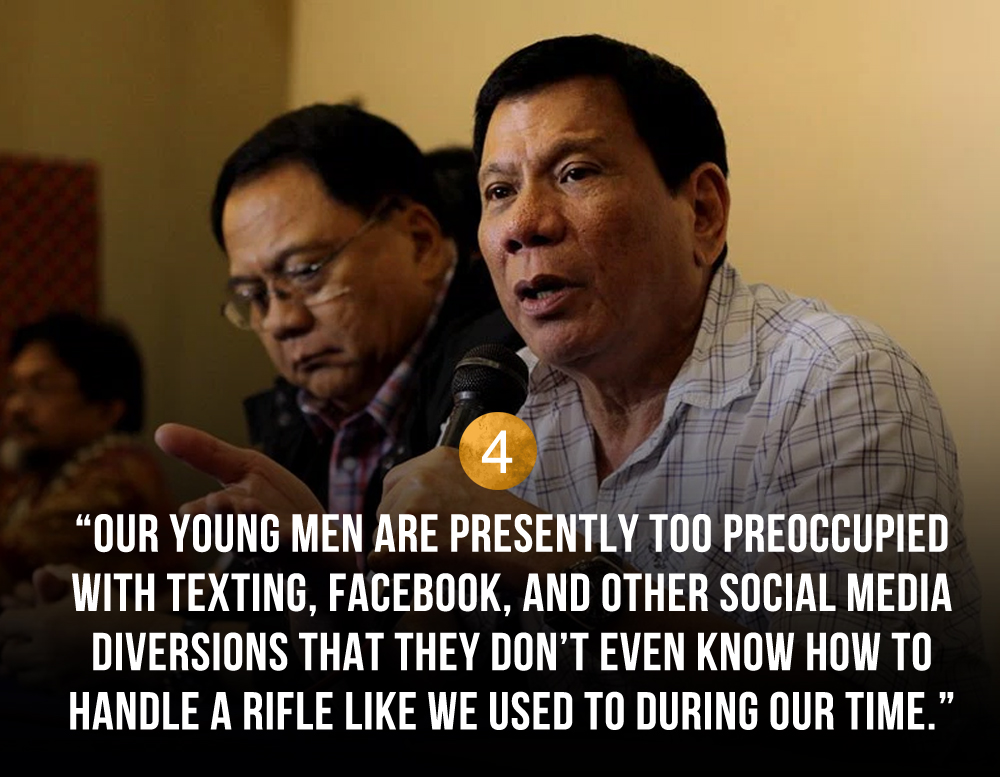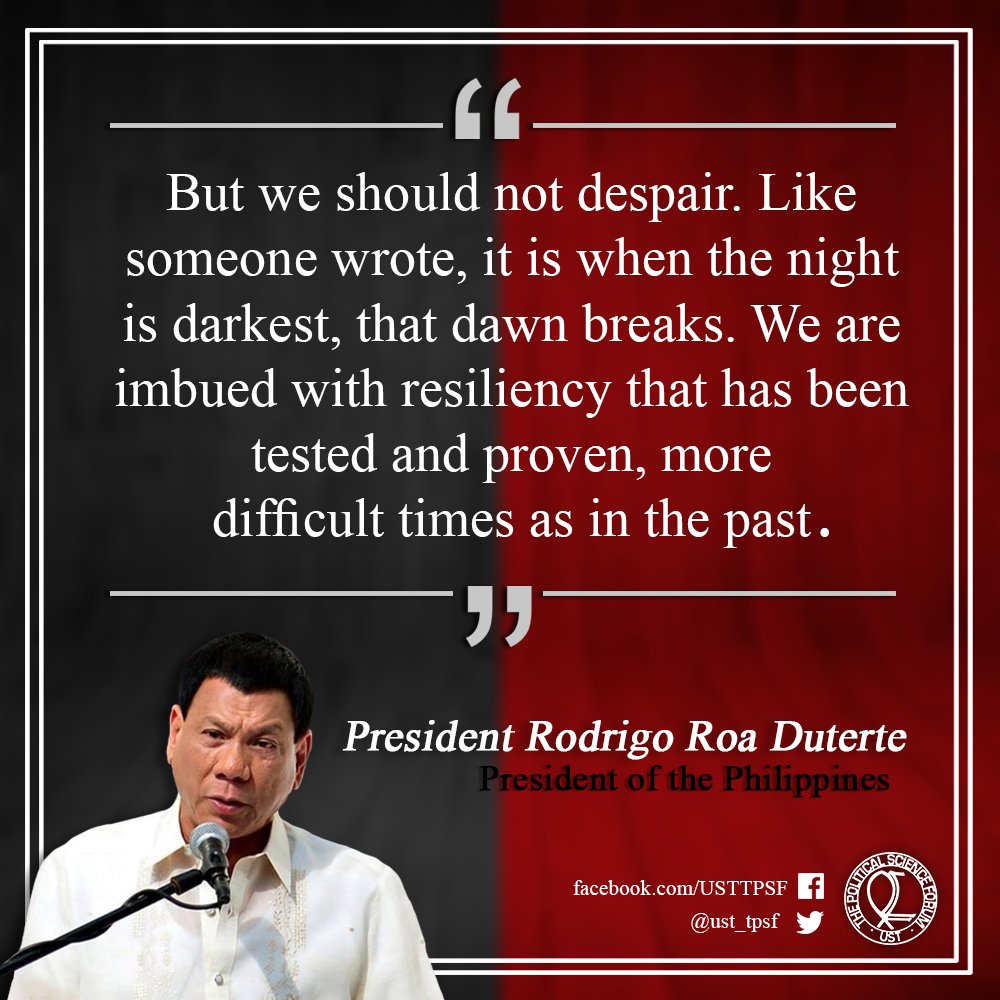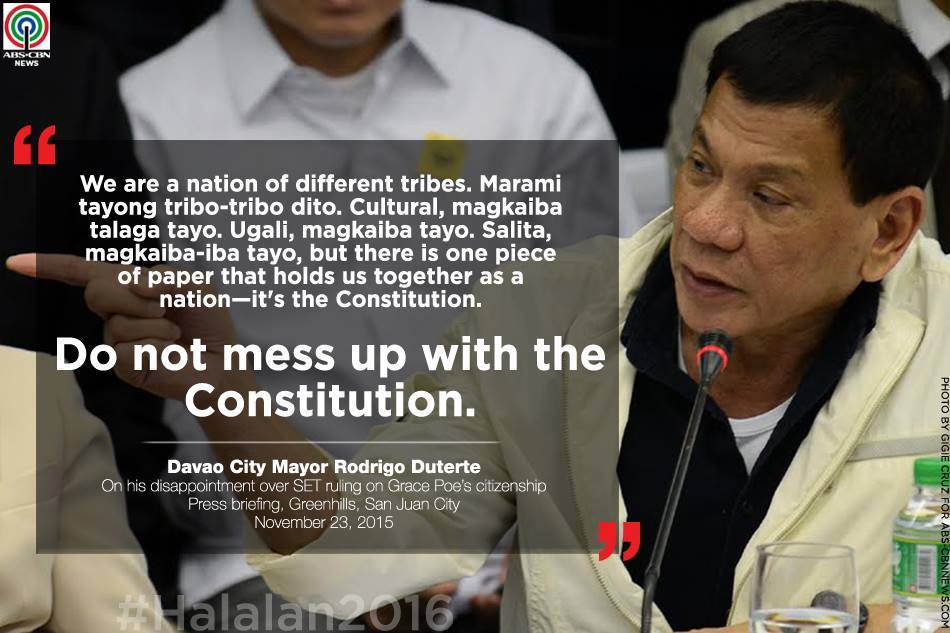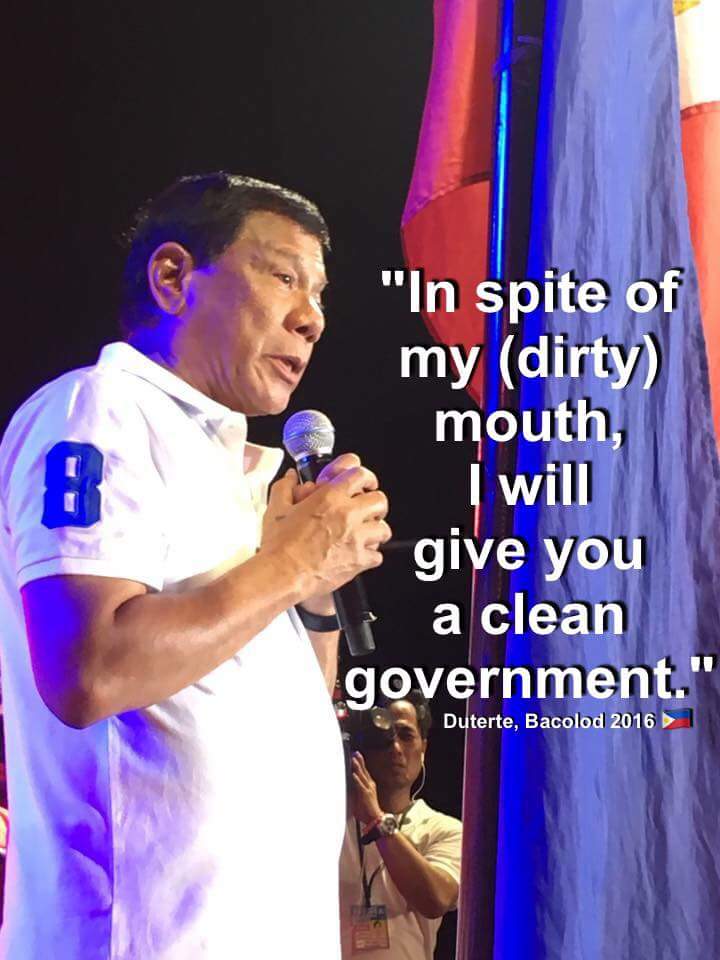 ~~~~~~~~~ A GESTURE OF TRUE PUBLIC SERVANT ~~~~~~~~~~~~~
<3 THE HUMBLE PRESIDENT WHO BOWS TO THE FILIPINO PEOPLE <3
*************
ANC News Anchor Teddy Locsin Jr. was all praises for President Rodrigo Duterte in his first ever State of the Nation Address (SONA), Locsin sees that Duterte is tired but will do what he can for real change, or die trying. Locsin also compares understanding Duterte to reading a complex book, a complex book will have an effect on you long term while reading a simple book will give you shallow and temporary satisfaction.
Locsin: We Have A Thinking President, Let's Take Advantage
Published on Jul 25, 2016
Teddy Locsin Jr. talks about the need for deep reading and the new Philippine president and real change.
ANC News Anchor Teddy Locsin Jr. was all praised for President Rodrigo Duterte in his first ever State of the Nation Address (SONA), Locsin sees that Duterte is tired but will do what he can for real change, or die trying.
Locsin also compares Duterte as to like reading a complex book, a complex book will have an effect on you long term while reading a simple book will give you shallow and temporary satisfaction.
"If you read simple book, It will bring you immediate pleasure but only a passing and shallow understanding of our complex world" Locsin said.
"I'm saying this because we now have a president who will influence what we reads, and therefor what we think." he added.
Seasoned Politician
Locsin also said that Duterte might be mistaken for superficiality and simple mindedness, but he is the furthest from that.
"He has lived through the hardest times of our country, he has heard the tattered banners of opposing camps, beating the hurricane winds or our politics and conflicts" he said.
"He speaks little but speaks volumes, he has isolated surprisingly complicated words, shouts of the suffering of out people and speaks faintly of the hopes they are giving up" he added.
Thinking President
Locsin praised Duterte for having the best suggestions in tackling the root problems facing our country.
"We have a thinking president, let us make the effort to think as hard as he does" Locsin challenged his audiences "make no mistake, whether he has read the situation rightly or wrongly, he will proceed twat, on the conclusions he has arrived at with much hard thought and deep reflection".
"So he will not stop, unless we give him a compelling reason to stop, and also a better way to seek to good ends he seeks" Locsin added.
Old, Resolve
He also sees that Duterte is old and tired but the resolve in him is still shining bright.
"He is old, I sense he is tired, but he is resolve, and while there is breathe in him, not just to talk change like past presidents but make change, and die trying". Locsin said
"If we do not take advantage of this man's leadership, we shall miss our last change of real change" are Locsin's parting words .
Source: http://trendtitan.com/philippines/locsin-we-have-a-thinking-president-lets-take-advantage/
***~~~***~~~***
The President and The Leader : Rodrigo Roa Duterte
Duterte is no trump! never was and never will,