Lee Kuan Yew: The Wise Man of the East
Lee Kuan Yew was the prime minster of Singapore from 1959 to 1990, making him the longest-serving PM in history. During his long rule, Singapore became the most prosperous nation in Southeast Asia.
Synopsis
Born in Singapore on September 16, 1923, Lee Kuan Yew became the longest-serving prime minister in world history. Lee rose through the ranks of his country's political system before becoming the first prime minister of Singapore on June 5, 1959. In 1962, Lee led Singapore into a merger with Malaysia, but three years later, Singapore left the union for good. Lee resigned as prime minister in 1990, and his son became prime minister in 2004. Lee died on March 23, 2015.
Early YearsLee Kuan Yew was born into a wealthy Chinese family that had resided in Singapore since the 19th century. After World War II, Lee studied law at Fitzwilliam College, in Cambridge, UK. In 1950, he was admitted to the English bar, but instead of practicing law there, Lee returned to Singapore to do so.
Political Beginnings
At the time, Singapore was a British colony and held Britain's main naval base in the Far East. The country was ruled by a governor and a legislative council, mostly comprising wealthy Chinese businessmen who were appointed rather than elected by the people. In the early 1950s, Singapore buzzed with talk of constitutional reform and independence, and Lee banded with other like minds to challenge the governing structure of the country. Soon breaking from this group and taking a more radical stance, in 1954 Lee became secretary-general of his own party, the People's Action Party.
In 1955, a new Singapore constitution was introduced. It increased the number of elected seats on the council to 25 out of a total of 32, thereby allowing only 7 seats to be filled by appointment. In the elections that followed, the party founded by Lee's former colleagues, the Labour Front, won 13 seats, while Lee's PAP won merely 3.
But with his party represented on the council, in 1956 Lee headed to London as part of the delegation seeking self-rule for Singapore. After the negotiations failed, Singapore experienced a year of civil unrest, but in 1957, Lee returned to London yet again as talks resumed.The next year, Lee helped negotiate what Singapore's status would be as a self-governing state, and a new constitution was formed.Under the new constitution, national elections were held in June 1959. Lee campaigned on an anticolonialist, anticommunist platform and called for sweeping social reforms and an eventual federation with neighboring countries.

Lee's party won a decisive victory, taking 43 of the 51 seats in the assembly, and Singapore gained self-governing status (except in matters of defense and foreign affairs). Lee was sworn in as prime minister on June 5, 1959, becoming the first prime minister of an independent Singapore.
Singapore Independence
Once in office, Lee Kuan Yew introduced a five-year plan calling for urban renewal and construction of new public housing, greater rights for women, educational reform and industrialization.
His plan also called for a merger of Singapore with Malaysia, and after Malayan prime minister Tunku Abdul Rahman proposed the formation of a federation that would include Malaya, Singapore, Sabah and Sarawak, Lee began to campaign in favor of the effort and to end British colonial rule for good.
To show that the people of Singapore were supportive, Lee used the results of a referendum held in September 1962, in which 70 percent of the votes were cast in favor of the proposal. So in 1963, Singapore joined the newly created Federation of Malaysia. In elections held shortly after, the PAP retained its control of Singapore's Parliament, and Lee held onto his post as prime minister.
Split With Malaysia
Growing tension between Chinese and Malays in the Federation, however, resulted in rioting in Singapore, notably marked by the Prophet Muhammad Birthday Riots, or Sino-Malay riots, of the summer of 1964. A year later, with racial strife continuing, Lee was told by his Malaysian colleagues that Singapore must leave the federation.
Lee was passionate about working out a compromise, but his efforts proved fruitless, and he signed a separation agreement on August 7, 1965. The failure of the merger was a serious blow to Lee, who believed that unity was crucial for Singapore's survival. In a televised press conference, he was emotionally drained as he announced the formal separation and Singapore's full independence:
"For me, it is a moment of anguish," he said. "All my life … I believed in Malaysian merger and unity of the two territories. You know that we, as a people, are connected by geography, economics, by ties of kinship … It literally broke everything that we stood for … now Singapore shall be forever a sovereign democratic and independent nation, founded upon the principles of liberty and justice and ever seeking the welfare and happiness of the people in a most and just equal society."
With the broken union came problems beyond Lee's personal grief: Singapore's lack of natural resources and a limited defensive capability were major challenges.
Singapore needed a strong economy to survive as an independent country, and Lee quickly spearheaded a program to transform it into a major exporter of finished goods. He also encouraged foreign investment and made moves to ensure a rising standard of living for workers.
When the opposition party decided to boycott Parliament from 1966 onward, the PAP won every seat in Parliament in the elections of 1968, 1972, 1976 and 1980.
Later Years and Legacy
Lee resigned as prime minister in November 1990 but remained the leader of the PAP until 1992. After 14 years away, Lee's family took its place at the head of the Singapore government once again in the summer of 2004, when Lee's son Lee Hsien Loong took power.
In early 2015, Lee Kuan Yew was hospitalized with pneumonia. By early March, he was on a ventilator, in critical condition, and he died soon after, on March 23.
Lee has left behind a legacy of an efficiently run country and as a leader who brought prosperity unheard of before his tenure, at the cost of a mildly authoritarian style of government. By the 1980s, Singapore, under Lee's guidance, had a per capita income second only to Japan's in East Asia, and the country had become a chief financial center of Southeast Asia.
***
Singapore is bidding farewell to its founding Prime Minister Lee Kuan Yew, who died on Monday aged 91.
A funeral procession will carry Mr Lee's coffin from parliament, where it has been lying in state in parliament- across the city.
Following a state funeral attended by world leaders, his body will be cremated in a private family ceremony.
One million people have visited tribute sites across Singapore this week to pay their respects, say local media.
More than 415,000 people, or 12% of Singaporean citizens, visited Parliament House to see Mr Lee's coffin, while at least 850,000 others went to community sites to pay tribute.
The funeral procession will begin on Sunday at 12:30 local time (04:30 GMT), with the coffin carried on a gun carriage through the grounds around Parliament House. A 21-gun salute will sound as it moves on into the business district and Tanjong Pagar, the docklands constituency Mr Lee represented for his whole political life.
Two Singaporean navy vessels will conduct a sail-past of the Marina Bay barrage – the massive water conservation project spearheaded by Mr Lee.
The funeral service is expected to begin at 14:00 at a cultural centre in the west, with foreign leaders including former US President Bill Clinton, Indian Prime Minister Narendra Modi, Indonesian President Joko Widodo, Japanese Prime Minister Shinzo Abe, Australian Prime Minister Tony Abbott and UK House of Commons leader William Hague attending.
The country will also observe a minute's silence in the afternoon before singing the national anthem. The private cremation is taking place at the Mandai crematorium.
Current Prime Minister Lee Hsien Loong, who is Lee Kuan Yew's son, has described the past week as a "deeply moving experience"., saying Singaporeans had "expressed their grief overwhelmingly".
Many of the city-state's shopping and commercial centres are expected to be closed on Sunday as a mark of respect to Mr Lee.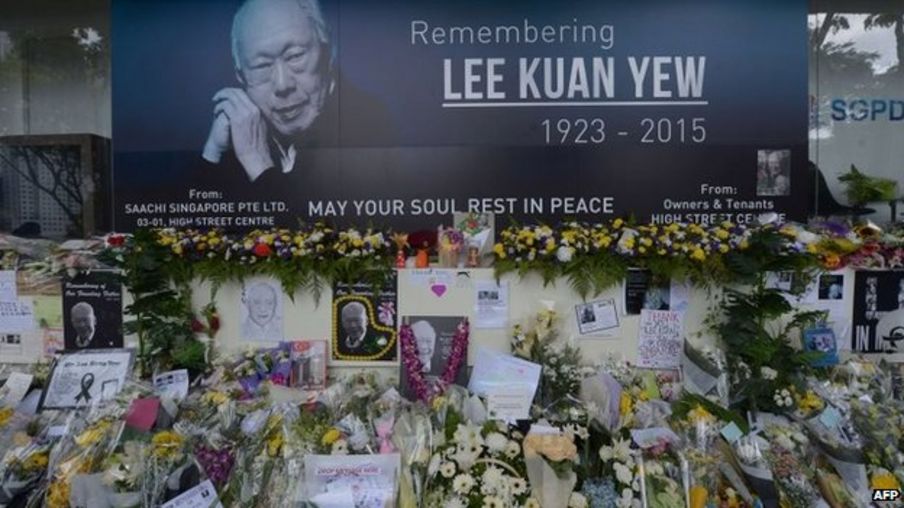 Source:
bbc.com
***
Analysis: Jonathan Head, BBC South East Asia correspondent
This orderly and usually unemotional city has over the week built up to a crescendo of commemoration for the man they are now calling the father of Singapore.
People queued for many hours to see Lee Kuan Yew's body lying in state, or to sign condolence books. A huge official publicity campaign has celebrated his achievements in building Singapore; special classes about his life are now mandatory in schools.
Only a few dissident voices have criticised what they say is akin to a personality cult, pointing out that the authoritarian Mr Lee had his dark sides too.
Once the funeral is over, Singaporeans will have to start thinking about what direction their country should take, now they no longer have the outsize personality who has dominated their country since independence.
Which direction will Singapore take now?
Mr Lee was Singapore's prime minister for 31 years. He stepped down in 1990 but remained hugely influential in political life and was held in deep affection by Singaporeans.
He oversaw Singapore's independence from Britain and separation from Malaysia, and was widely respected as the architect of Singapore's prosperity – the city-state's GNP per capita increased 15-fold between 1960 and 1980.
However, Mr Lee also introduced tight controls. Under him, freedom of speech and the press was tightly restricted and political opponents were targeted by the courts.
Speaking about his legacy to the New York Times in 2010, Mr Lee said: "I'm not saying that everything I did was right, but everything I did was for an honourable purpose."
Source: 
bbc.com
***
Lee Kuan Yew
The wise man of the East
Authoritarians draw the wrong lessons from Lee Kuan Yew's success in Singapore
IF YOU seek his monument, look around Singapore: Wealthy, orderly, efficient and honestly governed, it is not the work of Lee Kuan Yew alone. But even his severest critics would agree that Mr Lee, who died this week at the age of 91, played an enormous part . Singapore's leader from before "self-government" from Britain in 1959, he was prime minister until 1990, leaving the cabinet only in 2011. Under him Singapore, with no natural resources, was transformed from a tiny struggling island into one of the world's richest countries.
Admirers look to Singapore as a model, and Mr Lee as a sage. Part of his influence stemmed from his role as a clear-eyed, blunt-speaking geostrategist. He was an astute observer of the defining contest of the times—China's emergence and how America reacts to it. More than that, though, the admirers look to Singapore's combination of prosperity and one-party rule. They see flaws in "Western-style democracy": its short-termism; its disregard for non-voters such as children and foreigners; and its habit of throwing up unqualified leaders. Mr Lee's "meritocracy" promises a solution.
China's leaders, especially, are fascinated by Mr Lee's firm grip on power: it is no accident that the second-most-powerful man in the Chinese hierarchy is not running the economy or the interior ministry, but is President Xi Jinping's enforcer, Wang Qishan . Others, including Rwanda's authoritarian president, Paul Kagame, who is seeking to rewrite the constitution to allow himself a third term, enthusiastically compare themselves to Singapore's founding father. Mr Lee does indeed have much to teach the world; but when his admirers conclude that Singapore proves authoritarianism works, they are drawing the wrong lesson.
Pyongyang with broadband
Mr Lee got many things right, especially in his choice of economic managers. They kept government small, the economy open and regulation simple, transparent and effective. Singapore often heads the World Bank's "ease of doing business" rankings. It has deftly exploited the advantages that made it a successful entrepot as early as the 14th century: a fine natural harbour and strategic position on the Malacca Strait, through which an estimated 40% of world maritime trade now passes. Foreign investment has poured in.
Political stability and social order were part of the attraction. With a big ethnic-Chinese majority but sizeable Malay and Indian minorities, Singapore suffered race riots in the 1960s. Since then ethnic harmony has been preserved: by quotas in public housing that enforce integration; by restrictions on inflammatory speech; and by harsh penalties for lawbreaking (including corporal and capital punishment). Strikes and other forms of protest have been extremely rare. Social policies are illiberal—homosexual acts, for example, remain illegal.
Throughout, Mr Lee's own People's Action Party (PAP) has had a vice-like grip on power. The political system is based on the Westminster model inherited from Britain, but modified to prevent the emergence of a serious opposition party. Constituencies have been designed to magnify the distortions of a first-past-the-post system. In the most recent general election in 2011 the PAP won 60% of the votes, but more than 90% of the seats. Mr Lee and other leaders have also used defamation suits to defend their reputations. The mainstream press was tamed. Opposition leaders have found themselves bankrupt.
Critics mock Singapore for being like North Korea or "Disneyland with the death penalty", as William Gibson, an American novelist, described it in 1993. But Mr Lee's defenders argue that the restrictions are a small price to pay for stability and prosperity. GDP figures do not lie: Mr Lee's policies have worked. Singapore is a thriving city-state. Unlike North Korea or Disneyland, it offers a real challenge to the liberal notion that growth, prosperity and freedom go together.
Only one Lee Kuan Yew
But four peculiarities of Singapore make it look like an anomaly, rather than a model for the leaders of China and Rwanda or others who think the best thing for their people is their own unending and unquestioned rule. The first is size. Singapore is a city with a foreign policy, which gives it a cohesion that more politically and ethnically chaotic countries cannot match. Second, this cohesion is reinforced by the turbulent circumstances of its birth. After a painful divorce from Malaysia in 1965, the government has never let Singaporeans forget that a Chinese-majority island, surrounded by Muslim-majority Indonesia and Malaysia, would always be vulnerable. Third, it shines by comparison with its less well-run neighbours. Rather as Hong Kong's prosperity was based on being Chinese but not entirely part of China, Singapore has flourished by being in South-East Asia, but not of it.
However, the most important reason for Singapore's singular experience is Mr Lee himself. Incorruptible, he kept government unusually clean. He ensured that Singapore pays its ministers and civil servants high salaries. Under today's prime minister, his son Lee Hsien Loong, the bureaucracy has remained efficient and untarnished. Unlike many other independence leaders, Mr Lee designed a system to outlast him. Singapore's government claims it has faced enough electoral competition to keep it honest, but not so much that there was a high risk of losing power. So it has been able to eschew populism and take decisions in the country's long-term interests.
But outside Singapore, maintaining probity requires checks and balances. In much of the developing world, critics are regarded as enemies and those in opposition are treated as traitors whether their complaints make sense or not.
Even in Singapore the model may not long outlast its creator. Singaporeans are having few children and ageing fast. The government faces demands for more social spending. Growth depends on immigration, angering natives who feel the influx is suppressing their wages—and making it impossible to get a seat on the tube. That balance between competition and inevitable re-election is shifting. The Singapore model may yet prove unsustainable even in Singapore.
Source: 
economist.com