Drugs for Jesus: The nuns growing and selling MARIJUANA as part of their mission to 'heal the world'
Sister Kate and Sister Darcy have a small operation in Merced, California 
Two nuns who grow and sell marijuana in from their California home are looking for a divine intervention to stop city officials from closing them down.
Sister Kate and Sister Darcy, who live in a three-bed 'abbey' in Merced produce cannabis from the adjoining garage.
They used the cannabinoids to create products that help treat pain 
They use the cannabinoids found in the plant to create a variety of products used to treat pain which are now selling out online.
Their homemade items will not get their customers high, but they are still facing closure because of new laws preventing residents from growing the drug on their properties.
Their Etsy page is hugely popular, and their items often sell out  
Since they launched the business six months ago, the nuns' treatments have proved popular with sell-out products on their Etsy page.
The pair produces salves, tonics and tinctures from the plants for pain management.
None of their products get you high, but they are still facing closure   
They have low levels of tetrahydrocannabinol (THC), the psychoactive component that causes the high.
However, the abbey is being threatened with closure following new Californian marijuana legislation – which come into force in March, 2016.
State laws come into force in May that will restrict the growing of medicinal marijuana in California  
The nuns are currently fighting the council's plans to ban the growth of medicinal marijuana.
Sister Kate, 56, said: 'The ban is clearly against the wishes of the citizenry. So that makes it immoral and unjust.
'Two hundred people or more turned out or more to make sure the city council didn't enact a ban, but they did anyway, under the guise of 'not understanding how to regulate.'
'The mayor indicated they have a 'yearning for learning', but it is a new yearning, because the medical marijuana legalisation has been in place for nineteen years, and just now, they decided to study the issue.'
With the popularity of her products, Sister Kate is hoping to expand her order.
Sister Kate, a mother-of-three, added that although they dress like catholic nuns their religion is New Age.
A description on their website reads: 'Based in California's Central Valley, The Sisters of the Valley are not affiliated with any traditional earthly religion. The Sisters' spiritual practices support the process of making medicine.
'We respect the breadth and depth of the gifts of Mother Earth, working to bridge the gap between Her and her suffering people.
'The Sisters prepare all medicines during moon cycles, according to ancient wisdom. We are activists who are on a mission to heal the world.'
Merced is one of several cities and counties in California that are attempting to place bans on dispensaries and other commercial cannabis enterprises.
The bill was signed into law in October by California Governor Jerry Brown
Source:
http://www.dailymail.co.uk/news/article-3439181/Meet-nuns-growing-selling-marijuana-garage-abbey-mission-heal-world.html#ixzz4ILLpoFaF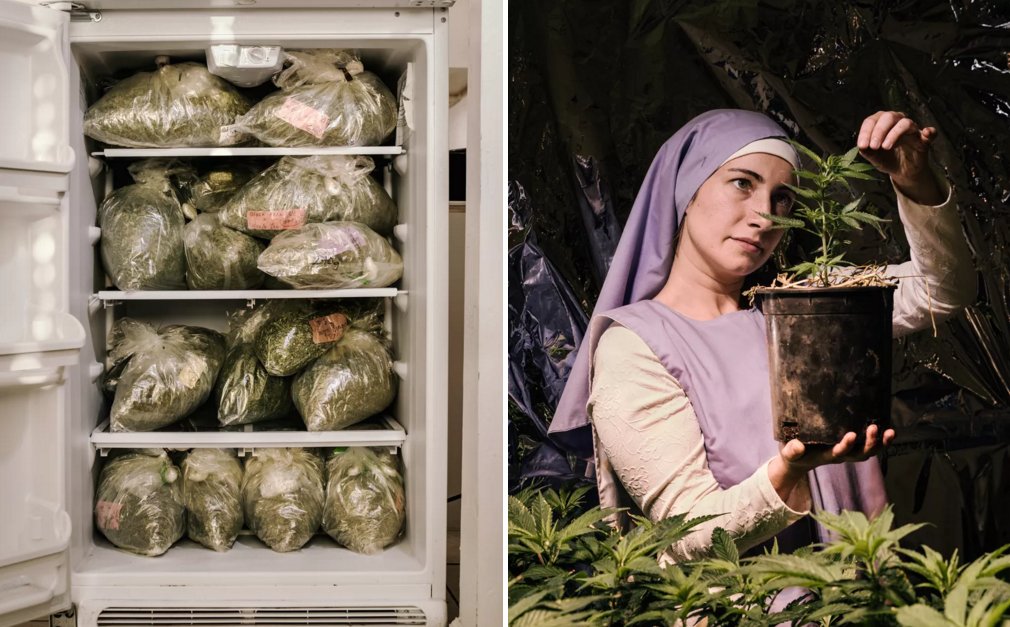 Meet the Sisters of the Valley, California's Radical Weed-Growing "Nuns"
by Carey Dunne on April 20, 2016
Sister Kate and Sister Darcy, a pair of self-ordained new age "nuns" based in Merced, California, are on a holy mission: help make "marijuana a healing industry instead of a stoner industry," as they recently put it. The Sisters of the Valley, as they call themselves, have converted the garage of their three-bedroom into a cannabis grow house slash "abbey." They're not affiliated with the Catholic Church or any other "earthly religion" — instead, their spiritual practice centers around growing weed according to the cycles of the moon and creating CBD-derived products that they "bless" before shipping. Their vestments of choice are long denim skirts, white collared shirts, and nun's habits.
After learning about the Sisters of the Valley through a report on their recent legal troubles, LA-based photographer duo Shaughn Crawford and John DuBois tracked them down via Facebook and arranged a day-long visit to the sisters' cannabis farm. The visit resulted in a sublime photo essay that could land the sisters an honorary spot in the stoner duo hall of fame; their style rivals that of Cheech and Chong and Harold and Kumar. The sisters' business, and the photo essay that documents it, is a fresh approach to the ongoing movement to rebrand pot, to which artists and designers have contributed nearly as much as activists.
"They are two very nice, welcoming women, who speak their minds about cannabis, politics, and spirituality," John writes in an email. "They are exactly who they present themselves to be, and we were welcomed into their world with open arms." Cast in hazy light, the photographs document the various elements of this spiritual "order": A wall calendar scribbled with notes like "made clones" and "cayenne spray"; a refrigerator stuffed with bags of marijuana; salves being poured into jars; the sisters exhaling smoke after a day's work. Cooking golden oil in crockpots and piously tending to their medicinal plants, the nuns resemble old-school alchemists, defying all visual stereotypes of the tie-dye-clad stoner or outlaw marijuana farmer. The wholesome imagery all illustrates the absurdity of the fact that recent California legislation deems the nuns' activities illegal.
The sisters are self-aware, though sincere about their spirituality and activism. Sister Kate began dressing in a nun's habit as a political statement during the Occupy movement, after the US Congress decided to classify pizza as a vegetable. "If pizza was a vegetable, I was a nun. So I put on a nun outfit and started going out to protests, and the movement dubbed me Sister Occupy," she told the Guardian.
Recently, Etsy shut down the sisters' shop, so they now sell their cannabidiol tinctures and other CBD-based products on a new website. The sisters also crowdsourcing fundsfor their independent business, which they hope to expand. Women across the country, they say, have expressed interest in joining their order (cult?).
Source:
http://hyperallergic.com/287077/meet-the-sisters-of-the-valley-californias-radical-weed-growing-nuns/