1. Vanishing Island (Davao del Norte)
The Vanishing Island is a miniature island composed of a small strip of white sands located a few minutes away from Tambo shores of Babak, Samal island of Davao del Norte. It is obviously called as such, because the sand bar disappears during high-tide and emerges during low tide. The island is easily perceptible because viewers will see a few floating-like houses on the horizon from afar. The cottages erected on the island are available for visitors who want an overnight stay in the island.
During high tide, the island slightly submerges on water barely above the ankles hence visitors can still walk through the sand strip. With its crystal clear waters, tourists can get a clear view of the underwater corals without need to take a plunge. Others however can also go snorkeling and diving in the depths of the ocean for a greater exploration of the marine wonders in the place. The vanishing island is popular for a romantic date especially when a couple can have the entire island to themselves.
Aside from enjoying the corals and sight seeing, one must-do in the island is eating a sea urchin, which is a local favorite that is usually eaten raw. The roe (gonads) inside the ball of spines is a native delicacy in the island. Natives claim that the sea creature is a natural aphrodisiac. (tripsider)
2. Amanpulo, Pamalican Island of Quiniluban Group of Cuyo Islands … Pamalican Island Sandbar, Palawan
Amanpulo is situated in one of the world's most idyllic island locations on the staggeringly beautiful Pamalican Island in the Philippines. It is a private island, gifted with nature's paradisaical treats: powder white beaches, clear turquoise-azure-indigo seas, cirrus-streaked cerulean skies, and a polychromatic coral reef only 300m from the shore. (rastyarellano.wordpress.com)
3. Kalanggaman Island in Palompon Leyte  
Glass-like waters/ crystal clear turquoise water, soft powdery white sand,  and stunning views definitely leave you breathless.  The island's name came from Cebuano term "langgam" which means bird. The island has two sandbars extending on both sides forming a shape of a bird thus the name, "Kalanggaman".
Located in the western part of Leyte.  Kalanggaman Island can be accessed by boat for more than an hour from Palompon mainland.
There are no resorts or accommodations in the island so if you plan to stay overnight, make sure to bring your tent, food and other essential stuff. Boat transfer must be arranged with the tourism office in Palompon.
4. Virgin Island of Panglao in Bohol, Philippines  
Virgin Island is one of the several islands included in Bohol Government's jurisdiction. It is located 15-20 minutes away from Panglao Island in the Philippines. This is known to local as theVirgin Island because nobody lives here and the place is not always visited by tourists even though it's opened to the public a long time ago. Virgin Island is one of the many islands in thePhilippines where a big area of the beach sink during high tide and only the palm trees in the middle of the island are visible.
Known to many locals as the "hidden oasis", Virgin Island is clearly an attraction due to its long stretch of white sand beach during low tide which spans around 1 hectare. The problem during shallow waters is that some motorized outrigger boats can't dock in the island because a lot of sea plants surrounding the area near the docking station will stick to the propeller causing it to malfunction. There's no other docking station except for this single area of the island because most of the parts have very shallow water even during high tide which can cause the outrigger boats to get caught on the underwater rocks or sands. (markmaranga.com)
The view from this island is just spectacular. Just across the horizon is the Panglao Island and on the other side is the beautiful Bohol Straits.
5. Manjuyod White Sand Bar in Bais City, Negros Oriental
It is a stretch of white sand about 7-kilometers long in North Bais Bay that appear during low tide and disappear during the high tide. That is exactly how interesting to discover and explore and take adventure to that wonderful and beautiful tourist spots of Bais City, Negros Oriental.
There are many things to do when you get there. During the low tide, you will enjoy sunbathing, playing and walking along the long stretch of white sand. During the high tide, of course, if you love swimming, the place is very ideal and perfect because of the clear water that attracts you that you cannot resist. Also Scuba diving is perfect as well as fish catching by hook. (attracttour)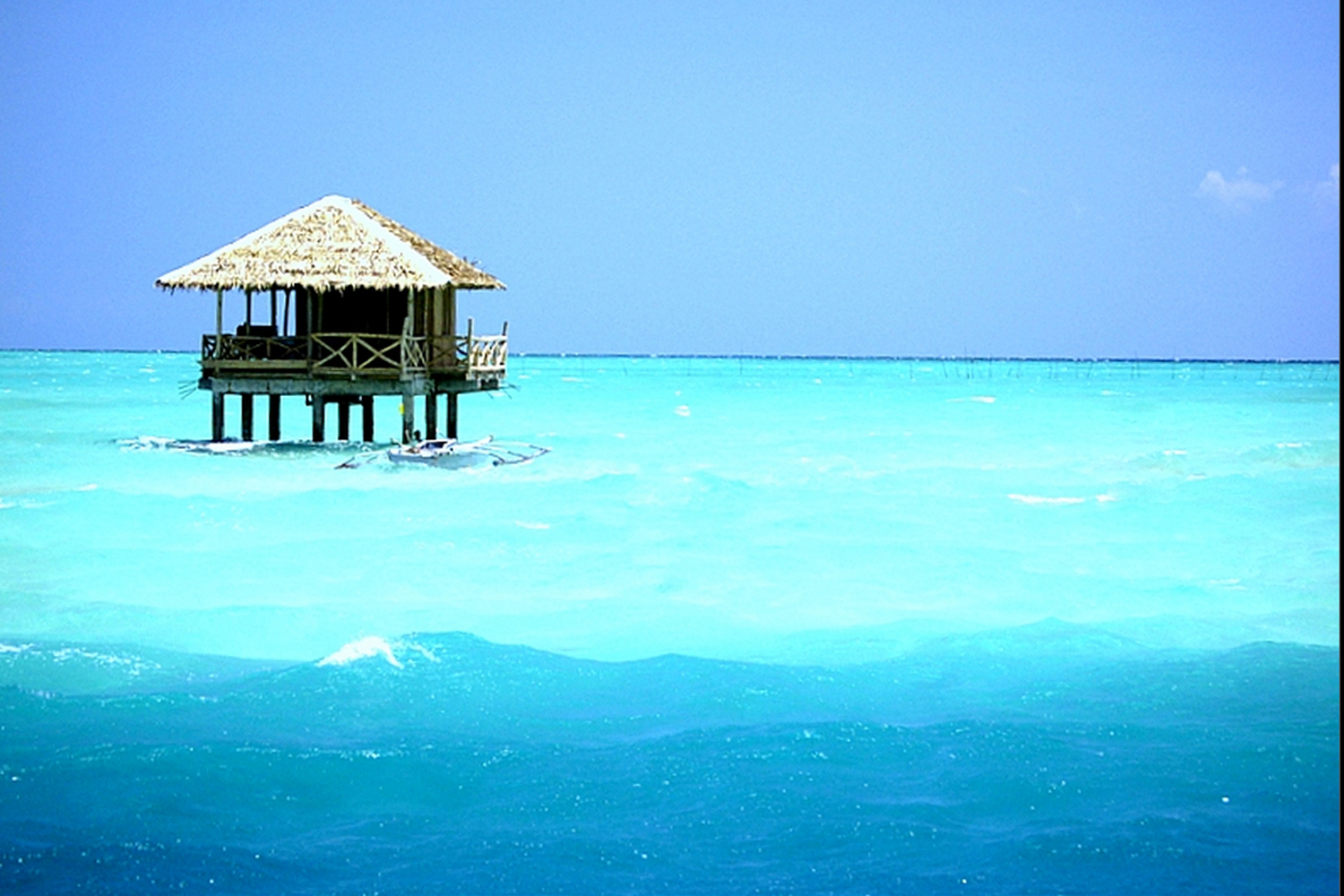 6. Island, El Nido sand bar – El Nido, Palawan 
In the northernmost portion of Palawan in the Philippine archipelago, a group of islands all known collectively as El Nido attracts divers, snorkelers and beach bums all game to hop around its islands. Among the other amazing islands in El Nido, there is one island named Snake Island that grabs attention in the area because of its unique sandbar.
The Snake Island isn't actually an island infested by snakes (that's not attractive). Originally known as Vigan island, the Snake Island is one of El Nido's main attractions for its S-shaped sandbar that stretches across the waters connecting itself to mainland Palawan. The only catch is, you can only step foot on this strip if it's low-tide. (whenonearth.net)
7. White Sand: The Gem of Camiguin 
Water meets land and life meets expectations. It is surrounded by uncrowded beaches, unexplored caves, picturesque sunset and varying colors of the sea filled with mysterious sites to discover. It offers a postcardesque panorama of Mt.Hibok Hibok and Mt.Vulcan. On regular weekends or holidays, expect it to be swarmed by day trippers who come here to bask in its emerald green and azure waters hugging its horseshoe-shaped shore. As the sandbar is devoid of cottages, renting a beach umbrella is your best bet if you're seeking for shade. Otherwise, feel free to spread your beach towel, mat or sarong on its powdery white shore, and bask in the sun for a perfect tan!  (sg.news.yahoo)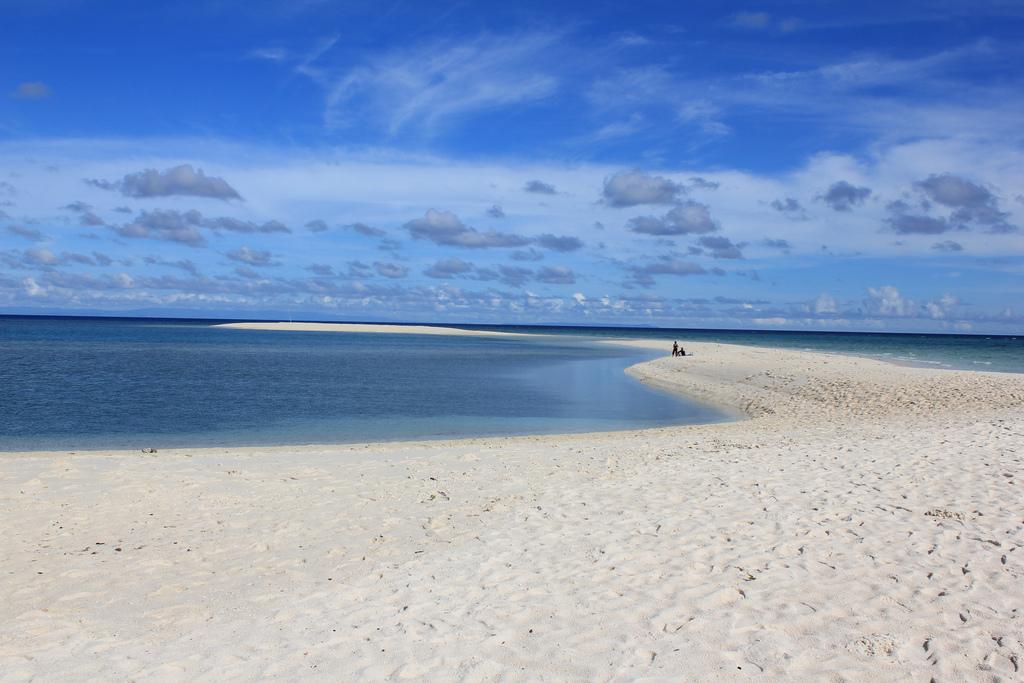 8. Sandbar Island Beach Resort, Bulubadiangan Island, ILOILO 
Bulubadiangan Island and its shifting sand bar is tucked in the northeast side of Panay facing the Visayan Sea. It has gorgeous white sand and very tempting blue waters. It has a sandbar that shifts left or right depending on the direction of the wind. It offers a great view of the other outlying islands of Concepcion. One of the best ones you can get a view from is the majestic. Mt. Manaphag in Pan de Azucar Island. t's home to different kinds of marine life, which means snorkeling is a good activity in this island. It is small enough to be circumnavigated in an hour.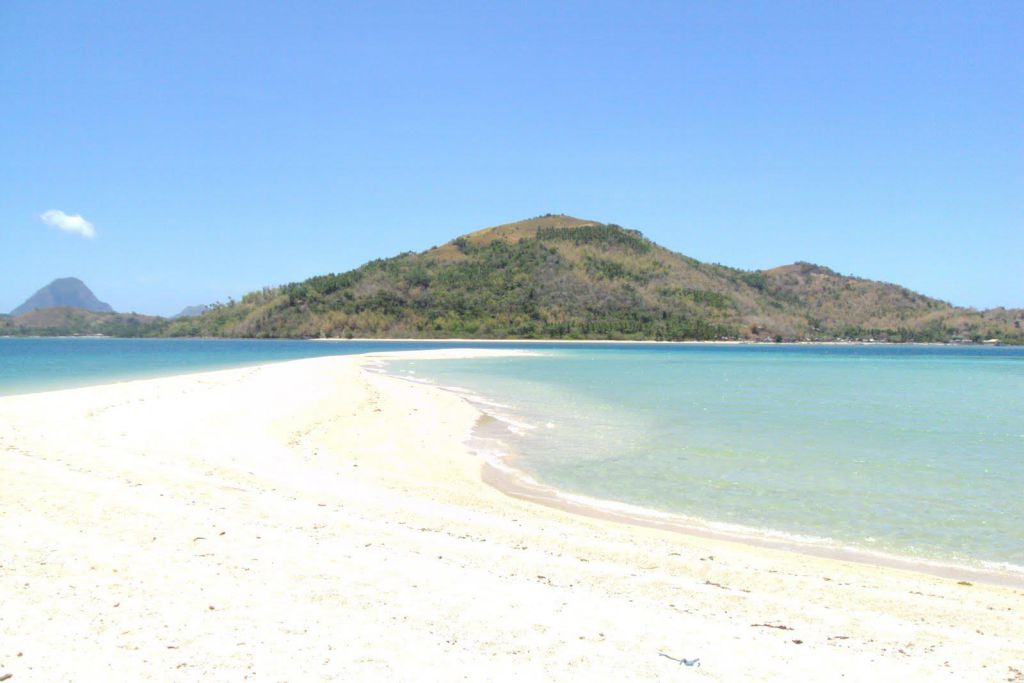 9. Bantayan Island, Cebu City 
Located at the geographical center of the Philippine Islands, Bantayan Island is breathtaking paradise considered as one of Cebu's best kept secrets. A lot of travelers who have stepped on its fine white sands and have put the word out, attracting attention to Bantayan over the years.
Bantayan Island is the largest in the Bantayan group of islands which is Cebu's main fishing grounds. Tons of fresh and dried fish are transported from Bantayan to Cebu and the neighboring towns in Negros Island. Some of the smaller islands can be accessible from Bantayan island through sand bars during low tide.
10. Anawangin Sand Bar, Zambales
Anawangin is a crescent shaped cove in San Antonio, Zambales, Philippines. Anawangin Cove is famous for the lush pine forest surrounding its white sand beach and crystal clear waters. Rugged mountains add to the mystic landscape of Anawangin Cove. The  area is home to a number of bird species.
Anawangin Cove is a crescent shaped cove with a pristine white sand beach.  What makes the place unique is the unusual riddle of tall pine trees flourishing round its vicinity.  There are no roads leading to Anawangin.   The cove's relative isolation has kept it free from development – as of this writing, there are no resorts on this sparkling piece of natural beauty, save for a few huts and deep wells. (traveltophilippines.info)