Thai national Prasertsri Kosin, who was posting on Facebook as Koko Narak called Filipinos "pignoys," "stupid creatures," "low-class slum slaves" and "useless race in this world."
Koko Narak angers netizens after posting deregatory remarks about Filipino people on hisFacebook account.
Kosin works for a business process outsourcing firm in Taguig City
The Bureau of Immigration (BI) has deported on Friday (May 8, 2015) Thai national Prasertsri Kosin (also known as Koko Narak) to Thailand, two days after he surrendered to the bureau and was fired from his job for posting offensive and insulting comments against Filipinos on social media.
Atty. Elaine Tan, BI spokesperson, said Kosin was deported pursuant to a voluntary deportation order issued by the Board of Commissioners.
He was deported after he procured his outbound ticket and after the NBI issued a certification that the foreigner has no derogatory record or pending cases in the country.
Kosin earned the ire of the Philippine social media community in recent weeks for his racist comments on Facebook where he tagged Filipinos as "pignoys," "stupid creatures," "low-class slum slaves," and a "useless race in the world."
He was earlier charged by the BI for undesirability which he later  admitted by turning himself to the bureau and filing a request for voluntary deportation.
Kosin also apologized on television for his misdeeds and asked Filipinos to forgive him, saying he hoped he would be allowed to return someday.
As a result of his deportation, the Thai national was placed in the immigration blacklist, which meant he is banned from re-entering the Philippines.
He was temporarily held at the BI Warden Facility in Camp Bagong Diwa, Taguig until he was deported.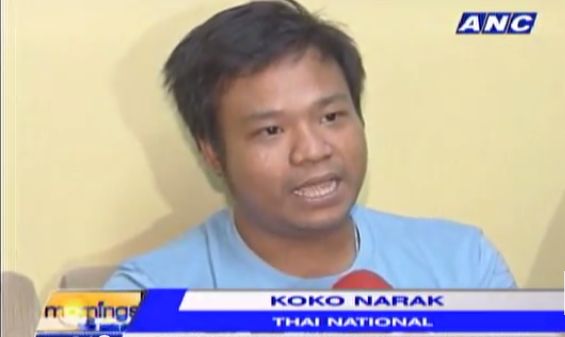 A Thai employee at Cognizant Philippines, a company involved in information technology, consulting, and business process outsourcing services, seems to have a deep-seated dislike for the country and its people. Kosin Prasertsri, a.k.a. Koko Narak, 32, has been spreading hateful comments about the Philippines and has been bashing Filipinos around him.
Read his rants which he posted on the ASEAN COMMUNITY page, intentionally showing to other nationalities how he criticizes and insults Filipinos. See below screengrabs from kinsleytuy:
"If I were a Hitler, I would kill all filipinos on this earth. Since it is a useless race on this world. No quality of population. F@#k, f@#k, f@#k and f@#k producing babies to be street beggars, security guards holding guns. It is useless people on earth and waste the natural resources."
-Koko Narak  
Koko Narak:  Filipinos are only capable of becoming "maids and toilet lickers." 

Koko Narak:  Filipinos "low class slum slaves"
While the said racist did not mention where the hatred is coming from, he apparently has no qualms about sharing it.
He also apparently doesn't care if his bosses find out about his racist remarks.
NOTE: People have posted complaints about Narak's comments on his company's Facebook page. The company has replied, saying that their legal counsel is already looking into the matter. Meanwhile, angry netizens have also posted their complaints on the company's head office page as well.
Filipinos are known to be very hospitable, warm, and friendly aside from being resilient and generally happy-go-lucky. But congenial as Pinoys may be, they do not tolerate those who insult them or the country, especially if the offender is a foreigner living and working in the Philippines.
SOURCES: 
thedailypedia
mb.com.ph