The Real-Life Cady Heron Who Grew Up In Africa Was The Coolest Kid Alive
Tippi is basically a younger version of Cady fromMean Girls, as she spent her earliest years growing up in Africa.
Growing up in the African bush, Tippi Benjamine Okanti Degré (born 4 June 1990)  napped with lions, rode elephants, and was generally all-around awesome.
Tippi was named after Tippi Hedren, the actress who starred in Alfred Hitchcock's The Birds.
These photos, which were taken in the 1990s, are among the shots included in the book Tippi: My Book of Africa, which was released 2012.
Riding a five-ton elephant, whom she called 'my brother', chilling with a cheetah or hugging a giant bullfrog as if it were a Teddy bear. The childhood of a French girl Tippi Degre sounds more like a newer version of Mowgli, rather than something real. A white child, she was born in Namibia to French wildlife photographer parents, and grew up in Africa. Tippi spent her whole childhood playing with wild animals including lion cubs, a mongoose, a snake, a cheetah, baby zebra, giraffes and crocodiles.
The little girl saw nothing unusual about her company: "I don't have friends here. Because I never see children. So the animals are my friends," she once said.
Tippi is now 23 years old, and the only child to wildlife photographer parents Sylvie Robert and Alain Degre, who published her photos in a book called Tippi of Africa. "It was magical to be able to be free in this nature with this child. She was a very lucky little girl – she was born and raised until the age of 10 totally in the wild." said Sylvie.
"She was so at ease with animals. She would talk to them with her eyes and her heart," said Tippi's mom, Sylvie, who said her precocious daughter was known as "The Girl Who Talked to Animals."
"I don't have friends here. Because I never see children. So the animals are my friends".
– Tippi Degré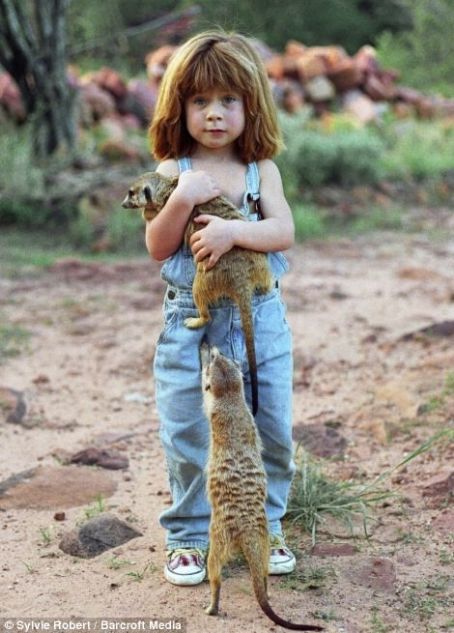 These animals were not totally wild. They were living in a national park, so they were used to contact with human beings. I would not dare to walk and play with really wild unknown lions. The only really wild friend I had was a giant frog, Tippi Degré says.
Parental 'Do's and Don'ts' aside, I think a lot of us would have loved to have such a profound childhood. There's something beautifully right and familiar about this girl's endeavours with all these animals and her connection with nature.
Adopted by Africa
Growing up in Africa, Tippi was living amongst the native tribespeople of Namibia. It was these tribesmen who took Tippi under their wing and taught her how to survive in the wild, how to feed herself on roots and berries, how to hunt and speak their language.  The bushmen of the Kalahari clearly watched over the young French girl as one of their own.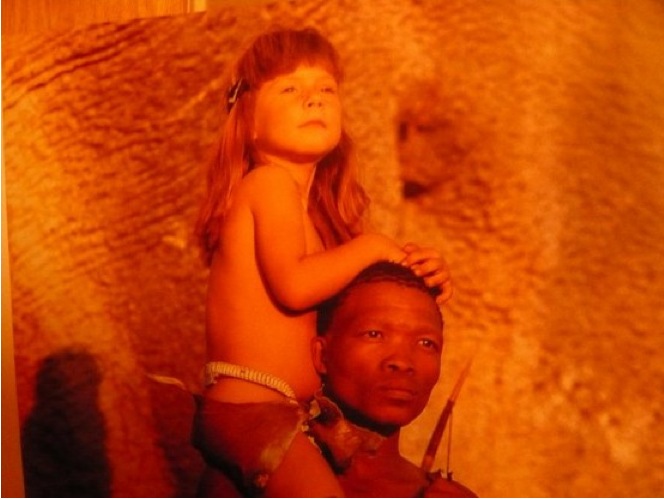 After living in Africa for ten years, Tippi's parents took her back to their home country and sent her to a French state school. By then, Tippi was already a celebrity in France. She had her own book published Tippi of Africa, which became a best-selling novel.
Unfortunately, Tippi did not adjust to the concrete jungle as well as she had in the African jungle.
Tippi found school difficult and it became clear she had little in common with other children in Paris. After two years her parents decided to have her homeschooled.
As a teen, Tippi returned to southern Africa to make six nature documentaries with the Discovery Channel.
Tippi is now 23 years old, having studied cinema at la Sorbonne Nouvelle University in Paris. She has also supervised the well-being and treatment of tigers for a popular international game show in Fort Boyard, France.
It appears in her adulthood, Tippi has shied away from her life as a celebrity and tried to continue a more private and normal life. Very little news of her life today is available.
There's also a documentary on Tippi's young life in Africa, but unfortunately it's only in French with no subtitles.
Paramount Pictures