Love, Respect forever for Mother.
"The Paradise lies beneath the feet of your mother"
Respect and pray for your mother, they are ready to sacrifice their life for you.
1. A mother holding her child out of their burning apartments so she won't suffocate! The baby and everyone survived, tey were rescued by Firefighters.
2. A mother's daily sacrifice of swimming across a river while pushing a make-shift raft to get her kids Abdel (Jermaine Ulgasan) and Amir (Malikk Bunyi) to school.
3. A mother (97 years old), feeding and taking care of her paralyzed son (60 years old) everyday for more than 19 years . This is happening in China. A reminder of the amazing spirit of human compassion and more importantly, motherly love.
Be Grateful for Our Beloved Parents, Thank You for Your Unconditional Love and Care since we were born. We Love You Always.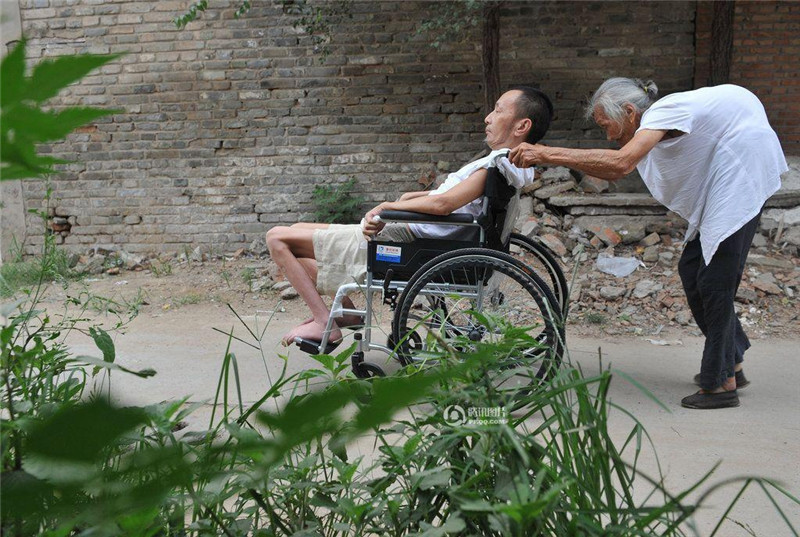 4. Year 2011: This is a true story of Mother's Sacrifice during the Japan Earthquake.
After the Earthquake had subsided, when the rescuers reached the ruins of a young woman's house, they saw her dead body through the cracks. But her pose was somehow strange that she knelt on her knees like a person was worshiping; her body was leaning forward, and her two hands were supporting by an object. The collapsed house had crashed her back and her head.
With so many difficulties, the leader of the rescuer team put his hand through a narrow gap on the wall to reach the woman's body. He was hoping that this woman could be still alive. However, the cold and stiff body told him that she had passed away for sure.
He and the rest of the team left this house and were going to search the next collapsed building. For some reasons, the team leader was driven by a compelling force to go back to the ruin house of the dead woman. Again, he knelt down and used his had through the narrow cracks to search the little space under the dead body. Suddenly, he screamed with excitement," A child! There is a child! "
The whole team worked together; carefully they removed the piles of ruined objects around the dead woman. There was a 3 months old little boy wrapped in a flowery blanket under his mother's dead body. Obviously, the woman had made an ultimate sacrifice for saving her son. When her house was falling, she used her body to make a cover to protect her son. The little boy was still sleeping peacefully when the team leader picked him up.
The medical doctor came quickly to exam the little boy. After he opened the blanket, he saw a cell phone inside the blanket. There was a text message on the screen. It said," If you can survive, you must remember that I love you." This cell phone was passing around from one hand to another. Every body that read the message wept. " If you can survive, you must remember that I love you." Such is the mother's love for her child!!
5.  Tomoko Uemura in Her Bath (1971) by W. Eugene Smith.
Tomoko Uemura in Her Bath is a photographtaken by American photojournalist W. Eugene Smith in 1971. Many commentators regardTomoko as Smith's greatest work. The black-and-white photo depicts a mother cradling her severely deformed, naked daughter in a traditional Japanese bathroom. The mother,Ryoko Uemura, agreed to deliberately pose the startlingly intimate photograph with Smith to illustrate the terrible effects of Minamata disease(a type of mercury poisoning) on the body and mind of her daughter Tomoko. Upon publication the photo became world famous, significantly raising the international profile of Minamata disease and the struggle of the victims for recognition and compensation. At the wishes of Tomoko Uemura's family, the photograph was withdrawn from further publication in 1997, 20 years after Tomoko's death.
Alternate names given for the photograph include: Tomoko in the Bath, Tomoko and Mother in the Bath and Tomoko is Bathed by her Mother.
6. Brave mother 'sacrificed her own life' by pushing baby boy out of path of recycling truck before it ran her down  
Dawn Graves, 25, suffered 'unsurvivable' injuries after the accident in Bolton, Greater Manchester. She gave 'no thought to the danger to herself' as she pushed her son to safety. Her son was knocked out of his pram by the force of the impact but escaped serious injury.
She had just bought a bottle of milk and sweets at a corner shop near her home in Bolton, Greater Manchester, when she stepped into the path of the truck as it turned into a side-street.
A brave mother 'sacrificed her own life' to save her baby from being hit by a recycling truck, just weeks before she was due to marry her partner.
***