"Valeria Lukyanova" 
Valeria Lukyanova may be known as a "Human Barbie," but the 28-year-old Ukrainian model insists that she's not all plastic.
Valeria Lukyanova became an internet sensation earlier 2012 when Jezebel.com profiled her and posted photos of her looking remarkably similar to a Barbie doll. The Ukrainian model seems to have all of the previously thought to be anatomically impossible attributes that Barbie is known for including a tiny waist, long body, phenomenal curves, and trademark blonde hair.
In the interview, which can only be described as bizarre, Valeria is asked if she has altered her body in any unnatural way such as plastic surgery. She denies it (through a translator), saying she's been "endowed by nature with extraordinary external data."
"Many people say bad things about people who want to perfect themselves," she continues. "It's hard work, but they dismiss it as something done by surgeons or computer artists. Some people even spread rumors about me and retouch my pictures to hurt me. But I don't take them seriously. I'm even flattered! It's what success is like. I'm happy I seem unreal to them, it means I'm doing a good job." (starcasm) 
Many people say bad things about people who want to perfect themselves," she continues. "It's hard work, but they dismiss it as something done by surgeons or computer artists. Some people even spread rumors about me and retouch my pictures to hurt me. But I don't take them seriously. I'm even flattered! It's what success is like. I'm happy I seem unreal to them, it means I'm doing a good job."
Speaking of jobs, Valeria has taken quite the unconventional career path. "I'm a teacher at the School of Out-of-Body Travel," she reveals. "It's an international school in which our instructors show students how to leave their physical body and travel in their spiritual body, where you can visit any place on the planet and in the universe." (So, wait. This girl has the body of a Barbie doll and she spends her time getting out of it?) Oh, and that's not all. Valeria is also a professional mountain climber. (How do you make money mountain climbing? I guess if you look like Valeria and wear lingerie or a nymph costume it makes sense. Or should I say "makes cents.")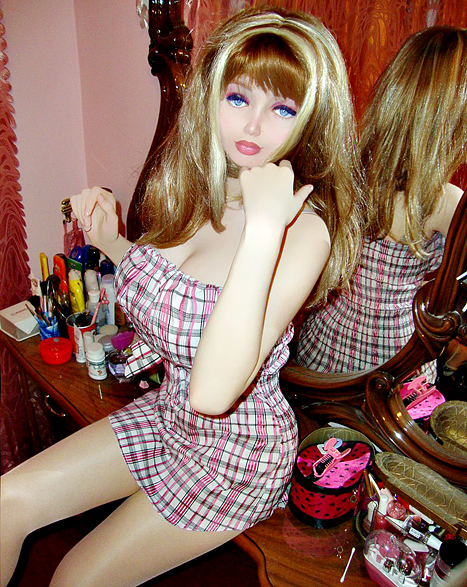 And of course Valeria is a singer as well! "I have written most of my songs during my astraltravels or during meditation," she explains. "My genre is new age opera. Sometimes I can write a piece in one breath, in as little as five minutes. I very much like singers like Emma Shapplin and Sarah Brightman."
And what about Valeria's fashion? "Everything derives from my spiritual practices. My mood is created by meditation and energy techniques. It makes me want to see everything as beautiful and bright, refined and original. I'm an idealist and a perfectionist, and I want my looks to reflect the world within me and how I feel. My close friend Dominika is a fashion designer, and she helps me create the kind of clothing that is consistent with my spiritual practice."
As for her daily routine, Valeria has a more normal approach. Well, mostly. "In the morning I work on my face and I get a massage, then I spend some time on the internet. I meditate and travel in my astral body, and after that I work out at the gym. I go for a walk with my best girlfriend, I get home, and I make dinner for the man I love. Then I spend some more time on the internet, do some reading and meditating, and go to bed."
And the product of that meditation is a metaphysical approach to life and to beauty. "There are many good-looking young women, but why are they completely unknown? Because looks are just a bonus. If you spend time working only on your appearance and you forget about your inner self, people will not be interested in you because they will not feel anything. Many people think you need only good looks to be successful, but it's not true—only spiritual work can bear tangible results." 
In the past, Lukyanova has admitted to getting breast implants. However, she insists that other parts of her body, like her pencil-thin 18-inch waist, are completely natural, reported the Daily Mail. So to prove that she inherited her doll-like physique, the real life Barbie uploaded a video featuring her mother.
In the five-second YouTube video, both the model and her mother stare vacantly into the camera while titling their heads from side to side. However, it's apparent that she inherited her defined features and big blue eyes from her mom.
The caption of the video reads, "In my family, good genes. Do not believe the rumors about plastic surgery. This allowed the gossip from the tabloids."
She admitted that she tries to maintain her looks by abstaining from food and water and training herself to live off light and air in a practice known as "Breatharianism."
"In recent weeks, I have not been hungry at all; I'm hoping it's the final stage before I can subsist on air and light alone," she said this year, according to the Daily Mail.
Breatharianism is a cult whose members believe someone can exist on "cosmic micro-food" rather than food and possibly water, according to the International Business Times. However, the practice is criticized as pseudoscience, and severalpractitioners have reportedly starved to death.
Valeria thinks she's a "breatharian" and she's training herself to be able to live without food and water.  I think she's supposed to draw all of her energy from the sun like a plant, which is fitting, because she probably has the IQ of a fern.  A racist fern.  Check what she had to say about "race-mixing."
"For example, a Russian marries an Armenian," Valeria elaborates helpfully. "They have a kid, a cute girl, but she has her dad's nose. She goes and files it down a little, and it's all good. Ethnicities are mixing now, so there's degeneration, and it didn't used to be like that. Remember how many beautiful women there were in the 1950s and 1960s, without any surgery? And now, thanks to degeneration, we have this. I love the Nordic image myself. I have white skin; I am a Nordic type—perhaps a little Eastern Baltic, but closer to Nordic."
Sources:
starcasm
latinpost
soletstalkabout.com
 Anastasíya Shpágina (shorter name: Nástya)" 
Anastasiya Shpagina,19, from Odessa, Ukrain is one of the famous women who have transformed themselves into looking like human dolls. 
She transformed her look and sought the help of plastic surgery and constant make-up application to make her look like a breathing doll, or a human cartoon character. 
She used to have dark hair, thin eyebrows and a look that was inspired by goth beauties. Since her surgeries, Anastasiya has slimmed down to 84 pounds just to resemble a typical stick-thin anime character.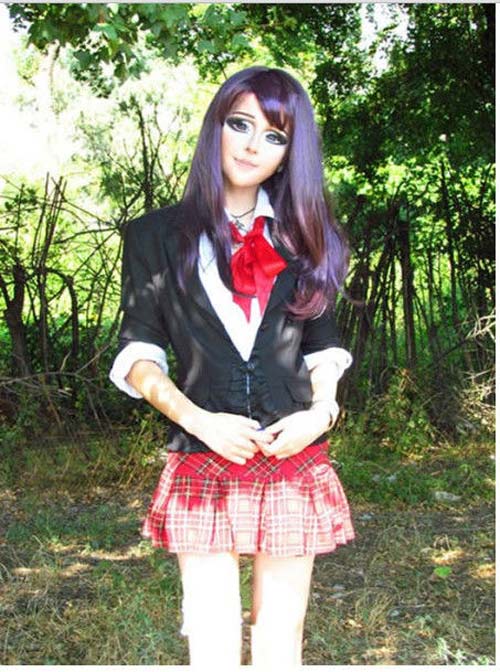 Anastasiya makes it seem like she is a true manifestation that life is imitating art, and that people accept it no matter how unreal it is.
Anastasiya is a make-up artist, hair stylist and Youtube make-up guru, known in the world as a "living anime girl", but Anastasiya positions herself as a fairy.
Now Anastasiya is a well-known vlogger focused on make-up transformations.
My dream is to become a professional make-up artist. I want to show that a woman's face is the perfect field for creativity and, like a sculpture, you can turn it into whatever you like. My appearence is particulary an example of how you can change your look using make-up.

— Anastasiya Shpagina
Seeing that people got interested in her because of her "anime" look, Anastasiya leaves all her "I don't even like anime" in the past and starts acting "kawaii", trying to keep the attention to her persona by using the image of "the living anime girl".
I don't need friends. They all want to be my friends only because they need something from me, that's why I kicked all of them out of my life and hence I don't let anyone new into my life. The same is for men.
— Anastasiya Shpagina 
It is known that Anastasiya's parents divorced not a long time ago, and before it happened the situation in the family was quite emotionally harmful for both children – Anastasiya and her brother. This probably explains why she decided to create her own imaginary world – a peaceful and beautiful place free of family problems.
According to Anastasiya's words, her mother is the only member of her family who supports her in the things she does.
I would like to add that during that time Anastasiya used to deny that her look is very anime-like:
I especially unhappy with all those captions that I read under my pictures, saying things like "crazy anime girl decided to change her image"… I don't even like this genre. I've never watched anime and I doubt I ever will.

— Anastasiya Shpagina   
She first got noticed on VK for her weird and extremely dramatic anime-like eye make-up. Valeria was the one who got intrigued about her (supposedly thanks to Baginya.org, just as always), and soon she offered her to walk together. Later Valeria posted pictures where the girls (Valeria, Anastasiya, Olga and Maria) sit together in a caffee. 
Source:
ibtimes
lifeinplastic21.tumblr.com
Anastasiya Shpagina and Valeria Lukyanova
In some of Anastasiya's photos, she has appeared with Valeria Lukyanova, a blonde "human doll" who is also becoming a worldwide sensation. Both women are firm believers of plastic surgery. so much that people are often surprised to find out what they used to look like before imitating the looks of dolls.
I personally have no doubt that Anastasiya, just like Valeria, has BDD. It is known that she feels uncomfortable when being filmed on someone else's camera because she can't control how she looks, and she calls herself "not photogenic person" (just like Valeria, who only accepts pictures made on her camera, to be able to photoshop the pictures before posting them). Many times she admitted that she hates her face with no make up on and wants to get at least eyes & nose surgery.
I do know what exactly I would like to change about my appearance. First I would like to change the shape of my nose. Presently I have to correct it with make-up tricks and shading. Then I would like to change the shape of my eyes. I want larger eyes. And finally I would like surgeons to make my waist smaller…

— Anastasiya Shpagina
Her make-up is the perfect example of how much she is unhappy with her real face.
So no wonder she photoshops her pictures to be more satisfied with the way she looks because she currently can't get the surgeries she wants. (lifeinplastic21.tumblr.com)
"Alina Kovalevskaya"
 Human Barbie Alina Kovalevskaya claims she's never had plastic surgery.. 
Kovalevskaya is currently studying psychology in school and yes, she's single.

Alina Kovalevskaya is the latest woman to be dubbed a real-life Mattell doll and it turns out that the model may be all natural, according to her childhood photographs. The 21-year-old, who resides in Odessa, Ukraine (the same city as human Barbie part one, Valeria Lukyanova).

"I look like a doll," said Kovalevskaya. "Big eyes, little nose, small plump lips. I love long hair. My hair is a meter long."

Kovalevskaya, who was once friends with the controversial human Barbie Valeria, said the two are now rivals. "I have had certain misunderstandings with her after which we ceased to communicate," Kovalevskaya explained. "I realized she is not a person with whom I would like to talk to or even be friends."

Lukyanova, 28, received backlash for making numerous racist statements in the April 2014 issue of GQ, claiming that mixed-race children were more prone to go under the knife because they weren't happy with their features. "Ethnicities are mixing now, so there's degeneration, and it didn't used to be like that," she said.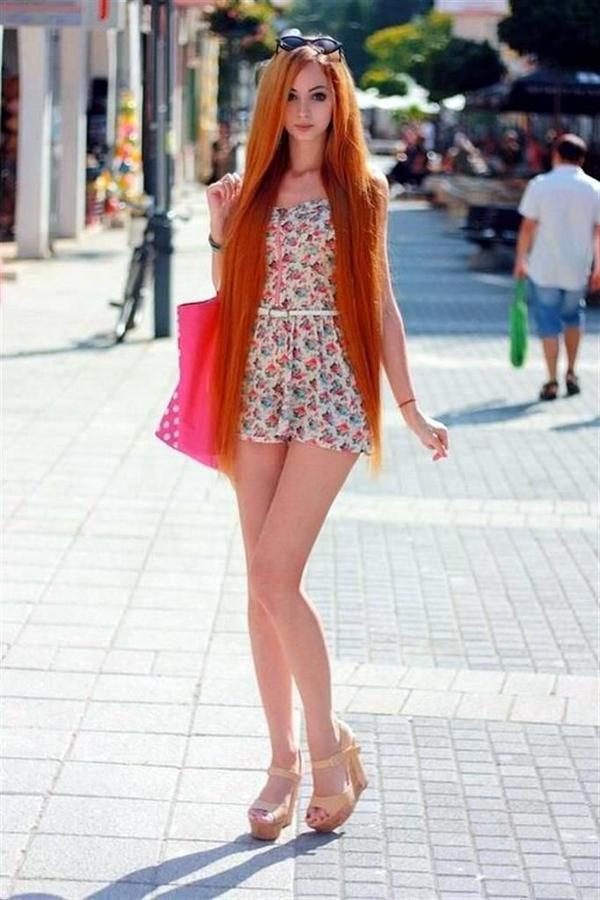 "Remember how many beautiful women there were in the 1950s and 1960s, without any surgery?" she continued. "And now, thanks to degeneration, we have this. A Russian marries an Armenian, they have a kid, a cute girl, but she has her dad's nose. She goes and files it down a little, and it's all good."

Unlike Valeria, Alina claims she's never had plastic surgery. Instead, she credits her large eyes to contact lenses. "When I put them on, my friends told me 'Oh my God, you look like a doll, you really do!'"

Source:
enstarz.com
"Dakota Rose or Kotakoti – Japanese Barbie Living Doll"
She looks like Amanda Seyfried's alien doppelganger. She's built a weird internet hater following who claim she's all photoshop. Also known as Kotakoti/Dakotakoti. Kawaii elf doll goddess, now living in Japan as a model.
She has drawn a lot attention for her resemblance to a barbie doll. She has charming eyes.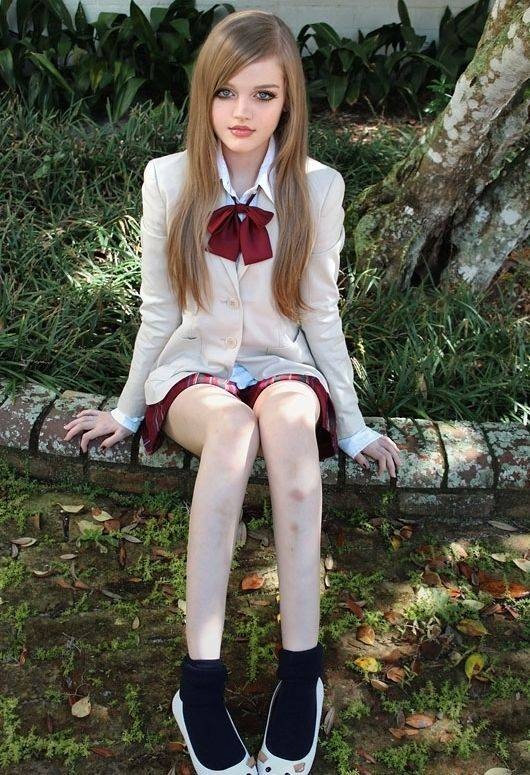 "Lolita Richie"    
A living girl who turned herself into a real living doll, Lolita Richie, 16-year old girl from Kiev, Ukraine.
Lolita boasts a 20-inch waist and 32F bra size and everything were achieved without plastic surgery, dieting or Photoshop according to her. She only wears contact lenses to get the wide-eyed, doll-like stare.
She's temporarily living in Turkmenistan.
Her profile page is filled with innocuous, appearance-centric babble — "The overweight look older than their age… Looking attractive, younger and sexy is the dream of every woman" — as well as some adolescent sadness and "wisdom"
So very much proportions of her body shape ideals fits with Barbie dolls.
Source:
thedigitalspy
"Venus Isabelle Palermo as Venus Angelic"  
Venus is a 15-year-old human Barbie from South London who (with her mother's approval) has become a disturbing internet phenomenon. They stayed in Switzerland until Venus was 11, when Margaret decided to move to Tenerife then, later, London.

Her online tutorials showing how to mimic her look have been watched 10 million times across the globe — including by a host of British schoolgirls desperate to imitate her image. 
Margaret Palermo, 37, is fully supportive of her daughter's eccentric hobby, and any suggestion there is something a little alarming about it astonishes her.

She says: 'I get lots of messages from young girls. They tell me they love the way I look and they want to be like me.'
It's all rather strange and a little bit disturbing. But looking like a doll seems to be a growing trend.
In recent months, scores of teenage girls have amassed online followers after posting footage of their doll-like features and instructions on how to perfect the bizarre look.
Most have their own special doll name — in Venus's case 'VenusAngelic' — and all look eerily as if they wouldn't be out of place in the window of a toy shop, if only they were a tad smaller.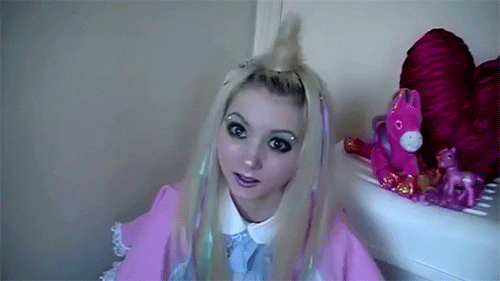 This trend, of course, could be seen as nothing more than a passing teenage fad — and one that is less worrying than most. 
In an age where many of the role models available to young girls are overtly crude and raunchy, Venus might be accused of nothing more sinister than peddling a heightened version of fancy dress.
However, another description hovers in the background alongside 'living doll'. It also begins with 'L' but has rather more sinister connotations. Yet Venus's mother will not hear of her daughter being called a Lolita.
'Venus is an innocent girl. She doesn't drink, she doesn't smoke, she's not even remotely interested in boys. She works hard at her studies. 
Her mother nods proudly. 'This is absolutely her choice,' she says.
'Venus has enjoyed dressing up since she was a child, and this is just  an extension of that. She has got her own mind.
'As a parent you have to understand that, in some instances, if your child is determined to do something, they will find a way to do it no matter how much you forbid them. Besides, I don't see any harm in it at all.'
It is perhaps not insignificant that Margaret, who works for a local opticians, is the only parental influence. It's hard to imagine the average father feeling comfortable with his daughter dressing this way.
As it is, mentioning Venus's father is strictly off-limits. Margaret says firmly: 'We don't talk about him or even use that word.'
All she will say is that she met him in her teens while studying in Switzerland. After a whirlwind romance they got married and Margaret gave birth to Venus, her only child, when she was 21.
However, the marriage did not last, and Margaret raised her daughter alone. 
Her clothes are mainly purchased from high-street shops — including Topshop and Next — although she does buy some of her more off-beat items from internet sites.
'I don't have many outfits, say ten,' she explains. 'But I can mix and match tops and bottoms to create lots of different looks.'
Source:
dailymirror.uk
"Angelica Kenova"
   Angelica Kenova, 26, from Moscow, Russia lives her life as a human doll.
She still lives with her parents and has never had a boyfriend.
She's not allowed to pick out her own clothes. Not only do her parents select what she wears, they have also hired a full-time personal trainer and keep track of everything she eats.
She has been dressed up as a Barbie since birth and is only allowed to go on dates if her mother, Natalia, accompanies her.
Yet Angelica – who claims to be a model, child psychologist and ballet dancer – regularly poses for half-naked photos which her parents approve of.
She says: "Growing up, my parents raised me like a princess and never let me go out, date boys or have the usual adult experiences.
"As a result, I am not fit for real life – I'm like a living doll.
Source:
mirror.uk
everyjoe.com
"Mauricio Galdi – Human Ken Doll"   
These days, Mauricio Galdi, from Sao Paulo, Barzil, the 27-year-old looks like Mattel's male doll and proudly accepts the title  'Human Ken Doll'.
He envied girls growing up who played with Barbie's boyfriend, Ken.
Though he longed to play with dolls as a child, Galdi did not alter his appearance in order to look like Ken.
He reportedly had eight cosmetic procedures, including a nose job and polymethylmethacrylate fillers, because he wanted to further his career in acting.
"I never sought to be the Brazilian human Ken, it was something that came to me, television sought to give me the title," he said.
He now appears to be more than happy to accept the title though and regularly post photos of himself posing with a Ken doll to his 21,000 Instagram followers.
Source:
huffingtonpost.co.uk
"Justin Jedlica, the Ken Doll"  
Justin Jedlica , Slovak American,  born in Poughkeepsie, New York on August 11, 1980, known as the Human Ken Doll, is an American man who garnered national attention for undergoing over 190 cosmetic procedures. He and his husband own businesses in the Chicago area.
At the age of seventeen, Jedlica, unhappy with his appearance began to research his first cosmetic procedure, rhinoplasty. Inspired by watching Lifestyles of the Rich and Famous as a teen, Jedlica saw body contouring and cosmetic surgery as emblematic of the wealthy, glamorous lifestyles he sought to emulate. His parents did not approve of cosmetic enhancements and Jedlica was forced to wait until he could legally make the choice for himself. Four days after his eighteenth birthday, Jedlica underwent his first cosmetic procedure, to reconstruct his nose.
Over the last decade, Jedlica has undergone approximately 190 cosmetic procedures.These have included rhinoplasty, chest implants, shoulder implants, bicep implants, triceps implants, brow shaving and lifts, cheek augmentations, subpectoral implants, thigh implants, gluteoplasty, lip augmentations and calf implants.
On October 14, 2014, Justin discussed his latest surgeries on Dr. Zoe Today.
Source:
wikipedia
              Showing off his latest investment: $43,000 of shoulder implants.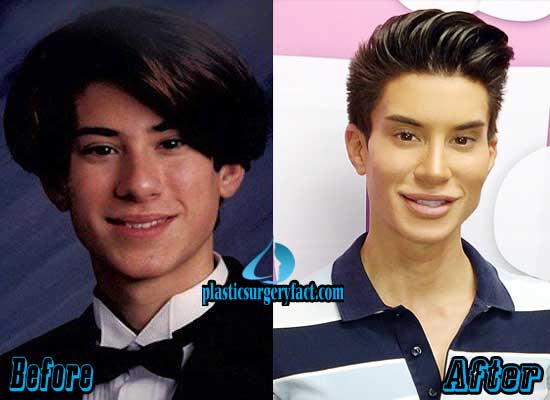 Human Ken Doll Justin Jedlica Plastic Surgery Before and After Photos muscle implants 6
Human Ken doll does not like Human Barbie doll 
Fresh off of GQ's alarming interview with "Human Barbie," Valeria Lukyanova, the magazine's website posted quotes from a brief interview with Human Ken, Justin Jedlica.
He met her at a photo shoot and had this to say about the apparent racist:
"I don't really get her. I don't get why people think she's so interesting," Jedlica said. "She has extensions. She wears stage makeup. She's an illusionist."
In a previous interview with HuffPost Weird, he said Lukyanova is "beautiful," but "it appears to me that much of her look is added makeup, fake hair and 'slimming' corsets … Drag queens have put on the same illusions with makeup and costumes for years."
Source:
soletstalkabout.com
"Celso Santebañes – Human Ken Doll"
Even before he found global fame as a human Ken doll, Barbie's iconic boyfriend, Celso's physical appearance had made him a star in his native Brazil.
As a child, the Brazilian-born Celso Borges Pereira (the name he was born with) was feted for his beauty, his perfect features refusing to fade with each year that passed. At 15, he started entering — and winning — modelling competitions, eventually catching the eye of a Sao Paulo talk show talent scout. He'd taken up acting and changed his surname to Santabañes after his favourite Mexican sitcom character.
According to Yahoo! Brasil, the 21-year-old died from bacterial pneumonia which was reportedly brought on by his blood cancer.
After spending tens of thousands of dollars to transform himself to look like a real-life version of Barbie's iconic boyfriend, Santebañes quickly garnered attention for his larger-than-life looks.
"I've cried…I see my world collapsed, I do not want anyone to pity me, just pray for me and respect me," he shared in the caption, which has been loosely translated from Portuguese.
"I am starting chemotherapy and I admit I'm a little concerned about some side effects, like hair loss, nausea, my body's rejection [of chemotherapy], among other things, but I am no longer concerned with the issue of aesthetics. For me that doesn't matter. What matter is my health now, and I will fight for it."
"Rodrigo Alves- Human Ken Doll"
In Friday, June 5, 2015, Rodrigo Alves,31, the UK-based flight attendant underwent his 32nd surgery, an eight-hour $25,000 hair transplant, and only Us Weekly has the surgery photos.
He has spent a whopping $250,000 in his pursuit of the perfect body, and traveled the globe to undergo four nose jobs, a jaw reconstruction, cheek and chin fillers, eye lifts, and five liposuction treatments, among countless other maintenance procedures. "I'm going to be turning 32 in July and clearly the signs of aging are starting to show up," Alves told Us before going under the knife for his FUT procedure (Follicular Unit Transplantion) with Beverly Hills surgeon Dr. John Kahen.

"There are a lot of trolls online and people's opinion hasn't had an impact at all." Alves also works as an image consultant for men, and calls his side career of giving back to others "rewarding."
Speaking of that Human Ken Doll distinction, Alves told Us he isn't bothered by it or public perception of his looks. "People started to nickname me, but it doesn't bother me — I have fun with it," said Alves. "I'm truly happy with my look."
Source:
usmagazine.com
Mr Alves' 21st and he has had 12 major operations, eight smaller cosmetic procedures and spent more than £125,000 since the age of 20.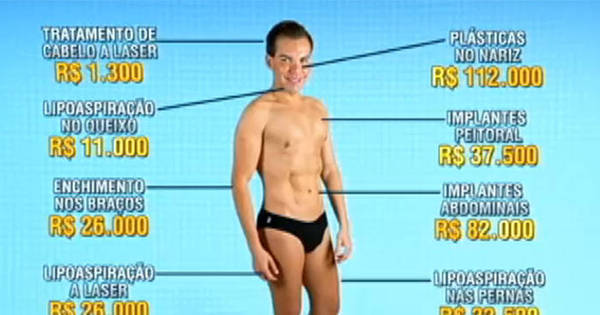 His long list of surgery includes splashing out £8,000 on botox and fillers, £30,000 on three nose jobs, £3,000 on liposuction to his jaw and £10,000 on pec implants.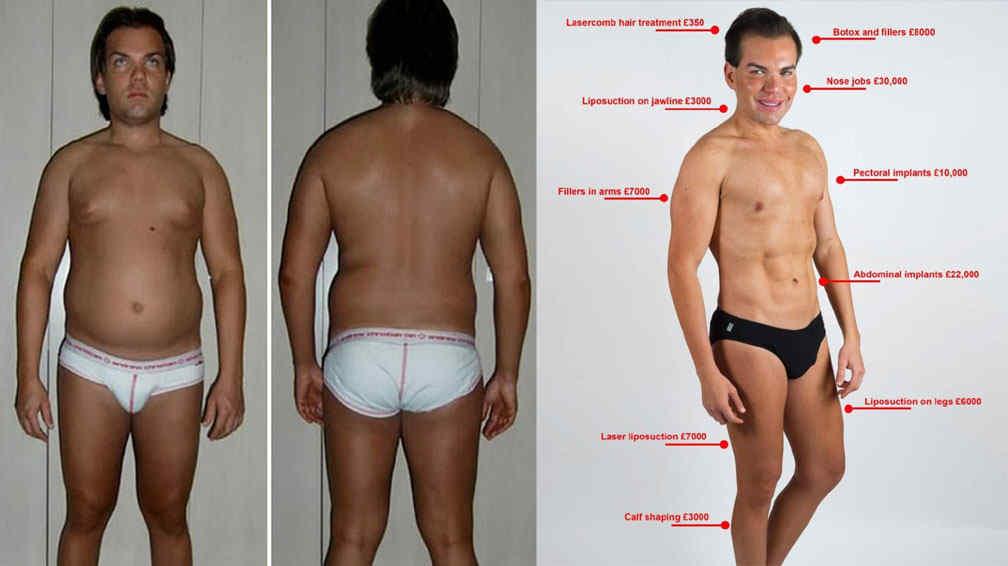 He has also spent £22,000 on a fake six-pack, £7,000 on fillers to his arms, £7,000 on hospital bills, £7,000 on laser lipo, £6,000 on leg lipo and £3,000 on calf shaping.
He also indulges in twice-yearly Botox and filler top-ups and takes a cocktail of daily pills consisting of collagen tablets, anti-water retention and hair growth tablets.
Mr Alves said he 'admires' Barbie's boyfriend Ken – because the toy looks like the 'ideal man'.
He decided to go under the knife for the first time in 2004 after struggling with the way he looked since childhood.
As he grew older, Mr Alves realised he didn't have to put up with his looks – and had his first operation when he moved to London.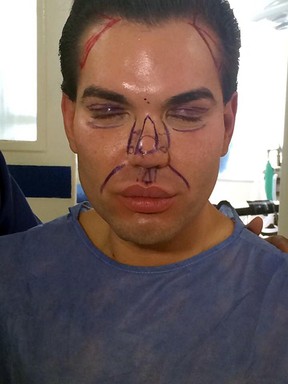 'I'm not trying to reach perfection, I'm just trying to be the best that my body allows me to be. I'm more confident now, I'm better looking and able to present myself in a different way.'

But his attempt at perfection nearly cost him him life when a Brazilian doctor injected a gel into his arms to make them look more muscly.
The 30-year-old was then struck down by a major infection which left him paralysed and unable to feed or wash himself.
After three weeks in hospital with the support of friends and family, he recovered and flew back to the UK.
'I am constantly researching for the best treatments and cosmetic procedures that can make me look better and stop the ageing process,' he added.
Source:
dailymail.co.uk