Top 11 Rags-To-Riches Success
Stories Of All Time To Inspire Us
HENRY FORD 
Henry Ford was a farm boy who went on to revolutionize transportation industry in America. Ford was very interested in mechanics from a young age, when he dismantled and reassembled a pocket watch at the age of 15 his father had given him. A self-taught watch repairman who graduated to being an apprentice machinist, Ford started his personal experiments on gasoline engines which was the beginning of his vast Ford empire. And his net worth, as per Forbes in 2008, is a cool $188.1 billion.
WALT DISNEY
 Our childhood would have been dreary without this genius of a man. Walt Disney was also another boy brought up in a farm – and used to draw pictures for his neighbors for money. He used to be the cartoonist for the school newspaper, Disney went through the jobless phase where no one hired him, and his brother had to help him out with his job search. He went from rags to riches by starting out with advertisements and going on to animating his own cartoons.
RALPH LAUREN
Born in a strict Jewish family with a house painter for a father, Ralph Lauren grew up with big dreams. He used to sell ties to his classmates to earn some cash, and he mentioned in his yearbook that he wanted to be a millionaire. His interest in ties went on help his put his foot through the door of bigger achievements in the fashion world. When he was signed on to design the clothes for 'The Great Gatsby' in 1974, he was catapulted into the fame which he commands today.
STEVE JOBS
This Apple founder is now a household name. Jobs was given away for adoption by his biological parents and he became interested in electronics after his foster dad showed him the joys of technical tinkering in their garage. He had to drop out of college, because his education was costing his foster parents a lot. He used to return Coke bottles for money and live on free meals at the Hare Krishna temple. A hippie who used to trip on LSD, Jobs went from a technician in Atari, Inc. to becoming the CEO of Apple Inc.
LIKA SHING 
Li Ka-shing quit school at 15 to work in a plastics factory and is now the world's richest East Asian
The family of Li Ka-shing fled mainland China for Hong Kong in 1940, and Li's father died of tuberculosis when  he was just 15. Quitting school to work to support his family, Li made plastics and later plastic flowers for U.S. export.
By 1950 Li was able to start his own company, Cheung Kong Industries. While at first manufacturing plastics, the company later moved into real estate. Similarly, Li expanded his ownership of different companies, and today has his hand in banking, cellular phones, satellite television, cement production, retail outlets, hotels, domestic transportation, airports, electric power, steel production, ports and shipping, and investing in cool apps, among other industries.
FRANCOIS PINAULT 
 Francois Pinault was a high school dropout who now leads luxury goods group PPR
Pinault quit high school in 1947 after being teased for his poor background. He joined his family's timber trading business and in the 1970s began buying up smaller firms. His ruthless business tactics — including slashing jobs and selling his timber company only to buy it back at a fraction of the cost when the market crashed — gave him a reputation as a "predator." He had similar tactics in the real estate business, and did well buying French junk bonds and taking government money to save businesses from bankruptcy.
His self-made worth helped him start PPR, a luxury goods group that sells brands like Gucci and Stella McCartney. At one point the richest man in France, Pinault is now worth a cool $8.7 billion, has historic homes around the world and is the father-in-law of actress Salma Hayek.
LEONARDO DEL VECCHIO
Leonardo Del Vecchio was an orphaned factory worker whose eyeglasses empire today makes Ray-Bans and Oakleys
Del Vecchio was one of five children who could not be supported by his widowed mother. After growing up in an orphanage, he went to work in a factory making molds for auto parts and eyeglass frames, where he lost part of his finger.
At 23, he opened his own molding shop. That eyeglass frame shop expanded to the world's largest maker of sunglasses and prescription eyeware. Luxottica makes brands like Ray-Ban and Oakley, with 6,000 retail shops like Sunglass Hut and LensCrafters. His estimated net worth is now above $10 billiondollars.
INGVAR KAMPRAD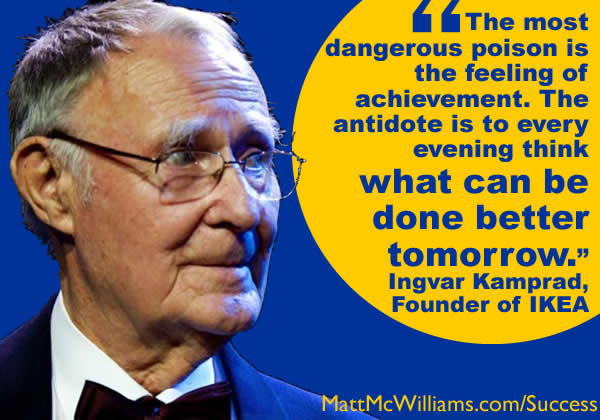 Ingvar Kamprad was born in a small village in Sweden and created a mail-order business that became IKEA
Kamprad lived the farm life growing up. But he always had a knack for business, buying matches in bulk from Stockholm to sell to his neighbors. He later expanded to fish, Christmas decorations, and pens.
Not satisfied with the small stuff, Kamprad took money from his father (a reward for good grades) and created a mail-order business that eventually became IKEA (the name comes from his initials plus those of his village and family farm). Furniture became the company's biggest seller, and Kamprad's use of local manufacturers kept his prices low. Once one of the world's richest, his value has fallen recently to a still-amazing $6 billion.
RICHARD DESMOND
Richard Desmond went from living above a garage to creating an empire that published magazines like Penthouse.
Desmond grew up the son of a single mother after his parents divorced. The two of them lived above a garage, during which time Desmond described himself as
"very fat and very lonely."
He quit school at 14 to focus on being a drummer, working as a coat-checker to help pay bills. Though he never became rich from his own musical talents, he later opened his own record shops.
Eventually Desmond published his first magazine, International Musician and Recording World. The Desmond magazine empire would expand to publications like a British version of Penthouse and Ok!, a worldwide favorite. He now owns publications around the globe and is involved in philanthropic work.
J.K. ROWLING 
J.K. . Rowling lived on welfare before creating the Harry Potter franchise
In the early 1990s, Rowling had just gotten divorced and was living on welfare with a dependent child. She completed most of the first "Harry Potter" book in cafes, as walking around with her daughter, Jessica, was the best way to get her to sleep.
The "Harry Potter" franchise has become a worldwide success and J.K. Rowling is now worth an estimated $1 billion.
OPRAH WINFREY  
Oprah Winfrey turned a life of hardship into inspiration for a multi-billion-dollar empire.
Oprah spent the first six years of her life living with her grandmother wearing dresses made out of potato sacks. After being molested by two members of her family and a family friend, she ran away from home at age 13. At 14, her newborn child died shortly after he was born. She went back to live with her mother, but it wasn't until her mother sent her to live with her father that she turned her life around.
She got a full scholarship to college, won a beauty pageant —where she was discovered by a radio station — and the rest is history. The Oprah name became an empire, and according to Forbes she is worth $2.7 billion.