Featured October 21, 2011 In News UK
IF mealtimes are mad in your house, imagine the mayhem when this lot are hungry.
Ziona Chana is head of the world's largest family, which has 181 members – him, 39 wives, 94 children, 14 daughters-in-law and 33 grandkids.
Although the construction worker, whose youngest child is five, certainly has his hands full – and, in one of our pictures, his head in his hands – he insists he is blessed. Ziona, 67 said: "I consider myself a lucky man to be the husband of 39 women and head of the world's largest family."
Life at the family's 100-room, four-storey house in Baktwang, India, is run with military precision, with first wife Zathiangi, 71, organising all the others when it comes to domestic chores.
She said: "I am the eldest and have been married to Ziona the longest. Everyone in the family respects me."
There is also a rota system when it comes to who shares Ziona's double bed – the other 38 wives have to make do with the communal dormitories.
Son Parliana, 50, said his dad – who belongs to a sect which allows men to have multiple wives – got married so many times so he could look after poor and orphaned village women.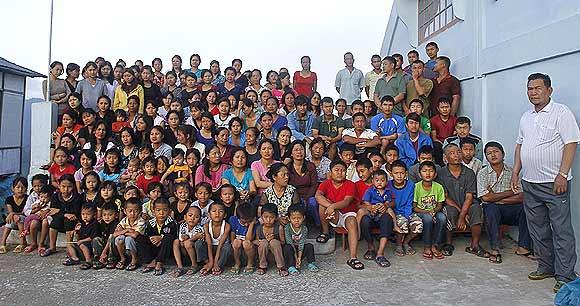 He said: "He's not just head of this house but also the leader of 4,000 people of the Chana sect."