A city in the steppes:
Astana is the crown jewel of Kazakhstan. It became the capital of Kazakhstan in 1997. Much of its modern architecture in striking in its scale and design, especially in contrast to the vast, open steppes that surround it.
Image Sattybayeva
Astana, ( Kazakh: "Capital") , formerly (until 1961) Akmolinsk or (1961–92) Tselinograd or (1992–98) Aqmola, city, capital of Kazakhstan. Astana lies in the north-central part of the country, along the Ishim River, at the junction of the Trans-Kazakhstan and South Siberian railways within the Akmola Region, though administrated separately from the region as a city with special status. The 2014 census reported a population of 835,153 within the city limits, making it the second largest city in Kazakhstan, behind Almaty.
 Image: Sattybayeva
Astana is only a city with modern buildings and too different from the typical/traditional Central Asia. It is brash and grandiose—and wildly attractive to young strivers seeking success.
The city is just 17 years old. Kazakhstan, a nation sandwiched between China and Russia, only joined the comity of nations in 1991.
Entering Astana is like entering a different world — or even a different planet, as in an episode of Star Trek. The city itself is full of surprises and mysteries.
Bayterek (Kazakh: Бәйтерек, Bäyterek, "tall poplar [tree]"), is a monument and observation tower in Astana, the capital city of Kazakhstan – Wikipedia
Modern Astana is a planned city, like Brasília in Brazil, Canberra in Australia, Huambo in Angola and Washington, D.C. in the United States. After Astana became the capital of Kazakhstan, the city cardinally changed its shape.
The master plan of Astana was designed by Japanese architect Kisho Kurokawa.  As the seat of the Government of Kazakhstan, Astana is the site of the Parliament House, the Supreme Court, the Ak Orda Presidential Palace and numerous government departments and agencies. It is home to many futuristic buildings, hotels and skyscrapers. Astana also has extensive healthcare, sports and education systems.
The monument and observation tower Bayterek is the most famous landmark in Astana. It is meant to embody a folktale about a mythical tree of life and a magic bird of happiness, Samruk, that has laid its egg on a poplar tree. The tower is 105m tall, the gold-mirrored egg, 22m in diameter, contains the observation deck. From there it is possible to see much of the newly built city. (Chess news)
There is something mirage-like about Kazakhstan's capital Astana.
Little surrounds the city for 1,200 kilometers, save a handful of provincial towns dotted across the world's largest steppe, a flat, empty expanse of grassland.
Shooting up from this void is a mass of strangely futuristic structures. The newest of these is the  world-famous Norman Foster-designed
Khan Shatyr
, a shopping mall that doubles as the world's largest tent.
Khan Shatyr means "Royal Marquee". Source: Sattybayeva
At a height of
150 m
on
an elliptical base
of
140,000
square meters, the
Khan
Shatyr
features a
huge
leisure complex. Its construction was

started

on a decision

of the President of

Kazakhstan,

Nursultan

Nazarbayev,

December 9, 2006

.

It was completed

in July 2010.

 (Odd Cities)
Foster was also the architect behind the Palace of Peace and Reconciliation, a 60-meter-tall glass pyramid. There's also the Central Concert Hall, which from above looks like a budding flower, a flying saucer-shaped circus, a presidential palace designed to replicate the White House, and Baiterek, a 100-meter-tall tower that has drawn comparisons to a giant lollipop.
World class shopping, an indoor beach, an entertainment park and extensive food options can be found within. (Cobis)
Yet just 15 years ago the city didn't really exist at all.
In 1997 Kazakhstan's President Nursultan Nazarbayev moved the capital from Almaty in the southeast of the country to the newly-named Astana (previously it was called Akmola), which was then an empty patch of land by the Ishim River best known as a former gulag prison camp for the wives of Soviet traitors.
Today the bulging, science fiction-like skyline has started to earn the country some international recognition.
Bayterek (Kazakh: Бәйтерек, Bäyterek, "tall poplar [tree]"), is a monument and observation tower in Astana, the capital city of Kazakhstan . "It's a must-see place in Astana. It's our version of the Eiffel Tower," said Azamat Kaiyr, an official at Kazakhstan's Foreign Affairs Ministry. (Image: Cyaontheroad)
Neil Billett, a managing director and partner at Buro Happold, the engineering consultants that partnered with Foster's firm on the Khan Shatyr and the Palace of Peace, lauds the local architects' progressive thinking.
The Palace of Peace and Reconciliation, one of two Norman Foster buildings, in Astana. Kazakhstan's President, Nursultan Nazarbayev, has had Astana constructed in the middle of the steppe, to replace the country's previous capital. Image: Amusing Planet
"They do quite like a challenge, and they do organize themselves to get on with it in a way that's quite refreshing," he says. "These projects would have taxed the mind of many a high-end contractor, and in Kazakhstan, they have to address the same problems in a much harder climate."
Image: Amusing Planet
The capital's climate does make construction much more complicated. In the winter months temperatures can fall to minus 40 degrees Celsius (minus 40 degrees Fahrenheit), making it the second coldest capital city in the world. In the summer, the mercury can reach up to 30 degrees Celsius (86 degrees Fahrenheit).
Astana Parliament Building Image: Astana Times
According to George Keliris, a structural engineer at Buro Happold, this temperature variance proved particularly challenging when constructing the Palace of Peace.
"We had to allow a system that relieved the stress and let the structure breathe," he says.
The solution they came up with was to lock down one corner of the pyramid, while placing the remaining corners on bridge bearings. Though common with bridges, such bearings are practically unheard of with entire buildings.
Photograph by Gerd Ludwig Floral flourishes decorate Nurzhol Boulevard, or "Radiant Path."
Source: National Geographic
"Basically, it's on roller skates," says Keliris. "Because of the climate, (the structure) was bound to be futuristic."
Photograph by M. Chumin, A. Pavsky, ITAR-TASS In 1985 Aqmola was the name of the city where Kazakhstan's current capital was built. The name changed to Astana in 1998
. Source: National Geographic
From a distance, Astana's architecture looks disparate, however a strong Kazakh theme runs through it all. Baiterek is meant to evoke the local legend of the "Tree of Life"; the story has a golden egg, and the building is topped with a golden orb. The shape of the Central Concert Hall was purposefully made to resemble a traditional Kazakh instrument, known as a dombra.
Photograph by Gerd Ludwig The Baiterek, towering over Astana's central promenade, flares green against a dappled evening sky. Intended as a symbol of the new capital, the 318-foot monument evokes a giant tree with a golden egg in its branches. In the Kazakh myth of Samruk, a sacred bird lays a golden egg in the branches of a poplar each year.
Source: National Geographic
Since it became the country's capital, Astana's population has more than doubled to 750,000. Despite this urban growth the size of the new buildings can still seem excessively large. The Central Concert Hall is one of the largest in the world, and seats 3,500 spectators, while the Astana Arena seats 30,000.
Kazakhstan Central Concert Hall Image: Why Chess
However, according to Serik Rustambekov, a local architect, the reach of these projects matches the local way of thinking.
"You need to understand the Kazakh background to get a better picture of our world view. We're a nomadic civilization that developed over thousands of years in the vast expanse of Eurasia. Free space is more impressive to the Kazakh mindset than the type of congestion found in many European centers."
Photograph by Gerd Ludwig Visitors eagerly match palms with the solid gold handprint of President Nursultan Nazarbayev on the Baiterek monument's observation deck. Source: National Geographic
Numerous architects from across the world have had a hand in shaping the new capital's skyline, but the one man who has had the greatest impact in the city's transformation is President Nazarbayev.
Manfredi Nicoletti, whose Rome-based firm, Studio Nicoletti, designed the
Central Concert Hall
, confirms that Nazarbayev was very hands-on in the structure's implementation.
"He used to joke that the building was right in front of his residence (the Presidential Palace), and that the project's construction site — and us, of course — were always under his control."
Presidential Palace in Astana, Kazakh. Image: Britannica
In many ways, Astana looks like a vanity project for Nazarbayev. At the top of Baiterek, which grew from a sketch Nazarbayev did himself, visitors can touch his gilded handprint, and each year, the city's anniversary celebrations happen to coincide with his birthday.
Nazarbayev's advocates, however, argue that Astana isn't a symbol of his ego, so much as his ambition for the Kazakh nation. One of Nazarbayev's strongest supporters has come in the unlikely form of Jonathan Aitken, a former British politician, who wrote a recently published biography of the president based on 23 hours of personal interview, and a retrospective of the country.
"While I'm sure (Nazarbayev) does have a large ego, it's more of an 'I love the country'-centred ego, not an I-centred ego," says Aitken.
Aitken equates Nazarbeyev with the type of patrons that dominated 18th century Europe, in particular, Louis XIV.
"Just as Versailles and parts of Paris were all created by one man's vision, so too was Astana," he says.
The city's futuristic design shows Kazakhstan's ambition and desire to distance itself from the Soviet legacy that has marred many of the surrounding Central Asian nations.
"Architecture always represents the development of the state, of technology and of culture," notes Rustambekov. "As Astana is positioning itself as the center of Eurasia, a place where East meets West, a mixture of styles is quite appropriate."
Kazakhstan's new capital is the opposite of understated. After dark, government buildings change hues as the night progresses, creating a theme park atmosphere. The presidential palace suggests a gaudy version of the White House. Prize-winning British architect Norman Foster is one of many foreigners who helped shape the city. His purple Khan Shatyr shopping mall has an indoor sand beach and wave pool on the top floor.
Image National Geographic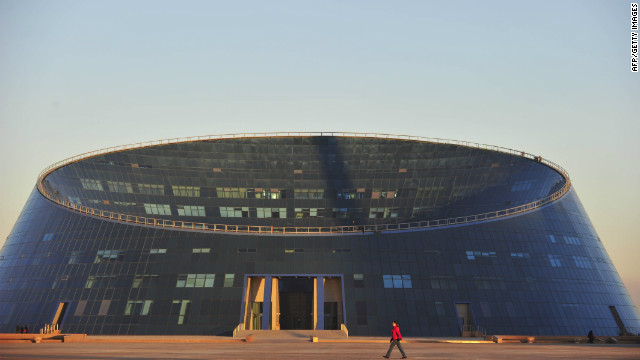 Shabyt Palace Of Arts Kazakh National University of ArtsThe National Arts Center of Astana at Astana University. This building is amazing. It's built like a parabolic disc, requiring every single window and object inside the building to be formatted to certain dimesions. Source:sites.google.com
Despite its Communist past, most of Kazakhstan's 17 million residents are Muslims. Like Indonesia, Kazakhstan is a pluralistic country with strong secular credentials.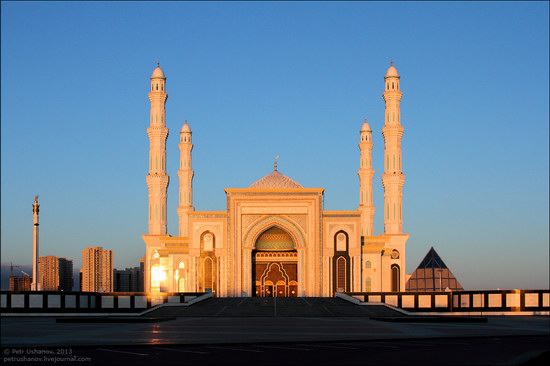 Image: Kazakhstan Travel and Tourism Blog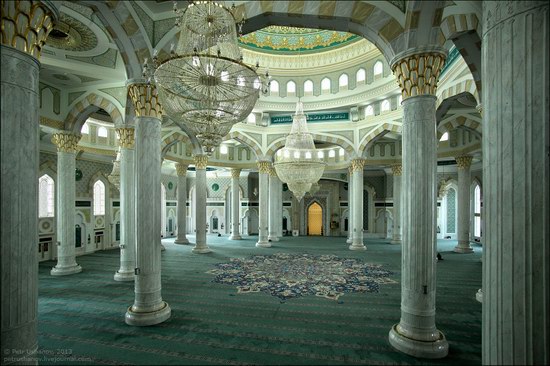 Image: Kazakhstan Travel and Tourism Blog
Hazrat Sultan Mosque is the largest mosque in Central Asia located in Astana – the capital city of Kazakhstan. Construction of the mosque began in June 2009. July 6, 2012, at 12:30, the mosque was opened. The building was constructed in the classic Islamic style using traditional Kazakh ornaments. The mosque can accommodate up to 10,000 people. "Hazrat Sultan" has the largest dome in Kazakhstan (height – 51 meters, width – 28.1 meters). The height of the minarets is 77 meters. Source: Beautiful Mosque Gallery
Manjali Mosque, Atyrau Image wikipedia
Image Sattybayeva
Image Sattybayeva
 Nur-Astana Mosque, Astana. With the help of the Emir of Qatar, Hamad bin Khalifa, Astana built the Nur-Astana Mosque, the second largest in Central Asia. The mosque's height of 40 meters represents that age of Muhammad of when he received his divine revelations, and the height of its minarets are 63 meters, Muhammad's age at his death. It can accommodate 7,000 worshippers. Source: Sattebayeva Image Trip Advisor Philippines
In Astana, most of the buildings — which come in different shapes and colors — and the Astana International Airport, were designed by famous Japanese architect Kisho Kurokawa.
Astana International Airport – is an international airport serving Astana, the capital city of Kazakhstan. It's the 2nd busiest airport in Kazakhstan and 13th along former Soviet countries in terms of passenger traffic. Astana Airport is located approximately 17 kilometers (10 miles) away from downtown Astana. In 2014, the airport handled 2,960,000 passengers. The present terminal was opened in 2005 and has 6 jet-bridges. The terminal serves both domestic and international flights. The following nonstop international destinations are served from Astana as of October 2015: Source: Smaiyl
National Museum of Kazakhstan Image Cyaontheroad
Ak Orda (the official workplace of the President of Kazakhstan) Image: Cyaontheroad
Northern Lights & Emerald Towers Image Cyaontheroad
McMansions that could have been airlifted from any American suburb are among the more incongruous sights in Astana, whose architectural style is nothing if not eclectic. Photograph by Gerd Ludwig Source: National Geographic
Mega Astana: Mega has several malls across Kazakhstan providing international retail outlets, a large supermarket, a cinema complex (Russian language) and a food court. Source: Cobis
Saryarka Mall: A short walk from the Hilton Garden Inn – this mall is smaller and often quieter than Mega and the Khan Shatyr. However, it provides much of the same and the cinema sometimes has English language films (we can enquire about what may be showing if interested). Source: Cobis
Flanked by traditional Kazakh dancers, a bride awaits her formal unveiling at an opulent wedding palace, where she has just been married in a ceremony capped by the release of two white doves. The revelry begins when the veil is lifted. Photograph by Gerd Ludwig Source: National Georaphic
Nomads no more, Kazakhs celebrate their footloose heritage at events like this cultural festival in Astana, where young women soar on a swing while others wander amid yurts, music performances, and vendors of fermented mare's milk. Photograph by Gerd Ludwig Source: National Geographic
Despite these attractions, Astana has not yet obtained a place on the global tourism map. But it has all the potential to emerge as a major tourist hub in the coming years.
Source:
wikipedia
CNN
Sattybayeva
Britannica