How to Pack Lighter, Smarter, and Faster
No matter how much you try, it is difficult to get everything that you think you will need into your suitcase. Here are some packing tips that will help reduce clutter and get you where you are going faster and more efficiently.
Image Travel + Leisure
Keep a Packing Checklist
Image Travel+Leisure
Use Packing Cubes
Image Travel+Leisure
Pack In-flight Essentials in a Separate Pouch
Image Travel+Leisure
Keep a Prepacked Dopp Kit
Image Travel+Leisure
Bring Half of What You Initially Packed
Image Travel+Leisure
Have a Ready-to-go Health Kit
Store Jewelry in Plastic Wrap
Chain necklaces and bracelets can tangle easily. Try placing your jewelry in between sheets of press and seal plastic wrap to keep everything together and prevent tangling.
Or
Image Travel+Leisure
Separate Jewelry With Snack Size Bags
Roll Your Clothes
 Rolling your clothing rather than folding it is one of the best ways to maximize luggage space. Additionally, rolling can help prevent wrinkles and creasing!
Pill Cases for Smaller Storage
Small compartments in pill cases can be perfect for organizing smaller items that would usually get lost such as rings, cufflinks, or lose change.
Reduce Clothing Wrinkles
Dry cleaning bags can be used to prevent creases from setting in. Just lay the clothing down flat inside of the bag and fold like normal!
Store Shoes in Shower Caps
It can be difficult to pack shoes without letting the dirty soles touch everything else in your bag. Try wrapping shoes in disposable shower caps to prevent this!
OR
Image Travel+Leisure
Check the Hotel Closet
Image Travel+Leisure
Pack Your Favorite Toiletries in Travel-sized Bottles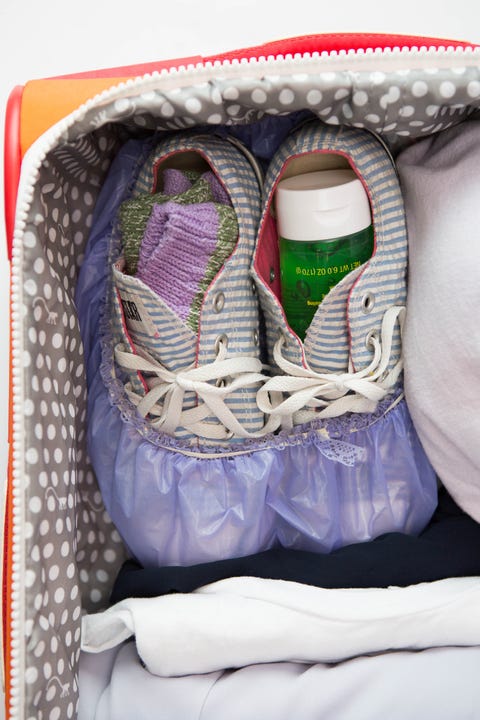 Image Cosmopolitan
Store Items Inside Shoes
Don't let the space on the inside of your shoes go to waste either. Use the space to store your socks or other small items to make the most of your limited space. (Swifty Team)
Keep Fragile Items Safe
Items that are fragile or easily breakable can be packed in between soft clothes or even inside of socks. This will help to protect them from bumping up against other items. You can also purchase inflatable bags, especially if you plan to transport wine often. (Swifty Team)
Contact Lens Case Storage
Packing full size bottles of products takes up a lot of space, especially for shorter trips when you will not need all that much. Use a contact lens case for storing travel amounts of lotions, creams, and foundations instead. (Swifty Team)
Plastic Wrap to Prevent Spilling
Try putting plastic wrap onto the top of bottles before screwing the cap on to give an extra layer of protection. If the cap opens up, there is still the plastic layer to prevent leakage. (Swifty Team)
Use a Binder Clip as a Razor Cover
Traveling with an uncovered razor can be dangerous, especially if you are rooting around for items at the bottom of a dark bag. Try using a binder clip as a cover for your razor to prevent it from scraping against things in your suitcase or cutting you. (Swifty Team)
Use Air Compression Bags
Air compression bags for clothing or other bulky items can significantly reduce the amount of space that they take up in luggage. They also tend to prevent wrinkles which is nice too. (Swifty Team)
Tote for Dirty Laundry
Keep an empty tote in your luggage to put dirty laundry in to separate it from any clean clothes for the trip home. (Swifty Team)
Store Hair Pins and Clips in an Empty Mint Container
Hair clips and bobby pins are easy to lose, especially in a suitcase. Store them in an empty tick tac container to keep them all in one place!  (Swifty Team)
Put a Cotton Ball into Powders
Movement inside of a suitcase can make powder makeup prone to breaking apart. Stick a cotton pad or cotton ball inside of compacts to prevent the product from breaking up. This helps protect the mirror inside as well. ((Swifty Team)
Store Makeup Brushes in a Sunglasses Case
Keep all of your makeup brushes in one place by storing them in a compact sunglasses case.(Swifty Team)
Use Buttons to Keep Earring Pairs Together
It can be difficult to keep earrings with their pairs. Try putting a pair of studs through the holes of a button to keep them together! Buttons can either be on clothing in your bag, or on lose buttons that can be stored in a pill container. (Swifty Team)
Mix and Match Clothing
Bring clothing pieces that can be mixed and matched for multiple outfits. This will keep you from having to pack as many clothing items. (Swifty Team)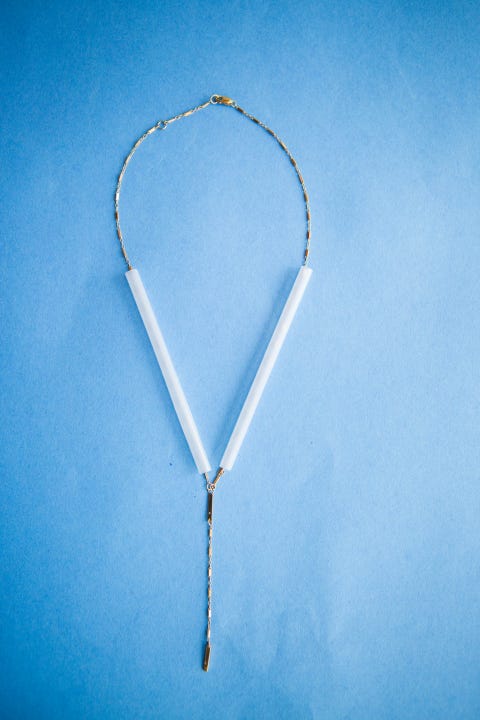 Image Cosmopolitan
Straw necklace
String the ends of a dainty necklace through straws to prevent the chain from knotting and tangling. (Cosmopolitan)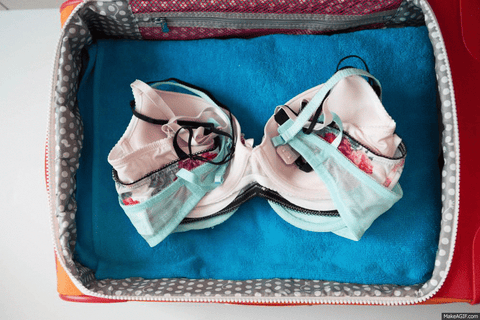 Image Cosmopolitan
How to fold bras when packing
Help your bras maintain their shape while also saving space by stacking your bras on top of each other, folding them in half, and tucking your underwear inside. Stuffing your underwear inside your bras will prevent the cups from folding inward and help extend the life of your bras beyond your trip. (Cosmopolitan)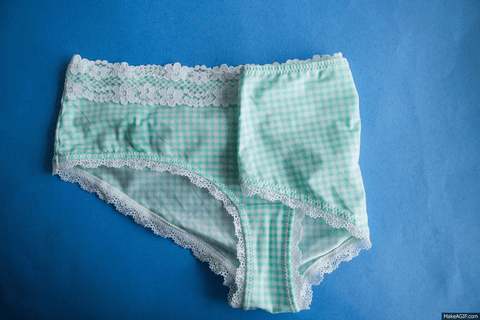 Image Cosmopolitan
Underwear folding gif
Fold your underwear instead of just wadding it up and stuffing it in your bag, which can take up a lot of space. (Cosmopolitan)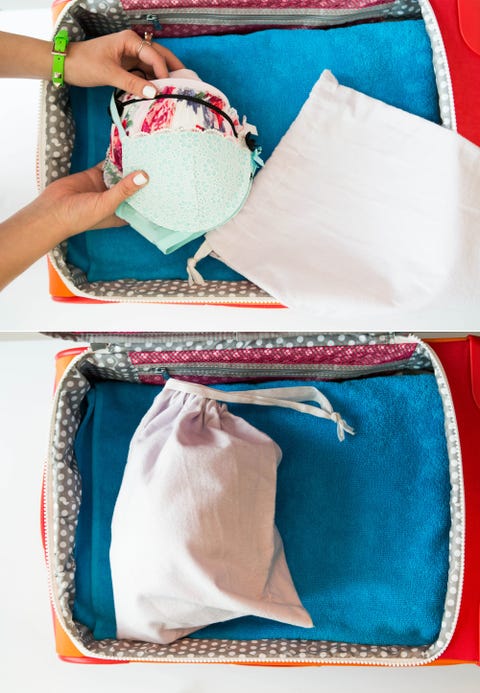 ImageCosmopolitan
Shoe bag bras suitcase
Protect your delicates from the rest of the items in your bag by tucking them inside the little cloth bag that comes with a new pair of shoes or a new handbag. (Cosmopolitan)