Learn the surprising items that always seem to cause an issue when going through security.
What works and what doesn't at the airport
The Transportation Security Administration is the agency everybody loves to hate. Agents seem like they are always out to "get" passengers and make their lives miserable when, in fact, they are just doing their jobs.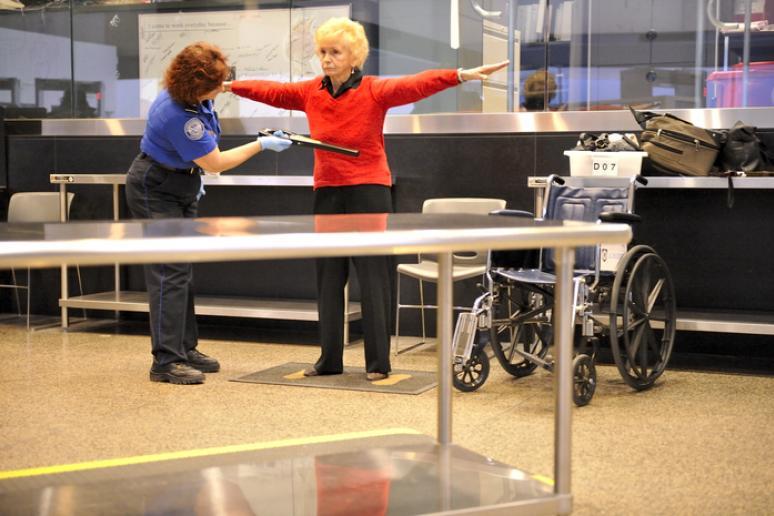 Image Huffingpost
Call them "necessary evil" if you will, but bad-mouthing them is not always fair. Some checkpoints have been organized in a way that makes it easier to pass, while others are lacking the infrastructure or staff to get people faster through security.
TSA agents don't like slow lines either, and travelers share some of the blame for the slow processing. Wearing certain clothes, even underwear, can work against you if it contains metal. A lot of women don't realize that their bras have underwires that set off alarms.
If you don't want to be patted down, be aware of what your attire should not be. This includes very loose clothing, cargo pants and bulky pullovers.
Airports security staff members have spoken out about what people should avoid doing and wearing at the airport if they want to avoid stress, delays and possible ban on flying. The following list is based on reports by Who What Where, One Country, and Airfare Watchdog.
1. MAXI DRESSES AND SKIRTS, SHIRTS
Image Dubai Chronicle
"If you are opposed to getting patted down, then wearing a maxi skirt or dress and shirt isn't your best bet because the officer will have to check you are not hiding anything under your skirt." — Kimberly Pruitt, a former security officer, Los Angeles International Airport (whowhatwear.com.au)
2. CARGO PANTS OR SHORTS
Image Pinterest
"Cargo pants and shorts are one of the most difficult items of clothing at the airport. All the different pockets become a major hassle because they almost always set off the alarm. When being told by an officer to remove everything from your pockets, there is always a lighter or set of keys that you've forgotten in a hidden pocket." — Kimberly Pruitt, a former security officer, Los Angeles International Airport (whowhatwear.com.au)
3. JEWELRY OR PIERCINGS OR ANYTHING METAL FOR THAT MATTER
Image Pinterest
If you set off the metal detector, you're in for additional screening—or at least a little extra attention while other travelers stream past you. Everything from metal fasteners on clothes to body piercings to keys in your pocket could cause alarm in the security line.
If you are wearing metal body piercings that cannot be removed, you may request a private screening in lieu of a patdown. (Smarter Travel)
Image Glamasia.com
"The biggest problem item is the Cartier Love bracelet. These bracelets can only be removed with a screwdriver, so they become an issue when going through security. It might be wise to put your jewellery on after screening to avoid a pat down." — Kimberly Pruitt, a former security officer,Los Angeles International Airport (whowhatwear.com.au)
4. LOTS OF BOBBY PINS
Image Ali Express.Com
"Believe it or not, too many bobby pins will set off the metal detector alarm. If you're looking to maintain your hair and skip the pat down, then I would suggest getting dolled up after screening." — Kimberly Pruitt, a former security officer, Los Angeles International Airport (whowhatwear.com.au)
5. BELT
Image Calvadoss
Not only is it a pain for you to unbuckle and put it through the scanner, but it's even more annoying for everyone behind you waiting for you to take it off. Opt for pants that stay up around your waist without extra help (and we don't mean pajamas or baggy sweats). (oprah.com )
If your pants fall down the moment your belt comes off, don't wear them to the airport. You can probably imagine why. Flyers must remove belts before walking through metal detectors, so choose a belt-free outfit, or at least be prepared to remove your belt if you want to wear one.
Belts aren't permitted through airport security because their metal clasps set off the metal detector. However, even if you are wearing a belt without a metal clasp, an agent might request that you remove it anyway. It's standard procedure. (Smarter Travel)
6. FLIP-FLOPS
Image Pinterest
Think about how many people stand in the security line at the airport. Now, think about swapping germs with 
all
 of them. "Wear socks," says 
O
's creative director, Adam Glassman—not only will they keep your toes warm on the plane, but also they'll prevent your feet from becoming bacteria magnets as you walk through the body scanner. (
oprah.com
 )
7. GLADIATOR SANDALS OR SHOES THAT ARE DIFFICULT TO REMOVE
Image Guide. Alibaba
This summer's especially popular gladiator sandals loaded with buckles don't make going through security easy for anyone. Boots with laces and zippers aren't much easier. Keep it simple with comfortable flats that slip on and off. And while we highly recommend looking put-together while traveling, pack—don't wear—your heels. Even if they feel and look good when you put them on, most likely they won't by the time you get through security and hobble to your gate. Plus, you never know when you'll have to run to catch a flight. (
oprah.com
)
8. A PULL OVER SWEATER OR SWEATSHIRT
Image Pinterest
Just like a belt, you should start removing bulky layers before you get to the X-ray machine. Stick to a zip-up style sweatshirt or cardigan so that you don't have to struggle to take it off (or mess up your hair in the process). In fall and winter when you need to bring a jacket, Glassman recommends a puffy, down-filled style that folds up and doesn't wrinkle—making it easy to stuff into the plastic bins at security and fit in the overhead space on the plane. (
oprah.com
)
9. AN UNDERWEAR BRA
The wire in your lingerie can trigger sensitive airport metal detectors to go off. Opt for a bra that offers support but doesn't make you susceptible to a pat-down inspection. For a light lift, we like the 
metal-free Bra-llelujah All-Hosiery Comfort Bra by Spanx
—it won't get you stopped at security or dig into your back and shoulders during a long flight. (
oprah.com
)
10. ANYTHING OFFENSIVE OR INAPPROPRIATE
Image (Smarter Travel)
Offensive clothing may get you 
kicked off a plane
, but it could also draw extra attention from TSA agents (though it's more likely that airline staff, rather than an airport security agent, will ban you from flying due to inappropriate or offensive clothing). Stories of flyers prohibited from planes due to poor wardrobe choices abound, and, for most of them, the trouble occurred after they made it through the screening process. Still, agents may pull you aside for additional screening if they perceive a threatening or questionable message on your slogan T-shirt. Bottom line: If you woudn't wear it to a family-friendly restaurant or even to church, don't wear it for air travel. (Smarter Travel)
11. L00SE-FITTING CLOTHES
Loose clothes aren't prohibited. But travelers sporting baggy apparel, such as droopy pants, flowy skirts, bulky sweatshirts, or even loose garments worn for religious purposes, may be subject to extra screening. According to the 
TSA
, you might be selected for a pat-down inspection if your clothes are "large enough to hide prohibited items." (Smarter Travel)
12. BIG BOTTLES OF BEAUTY PRODUCTS
You don't necessarily 
wear
 them to the airport, but they'll definitely get you stopped. "Follow the rules," says Glassman, and lines will move quicker, and in turn, you'll be more relaxed. And skip the dingy Ziploc—Adam's favorite TSA-approved travel bag: 
Flight 001 Clear Zip Case ($10)
. (
oprah.com
)
THINGS YOU SHOULD NEVER WEAR ON A PLANE
By Caroline Costello , Smarter Travel
The rules of in-flight fashion are different from those on the ground. When you're sitting for hours in a metal tube flying 35,000 feet in the air, comfort trumps style. Wear an outfit that keeps you cozy and relaxed, and you'll likely appear more chic than the traveler struggling with heavy bags in four-inch stilettos or the one sweat. Never Wear This at the Airport!ng in too-tight synthetic fabrics. To look and feel your best while jet-setting, avoid the following in-flight fashion faux pas.
1. Fabrics That Don't Breathe
Shun any fabrics that lack breathability, such as nylon or leatherette. Add your rubber raincoat or waterproof jacket to this list as well. (Note, however, that some high-quality waterproof jackets, like outerwear made from Gore-Tex, are quite breathable. It all depends on what it's made of.) Less breathable fabrics hold sweat on the skin when it's hot as well as prevent air circulation. You won't feel very fashionable sweating in too-tight, synthetic clothes as your plane rests on the tarmac under the hot sun.
A foolproof way to find breathable clothes for the plane: Stick with moisture-wicking activewear (I recommend Prana) or clothes sold from travel suppliers like Magellan's, which are designed specifically for travel.
2. Tight Clothing
Image Smarter Travel
Have you heard of deep vein thrombosis? Also known as DVT, this condition occurs when dangerous blood clots form in veins. Those blood clots can lead to a pulmonary embolism, which is potentially fatal. According to the University of Washington Medical Center, sitting for long periods of time can increase the risk for DVT, and so can constrictive clothing: "Avoid tight clothing, nylons, or socks (especially the type that are too tight at the top and/or leave marks on your skin) that might restrict blood flow through veins." Compression socks are a good choice for travelers interested in taking further steps to reduce the likelihood of DVT.
3. Complicated Clothing
Image Smarter Travel
Aircraft lavatories are tiny contrivances, about the size of a small closet or a very large Manhattan apartment. So maneuvering in and out of your pants can be, well, tricky. (That's why someone invented Claspies.) Lest you drop your wallet in the toilet or fall and smash through the bathroom door, wear something that isn't likely to cause difficulties in the plane bathroom. Avoid bodysuits or complicated wrap shirts or dresses, as well as long pants or skirts that may graze the unsanitary (and often disturbingly wet) lavatory ground.
3. Contact Lenses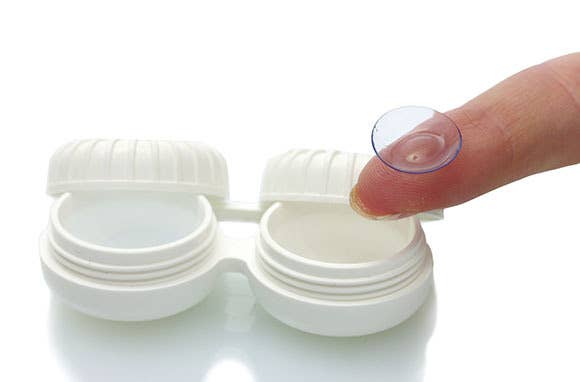 Image Buzz Feed
According to Frommer's, "The air in plane cabins is so dry (usually 10 percent to 20 percent humidity, sometimes as little as 1 percent, compared to the Sahara desert's 20 percent to 25 percent humidity) that your health is challenged every time you fly." Contacts can become uncomfortable to wear if your eyes dry out in the arid cabin, so either avoid them altogether or bring a pair of glasses to change into.
4. Perfume
Avoid this one for the good of your fellow passengers. Strong-smelling perfumes, colognes, body sprays, and so on shouldn't be worn in flight. Some passengers may find your CK One offensive; others might suffer allergic reactions to synthetic fragrances. If you really must smell of the finest department-store brands upon arrival in your destination, pack a sample size and apply it once you land.
5. Warm-Weather Clothing
Image Pinterest
The key here is layers. It's fine to wear lightweight fabrics on a plane. It may even be a smart strategy if you're flying to or from a sweltering climate. But planes are often very cold—and blankets aren't exactly freely distributed on many flights these days. So fight the air-conditioned chill by layering up.
Getting warm? Remove a few layers, bundle them, and then use them as a pillow.
Bonus: The more layers you can pile on your body, the less clothes you need to pack in your suitcase.

THINGS YOU SHOULD ALWAYS WEAR ON A PLANE
The outfit you wear on the plane is also the first thing you'll wear at your destination, after all, so your first impression's at stake. But, if your clothes prevent you from getting past security swiftly, booking it to your gate, and sitting comfortably for your three- or 13-hour flight, you've got to rethink.
1. Breathable Fabrics
Maintain in-flight comfort and cleanliness by wearing breathable fabrics—materials that allow air and moisture to pass through—like cotton, silk, or linen. Fabrics that don't allow air to circulate will hold sweat on the skin, likely making you feel dirtier faster and probably necessitating a good spin in the washing machine upon landing. Natural fabrics are great, but moisture-wicking manmade fabrics are suitable options as well. (Smarter Travel)
2.Support Or Compression Legwear
Many doctors recommend that pregnant women wear support or compression stockings or socks in flight. But compression legwear is also a good choice for those with pre-existing medical conditions, travelers taking long-haul flights, and anyone who flies often. The socks or stockings, which promote blood circulation, help prevent swelling of the legs, and help guard against deep vein thrombosis (DVT), work by putting pressure on leg muscles and increasing blood flow. You can find them at many pharmacies and drug stores, and they're often available from travel-supplies stores like Magellan's. (Smarter Travel)
3.Comfortable, Simple Shoes
It's best to wear extremely comfortable, mostly flat shoes on the plane—think of your poor feet after hours or even days of sitting, standing, and walking en route to your destination. You'll also want to select comfortable shoes that are easy to slip on and off when passing through airport security (as we advise in10 Ways to Speed Through Airport Security.)
4. Clothes with Lots of Pockets
With all kinds of airline baggage fees dropping like hot bricks, clothes that do double duty as wearable carry-on bags are de rigueur. We love the Scottevest Travel Vest (available for men or women), which is also one of our picks in 10 Best Travel Clothes to Wear on the Road. And there are myriad other travel jackets out there that feature an explosion of pockets, like the Ultimate Travel Jacket from Orvis, which appears to be exactly the same as a fishing vest. But it gets the job done, if you can pull off the angler look. (Smarter Travel)
Image au pinterest Winter
Image au pinterest
Image au pinterest
Miranda Kerr's Airport Styling Trick Never Fails
Miranda Kerr has proved again and again that her travel outfits are alwayson point. Not one to rely on cool-girl sweatsuits or the ubiquitous Uggs that are most often associated with airport style, Kerr is known for mixing up her look with a variety of floral dresses, denim ensembles, and the occasional jumpsuit.
Surprisingly, one aspect of her polished look is consistent—the over-the-shoulder jacket. Whether it's a wool coat, trench, or leather iteration,Kerr always has a jacket handy. Most recently, she was spotted snapping up a black-and-grey ensemble with a luxuriously long navy blazer.
Not only does this added piece add structure to any look, but the extra layer is also perfect for snuggling up once you're en-route.
Image Who What Wear