Philippines is blessed with unspoiled paradise, best beaches and luxury vacation resorts. Savor the warmth of turquoise water, the unequaled exclusivity and an infinity pool right at your own balcony.
Being one of the world's most sought after tourist destination this summer, Philippines pride itself with refreshing island getaway and ultimate luxury living.
Here is the random lists of fascinating and luxurious resorts and spa:
ELEPHANT ISLAND, BELLAROCA SPA AND RESORT, MARINDUQUE
Weekend Haven: Bellarocca Island Resort and Spa in Marinduque, Philippines just opened last February 14, 2009. The Mediterranean architecture sets it apart from other luxury resorts.
Only Zest Air offers flight to Marinduque four times a week.
Marinduque is popular for its Moriones Festival during lent season. But there are more exciting that beyond the seaside cliffs and and valley hills, there are still a lot of unexplored caves, waterfalls, hot springs and distinct flora and faunas.
The beauty of Marinduque is mystical, and the addition of a weekend getaway like Bellarocca Resorts is something that Philippines can be proud of. And its the closest I can get to my dream Santorini getaway for now.
The resort's facility includes ten private villas, thirty hotel rooms (with diverse choice from hotel deluxe rooms, junior suites and 1-bedroom suites), food and beverage outlets and water sports activities and tours.
All villas are equipped with its own private infinity pool that look out into Sibuyan Sea. Individual golf carts are also provided.
Image credit: TripAdvisor
AMANPULO RESORT
Weekend Haven: Amanpulo is situated in one of the world's most idyllic island locations on the staggeringly beautiful Pamalican Island in the Philippines. It is a private island, gifted with nature's paradisaical treats: powder white beaches, clear turquoise-azure-indigo seas, cirrus-streaked cerulean skies, and a polychromatic coral reef only 300m from the shore.
Guests indulge in Amanpulo's native style of dwellings with 40 casitas fashioned after a Philippine bahay kubo. The five Hillside Casitas offer magical sea views, the four Treetop Casitas embrace the trees while the 29 Beach Casitas have private overgrown paths that lead down to the soft white beach.
Image credit: Inquirer Lifestyle – Inquirer.net
MISIBIS BAY, CAGRARAY ISLAND, ALBAY, BICOL
Tucked away in the province of Albay, known for its perfectly shaped Mayon Volcano, Misibis Bay is ready for all those looking to balance tranquility and adventure. The tropical destination is a private island resort where guests can either choose to relax under the palm trees or adventure in the sun.
This 5-hectare island resort may be reached from Manila via a 50-minute flight to Legazpi, then followed by a scenic 50-minute road ride, or 30 minutes by a fast watercraft.
Misibis Bay offers world-class facilities both for recreation and for relaxation. Lounge by the pool, pamper yourself with a spa experience, or get active in the fitness and activity centers
Offering only the most exclusive and privileged hideaway, Misibis Bay's stylish architecture and interiors allow guests to completely immerse in incomparable relaxation.
Image credit: TripAdvisor
ISLA CABANA RESORT, SIARGAO ISLAND, GENERAL LUNA,SURIGAO DEL NORTE
This property also has one of the best-rated locations and best value  in General Luna! Taktak Falls is 61.8 km from the resort and Dapa Seaport is within 16 km away. The nearest airport is Siargao Airport, 30.6 km away from Isla Cabana Resort.
Massage and spa treatments are available at the Cabana Spa while leisure activities at Isla Cabana Resort include snorkelling, fishing, canoeing and cycling. The friendly staff can assist with luggage storage, currency exchange and laundry services, while sightseeing and travel arrangements can be made at the tour desk.
Isla Cabana Resort breathtaking aerial view of the beachfront! Source: tripadvisor.com.sg
BURI SPA AND RESORT , PUERTO GALLERA
Puerto Galera is one of the most-visited beach destinations near Metro Manila. It's touted as a mini-version of Boracay not just because of it overdeveloped beaches but because it's also notorious as a wild party destination. That reputation has stuck on me and that's why I've never longed to visit Puerto Galera.
From, Metro Manila. From there, a  bumpy ferry ride to Muelle Port in Puerto Galera, and another short 5-minute boat ride. In just under four hours, you will be in blissful paradise, which is one of the best-kept secrets of Puerto Galera.
Enclaved in the azure bay of Sitio Dalaruan, Buri Resort and Spa nestles 12 posh and luxurious villas inspired by a fusion of traditional Filipino and Balinese architecture. These villas are perched high on the lush hills of Oriental Mindoro. The resort, named after the Buri palm trees soaring in its lawn and managed by Asia's Unique Resort Alliance (AURA), is enveloped in greens and purples of nature—my weary soul instantly felt secluded and revitalized.
Buri's architecture is a modern, yet charming take on the traditional Filipino Bahay Kubo. All the villas showcase a marriage between beautiful interiors and the lush outdoors.
Nora Buri Resort & Spa – Hotel Image credit: bthetravelbrand.com
EL NIDO, PALAWAN
El Nido is located at the northwestern tip of the province of Palawan in the Philippines. It is considered as a showcase of Palawan's geology and diverse wildlife. Its majestic limestone cliffs stand guard over clear waters, with hundreds of species of tropical fishes and corals, and three species of endangered sea turtles.
Lagen Island Resort is set in a cove, fringed by a thick primary forest. The sprawling grounds cover more than four hectares.
Miniloc Island Resort is also set in a cove with a backdrop of sheer limestone cliffs. Reminiscent of a coastal village, Miniloc's quaint charm is enhanced by its crystal clear waters teeming with tropical fishes.
El Nido, Palawan, Philippines Source: ar.pinterest.com
ESKAYA BEACH RESORT AND SPA, PANGLAO 
Panglao, Bohol is home to many luxurious resorts known all over the world. However, Eskaya Beach Resort and Spa stands out among the rest due to its world-class hospitality and facilities
Eskaya Beach Resort and Spa is the only resort in the Philippines that has been included in Rolls-Royce Enthusiasts' Club Yearbook for 2015, the prestigious book that only features the best luxury hotels, resorts, and leisure spots around the world. Eskaya is also the only resort in Bohol included in the Small Luxury Hotels of the World (www.slh.com) with a rating of 4.8 out of 5. These are just a few of the many awards recieved by Eskaya.
"Eskaya" refers to the only known indigenous people of Bohol. The resort is located halfway through Panglao along its coast facing Bohol Sea. Eskaya has a 16-hectare land, one-third of which has been fully functional for accommodation while the rest is undergoing continuous development. For convenient transfers, guests can request golf cart service all around the resort.
The atmosphere is incredibly relaxed with crisp, cool villas, breathtaking sea views and discrete but attentive staff. Feel the gentle sea breeze as you languish in your private whirlpool and plan where to have dinner; by the infinity pool, on the beach with a personal butler or in the privacy of your villa.
Eskaya Beach Resort & Spa: Main pool with bar at the center Source:TripAdvisor
SHANGRI-LA'S BORACAY RESORT AND SPA
Dramatically situated on a lush hillside within an eco-reserve, Shangri-La's Boracay Resort and Spa is a spectacular Boracay resort offering sensational luxury and comfort to its discerning guests. Rich with sprawling grounds and secluded beaches this Boracay luxury resort also boasts an impressive variety of restaurants and leisure facilities, including a tranquil spa village.
Boracay island in the Philippines has long been a top venue for destination weddings, boasting one of the world's finest beaches and spectacular sunsets. On the northern tip of the island sits Shangri-La's Boracay Resort & Spa – a paradise retreat nestled in a secluded cove amid pristine waters. Blessed with mesmerizing views all around, during sunset hours, the resort is wrapped ablaze in breathtaking hues.
The luxury resort complements the sheer natural beauty of its magical location, with aesthetics radiating serenity at every turn. Its thoughtful modern interpretation of traditional local design is consistent with the hallmark elegance of the Shangri-La brand. Amid its two private beach coves lies an exclusive, tropical paradise that will turn every whimsical detail of your wedding fantasy into reality. During our visit, we discovered that not only is Shangri-La's Boracay Resort & Spa an ideal destination wedding venue, but it also sets the stage for a picturesque photoshoot and a memorable honeymoon.
Image credit: theweddingvowsg.com
BORACAY GRAND VISTA RESORT AND SPA
Boracay Grand Vista Resort and Spa is one of the private luxurious resorts at the famous white beach of Boracay. The Resort, established in June 2007, offers breathtaking vistas of verdant mountains and aquamarine waters, brilliant sunsets and far away islands, and the never-ending stream of birds flying into the horizon – all from the privacy of one's room.
Boracay Grand Vista Resort and Spa, located at the upper tip of Hagdan Yapak in Station 1, is situated away from the din of Boracay's non-stop parties, offering privacy and a sense of tranquility that no other enclave within the island can.
One of the newest resorts in the island, Boracay Grand Vista Resort and Spa is the only one that offers ocean views and private pool in all its accommodations. All suites have spacious balconies, en-suite bathrooms, mini bar, tea/coffee-making facilities, and entertainment facilities.
From the main beach, its main pool area is a destination itself – it is the biggest in Boracay complete with artificial waterfalls. Lounge by the pool with the sprawling view of the ocean. Other facilities also include two in-house restaurants, spa, pool bar, and a business center.
Image credit: Blue Bayou Travel
PLANTATION BAY RESORT AND SPA, MARIGONDON, LAPULAPU CITY, CEBU
Discover a resort in a class of its own. Set in 11 hectares of secluded grounds yet only about 1.5 hours (when traffic is bad) from Cebu City, Plantation Bay offers one of the largest privately-owned waterways in the world, with the clean elegance of colonial-plantation architecture. Decompress from life's pressures in the healing tranquility of an environment that truly feels "away from it all." If you have ever spent time at a tropical plantation, you know what we mean. If not, come and discover a refreshingly different Flavor of Life. Whether you're traveling for a family vacation or romantic getaway, for business or pleasure, this is far and away your best choice in the Philippines.
Image credit: AsianTraveler Magazine
ANTULANG BEACH RESORT , DUMAGUETE CITY
Nestled 40 kilometers south of Dumaguete City, Philippines, ANTULANG BEACH RESORT is proud to be the first Philippine resort to offer private pool villas to guests.  Each of the  flagship accommodations comes with its own swimming pool (no plunge pools here), heated Jacuzzi and luxurious, spacious rooms all decked out in Canadian pinewood.
Suspended on ten sprawling hectares of sheer cliffs peppered with a kaleidoscope of bougainvillea blooms, swimming pools and premium rooms are positioned right at the cliffs' edge, ensuring guests a commanding view of an endless sea, while winding staircases lead directly to a kilometer's stretch of isolated white sand beach strewn with large, natural rock formations.  So on any given evening, let the gentle lapping of waves caressing boulders on the beach lull you to sweet, glorious slumber, and catch up on unhurried, leftover dreams of Antulang.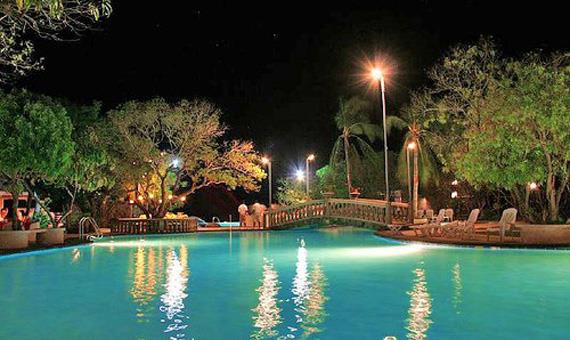 Image credit: HotelsCombined