A trip to the holy city of Varanasi , considered the spiritual capital of India is sacred for Hindus for a variety of reasons. Pilgrims pour in from all corners of the country to take a dip in the Ganges and wash off their sins or to perform the last rites of their loved ones.
There are strong beliefs that one can wash away his sins by taking a dip in the holy river Ganges and that is why many throng the city of Varanasi, which lies on its banks.
Dying and having your ashes scattered here is a sacred thing for Hindus who believe that it brings moksha or salvation.
But not everyone has home over here and this why 'Mukti Bhavan' or 'Salvation House' – a charity-run hostel for people, is functioning over here.
However, there's another reason a few thousand devotees throng Varanasi. It is to enroll themselves in 'Mukti Bhavan' or Salvation House and attain moksha, a term that can be interpreted in many ways but is generally understood by Hindus to mean freedom for the soul, a release from the constant cycle of rebirth.
Death in Varanasi brings moksha, the Hindu concept of liberation from the trials and tribulations of life.

In order to attain this salvation, they wait to die in this charity-run hostel,  a place of celebration, where dying guests are promised freedom for their souls.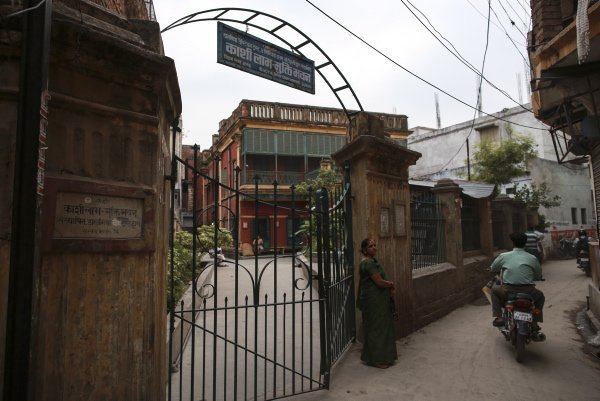 Hindus believe a person builds up karma or a culmination of deeds during their lifetime. Karma can be good or bad, and it affects future lives for Hindus. The sect of Hinduism to which Mishra belongs believes that dying a good death in Varanasi forgives bad karma. Even a murderer can achieve moksha here.
The 12-r​oom hostel which exists specially for people who wish to die, also boasts of a temple and an additional quarter for its priests. However, not every guest has all the time in the world.
All they have is two weeks. To die. Or they're asked to move on to make way for others.
In some situations, a guest's stay can be extended if the 61-year old hostel manager Bhariavi Nath Shukla thinks that the person is about to die. He also claims to be able to predict when someone will die.
Once checked in, guests are bereft of their names. Their new identity becomes a number.
As of 2014, over 14,000 people had made use of the services of this hostel to breathe their last.
Mishra, 63, had also accompanied his grandmother to Mukti Bhavan and stayed a month and a half. She grew restless and begged him to take her home. So he did. She died three days later. Mishra lived with the guilt of denying her salvation.
Now it was his father's desire — as well as his entire clan's — that the 83-year-old take his last breath in Varanasi, known in ancient times as Kashi, the most sacred place for devout Hindus. If he failed his father, as he had his grandmother, Mishra could not live with himself.
Salvation was the hope that kept Mishra going in his arduous journey. It was a hope he'd held all his spartan and sometimes inhospitable life but one that he felt more fervent now than ever. Still, it was not an easy decision to travel to Varanasi.
He'd left at home his wife, his only daughter and a situation of utmost urgency, one that required his attention. If he did not return home soon, he might mar forever the course of his daughter's life.
Mishra arrived in Varanasi balancing life and death.
Ihad never been to the homes for the dying here. But having grown up in a Hindu household, I understood the lure of Varanasi, believed to be the oldest continuously inhabited place on the planet, as ancient as Babylon.
The story of every person in each of the rooms of the hostel is as starkly different from each other, as it is similar. Danish Siddiqui met an assortment of people from diverse backgrounds, all united in their desire to attain moksha at Mukti Bhavan.
The hostel got its guest number 14,578 in the form of Munna Kuvar, a 105 year old widow who had traveled in a jeep for five hours to get to the hostel. Her husband had died at the exact same place, and Kuvar had decided it was her time to replicate that.
Another room housed 82-year old Kishore Pandey from a small village in Eastern India. He was flanked by three of his daughters who have decided to perform his last rites, defying the old old norm of sons being the ones entrusted with performing a father's last rites.
Tourists flock to Varanasi to experience its intense spirituality. Many tour the Ganges River to witness the activities along the city's ghats, the wide steps that lead to the water.
The city is intense and in-your-face spiritual. Hindu holy men with vermilion and saffron smeared on their foreheads wander labyrinthine lanes. Oil lamps, calleddiyas, burn day and night, and the sounds of brass bells and mantras, or incantations, reverberate far past the grounds of Varanasi's 3,600 temples.
Believers and tourists alike, from the world over, want to touch the soil here and bathe in the sacred waters of the Ganga, as the Ganges River is known in Hindi, in an act of purification.
Varanasi has always been known as the city of light. But a more appropriate moniker might be the city of death.
The end of life here is stark and out in the open, for all to see. Bodies blanketed by white shrouds and orange marigolds are brought to the ghats, the broad steps leading down to the Ganga. Funeral pyres, especially at Manikarnika Ghat, the most sacred of cremation places, burn nonstop, melting human flesh on piles of mango wood. Sometimes, parts of bodies remain after the flames go out; stray dogs surround the smoldering embers.
Many of the city's residents make a living from death. They include the Doms, the untouchable caste of Hindus who work at the cremation sites as well as the astrologers and priests who gather at the river. Part of the fascination for visitors, especially foreigners, is to bear witness to the process of dying.
The man  Nandan Upadhyay through a blog he writes called "Groovy Ganges." He understands the magnetic draw, the cosmic energy swirling about the city. But he is always keenly aware of Varanasi's 21st-century woes of poverty, pollution and overpopulation.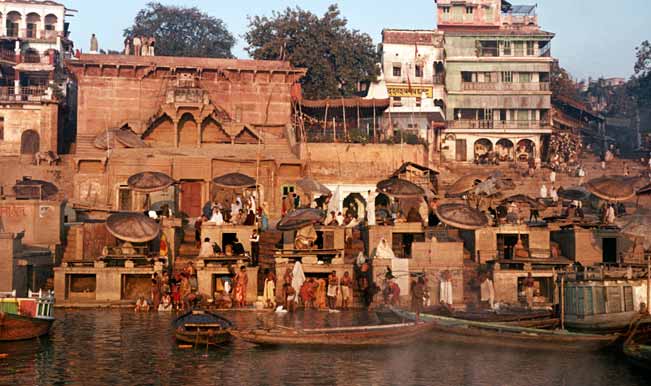 Sources:
http://edition.cnn.com/
http://www.doubledialogues.com/
http://daily.bhaskar.com/