#Ribcagebragging Got ribs? Bella Hadid does! The new questionable unrealistic body standards trend on Instagram is apparently "ribcage bragging" or rib cage challenge where you show off your slim torso. Kendall Jenner, The Kardashians, Rita Ora and both of the Hadids are apparently part of this burgeoning photo style. Some people on social media think that it negatively affects women whereas others believe it is the byproduct of a naturally thin frame. Let us know your thoughts!
OK, forget about the bambi pose, 'ribcage bragging' is apparently the new Instagram trend. 
Celebrities are going to start endorsing slender blenders. Our mates are going to start posting pictures of their blasted hot dog legs on Instagram.
And a new awful body image trend is going to pop up.
We've already had the thigh gap trend, bikini bridge, thighbrow and ab crack craze.
THIGH GAP TREND
Barbie has a thigh gap, but for real women, it's often unattainable.
The Chive has a viral photo gallery, "Mind the Gap," that glorifies pictures of women who are so thin that their thighs don't touch when they stand with their feet together. You can follow famous thigh gaps (yes, you read that right) on Twitter, and there's a Facebook thigh gap fan page. Despite some efforts to remove eating disorder propaganda from other sites, you can still readily find thigh gap galleries all across Pinterest, Tumblr, Instagram and WeHeartIt, and even follow thigh gap how-to guides on WikiHow.
The pressure to have thin legs is nothing new, says Julie Holland, an eating disorder survivor turned nationally recognized eating disorder expert. Holland is the marketing officer for the Eating Recovery Center in Denver, which works with many Boulder County residents.
"I was a majorette in high school, and we would line up and if our upper thighs touched, we needed to do more exercises and we started engaging in the fat talk," says Holland. "That was in 1978."
But the way in which social media labels and spread trends, and then normalizes potentially dangerous lifestyles and ideals is new, Holland says.
In fact, a study by the University of Haifa in Israel found that the more time young girls spend on Facebook, the greater chance they will develop an eating disorder and poor body image.
Holland has an 11-year-old daughter. Holland learned about the thigh gap from her.
Back when Holland developed an eating disorder — it started in second grade — she says she was teased by and compared with the other kids in her school. With the web, today's adolescents can be teased by millions and compared with just about everyone in the world, including plenty of photoshopped images that are taken as reality.
Holland says she can't imagine how her eating disorder would have escalated if she had access to the Internet while growing up.
"Who knows, I may be dead now. The amount of information out there and information that is not factually based — it's very scary," she says. "There's increased information with less accountability."
And the truth about the thigh gap? It's not physically possible for many women, Holland says. As in, it's based on bone structure — the shape of your hip and leg bones, not necessarily your fitness (or thinness) level. That's why the thigh gap has become intertwined with the eating-disorder culture, Holland says; in pursuit of this often unattainable goal, some women would have to starve themselves.
BIKINI BRIDGE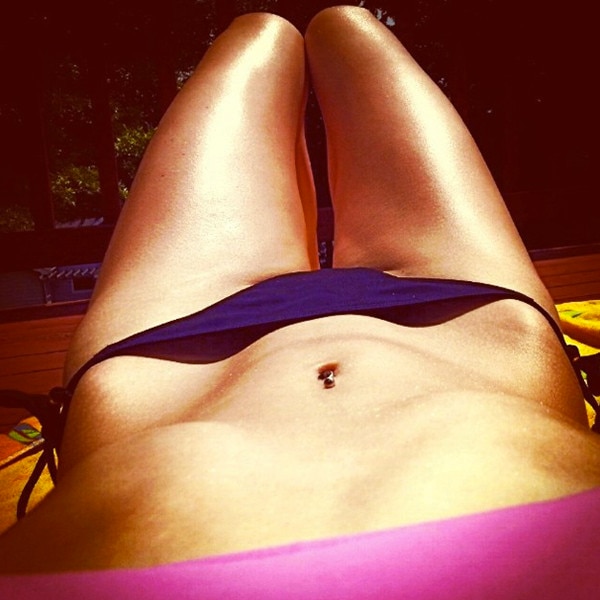 Image: eonline
Image: beautyheaven
So, the "thigh gap" was a thing last 2013. And now this is. The troubling part about it is that the "bikini bridge" trend was started as an Internet hoax, but now it's real.
And now it appears that the 'bikini bridge' is 2014's version of promoting unhealthy body image.
In order to achieve a 'bikini bridge', your stomach has to be flatter than your hips so your hips support your bather bottoms, forming a 'bridge' and gap between your stomach and bikini.
Are they skinny or just wearing ill-fitting bathing suits? Anyone can have a bikini bridge if they buy suits three sizes too big, right? But we digress.
A 4chan user decided they wanted to create a new body trend and attempt to make it go viral. They created propaganda in favor of the trend (fake celeb tweets supporting the bikini bridge, Buzzfeed lists, etc.) as well as propaganda against the trend. Then they sat back and watched the Internet explode.
And explode it did. There are now Tumblrs and Instagramsdedicated to either showcasing the bikini bridge or denouncing it. There are tags on Twitter for both sides of the issue, and look, we're writing about it, too. As are a lot of other websites. So well done, 4chan user. The bikini bridge is now a mainstream thing. Your experiment worked!
AB CRACK CRAZE
Image: Shape magazine
Image: womenfitness.net
The 'ab crack'.
Sounds painful. Looks painful.
It probably is pretty painful as it obviously involves fewer calories, more crunches.
An 'ab crack' is that vertical crease which appears on mega flat stomachs and proves (supposedly) how fit you are, and there are plenty of people on Instagram flaunting theirs.
Elle were the first to coin the term as the 'new core look' of the season, which shows that you've been to the gym.
'We get it. We're very impressed,' says the magazine.
Well, there's no point in going down the gym if no one's going to see the results… right?
It's also pretty understandable that people are outraged over yet another potentially damaging body trend set to further dent female body confidence.
THIGHBROW
Image: StageVu
Image: whatsthefuzzabout
Confused? It's not actually anything to do with artfully placing arches of hair along your legs, but is in fact the crease created when thigh meets hip, which, apparently, looks like an eyebrow. Thighbrow.
The good thing about this body trend, versus that collarbone coin thing and the ubiquitous thigh gap obsession, is that you don't have to have a specific body type to have a thighbrow. You just have to kneel, or lift your legs up, or just slightly contort your body until your thighs are up near your hips. Done. Easy.
The master of thighbrow, Nicki Minaj, showed off hers in the 'Anaconda' video 
Any body trend that involves sitting down and minimal effort can't be too bad.
Let's just not try not to get too obsessive about the size, and shape, and prominence of our thighbrows. All thighs are beautiful. Let them crease how they wish.
AND NOW WE HAVE RIBCAGE BRAGGING 
Coined by the Daily Mail, ribcage bragging refers to the hoards of models, social media influencers and celebs posting images of their protruding ribcages.
Body image issues have haunted women forever. From the expectations of having a gap between the thighs to having a curvaceous waist with a flat tummy–there's so much pressure on women to look a certain way.
First came the obsession with thigh gaps, then there was the bikini bridge, ab cracks, and thighbrows. The latest body trend to emerge is "rib-cage bragging," which sees women flaunting their protruding chest bones on social media.
 Bella Hadid shows off her protruding ribs on social media. (Photo: @bellahadid/Instagram)
For rib-cage bragging, named as such by the Daily Mail, the greater the prominence of your rib cage, the more desirable, apparently, your figure is deemed.
It's very simple.
All you've got to do is lie back and suck in your belly as far as it can go and then get someone else to take a casual shot of your ribs bursting out of your skin.
While pronounced ribcages are usually associated with starving children in the third world, this trend supposedly tells the world that you are fit and in control of you eating habits. Three meals a day might be necessary for mere mortals but not for you. You can subsist on Instagram likes alone.
"#Ibiza take me away…" Nicole Scherzinger captioned this snap. Photo: Instagram
And just as other thinspiration trends have raised concerns about encouraging unrealistic body goals, rib-cage bragging, otherwise known as the rib-cage gap, is adding to the worrying message that appearing emaciated is the ideal to aspire to.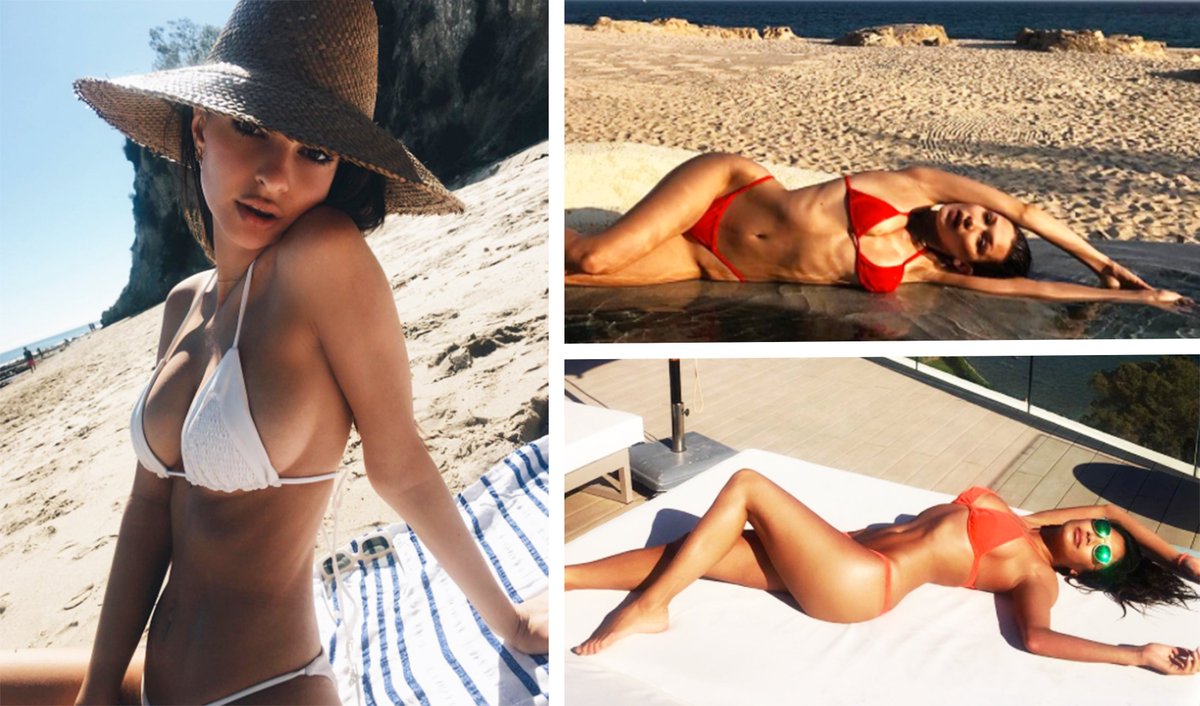 According to the Daily Mail, adding to this immense pressure is yet another body-image trend of 'ribcage bragging' that has taken the social media by frenzy. Thanks to 'icons' like Kourtney Kardashian and Bella Hadid posting their bikini-clad pictures while flashing their protruding ribcages; this trend is spreading like fire in the forest.
 (Picture: ribcagebragging/Instagram)There's even a whole Instagram account dedicated to ribcage bragging, with the tagline 'Ribcage is your new accessory'.Key ribcage braggers include Bella Hadid, Kourtney Kardashian and Rita Ora – all of whom have massive social media followings through which they can inspire others to follow suit. (Source: Metro.co.uk)
Models and stars including Bella Hadid, Rita Ora, Nicole Scherzinger, and Kourtney Kardashian have all shared images of themselves clad in bikinis and proudly flaunting their prominent rib cages. While these celebrities might be unaware of how their followers are reacting to these revealing shots, it's hard to ignore the undeniable fact that this could be piling on pressure women feel to strive for unrealistic body goals.
Thankfully, not all social media body trends are so scary. There are other influencers out there such as Ashley Graham and Tess Holliday who are promoting positive body image using hashtags such as #mermaidthighs, #effyourbodystandards, and #beautybeyondsize.
Whereas the thigh gap, bikini bridge, ab crack, and thighbrows are designed to subtly shame women who don't fit into a narrow definition of beauty, the aforementioned hashtags are all about celebrating one's body shape, whether you have a gap between your thighs or not.
 However, it's important to note that for individuals who are thin, this is not skinny shaming; rather, it's raising awareness of the pressure images might be placing on impressionable young women and those who could be triggered by the pervasiveness of social trends extolling largely unobtainable body parts.
Holland doesn't forbid her daughter from reading magazines, using Pinterest or going online. Instead, she says she makes a point to teach her daughter about informed, critical consumption of information. Holland is careful with her comments about her own body and other women's bodies. She also teaches her daughter that there is no such thing as bad food; food is neutral. What matters is listening to your body and realizing when it is hungry or full, she says.
These "thinspiration" photos and memes that blanket social media can be one of the biggest challenges for people recovering from eating disorders, says Bonnie Brennan, a certified eating disorder specialist, who used to live in Boulder but now lives in Conifer.
"It becomes a very voyeuristic activity to access these sites where they see these images, and the image could bring up the allure of what they were trying to do, or reinforce for them that, yes, other people are doing this, and I need to get back into starving myself again," Brennan says.
She says she does not know of a body shape at its natural weight whose thighs would not touch.
"It's not a realistic goal to have in terms of fitness for your body," Brennan says. "That's where women naturally carry extra body weight: their upper thighs and hips."
For Jairam, the 35-year-old who learned about the thigh gap online, social media has actually played a positive body image role.
Jairam is a member of a private Facebook group of Vertical Fusion dancers, a pole fitness and acro-pole studio based in Longmont. That's where she saw this post:
"I just read an article about how 'thigh gap obsession' is causing a new wave of eating disorder issues. Dunno if it's true but I wanted to make sure you all knew that I love each and every one of your sexy legs just the way they are."
It's funny, says Jairam. Whereas other social groups may pressure each other to thin out their thighs, among her circle, thicker, stronger thighs make the pole tricks less painful.
As another member of Jairam's group responded, "Those people obviously don't understand how much harder Cross Ankle Release is with a thigh gap, or they'd never wish for one."
Social media spreads awareness, Jairam says, for better or for worse.
"It's a double-edged sword," she says. "It can build us up and tear us down instantaneously."
Source:
yahoo lifestyle
metro.co.uk
eonline
beautyheaven