To ensure you to have a great beautiful look, follow these tips and have confidence. When you choose the right style, you can easily flatter your natural face shape with a hijab you wear.
Don't be surprise if you don't look like the person doing the tutorial although you are doing it right. It maybe because  the hijab style being demonstrated suits for the shape of her face.
When choosing the right hijab, you need to consider  the shape of your face. Hijab suits everyone, only you have to figure out how to wear it to suit you. Hijab  wasn't prescribed to make you look 'ugly' but it is to make you modest.
There is no right or wrong on what style of hijab you use but it's whatever makes you comfortable. Try experimenting on what hijab style that compliments your face shape to make you feel comfortable. But of course, don't forget to match your hijab not only with your face shape but also with other outfits to have a glamorous look.
There are many different ways to wear hijab. but matching your hijab with other outfits is right key to have a glamorous look. you can wear hijab with baggy pants. Maxi skirts are perfect wear for summer and spring season.where hijabis feel quite uncomfortable wearing hijab with other outfits ,maxi is the best choice. You can wear hijab with baggy pants but maxi skirts is the best choice.
First, you need to determined the shape of your face.
Here are some face shapes and the proper hijab style images to suit that type of face.
1. Oval Shaped face   
Oval face shape is considered as the best one when it comes to hijab styles because it will 100% look good at any style you choose.
With oval face shapes you can wear your hijab quite high on your forehead.
However, if you have oval chubby-cheeked, make sure that the headscarf  you put on is not horizontally installed because it will give a rounded face impression. So in order that your face will not look round, you have to frame your face by putting on the under-scarf diagonally or in cross position with most of the cheek covered while exposing the forehead.
2. Round Shaped Face 
The round shaped face is full-looking face with a round chin and hairline. Widest point is at the cheeks and ears on women with round.
Egyptian or Spanish hijab styles only look well with slender neck women. These styles should be avoided by the round shape face with short neck as it expose the neck which is not good to look with double chin or chubby face.
To round shape face, you must wear a little bit loose hijab around your cheeks or simply drape it to make your face narrower. Don't try to hide your cheeks by wearing hijab too tight for it will just make it more obvious. Neither wear hijab too low down on the forehead nor pin the hijab under your chin because  this will also bring the  cheeks out more.
3. Long or  Rectangular Face Shape 
The long/rectangular shaped face is long and slender, about the same width at forehead and just below cheekbones. Rectangular faces may have a very narrow chin or a very high forehead.
For the long/rectangular shape face,  make sure you lengthen your face  keeping your forehead visible and bring the hijab a bit closer to your face from the sides to create an illusion of a longer face length. 
.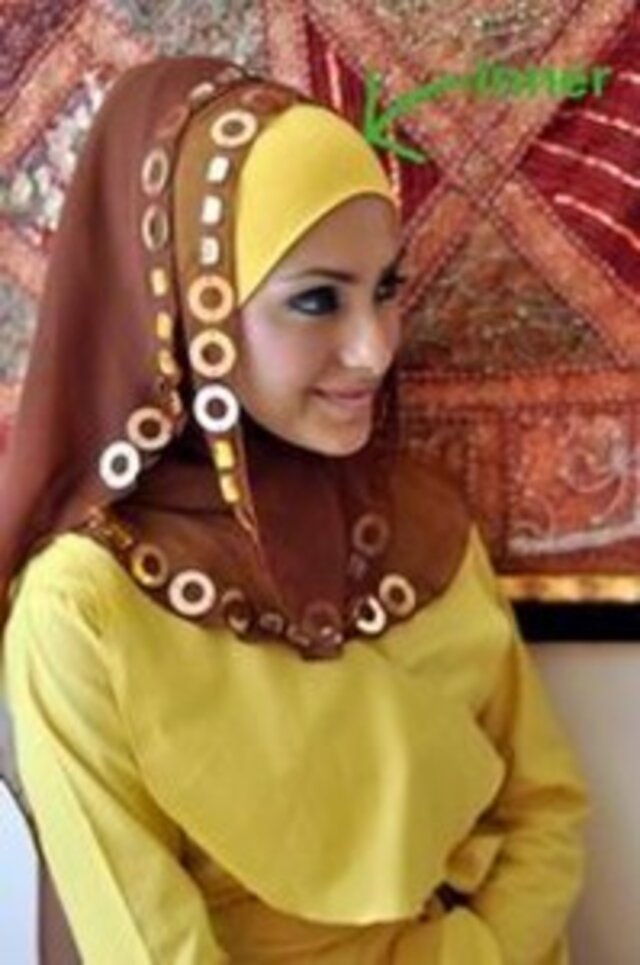 To create some much needed width to your face,  expose your cheekbones as far back as you can. And also choose hijabs with ruffles and volume/detailing at the sides of your head could further create an illusion of width.
3. Square Face Shape 
A square-shaped face is strong, square jaw line and usually an equally square hairline. A face with the same length and width.
Like the rectangular shape face, drape the hijab in front of the angle of the bottom jaw to soften the angle. But unlike the rectangular shape face, wear the hijab a bit higher up since the forehead is shorter.
Frame the chin and the sides of the jawline with the scarf to make it look like rounded or oval keeping the forehead and cheekbone uncovered. Use of pastel or hues help minimize the look of masculine jawline .
Never use Turkish style hijab because it will make the face look like a triangle. Why? Because the square scarf that is used in Turkish style hijab will pin tightly under the chin and it will cover the sides of the top of the head.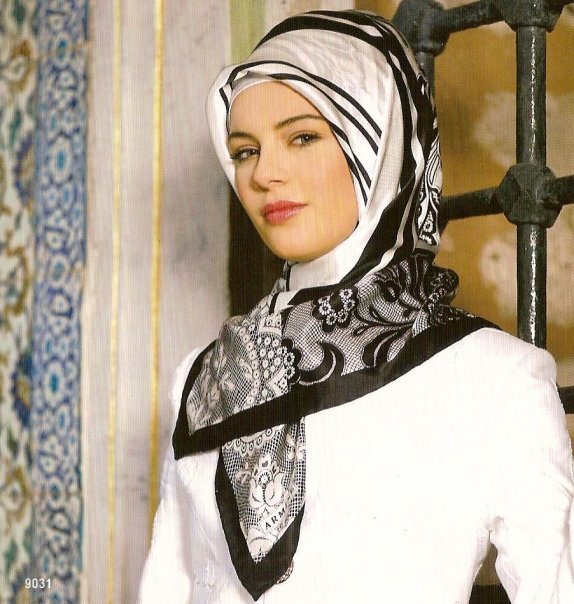 6. Diamond Shape Face
The diamond-shaped face is a cross between heart and a dramatic oval face shape. A diamond face is widest at the cheekbones, and narrow equally at the forehead and jaw line. A diamond face is balanced and dramatic.
This shape face has very soft angles at the bottom jaw and chin therefore looks good when you pin the hijab or wrap it behind the angle of the jaw. The prominent cheek bones in this face shape also look good with a hijab that doesn't cover up too much of the bottom half of the face.
7. Heart or Triangular Shape Face 
The heart-shaped face is wide at the temples and hairline, narrowing to a small delicate chin.
A heart shape face looks better in looser hijab styles. Wear a hijab a little bit high up, just below the hairline and wrap the hijab loosely around the jawline. Drapes around the neck soften the look of a sharp or pointy chin.
The heart-shaped face is best shown with hijab styles that are pinned right under your chin to increase your jawline. Don't add width to your face by having multi-layers on the side of your head.
You can also make a tiny point on top of your forehead with the scarf. This adds a great touch that will compliment your face shape in a beautiful way.
***********
3 Steps to Finding Your Face Shape
Step 1: What's the widest part of your face?
• All things equal: If the width of your forehead, cheekbones, and jaw are equal, then you could have a square, round, or oval face. Skip to step two to get more insight.• Forehead: When the forehead is widest and the face gently tapers down to the chin, then your face falls into the heart-shape category. This is also known as the inverted-triangle shape.

• Cheekbones: You have a diamond face shape if your cheekbones are the widest area on your face.

• Jaw: The jaw is the widest part on most triangular (aka pear) face shapes.
Step 2: What's the shape of your jaw?
• Round: Round and oval face shapes have a slightly rounded jaw.• Square: If you have a strong jaw, then you could have a square face shape. Your chin may still come to a point, but the angle will be more gradual or flat. But keep in mind: Diamond and triangle face shapes can also appear to have a square jaw.

• Pointy: When the chin comes to a distinct point, you can file your face shape under the heart category.
Step 3: What's the length of your face?
• Average: Most face shapes are a little bit longer than they are wide. For example, draw an imaginary line just below the eyes (horizontally from ear to ear) and another line vertically (through the nose from the top of your forehead down to your chin). You should discover a cross shape with a ratio of about one (width) to one and a half (length). This length coincides with most face shapes.• Short: If your cross has a one-to-one ratio, then your face has more of a round shape.

• Long: You have an oblong shape if your face has a longer lower half. Note: All face shapes (except for round, oblong's polar opposite) may fall into the oblong category, depending on your measurements. An oblong square face shape, for instance, is considered a rectangle.
Source:
allure.com
***********