WOMAN SLAVE WHO WAS TORTURED AND CHAINED BY THE NECK TO A DESK FOR TWO YEARS BY MEXICAN FAMILY GOT SO HUNGRY SHE WOULD ATE POLYTHENE WRAPPING ON CLOTHES SHE WAS FORCED TO IRON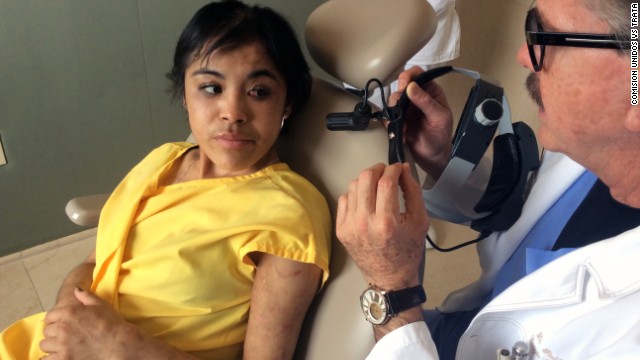 Zunduri consults last 2015  with a plastic surgeon in Mexico Image credit: CNN en Español
She's 22 years old, but her petite frame makes her look like a teenager.
Her bright eyes and friendly smile can easily hide the horrors she has lived, unimaginable physical and mental abuse that almost took her life.
Zunduri (left), aged 22, was beaten horrifically and held captive for more than two years. She was left with horrific scars across her body (right) and is now recovering in hospital in Mexico City Source: 
dailymail.co.uk
CNN: She calls herself Zunduri, although that's not her real name. It's a name she adopted after regaining her freedom, a term that means "beautiful girl" in Japanese.
"My life plan is to live. I want to be pastry chef, I want to live, I want to recover all the years I have lost," Zunduri said.
CNN.com: Ana Laura thought running away from her boyfriend at the age of 17 would result in a happily ever after, but their love didn't last long and she found herself alone and homeless in Mexico City.
After trying to find a safe place to live, a kind woman who owned a dry cleaning shop in the Mexican capital's south side, offered her a stable home.
That home, however, would soon turn into Ana Laura's worst nightmare and it would last for five years. For that reason, Ana Laura now calls herself Zunduri, which means "beautiful girl" in Japanese.
At the beginning, Zunduri was so moved by this woman's kindness that she started calling her "mom" – but this would backfire on her.
Zunduri felt so close the woman that she started helping her, the woman's husband, two daughters and sister run the family dry cleaning business.
But little by little, the amount of work she was asked to do increased.
First, it was doing domestic chores around the house, but not the cleaners.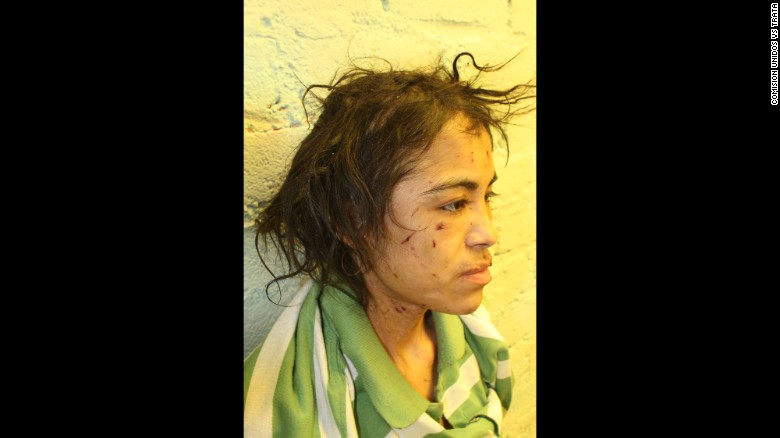 Mirror.co.uk
:
 Police said that when Zunduri started with the family they gave her a room and paid her. but when she was accused of stealing things in the house, they stopped paying, chained her up and beat her constantly. Image credit: 

CNN.com
The work increased daily and the food decreased to the point where she was ironing from 16 to 20 hours a day and only consuming water.
As the workload increased, the amount of food she was allowed to eat decreased.
She says one time she went five days without eating anything and was so hungry she would chew on the plastic bags she used for laundered shirts. She survived on the little water she could take out of the iron, she said. By then she was already sleeping on the floor.
Zunduri's back and arms are pockmarked with wounds left by her captors. Source: dailymail.co.uk
The heavy workload was followed by beatings.
The abuse was not just physical, but verbal and mental as well. Zunduri said, in addition to being physically abused, she was also brainwashed. The message was always the same: "You're worthless."
"The first time she started kicking me. Then she said, 'You have no right to talk back because I'm like a mother for you. If you call me 'mother,' you have to understand that mothers discipline their children,'" Zunduri said.
If she stopped work she was beaten with a wrench, a tie and other instruments causing multiple wounds. Her back was also burned with an iron. Source: dailymail.co.uk
"She always tried to put things in my head like, 'Your mom doesn't love you. If she loved you, she would be here with you. If she loved you, she would've taken you back. The guy you left with didn't love you either. He couldn't stand you because you're worthless as a woman,'" she said.
Just when Zunduri thought she couldn't endure more torture, she was chained.
Zunduri's neck is horrifically scarred, her back and arms are covered in wounds and she has cuts and bruises elsewhere all across her emaciated frame. Source: dailymail.co.uk

CNN.com: 
Finally, when she felt she could no longer take more beatings or humiliation, she says things got much worse. Her captor put her in chains.
"She told me, 'This is how animals like you should be treated' and she grabbed me and put the chain around my neck. I could only say 'No, this is unnecessary. Don't treat me like this. Don't do it,'" Zunduri said.
Daily Mail: Zunduri told how a three-metre chain was tied around her neck and she was forced to go the toilet in a plastic carrier bag.
At her lowest ebb, she even had to sleep standing up and leaning against a wall because the chain she was attached to was too short for her to lie down.
 Image credit: YouTube
Zunduri said: 'If I made a mistake with my ironing, which I often did due to the exhaustion of having to sleep standing up, they would torture me. I went three days without drinking water.'
Horrendous: Zurundi has been left with painful wounds on top of her head. Source: dailymail.co.uk
wearemitu.com:The chains were wrapped around her neck, but then moved to her waist so she could continue to iron. On top of that, every member of the family took turns burning her skin and face with an iron.
"Her captors would peel off the scabs from her skin. When she was healing from her burns and scabs would appear, they would yank them off so that they would bleed again. They would scratch her neck with their fingernails. Her head was badly injured as well. They used the iron to burn her in the head," said human rights activist and close friend of Zunduri, Karla de la Cuesta.
CNN.com: 
Human rights attorney Maria Teresa Paredes, one of the first people to see Zunduri after she escaped, said she was horrified when she saw the victim's injuries.
"There was not a single part of her body without a scar or wound. She also had scratches and bruises. She had also lost a lot of hair," Paredes said.
Mutilated: Part of Zunduri's ear is missing. She said: 'If I made a mistake with my ironing, which I often did due to the exhaustion of having to sleep standing up, they would torture me' Source:  dailymail.co.uk 
After being chained for six months, Zunduri was able to escape in April 2015 when she realized her chains were slightly loose.
Daily Mail: Recalling her ordeal Zunduri said she started working at the dry cleaners in Mexico City five years ago.
It was a live-in job and she was given a room and received a low wage.
Held hostage: Zunduri's tormentors hid her behind a mountain of clothes and turned the radio up in the shop so customers could not hear her screams. Source: dailymail.co.uk 
But three years after starting, the dry cleaners owner Leticia Molina Ochoa accused her of burning clothes.
She told Zunduri she would go to the police and accuse her of stealing if she didn't stay and repay her 'debt'.
Marks of pain: Zunduri has said previously: 'I was tortured. There is no part on my body without scars'. Source: dailymail.co.uk 
DailyMail :Petite and dreadfully thin due to months of malnourishment, 5ft 4in Zunduri would also consume the antiseptic creams that Ochoa gave her to treat her multiple wounds.
There is barely an inch of her skin that is not covered in scar tissue.
The top of her head, her neck and her ears have open sores from burns and beatings.
Zunduri finally escaped on April 25, when a one of Ochoa's daughters didn't replace her chains properly after she'd been allowed a trip to the toilet.
She said: 'I knew I had a chance to escape and I just ran for my life. I have to thank God that my two years of hell have come to an end.'
Of her ordeal, Zunduri said previously: 'I want them to pay for every tear, every pain, every blow for everything I have had to suffer. My life plan is to live. I want to be a pastry chef, I want to live, I want to recover all the years I have lost.
'I don't want the world to know my name, just call me Zunduri, it's Japanese. A friend of mine is named like that. It means beautiful girl.'
She told MailOnline: 'I honestly don't know' [how I survived]. I have only God to thank.'
Authorities raided the house where Zuduri was held captive. All five members face up to 40 years in prison.
mirror.co.uk: Shocked detectives arrested five people, Jose de Jesus Sanchez Vera, Leticia Molina Ochoa , her sister Fani Molina Ochoa, and Ivette and her sister Jannet Hernandez Molina.
Zunduri captors: The family of captors was arrested on charges of human trafficking and exploitation. Source: wearemitu.com
DailyMail : Ochoa is now in custody and has been charged with kidnapping. She faces up to 50 years in prison for holding Zunduri against her will and torturing her.
Ochoa's sister Fani Molina Ochoa, her boyfriend Jose de Jesus Sanchez Vega and her two grown up daughters, Ivette Hernandez Molina and Jannet Hernandez Molina all face charges.
Slavery is thought to be rife in Mexico. The Global Slavery Index indicates that there are 266,900 people working as if they were owned by a master in the country.
This is a greater number than those in forced slave labour estimated in the whole of Afghanistan, North Korea and Serbia combined, according to the index.
The incident, happened in Mexico City, has stunned the Central American nation.
The physical damage went well beyond the surface.
When her body was examined, doctors say Zunduri, who has anemia,was tortured and discovered her organs resembled that of an 80-year-old.
On the mend: A dentist attempts to repair Zunduri's two teeth left broken at their roots by the abuse she suffered. She is covered in welts, burn marks and scabs. She has two teeth broken at their roots and multiple third-degree burns.She now suffers from anaemia and has legs covered in varicose veins. Source: dailymail.co.uk
Police said that when Zunduri started with the family they gave her a room and paid her but when she was accused of stealing things in the house, they stopped paying, chained her up and beat her constantly.
She finally managed to escape when the family did not chain her up properly and she fled the dry cleaning premises.
Reunited: Zunduri celebrates after she was finally reunited with her family on April, 2015. Pictured on her left is Rosi Orozco, who has been supporting her since her release. Source: DailyMail 
Zunduri said: 'I'm an aunt now – it seems like my siblings got there before I did! My family were very relieved to see me. The thought of them was one of the things that kept me alive throughout it all.'
Rosi Orozco, president of Mexico's United Commission Against Abuse, has been supporting Zunduri since her escape.
She told MailOnline: 'There's no way she would have survived that ordeal if it wasn't for her strength of character. In the short time I've had with her it's obvious that she is a very strong individual.'
Zunduri has undergone a number of medical procedures as part of her recovery.
Zunduri is celebrating her first year of freedom in 2016 and has become an activist to tell the world her story.
Zunduri is a victim, a survivor. But when you see her friendly smile you realize that in spite of everything she went through, her spirit remains undaunted. Source: CNN.com
She told her story to Mayor Bill de Blasio in New York. She traveled to The Vatican last July,2016 to meet with Pope Francis.
She has also traveled to other countries, such as Argentina, where she openly talks about her story of slavery.
Her dream is going to culinary school to become a pastry chef. She wants to open her own bakery someday.
*****
Sister-in-law is convicted of murdering girl, 19, who endured 'regime of fear' and was beaten to death so violently neighbour thought family 'were tenderising meat' 
Shahena Uddin, from Watford, was struck with a plastic baseball bat
Teen was also made to lick the toilet seat and stand for long periods  
She was found dead in bathroom in October last year after being beaten 
Salma Begum, 32, was convicted of murder at St Albans Crown Court 
Salma Begum, the sister-in-law of a teenage girl who was subjected to a 'regime of fear' in which she was forced to lick the toilet bowl and eat her own faeces has been found guilty of murder.
Shahena Uddin, 19, was beaten to death so violently neighbours thought her family 'were tenderising meat'.
The teenager, one of eight siblings, was beaten with weapons and suffered head wounds and injuries to her body for 'offences' like eating at the wrong speed.
Today Salma Begum, 32, fainted in the dock at St Albans Crown Court when a jury convicted her of murder.
Ambulance staff called to the house in Leavesden Road, Watford, on October 11, 2015 found her lifeless body in the bathroom.
Paramedics were told Shahena felt sick and fainted, but the court heard that she had been beaten with weapons over a 24-hour period, suffering head wounds and injuries and bruises to her body.
During a two month trial, the jury heard Shahena, from a Bangladeshi family, was sometimes struck with a plastic baseball bat, Wii bat, a mop handle, spirit level and a glow stick.
She was made to eat large amounts of rice and would be made to lick the toilet seat and stand for long periods staring into the toilet bowl.
She was told to eat her own faeces and vomit and pieces of paper.
Shahena, who was just 4 feet 11 tall but weighed 13 stone, wasn't allowed to use the lavatory and, on occasions, she was forced to use a sink, getting into even more trouble.
After she was killed on October 11, her family told paramedics Shahena had felt sick and fainted, but she had been beaten with weapons in the course of the previous 24 hours, suffering head wounds and injuries and bruises to her body.
Blood and vomit stains had been concealed and bloodstained clothing belonging to Shahena had been placed in bin bags and put outside.
Prosecutor Stuart Trimmer said: 'She probably endured several beatings that night, some in the dining area, some in her own bedroom.'
Both sides of Shahena's head had been beaten and he said there were severe targeted beatings to her breasts 'probably with fists and weapons'.
Salma Begum was jailed today for killing her sister-in-law.
The sick family mounted a cover up operation after the death and refused to cop-operate with police.
That included Shahena's younger sister Sabina being left in a car for 16 hours after the death to keep her away from the police.
Pathologist Dr Robert Chapman said her eyes were black and swollen and her temple, both sides and the back of her head, were covered in bruising and her lips were cut.
He found bruising to her shoulders and said it appeared a 'rod like' object with parallel sides has been used to strike her.
Strike marks were also found across her right breast, indicating that it had been 'targeted.'
He also found bruise marks to her hands, fingers and forearms, which indicated she had tried to defend herself from blows.
He said there were bruise marks across her legs, which again he said appeared to have been caused by a rod like implement with parallel sides.
He concluded she had choked on her own vomit.
Next-door-neighbour Michelle Crawford said that on the night of the murder she was woken by a loud thudding noise.
'It sounded like they were tenderising meat,' she told the jury of six men and six women.
Shahena's oldest brother Suhail Uddin, 35, and his wife Salma Begum, 32, denied murder.
The jury cleared him of murder and an alternative charge of manslaughter and found her guilty of murder.
Suhail Uddin and three other brothers, Jewell, 27, Jhuhal, 33 and Tohel Uddin, 24, along with Shahena's older sister Rehena Uddin, 22, denied causing or allowing the death of a vulnerable adult. They were all found guilty by the jury.
All six pleaded not guilty to conspiracy to pervert the course of public justice by attempting to impede the police investigation and were all found guilty.
At the end of the prosecution case, Mr Justice Spencer ruled that Laila Begum, 25, who is the wife of Jhuhal Uddin, had no case to answer on charges of causing or allowing the death of a vulnerable adult and conspiracy to pervert the course of justice.
The court heard that in 2010 Shahena's older brother Suhail and his wife Salma became the legal guardians of her and two other sisters because the parents were no longer around.
Suhail Uddin and his wife Salma, along with Jewell Uddin, Rehena Uddin, Shahena and another younger sister all lived at the address in Leavesden Road in Watford.
Salma told that she had an arranged marriages to her husband, who was her first cousin, in Bangladesh. She told the jury she had begun a relationship with her brother-in-law Jewell.
Tohel Uddin, his brother Jhuhal and his wife Laila all lived a short distance away at address in Middle Ope, Watford.
Mr Trimmer said Shahena spoke to school friends about what was happening to her. When they tried to complain on her behalf, she was obliged, for fear of worse to come, to deny what she had said.
One friend, Martha Omar, said Shahena was a very caring girl who was always happy to be in school. 'Every time it was time to go home, her mood dropped. She said she was not allowed to socialise out of school.
'She said she was made to do every chore in the house and was forced to eat food. She said she was given a big plate of food and was expected to finish it all. She said if she finished eating, she would run to the toilet and try to make herself sick,' she said.
Her younger sister Sabina Uddin, now 18, told the jury how her sister was forced to use the kitchen sink as a lavatory.
Shahena begged her family to stop torturing her.
In a letter Shahena had written to Salma Begum, who she referred to as Afa, she wrote: 'I'm begging you to please help me. I feel like I have no-one. Afa please………please Afa I have no life anymore without you..no-one cares.'
The judge allowed dock officers to carry Begum from the dock after she collapsed to the floor.
He adjourned sentence until Monday, but he told the jury she would receive a mandatory life sentence and he would have to decide the minimum term she should serve.
Mr Trimmer said: 'It may also be that Shahena felt obliged to suffer the beatings as she was the beneficiary of the earlier protection, when the first two defendants, (Salma and Suhail) took her and the others from the abusive control of her natural parents.'
Det Insp Fraser Wylie from the Bedfordshire, Cambridgeshire and Hertfordshire Major Crime Unit, said: "Firstly, in all my years as a detective, this case has been possibly one of the most harrowing cases of domestic abuse I have dealt with.
"How any person can inflict such violence and mental abuse on someone is beyond comprehension – and even more so when those inflicting that abuse are members of a family who were supposed to have a duty of care.
"Shahena Uddin suffered unimaginable abuse both physically and mentally which was tantamount to torture.
Shahena was beaten regularly at home.
"As a society, and in honour of Shahena's memory, the best tribute we can all give her is to prevent this from happening again.
"We all have a duty of care to each other and prevent people from such suffering. If you are being subjected to domestic abuse, or you know someone who is, please speak out – there is help available."
Queen's School in Watford, where Shahena was a pupil, said : 'This is an extremely tragic case and the thoughts of the entire school community are with Shahena's family and friends at this difficult time.
'We believe that we acted appropriately with regard to Shahena, including liaising with the local authority, and will fully co-operate with the upcoming Domestic Homicide Review into her death where everything will be looked at in more detail.
'It is not appropriate for us to comment further until this review has been published.'
Source:
dailystar.co.uk
veenaija.com